In my previous article on Automatic Data Processing (ADP), I made the argument that while the company has very favourable characteristics as a dividend aristocrat, the stock is simply too expensive and an investor would be better off waiting for a lower price before jumping in.
Specifically, I ran a dividend discount model to argue that even with an assumed 10% growth rate per annum in dividends and earnings, this would lead to little over a 1% annualized rate of return.
In this regard, I advised that investors should wait until the price dips below $100, or unless free cash flow growth increases to a level significantly above 10% per year.
Since December, we have seen the stock rise to the $120 level, before reverting back to $113.56 at the time of writing: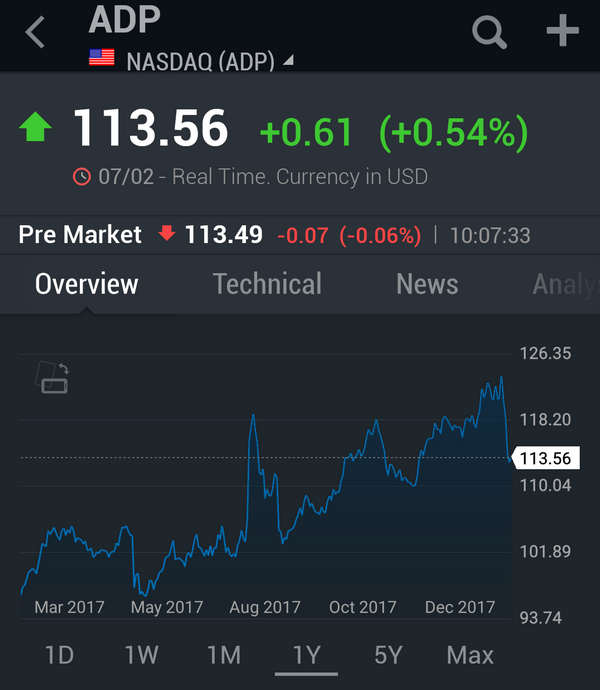 Source: investing.com
Dividends
This stock currently has an annualized payout of $2.52 and a current dividend yield of 2.22%. To get a yield of 3% on this stock, ADP would need to trade at $84 on the current payout. If we were to assume that ADP's dividend grows by 10% over the next year, and price were to remain at the current level, then a payout of $2.77 would mean a yield of 2.44% at the current price of $113.56.
Given that it is highly unlikely we would see a price drop down to a level of $84, a higher dividend yield is highly dependent on the dividend payout increasing. Over the past five years, we see that the growth in yield has been 44.83%, giving an average of 8.96% per year: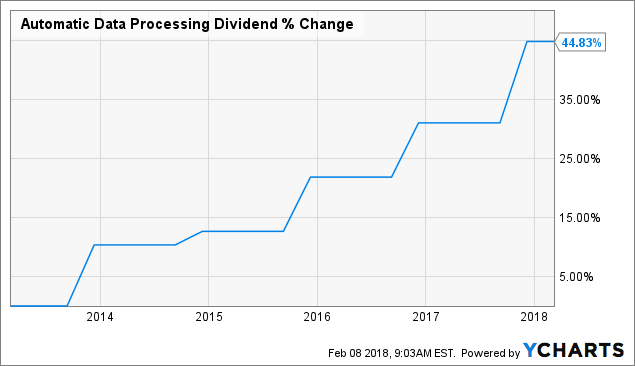 Now, let's compare Automatic Data Processing to yields being offered on some other dividend aristocrats (ones that have a record of raising dividend payments for 25 years or more):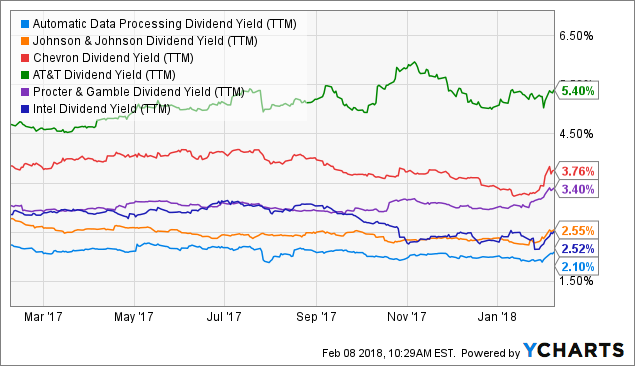 From a dividend standpoint, this stock may not be as attractive as once thought.
Performance
Looking at ADP's Q2 fiscal 2018 reveals a couple of interesting insights.
For instance, let's look at the breakdown of EBIT margin and diluted EPS for 2Q FY18 and 2Q FY17. Technically speaking, the adjusted diluted EPS is up by 13% on a constant dollar basis. However, we see that the adjusted EBIT margin is down by 1.2% over this period. It is notable that the provision for income taxes in 2Q FY18 accounted for 21%, while it accounted for 54% in 2Q FY17.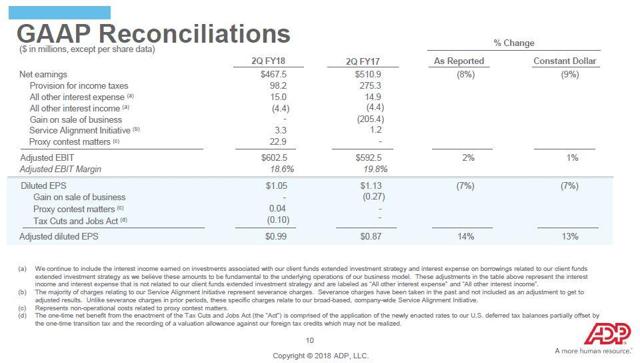 Source: 2Q Fiscal 2018: ADP Earnings Call & Webcast
I interpret this to mean that the gain in diluted EPS can be attributed to tax savings rather than organic earnings growth per se, and hence the reason we are seeing lower margins.
Moreover, we also see that margins for both Employer and PEO services are down by 50 and 30 basis points respectively: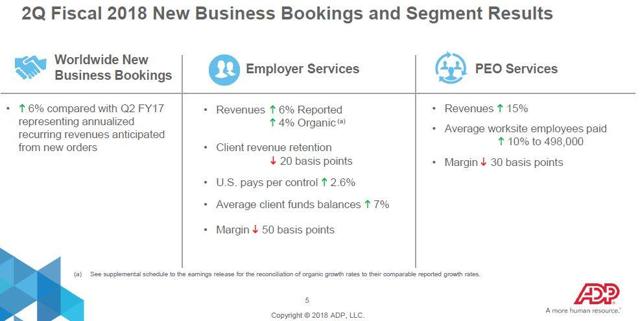 Source: 2Q Fiscal 2018: ADP Earnings Call and Webcast
While revenue growth for Employer Services had been slowing (as more and more companies outsource their HR processes by forming a co-employment situation with ADP), we have seen that margins for PEO services also have come under pressure on the margin front, and with Client Revenue Retention also having dropped for Employment Services, a continued drop in margin on the PEO side could end up hurting performance.
Conclusion
If you already own ADP, I don't necessarily think this stock is a sell per se. The company continues to perform well on the earnings front, and while margins are coming under pressure, it is possible that this could be a one-off. However, there are better offers available as far as dividend yields go. For this company to offer a substantially higher yield, price would either need to drop significantly or ADP would need to grow dividend payments at a rate higher than 10%, of which neither scenario is particularly likely.
Disclosure: I am/we are long T, JNJ, CVX.
I wrote this article myself, and it expresses my own opinions. I am not receiving compensation for it (other than from Seeking Alpha). I have no business relationship with any company whose stock is mentioned in this article.