MGT Capital Investments (OTCQB:MGTI) claims to work in multiple business industries: to address various cyber threats through protection technology for mobile and personal tech devices and also to engage in Bitcoin mining operations. I've been following MGTI for many months and have received "Buy, Buy, Buy!" recommendations from friends pointing to MGTI's dual focus on Bitcoin and cybersecurity, as well as their close connection with the self-proclaimed oracle of cybersecurity, John McAfee.
With the recent fall-out with John McAfee and lack of any sort of revenue or business plan tied to cybersecurity, it seems this company is shifting 100% to cryptocurrency mining. After much research, I believe MGTI's additional mining rigs will be a drop in the bucket for the struggling company as they continue to dilute shares and rely more heavily on the price of Bitcoin to sustain their business. I'll elaborate on these concerns as well as a few things to look for in the upcoming earnings report that could point to a brighter future for MGTI.
MGTI Mining Rigs to Reach 100 PH/s
By the end of Q1, MGTI will supposedly be operating a combined total of 100 PH/s worth of Bitcoin mining rigs. Although 100 Quadrillion hashes per second sounds impressive (and it is), it doesn't look to be enough to sustain MGTI's valuation at current levels.
Here's a breakdown: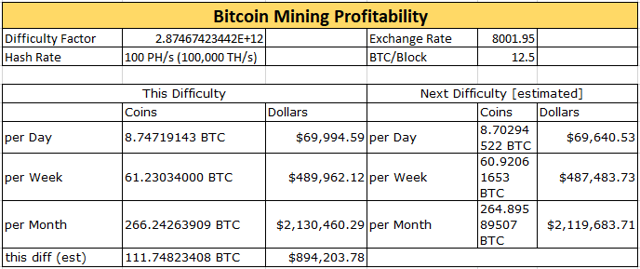 Bitcoin Mining Profitability Calculator
The 100 PH/s estimate was given by the company executives. This figure includes both Bitcoin and Ethereum mining rigs, but I calculated all of them as Bitcoin rigs for simplicity's sake (and because a large majority of MGTI's mining is solely in Bitcoin at this time). As you can see, every couple weeks the difficulty increases and lowers the profitability of the mining rigs. As I calculate revenue and operating profit projections for 2018, I will assume a $2.1 million monthly revenue run rate from all rigs starting in April 2018, leading to an annual revenue of ~$21 million for 2018.
From the Q3 quarterly report, gross margin was around 29.1%. The previous two quarters were 51.5% for Q2 and 35.6% for Q1. The gross margin has been fluctuating pretty dramatically, most likely due to changes in both the price of Bitcoin and the difficulty factor for each block. This makes it difficult to estimate the future gross margin percentage for the company.
However, using the gross margin of the last 9 months of 37.94% we could estimate a gross profit of $7,967,400. Back out the projected operating and other expenses of over $15 million and we can quickly make a rough projection that the company will continue to burn significant amounts of cash, even with the new mining rigs.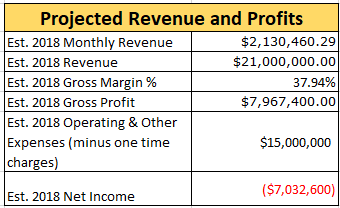 Author's Revenue and Income Projections*
This is a very rough estimate as it doesn't take into account any fluctuations with the price of Bitcoin, the changing difficulty to mine a block, the likely increases in the company's operating expenses, and many other considerations. I used an estimate of $15 million for the operating and other expenses in my calculations; this number considers a decrease year over year as certain one-time charges such as stock-based compensation will be lower. All in all, we can see that even at 100 PH/s of computing power, MGTI will struggle to reach profitability in the next year. However, I would be more bullish on the financials if we see a rise in the price of bitcoin, or if they further increase their number of mining rigs.
How MGTI Funds Their Purchases
MGTI, as we've seen above, is operating unprofitably and has been for years. So how do they acquire capital to continue their operations? A consistent share dilution from convertible debt helps MGTI continue to finance their projects without announcing a secondary offering or bringing attention to their rising number of shares.

As you can see, shares have been diluted by more than 200% since the end of 2015. Without a clear path to operating profitability, I believe this will continue for the foreseeable future. Also note, the rising number of shares has the added effect of making their losses per share look smaller compared to previous quarters. It's important to note the drastic increase in shares that account for this change, as opposed to any meaningful changes in the company's business model.
Cybersecurity Business is Dead
With the exit of John McAfee from the team and the lack of revenues from the cybersecurity business, it's easy to declare this part of the business dead. Perhaps MGTI could sell these parts off to another business, or maybe they'll benefit by protecting their Bitcoin holdings with their "Proactive Anti-Hacking Technology," but either way they are insignificant to the business's future.
Before Bitcoin mining revenue, the company had fairly consistent revenues between $75,000 and $105,000 per year in software, gaming, cybersecurity, and other small ventures they have pursued over the years. These revenue streams never took off, and aren't even shown on the income statements anymore. This leads me to believe they will offload these businesses soon. However, I wouldn't be surprised if they kept them in the lineup to make the overall business appear more attractive to investors.
Overall, I don't believe this is a good investment despite the increases in hash power. The concerns regarding the method of financing and lack of diversity in the business model make this an inherently risky investment.
One thing I'll be keeping an eye on:
If Bitcoin reaches a new all-time high above $20,000, I may need to do more analysis on their gross profit and how they could potentially make this a profitable venture. If they start producing some free cash flow, management could pull back on the dilutive convertible debt and give investors a chance to own a solid Bitcoin company. It's a long shot, but something to look for in future earnings releases.
Disclosure: I/we have no positions in any stocks mentioned, and no plans to initiate any positions within the next 72 hours. I wrote this article myself, and it expresses my own opinions. I am not receiving compensation for it (other than from Seeking Alpha). I have no business relationship with any company whose stock is mentioned in this article.