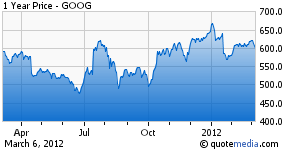 Google (NASDAQ:GOOG) provides a wide, interlinked array of utilities such as Calendar, Maps, and Docs. This overlap in functionalities streamlines efficiency for users, which in turn helps the company attract more users and make more money from ads. A recent improvement offers insight into Google's approach to future interlinked functionalities: smartphone users can now review recent searches from a dedicated tab. This new tab, while fairly simple, and previously available through web history functions, shows where Google is trying to go in terms of ubiquity.
Google would like to become an extension of your brain. If you want to know something, you ask Google -- this is a sensory function. If you want to email someone, you use Gmail -- this is an expressive function. If you want to remember something, you might email it to yourself. Extending this memory service with the new "recent searches" tab, Google moves a step closer to becoming an implant in your head.
It does so not by burdening you with organizing the information in your phone. Rather, Google makes it effortless, by default storing your information through "the cloud", and acting as your secretary, ready with any note you've recently made in case you need to recall it. Also, not only does Google benefit from enticing you to use its services more and become a target of its advertising sponsors, Google also gains a new metric. Your habitual remembrance of some notes rather than others could help Google fine tune its algorithms -- big data sees no metric as "too small to crunch".
With many traditional professions being replaced by technology, there has yet to be a broad displacement of human capital. Our smarts are still resources, largely irreplaceable by artificial intelligence. However, there are some low-level tasks that can be outsourced to computers that we still do ourselves out of habit. The more we eventually outsource low-level, rote, quantitative tasks to computer brains, the more we can use our high-level abilities and exploit a comparative advantage.
Another feature in the works for Google is a voice recognition feature like those of Apple (NASDAQ:AAPL) and Nuance (NASDAQ:NUAN). However, Apple's and Google's voice recognition implementations will not be copies of each other. As I have argued previously, Google is better at productivity, and Apple is better at entertainment. Google helps you solve life problems; Apple makes your problematic life more enjoyable. If you want your phone to refer to you as a rock god, you have Siri for that. If you want to remember what you were supposed to be doing after you picked up the dry cleaning, then your recent search on Google Maps might tell the story. The theme with all of these services is a convergence of mediums. Written, spoken, or recalled via recent searches tab, it doesn't matter--you can access information via the most convenient medium. This convergence allows a more economic allocation of your attention span.
Google's new tab is a quiet improvement which fits with the trend of Google assisting in the background while you focus on your work. The only time you notice how valuable Google is, is when it is no longer available. Try a day without Google and see what I mean. This new mobile recent search tab might not be news to you. It might not be as exciting as smart glasses, Skynet, and robots. But it's news to me. Not just because I personally feel Google is a natural extension of human computing. But also, and less controversially, because Google's recent search tab allows us to be more human -- it allows us to not have to worry so much about remembering things. In an age of technology, what greater gift could we ask for than to be allowed to be more human? Certainly a P/E of 20 is not too much to ask for such a gift.
Disclosure: I have no positions in any stocks mentioned, and no plans to initiate any positions within the next 72 hours.