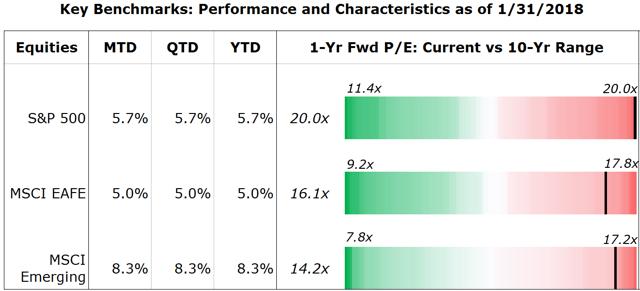 Data Source: Bloomberg
Clipping Half Your Coupon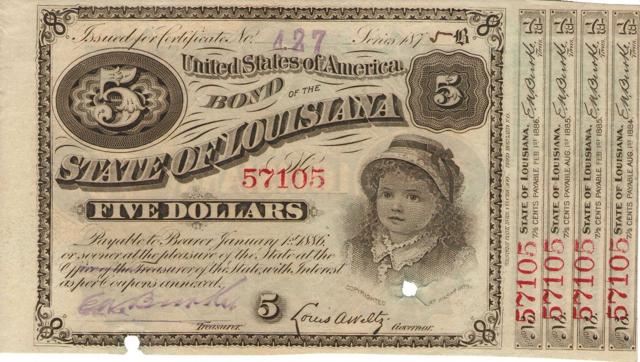 Source: Wikipedia. Labeled for reuse.
Before the financial system went electronic, fixed income investors used to collect their interest by "clipping" their bearer bond coupons (unregistered of course) which were redeemed by a bank or paying agent. Assuming the bonds were held to maturity (and the issuer did not default), the coupon represented the rate of return, unlike today where fixed income rate of return incorporates reinvestment of interest payments that comprise the yield-to-maturity. Fixed income coupon clippers did not necessarily enjoy capital gains or suffer losses based on falling or rising interest rates unless they sold their bonds onto the open market.
We use this imagery as the theme for our January 2018 market commentary as we believe the beginning year surge in global equities (5.6% for MSCI All-Country World Index (ACWI)) effectively front-loaded much of the stock market gains one can reasonably expect this year. Essentially, investors have already clipped half their coupon, assuming there is no change in S&P equity market valuations (a reasonable assumption give that the S&P 500 trades at a steep 20 times next-12 months earnings based on Bloomberg consensus estimates).
Of course, following the passage of Republican tax legislation that lowered corporate taxes to be more competitive with the rest of the world, one would expect Wall Street analysts to trip over themselves in projecting strong earnings growth for 2018, driven by tax savings and increased capital spending. According to Factset Earnings Insight (based on reported earnings through 2/2/2018), analysts are projecting earnings growth of 16.8% and revenue growth of 6.4% for all of 2018. Factset commented that tax savings and higher oil prices drove the expected growth figures and that companies are optimistic over the Trump Administration's emphasis on infrastructure spending as a key priority for the upcoming legislative calendar.
So, assuming sustainable U.S. earnings growth in the area of 10-12% (i.e., treating tax savings as one-time gains), one can argue that the strong surge in global market performance this month effectively front-loaded much of the stock market gains expected this year. Hence, investors have clipped half their equity coupon in one month's worth of gains.
We could be off-base in our expectation that total returns for 2018 will comprise mostly of earnings/cash flow growth rather than further narrowing of risk premiums (i.e., rising asset valuations). And our market outlook for cyclical reflation to drive factor performance has been off base as momentum and quality outperformed value (see Figure 1) in January and U.S. large growth outperformed small cap value (see Figures 2a and 2b). Indeed, January of 2018 started very similar to last January, so long-suffering value and yield-investors could be in for another period of disappointing performance. Investors' animal spirits continue to gravitate around the 'scarce' growth theme as they bid of up perceived winners in the New Economy.
Figure 1 - Momentum Strong Out of the Gate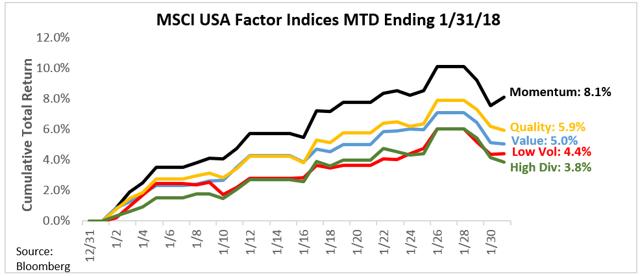 Figures 2a and 2b - U.S. Large Growth Dominates Small Cap and Value
We also argued that quality might be at risk from inflationary pressures of rising input costs on peak margins as S&P operating margins have declined slightly from record high levels (see Figure 3), but quality continues to perform well as investors express a preference for large cap growth stocks that trade at a premium to the broader market. S&P companies can grow earnings through top-line (revenue) growth or through high margins, but typically not both over the long-run (it wouldn't be capitalism if that were the case). We continue to see margin pressure as a risk to the U.S. equity story.
Figure 3 - Are We Seeing Peak Margins in the S&P 500 even as Revenue Growth Takes Off?

In our year-end 2017 commentary, we were also cautious on fixed income risks, notably duration, or interest rate-sensitivity. We expected rate volatility to remain subdued but also warned that "fixed income investors could be spooked by an outbreak in inflation … [which] could lead to a panic sell-off in longer-term bonds." The 10-Year Treasury rose to 2.7% from 2.4% at the beginning of the year, causing a minor month-end spook in risky assets. At the time of this writing, the 10-Year Treasury yield had risen to 2.85% (a 4-year high) on the backs of a strong January U.S. employment release (average hourly earnings were up 2.9% year over year) and hawkish Federal Reserve comments suggesting a more aggressive rate tightening schedule. We won't front-load too much of February's market commentary into this article, but suffice to say, inflation expectations are on the rise (see Figure 4).
Figure 4 - Inflation Expectations on the Rise

So, there is debate as to whether the bond market tail is wagging the equity market dog. Two other bond market indicators (a rising term structure and narrower credit spreads - see Figure 5) suggest that the macroeconomic backdrop remains supportive for the Federal Reserve to further normalize its interest rate policy. It wasn't too long ago that investors were fretting over a flattening yield curve as short interest rates rose last year while long rates remain unchanged. The bond market can sniff out conditions that would lead to economic weakness and deflation, as expressed through an inversion of the Treasury term structure and/or widening credit spreads.
But these indicators do not currently indicate that rising interest rates will lead to an overly restrictive environment for further expansion. If one were to assume inflation does not break out in an uncontrollable manner (recall that the New Normal demographics of aging demographics, high debt levels, and excess global capacity can keep a lid on inflation), then high interest rates would eventually be a recipe for lower interest rates. Higher rates would ultimately lead to a restrictive macroeconomic environment that would beget lower rates (and an inverted curve if the Fed were too aggressive on rate hikes).
Figure 5 - A Rising Term Structure and Narrow Credit Spreads Signal a More Supportive Backdrop for Global Economic Growth

As we wrote in the New Neutral, the key to ensuring that monetary policy does not trip up the economy is whether the Federal Reserve can correctly forecast the neutral rate of interest that can sustain economic growth without sparking inflation. If the Republican tax legislation and push for infrastructure spending does not lead to higher sustainable GDP growth, then the neutral rate of interest stalls out and the Fed risks overshooting with its rate hikes.
Regardless, we highlighted the Federal Reserve as one of the key risks to the markets this year. Rate hikes typically have a lagged effect of 9-12 months, but if they are done in the context of higher sustainable GDP growth, then the economy should be able to absorb them. Needless to say, it appears the bond market no longer has the equity market's back.
Global Markets Perform Well on the Backs of a Weak U.S. Dollar
Outside the U.S., global equity and fixed income markets performed well as they benefited from a weak U.S. dollar (see Figure 6). However, the late-month sell-off in U.S. equities had spilled over into other major regions, with Japan hit particularly hard (see Figure 7). Investor's preference for U.S. large growth also seems to be correlated with their appetite for emerging markets as EM continues to be the beneficiary of the risk-on trade, despite a tightening Federal Reserve.
Figure 6 - Investors Sold Down the U.S. Dollar

Figure 7 - Emerging Markets Led All Major Regions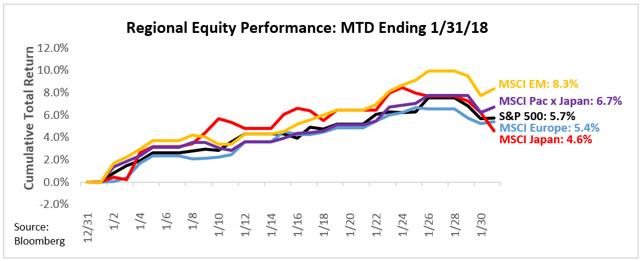 Even with the recent outperformance of international markets, they still trade at a sizable discount to the U.S., although some of this discount is justified since U.S. companies tend to be more profitable (further helped by the tax legislation). However, investors may feel that international markets represent a better risk/reward as they can ride the coat tails of strong U.S. and Chinese economies.
Finally, higher interest rates should manifest themselves into tighter financial conditions, credit spreads notwithstanding. Yet, the Bloomberg Financial Conditions Index (see Figure 8) remains benign and points to an easier credit environment than the one seen in 2007 and 2014 (prior to the commodity market sell-off).
Figure 8 - Financial Conditions Remain Loose Despite Rising Rates

A Market Suited for Accumulation, Not Distribution
Finally, a cautionary note as we potentially enter a period of heightened volatility after the smooth ride of 2017. As we originally wrote in our March 2016 article "Stockpiling Income," "dollar cost averaging works when investing in [a volatile] market, but works against you when withdrawing from the market." If you are (or your client) is taking distributions off a lump sum asset allocation, per the 4% systematic withdrawal approach, you may want to rethink your strategy if we are about to enter a period of heightened volatility. We reproduce the graph (see Figure 9) from Stockpiling Income that shows how systematic withdrawal results in sequence-of-return risk, especially in volatile markets.
Figure 9 - Sequence of Return Risk Magnified During Volatile Periods (Period Ending 12/31/2014)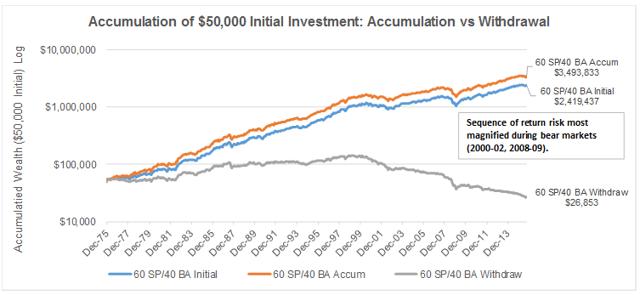 3D believes in a time-segmented approach to retirement income planning. Current income needs should be drawn from investments that have little to no market exposure while future income needs can be allocated to more traditional risk-based models depending on one's projected time horizon. Feel free to contact our office should you want to hear more of our thoughts concerning retirement income planning.
Disclosure: The above is the opinion of the author and should not be relied upon as investment advice or a forecast of the future. It is not a recommendation, offer or solicitation to buy or sell any securities or implement any investment strategy. It is for informational purposes only. The above statistics, data, anecdotes and opinions of others are assumed to be true and accurate however 3D Asset Management does not warrant the accuracy of any of these. There is also no assurance that any of the above are all inclusive or complete.
Past performance is no guarantee of future results. None of the services offered by 3D Asset Management are insured by the FDIC and the reader is reminded that all investments contain risk. The opinions offered above are as February 5, 2018 and are subject to change as influencing factors change.
More detail regarding 3D Asset Management, its products, services, personnel, fees and investment methodologies are available in the firm's Form ADV Part 2 which is available upon request by calling (860) 291-1998, option 2 or emailing sales@3dadvisor.com or visiting 3D's website at www.3dadvisor.com.
Disclosure: I/we have no positions in any stocks mentioned, and no plans to initiate any positions within the next 72 hours. I wrote this article myself, and it expresses my own opinions. I am not receiving compensation for it. I have no business relationship with any company whose stock is mentioned in this article.