How do I know? Because I lived through the 1987 crash and this is the same. Go back and look at that crash and see how quickly it bounced back. Why did it bounce back so fast and continue the bull market? Because the crash was an anomaly, caused by computers executing portfolio insurance that failed. The same thing is happening now, but with a different twist.
The results are the same. The market is not working. There is no liquidity. This problem needs fixing. This type of selling must be regulated because the market can't handle it. The market cannot handle computer driven buy and sell programs because there is a liquidity problem. Whatever happened to the concept of maintaining an orderly market? It needs to be the rule of law.
The buyers are on strike. Why? Because when the market makers and the specialists see a sell program come in, they step aside and let the market drop until the sell program is over. Then, when the sell program is over, they come in and buy the bargains. In the current market, the sell programs are so big and obvious, that all institutional buying has stepped to the sidelines waiting for the bottom to buy. Sell programs + buyers strike = crash.
Since there is this lack of buyers, the shorts are coining money as the sell programs hit the market and the buyers step aside to see how low the market will go. Eventually the sell programs will stop. Eventually the shorts will stop front running the sell programs. Eventually all the buyers will return to buy the bargains, which is what they do at the bottom of every market crash.
Hello Warren Buffett, this is the only time you can get in at the bottom like Warren. When will we it hit bottom? Track our live SPY (SPY) and notes available to the public. Here is the chart for today.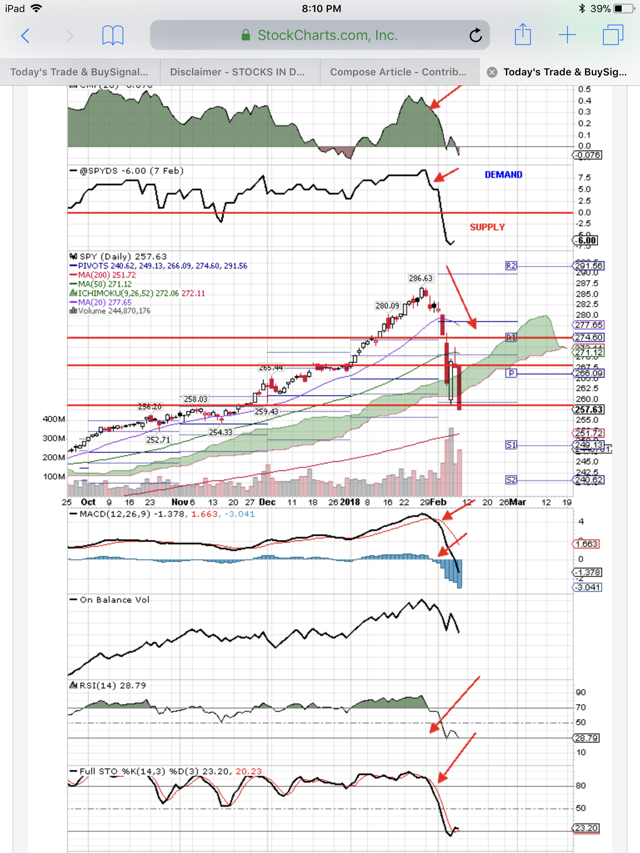 Disclaimer: We are not investment advisers and we never recommend stocks or securities. Nothing on this website, in our reports and emails or in our meetings is a recommendation to buy or sell any security. Options are especially risky and most options expire worthless. You need to do your own due diligence and consult with a professional financial advisor before acting on any information provided on this website or at our meetings. Our meetings and website are for educational purposes only. Any content sent to you is sent out as any newspaper or newsletter, is for educational purposes and never should be taken as a recommendation to buy or sell any security. The use of terms buy, sell or hold are not recommendations to buy sell or hold any security. They are used here strictly for educational purposes. Analysts price targets are educated guesses and can be wrong. Computer systems like ours, using analyst targets therefore can be wrong. Chart buy and sell signals can be wrong and are used by our system which can then be wrong. Therefore you must always do your own due diligence before buying or selling any stock discussed here. We assume no liability for erroneous data or opinions you hear at our meetings and see on this website or its emails and reports. You use this website and our meetings at your own risk.
Try our free trial to catch the buy signal.
Disclosure: I/we have no positions in any stocks mentioned, but may initiate a long position in SPY over the next 72 hours. I wrote this article myself, and it expresses my own opinions. I am not receiving compensation for it (other than from Seeking Alpha). I have no business relationship with any company whose stock is mentioned in this article.
Additional disclosure: I am short the VXX.