The PowerFactors system is a quantitative algorithm exclusively available for subscribers in my research service: The Data Driven Investor. The system basically selects companies based on three main quantitative factors: Quality, value, and momentum.
Facebook (FB) is one of the companies currently picked by the algorithm and also a position in my personal portfolio. Looking at the key numbers, it's easy to understand why Facebook looks so string from a quantitative perspective.
Facebook is one of the most spectacular growth stories in the market. In 2010, the company was generating $1.9 billion in annual revenue. Fast forward seven years, and Facebook produced $40.6 billion in sales during 2017.
Profit margins have significantly increased in the process, and explosive revenue growth, in combination with rising profitability, allowed Facebook to increase annual net income from $606 million in 2010 to over $15.9 billion nowadays.
Growth tends to naturally decelerate as a company gains size over time. That's just the way things work for most businesses. However, Facebook is showing an exceptional strength by sustaining rapid expansion in spite of its gargantuan size, and this speaks volumes about the company and its management team.
Total revenue came in at $12.97 billion during the fourth quarter of 2017, growing by 47% versus the same quarter last year. Profitability is stratospheric, and it continues defying gravity: Operating profit margin grew from 52% of revenue in the fourth quarter of 2017 to 57% of sales in the fourth quarter of 2017. Facebook reported a staggering increase of 61% in operating income during the quarter, from $4.56 billion to $7.35 billion.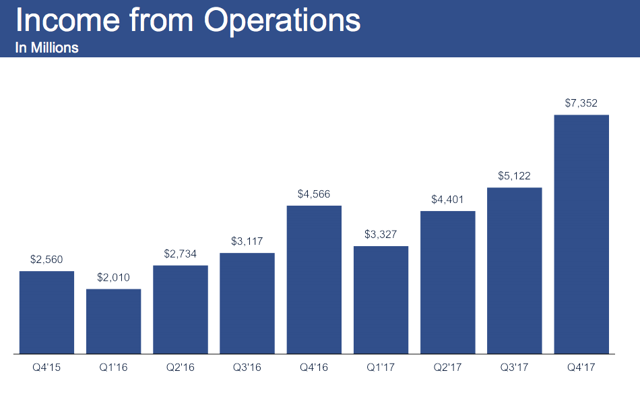 Image source: Facebook
The company is not only growing rapidly but also outperforming expectations, which is a powerful return driver for stocks over time. Stock prices reflect market expectations. If the company delivers better-than-expected earnings, and expectations for future performance are also increasing, this generally means that the stock price is also moving in the right direction.
The chart below shows the evolution of Facebook stock price and earnings forecasts for both the current year and next fiscal year. It's easy to see the direct and strong correlation between earnings expectations and the stock price.
In addition to the magnitude of the adjustment in earnings expectations, the degree of consensus among the analysts following the stock is also quite telling. Facebook stock has received multiple increases in earnings forecasts for different periods lately, and not a single analyst has reduced earnings expectations for the company.
| | | | | |
| --- | --- | --- | --- | --- |
| EPS Revisions | Current Qtr. (March 2018) | Next Qtr. (June 2018) | Current Year (2018) | Next Year (2019) |
| Up Last 7 Days | 7 | 7 | 11 | 8 |
| Up Last 30 Days | 25 | 25 | 40 | 27 |
| Down Last 30 Days | N/A | N/A | N/A | N/A |
| Down Last 90 Days | N/A | N/A | N/A | N/A |

It's hard to argue on the fact that Facebook is an exceptional business in terms of growth and profitability, and the company doesn't leave much to be desired when it comes to its ability to outperform expectations.
However, valuation is a very different story, since Facebook stock is priced at an above-average forward price to earnings ratio around 25 times earnings expectations for 2018. That's no reason to stay away from the stock, though, since the price tag is still reasonable for such a strong business.
The table below compares key valuation ratios such as forward price to earnings, price to free cash flow, and price to earnings growth for Facebook versus Alphabet (GOOG) (GOOGL), Baidu (BIDU), and Twitter (TWTR). Based on these figures, Facebook is not overpriced at all in comparison to other operators in the online advertising industry.
| | | | |
| --- | --- | --- | --- |
| | Forward PE | PFCF | PEG |
| Facebook | 25.1 | 30.4 | 1.21 |
| Alphabet | 25.5 | 32.2 | 1.68 |
| Baidu | 25.1 | N/A | 1.3 |
| Twitter | 68.7 | 31.5 | N/A |
Moving forward, Facebook still has a lot of room to increase monetization in platforms such as Instagram, Facebook Messenger, and WhatsApp. Even in the company's most mature markets, the U.S. and Canada, the company generated an annual increase of 35% in monetization levels last quarter, reaching $26.76 per user.
On average, Facebook makes $6.18 per user on a global basis, so the company can significantly increase its revenues by bringing monetization levels around the world to levels more in line to those in the U.S. and Canada.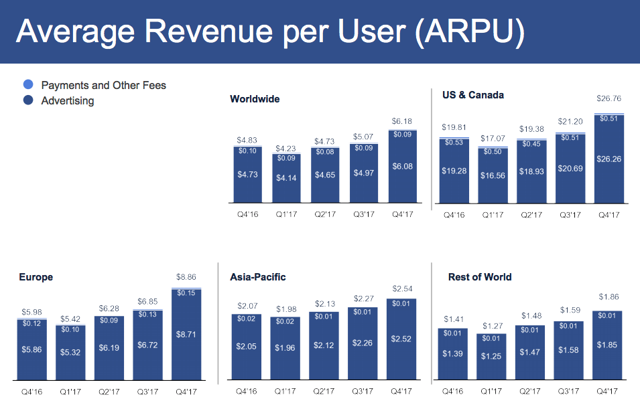 Image source: Facebook
Looking at the risks, Facebook operates in an always changing and competitive environment, so management needs to play its cards well in order to continue capitalizing on its market opportunities over the years ahead. In addition, legal and regulatory risk is an important factor to keep in mind for a company like Facebook.
In spite of those risks, Facebook is a top quality business generating outstanding financial performance, and valuation is not too excessive for such a unique growth company. This means that Facebook stock still offers substantial upside potential from current price levels.
Investment Ideas By The Numbers
The PowerFactors system compares a wide variety of indicators to rank companies based on their financial quality, valuation, and momentum.
Leaving the mathematical considerations aside, the PowerFactors system is basically looking for strong businesses (quality) trading at reasonable valuations (value) and delivering above-average performance (momentum). When explained in plain English, it's easy to understand why investing in these kinds of companies can produce attractive returns over the long term.
The following backtest picks the 50 companies in the S&P 500 index with the highest PowerFactors ranking, and then it builds an equally weighted and monthly rebalanced portfolio with those names. The portfolio is assumed to have an annual expense ratio of 1% to account for trading expenses and similar considerations, and the benchmark is the SPDR S&P 500 ETF (SPY).
The numbers are quite attractive. The portfolio recommended by the PowerFactors system produced an average annual return of 12.9% since January of 1999, more than doubling the 6.3% annual return produced by the market-tracking ETF. In cumulative terms, the PowerFactors portfolio gained 911.14% versus a much smaller 225.29% for the SPDR S&P 500 ETF.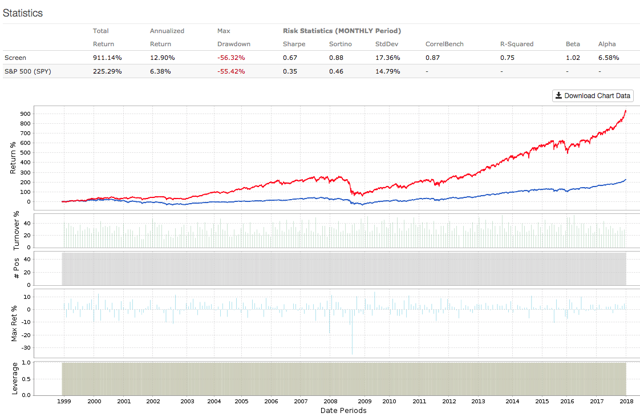 Backtesting data and charts are from Portfolio123. The complete PowerFactors portfolio is available to members in The Data Driven Investor.
Putting the numbers in perspective, a $100,000 investment in the SPDR S&P 500 ETF in January of 1999 would currently be worth $325,300, and the same amount of capital allocated to the PowerFactors portfolio would have a much larger value of more than $1.01 million.
Past performance does not guarantee future returns, so backtested returns should always be interpreted with caution. Besides, implementing the system in real life can be more complicated than it seems to be.
That acknowledged, it makes sense to expect attractive returns by investing in high quality companies trading at reasonable valuations and outperforming expectations over the long term, and that's what the quantitative system is all about.
Members in The Data Driven Investor have access to the complete PowerFactors portfolio and other quantitative systems with market-beating backtested performance in the long term. You can take a free trial to The Data Driven Investor in this link.
Disclosure: I am/we are long FB, GOOG, GOOGL. I wrote this article myself, and it expresses my own opinions. I am not receiving compensation for it (other than from Seeking Alpha). I have no business relationship with any company whose stock is mentioned in this article.