Market Intro


CNBC: 9:33AM EST
Well, US stocks (SPY, DIA, QQQ, IWM) are going for another attempt on the Friday morning session. And given that the US government shutdown was quickly dodged, there may be reason to celebrate indeed.
Note to reader: these markets are so whipsaw that we saw this initial rally all but fade within the first few minutes of the open! At present SPX is having yet another go at it.
The trick, as has been the case of late, is how Treasuries (IEF, TLT, AGG, JNK) handle the news of the deal to keep government open, when higher yields have arguably been tanking risk assets left and right.

IB: 10-Yr Treasury VIX

IB: TNX
At least in yesterday's session, the panic in equities caused a flight to safety which ironically led ten-year yields to fall for the better part of the day.

IB: JNK Implied Volatility
Implied vol has really spread throughout most if not all of the risk-on asset market. This is not uncommon, but worth keeping in mind all the same.
Relatively speaking, implied vol in the high-yield space looks responsive, but not overly reactive, in comparison to stocks. Contrast this to late 2015, as weakness in the high yield space was one of the major harbingers of problems for shares.
Thoughts on Volatility

Source: CNBC
What turncoats! Retail investors had just shoveled in record funds – by a wide margin – to US equities in the month of January.

IB: S&P futures
The move lower in equities on Thursday was fairly persistent throughout the day. In the early portion of trade stocks are shooting for a lift. Vol appeared more sympathetic to such a move back on Wednesday than it does at the present, though the morning is churning a good bit:

IB: VIX (candles), short-term VIX (in blue)
Certainly that is not to say that stocks cannot pull off the move. Au contraire, the time may come very soon when vol has to prove what it's made of. That may be most readily knocked down if shares manage just to hold their ground (more or less) for a few sessions. We saw this occur both in September 2015 and in early 2016.

Cliff Asness likes this Tweet from Chris McKhann. If the volatility risk premium is sufficiently high and the risk is managed, this is a reasonable statement. And honestly, the term structure really was trading at a healthy premium to HV just a couple weeks ago. But as we'll see below, it's more questionable at the present.

IB: VXX
Every dog has its day. VXX was simply wrecked in 2016 and 2017. Really there could not have been a worse time to institute this instrument (early 2009). I cannot help but believe that the equity markets, that have been so strong for so long, are going to make at least a final stab at a real recovery. I mention this only to say that while VXX (or TVIX or UVXY) may have plenty of life in them, stocks do not need to simply give up without a fight. However, at least for the present the term structure represents a tailwind for gains.
Term Structure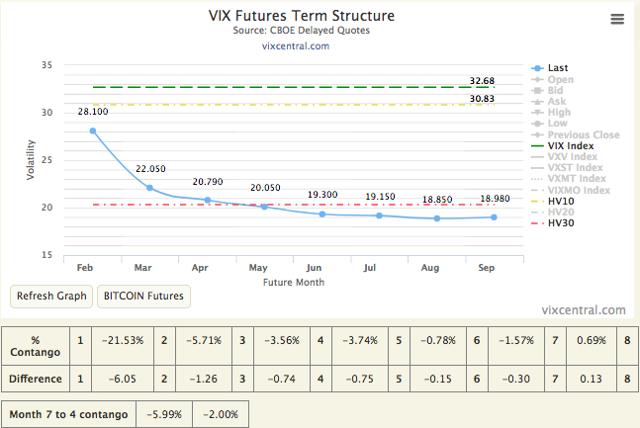 I suppose that it is always true that the term structure gives us food for thought all the time. But wow! This is about as different from most of 2016, and all of 2017, as they come. A couple important differences from last time we took a look:
A couple days ago, when SPX was working on a recovery, the VX term structure was extremely flat, with the exception of the front month. Now, not only is the Feb contract jacked (sensible as expiration is this upcoming Wednesday morning), but the March and even the April is picking up. Even that movement is not enough to allay a huge backwardation yield (21.5% for the M1-M2). 30-day historical vol is now above most of the back end of the curve. A couple days ago the term structure was wrapped between the 10-day HV above, and the 30-day HV below. The fact that 30-day now sits above the back half of the term structure suggests that vols traders are alert, but not really willing to embrace the panic as yet. If they were (and they may yet), then I think you'd be seeing a flatter curve with the back months raised.
At any rate, traders need to consider that the new term structure looks nothing like the one we've seen over the past couple years, and given this, strategies need to take these new conditions into consideration.
Conclusion
If this is your first time reading Market Volatility Bulletin, thanks for giving it a try. If you're a regular, we thank you for your ongoing contributions in the comments section.
In a past MVB, Sunil119 put forward a trade idea on the recently wrecked SVXY trade that we think deserves attention and (helpful) critiques.

We'll spend some time discussing this type of idea in a weekend piece. It sounds reasonable, but we'd argue it has a couple important weaknesses. Special thanks to Sunil for throwing the idea out there for discussion.
Feel free to comment on this idea in the comments below, but please remember this forum is meant for constructive discussion and not unproductive pot shots.
Please consider following us.
Disclosure: I/we have no positions in any stocks mentioned, and no plans to initiate any positions within the next 72 hours.
I wrote this article myself, and it expresses my own opinions. I am not receiving compensation for it (other than from Seeking Alpha). I have no business relationship with any company whose stock is mentioned in this article.
Additional disclosure: I actively trade the futures and options markets, potentially taking multiple positions on any given day, both long and short. I also hold a more traditional portfolio of stocks and bonds that I do not "trade". I do believe the S&P 500 is priced for poor forward-looking returns over a long timeframe, and so my trading activity centers around a negative delta for hedging purposes.