Our criticism of Apple's (AAPL) cash allocation is no secret. Apple has exploded its debt sheet in order to spend on dividends and buybacks over the last five years, from nearly $0 to over $120bn now. It has hardly been an exciting acquirer, too, with bolt-on acquisitions never exceeding a few billion here or there.
The last 30 days, however, have knocked Apple's share price roughly 10%. And with the market sell-off, it does not seem to be stopping there. Given the new TTM PE ratio of 15.9 at the share price of $155, we are moderating our position and hope Apple opens the pocketbook to retire even more shares as the market correction continues and the share price falls below $150.
Apple to Retire Debt
At the outset, we are truly happy that Apple has decided to begin working on the debt. After the recent earnings announcement - opting to bring its net cash position to zero - we see a serious effort to address the debt load. It will be pulling back on its debt appetite, opting to quit tapping the debt markets and begin to use its cash. Apple currently has a net cash position of $163bn (cash/securities minus debt) and the debt has also been increasing with its cash: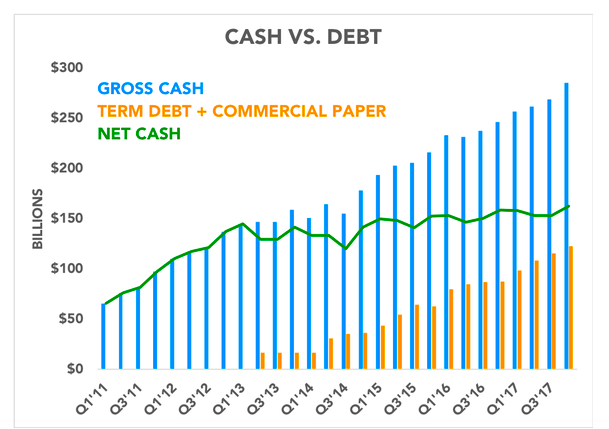 Dividends, Capex, Studio for Content
We are also still holding out hope that Apple embarks on a sizeable special dividend for shareholders. With around 5bn shares outstanding, a $2 or $3/share special dividend would certainly spark interest in the stock and reward shareholders for their patience as Apple has sat on its absurd amount of cash for the last several years.
More likely, instead, is a sizeable increase to its quarterly dividend. Some Seeking Alpha investors claim a 50% increase is possible and also would pique the interest of many potential buyers.
We reported on Apple's capital expenditure intentions following the tax bill:
Apple claims it will spend up to $350bn over the next few years investing in America. It will seek to hire 20,000 workers as part of this expansion. This figure includes the $38bn in deemed repatriation taxes owed under the new bill, noting "a payment of that size would likely be the largest of its kind ever made. "Planned capital expenditures in the US, investments in American manufacturing over five years and a record tax payment upon repatriation of overseas profits will account for approximately $75 billion of Apple's direct contribution.
Apple also seeks to expand its presence in Hollywood, recently opting for an incentive-free studio in Culver City, CA. With plans on spending upwards of $1bn on original content, the company is continuing its foray into the space to compete with the likes of Amazon (AMZN) and Netflix (NFLX).
Extending The Buyback Program
Currently Apple has roughly $34bn left to spend on share buybacks. It is this number we hope the company plans on spending this week, and in weeks to come, as we are hitting real weakness in the stock:

We now agree that the strategy of spending on buybacks given the weakness of the stock is getting better by the day. Our argument against extending the authorization has evolved for a number of reasons, but the simple story is that now Apple is beginning to get a better deal.
Say Apple wanted to acquire a company for a price of $30 (Twitter (NYSE:TWTR), for instance). Now imagine, as Apple was pondering such a deal, the price per share rose to $35/share. Then to $40. Then to $45.
What would we think of management continuing to pursue such an acquisition as the price kept increasing for the same target, all else being equal? Eventually cooler heads might prevail and convince the powers that be that it is no longer a good deal - in essence, the price is now too expensive. Why should this idea not apply to a company seeking to buy back its own shares? At some point, it ceases to have the same value as it once did, and management would be wise to reconsider.
We last called for Apple to begin winding down its buyback at $150/share in August - today, Apple shares sit at $155. Should they continue to fall, we will join the chorus of investors cheering a higher buyback authorization since the shares are finally beginning to be a good deal once again. We again quote the great Warren Buffett on the wisdom of continuing to buy back shares as prices increase:
[T]he question of whether a repurchase action is value-enhancing or value-destroying for continuing shareholders is entirely purchase-price dependent. It is puzzling, therefore, that corporate repurchase announcements almost never refer to a price above which repurchases will be eschewed. That certainly wouldn't be the case if management was buying an outside business. There, price would always factor into a buy-or-pass decision. When CEOs or boards are buying a small part of their own company, though, they all too often seem oblivious to price. Would they behave similarly if they were managing a private company with just a few owners and were evaluating the wisdom of buying out one of them? Of course not. (emphasis added)
At the least, Apple should inform shareholders at what price the company will consider buying more shares and at what price does it cease to be value-enhancing. As Buffett explains, if Apple was acquiring a company, surely the price it is paying would be of utmost importance. Why not when buying its own shares? If Apple gave more insight into their buyback strategy, it also would give investors an idea of what kind of intrinsic value management ascribes to the company. All we ask is that Apple not remain "oblivious" to the price it pays for its shares. Investors should be kept abreast of what constitutes fair value in the eyes of management, rather than the same reasons for buybacks that are always trotted out (management believes shares are undervalued...).
We believe the recent sell-off and upcoming buyback authorization are prime opportunities for Apple to inform its shareholders about its strategy and the price it intends to pay.
Conclusion
Apple is starting to get a better deal on its buybacks. Should the price continue to fall, we are now of the mind that spending up on buybacks is a laudable use of its cash. We hope that the price action continues to offer investors, and Apple, a better buying opportunity for years to come.
Disclosure: I am/we are long AAPL.
I wrote this article myself, and it expresses my own opinions. I am not receiving compensation for it (other than from Seeking Alpha). I have no business relationship with any company whose stock is mentioned in this article.