Over the course of last year Canopy (TWMJF) share price has lagged behind its biggest competitor, Aurora Cannabis (ACBFF). The latter's gain has been driven by an M&A spree and impressive execution on several fronts that resulted in Aurora scaling up quickly to replace Canopy as the largest cannabis company in Canada by market capitalization, assuming the CanniMed deal goes through as planned. Over the same period of time, Canopy has instead focused on organic growth and preparing itself for the upcoming legalization. It is actively building out inventory and pursuing provincial supply agreements. You might ask which stock is better? We think both offer great value to investors but in a slightly different way.

`
Aurora Outperforming Canopy
Canopy was an early market leader after being the market darling for much of the 2016 and early 2017. Canopy was seen as the first unicorn in the cannabis sector after hitting one billion market capitalization. Canopy also branded itself as a first-mover with many "firsts" including first cannabis company to list on the TSX, first major licensing deal with Snoop Dogg, first major investment from Constellation Brands, first cannabis company to have a bought deal led by a Schedule 1 Canadian bank, BMO.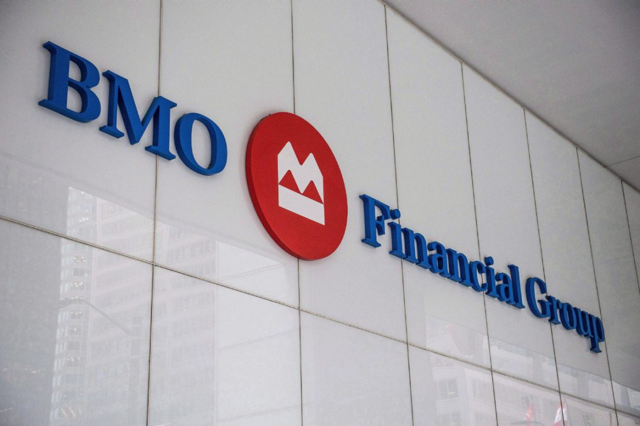 (Toronto Star)
However, as the sector heats up and receives unprecedented interest from investors many other competitors entered the scene. Some of the competitors are still early-stage with relatively small footprint and some focus on niche market such as geographic focus. However, a few large competitors emerged after industry consolidation took place over the course of 2017 and saw the lead of Canopy narrowing each day.
Aurora is one of the up and coming names we have noticed and in our recent article "True Reasons Behind The CanniMed Acquisition" we discussed the importance of CanniMed's history in medical marijuana, customer base and production capacity to Aurora. If you have to pick one cannabis company that has been the most active in corporate M&A we would have to say Aurora has been much more acquisitive than Canopy. Investors have cheered the rampant M&A activities at Aurora, sending its share price up more than 500% before the recent selloff. The recent volatility pushed the annual gain down to 300% but Aurora still outperformed Canopy by a large margin. Canopy so far produced 100% return in the past year including the recent selloff.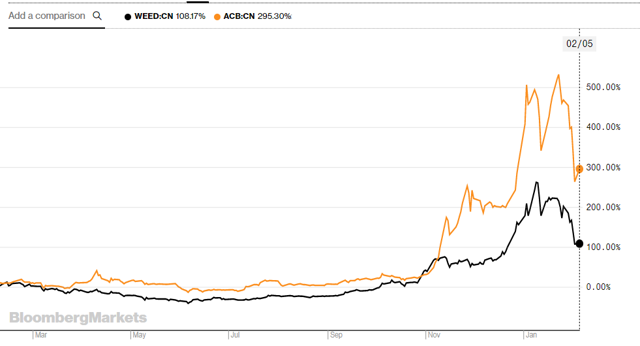 `
Implications for Canopy Shareholders
As a long-time advocate for Canopy, we argue that Canopy still remain a solid investment in the cannabis space given its track record of reliable production, scalable platform, leadership in existing medical marijuana market, premium branding and online platform and unparalleled access to capital markets and external partners. We understand that Canopy investors are wondering if higher returns can be found elsewhere and we encourage investors to diversify their holdings to include other high-quality names such as Aphria and Aurora. We like Canopy and basically view it as the blue-chip name of the Canadian cannabis market. Similar to some other industries where smaller companies often produce higher beta whereas the blue-chip names are more stable and steady. We still like Canopy and believe that it will undoubtedly become a leader in the cannabis market for years to come. Investors in Canopy will be well-served as the legalization evolves over the next few months.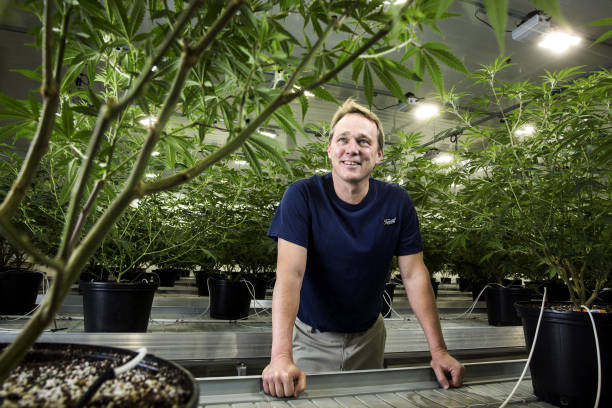 (Getty Images)
We have seen that with higher historical return Aurora also suffered higher drop during the recent selloff. M&A deals can be eye-catching but are not without risk. Integration risk, potentially overpaying and shareholder dilution from equity financing are all part of the risk for an acquisitive company like Aurora. So far Aurora has done well and we admire the management's ability to source deal and execute on its expansion agenda in an expedited manner.
We think Canopy is prudent to avoid further M&A at this stage given that it has ample capacity for future expansion and licenses are easily obtained. We think there is no need to pay high prices (given where companies are traded) for licenses and it will be much cheaper for Canopy to expand organically. In our "5 predictions for the cannabis industry" we noted that the industry M&A focus will shift away from acquiring licenses and capacity to more value-added transactions including supply agreements and IPs. We think Canopy is prudent in focusing on preparing for legalization by building up inventory and ramp up production at its existing facilities. Canopy is lucky to have built out a vast network of supply so it does not have to keep acquiring others at expensive valuations and in the process cause dilution to existing shareholders.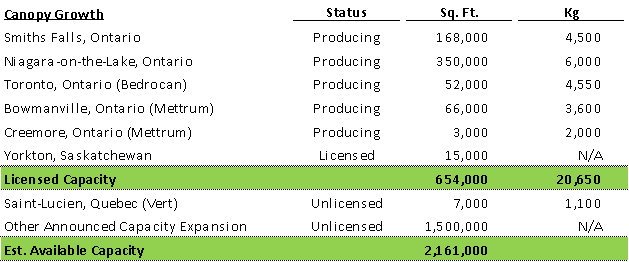 Source: Company filings
`
Slow and Steady
The results of Canopy's focus on execution and supply agreements have been evident as it secured all three provincial deals announced so far:
Newfoundland and Labrador
Prince Edward Island
New Brunswick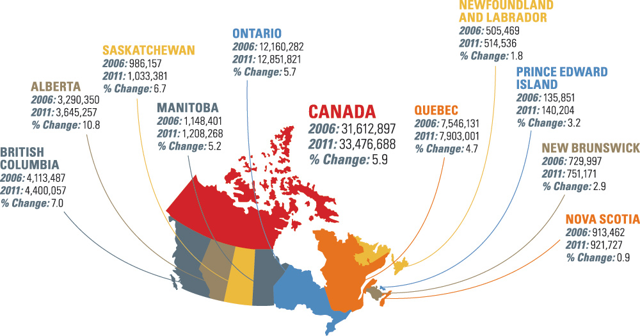 Source: Alberta Oil Magazine
On the other hand, Aurora has not yet announced any provincial deal. Granted the largest markets in Canada have not announced their supply agreements such as Ontario, Quebec, British Columbia and Alberta. We think going forward it would be important to monitor which company is able to secure a higher market share in the key geographic regions. Canopy is better positioned in Ontario given its root in Smiths Falls, Ontario and most of its production facility in the province. Aurora is located in Alberta and CanniMed is based in Saskatchewan, another Western province. We think Canopy will face pressures as provinces often times favor local suppliers. However, both companies will have the ability to serve markets across Canada and we think Canopy will likely get a head start as its larger existing production facilities provide higher output and inventory while Aurora ramps up its Aurora Sky project over the next year, which has inherent risk due to execution.
`
Conclusion
We think investors in Canopy will be rewarded as the company focuses on building out its existing production capabilities and supply networks. Post-legalization we think Canopy will be in a very strong position to capture medical and recreational market share. Other companies such as Aurora have embarked on an M&A journey acquiring a large number of companies left and right. The execution has been impressive and Aurora has scaled up quickly. We think Canopy offers a steady, blue-chip type of exposure to the sector whereas Aurora is more like a roll-up story which could result in higher volatility for its share price if M&A environment slows down or execution becomes problematic. Investors should choose according to their risk profile and diversification is an important tool to spread out execution risk for an industry that is still in its early days of formation.
`
Additional Resources
We publish on cannabis-related topics regularly. You should "follow us" to stay informed of the latest development and best ideas in the sector. We also publish a widely read Weekly Cannabis Report.
You can also read our recent articles on Canopy and the cannabis industry:
Disclosure: I/we have no positions in any stocks mentioned, and no plans to initiate any positions within the next 72 hours. I wrote this article myself, and it expresses my own opinions. I am not receiving compensation for it (other than from Seeking Alpha). I have no business relationship with any company whose stock is mentioned in this article.
Editor's Note: This article discusses one or more securities that do not trade on a major U.S. exchange. Please be aware of the risks associated with these stocks.