With the stock market rising over the past 9 years we have reached a point where it is impossible to hold onto ourselves in denial. The market will continue to decline as the VIX Index has been warning us for 4 months quite clearly that it was forming a huge and solid bottom at 9 points (see chart for this period below).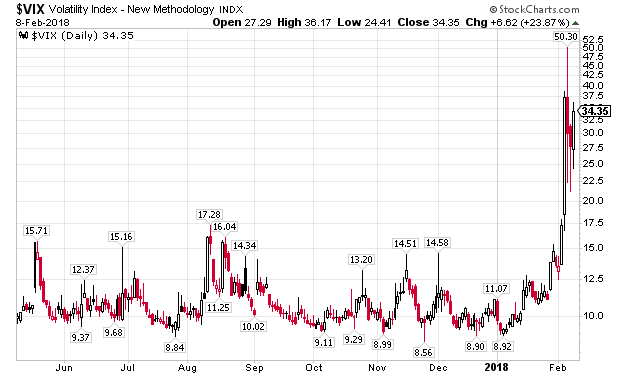 Charts courtesy of StockCharts.com.
Note: The charts are in semi-logarithmic scale.
Even before that, the VIX was showing that its lows were showing a downward trend with a frightening weight. These facts are quite eloquent. But what makes it all the more obvious is the sudden rise of VIX on a large scale and in a rapid and solid way (see specific chart below).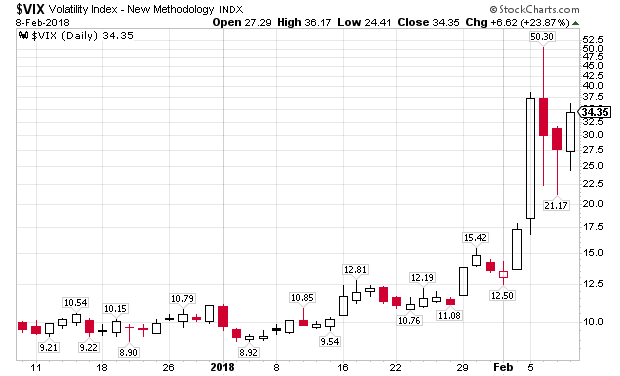 As you know, VIX is the measure of market sentiment par excellence. Since its inception in 1993, The Cboe Volatility Index, or the VIX Index, is a crucial measure of near-term market volatility provided by S&P 500 index option prices. Studies conducted over long periods of market operation show that the evolution of the VIX and S&P 500 are inverse in about 80% of the time as we can see on the chart below.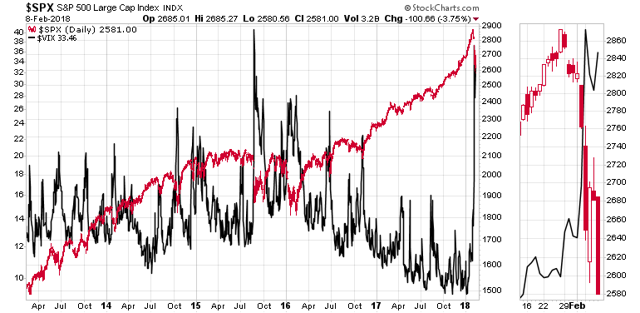 When its value remains low the market trend is sustainably high. On the contrary, when its value rises steadily it shows that stock decline may have come to stay for some time.
it is important to note that the rise of the VIX is usually very fast and usually shows up in spikes. The higher they are the more they indicate the likelihood of large falls in stocks.
We all knew this was going to happen sooner or later, but somehow we believed that it was not yet for now, but only eventually in a few months, maybe a year ... or even later. It is the normal tendency of the market: to rise more or less slowly for a long time and then to fall rapidly and in force.
It is amazing how (almost) no one saw it coming. Of course, it is only the market that dictates the laws and everything can change suddenly, although the data is undeniable at this moment.
Personally, I am convinced that the downturn is ahead of us, but there is one thing that intrigues me: both the US and EU economies are doing fine. What is happening may be all about the great overvaluation of the stock market. For this reason a drastic and relatively fast correction will be indispensable so that the market can healthily continue thereafter.
Conclusion
Sometimes it takes courage to write down what we think as the subject is very sensitive. Although the 2009 crisis seems to have lagged behind the global economic and financial structure has become more weakened. Even so, I think it is the stock market that has risen too much without rest and this decline could be a resounding correction without being a shift to a bear market situation. In any case, the declines of the last days point to an extremely problematic situation that may lead to a trend reversal.
Disclosure: I/we have no positions in any stocks mentioned, and no plans to initiate any positions within the next 72 hours.
I wrote this article myself, and it expresses my own opinions. I am not receiving compensation for it (other than from Seeking Alpha). I have no business relationship with any company whose stock is mentioned in this article.
Additional disclosure: The author of this article is not an investment adviser and gives only his personal view and opinion, never making any investment advice or recommendation to buy or sell specific securities. Investors in financial assets must do so at their own responsibility and with due caution as they involve a significant degree of risk. Before investing in financial assets, investors should do their own research and consult a professional investment adviser.