As the outcome of the NXP Semi. (NXPI) merger lingers on, Qualcomm (QCOM) shareholders just want closure on the deal. The company has multiple paths to higher earnings, but the NXP Semi. deal must get out of the way first.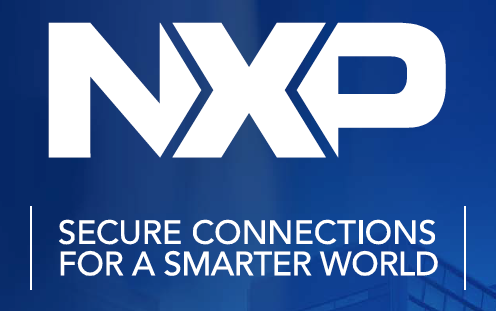 Merger Recap
Back in October 2016, Qualcomm agreed to pay $110 per share in cash for NXP Semi. The stock now trades at $116 as Elliot Management agitates for a higher deal internally valuing the stock at $135.
Only MOFCOM, the regulator body in China, is left to approve the deal from a regulator process. The remaining hurdle is obtaining enough shares tendered by NXP Semi. shareholders to close the deal and Elliott Management hopes to block this move. Previous tender offers have failed to attract enough shares requiring Qualcomm to extend the offer with the latest close on February 9.
To basically sum up the discussion, Elliott thinks NXP Semi is worth a higher multiple. The activist uses a basket of semiconductor stocks with a 2018 P/E multiple of 18.6 versus the multiple agreed to in the deal that values NXP Semi. for only 15.2x 2018 EPS estimates.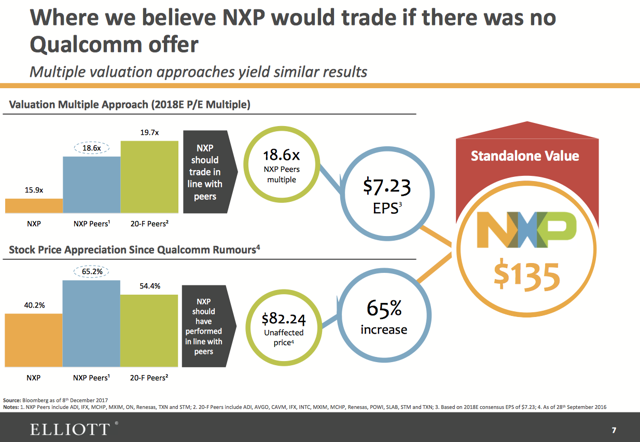 Source: Elliott
Average analyst estimate are actually up slightly to $7.28 per share from the $7.23 utilized in the presentation by Elliott. As well, NXP Semi. beat Q4 estimates as revenues soared $120 million above forecasts.
A big part of the issue is that NXP Semi. shareholders haven't captured the upside from a deal that has now taken over 15 months to close while the market has soared. NXP Semi. has only gained 16% while the iShares Semiconductor ETF (SOXX) is up 52% in that time period.
Qualcomm Impact
Qualcomm management laid out a target for hitting a $7 EPS for FY19 and a big part of the EPS gains come from closing the NXP Semi. deal or executing a massive stock buyback. The stock currently trades far below the Broadcom Limited (AVGO) offer of $82 highlighting the extreme value in the shares. The wireless tech giant can achieve substantial synergies via NXP Semi. or greatly reduce the share count to squeeze the EPS higher, but neither is currently happening.
Either way, my previous research sees the EPS estimates as legitimate when throwing in a $1 billion cost reduction plan. The earnings though can't be achieved without closure on the NXP Semi. deal that keeps lingering.
At $110 per share for NXP Semi., Qualcomm has to fork over $38 billion in cash. As well, the company has to absorb the net debt of $3 billion that is down from $7 billion when the merger was announced. An additional $25 per share for NXP Semi. adds roughly $8.7 billion to the deal value.
Qualcomm forecasts the deal being accretive at $110 per share on transaction closing and $500 million in synergies will add substantially to the bottom line over a two-year period from closing. On a diluted share count of 1.45 billion, the synergies add about $0.28 per share in earnings after taxes.
What makes the deal ultimately accretive is paying cash or assuming debt for the transaction. At a $7.28 EPS for 2019, NXP Semi. is on pace to earn about $2.5 billion in profits. All Qualcomm has to do is pay less than that amount in interest expenses on debt to make the deal highly accretive.
Qualcomm had $41.9 billion in cash (including $2.0 billion held to collateralize letters of credit) with debt of $22.8 billion or net cash of roughly $19.1 billion. As one can see, the tech giant is paying for most of the deal via cash on hand that earns very little interest income.
The last $11 billion debt offering had an average interest rate around 3.0%. The 2027 Senior Notes had a 3.25% rate. Even doing a simple calculation that net debt of $31 billion after a $135 per share deal at 3.0% interest only costs the company $930 million annually. Naturally paying the current offer or a lower interest rate cuts the annual interest costs.
Even in a worst case scenario, the deal adds $1.57 billion in annual profits. A good portion of the interest costs are already factored into the expenses since the debt is already on the balance sheet. The after-tax profits along with the synergies will boost the Qualcomm EPS in excess of $1 per share.
The reason though to get this deal either completed or terminated is the share buyback potential if the NXP Semi. deal fails. Qualcomm only has a market value of about $95 billion. A quick $20 billion buyback that pushes the company to a neutral cash position would reduce the share count by over 20%.
FY19 EPS estimates at $3.73 immediately gets a 20% boost. Throw in the companies target of reducing costs by $1 billion and the EPS impact of the share buyback is in excess of $1 per share.
The utilization of cash to purchase NXP Semi. or repurchase shares provides the additional boost to reach an EPS target of $5.25. Closing the outstanding license issues closes the gap with earnings projections and pushes the company to the EPS target of $6.75 to $7.50.
Takeaway
The key investor takeaway is that Qualcomm shareholders should want closure on this NXP Semi. deal. Either make a deal with NXP Semi. shareholders for a higher price or lets move on and repurchase shares. EPS accretion doesn't occur until one of these steps are taken and shareholders are in a holding pattern until that occurs.
Investors should accumulate Qualcomm stock with a couple of paths to a higher price including accepting the Broadcom offer for $82, or a 31% premium from the current price. Boosting EPS from closure on the NXP Semi. deal likely generates a path to an even higher stock price. If the 15.2 P/E multiple that Elliot wants to turn down on NXP Semi. were applied to Qualcomm earning the low end $6.75 EPS target for FY19, the stock would reach $102.60.
Disclosure: I am/we are long QCOM.
I wrote this article myself, and it expresses my own opinions. I am not receiving compensation for it (other than from Seeking Alpha). I have no business relationship with any company whose stock is mentioned in this article.
Additional disclosure: The information contained herein is for informational purposes only. Nothing in this article should be taken as a solicitation to purchase or sell securities. Before buying or selling any stock you should do your own research and reach your own conclusion or consult a financial advisor. Investing includes risks, including loss of principal.