Deeply troubled Latin American nation Venezuela is in economic and political freefall. The turmoil surrounding the regime of President Maduro continues to deepen while Venezuela's economy lurches closer to failure. There are signs that not only is this turmoil in conjunction with Caracas' policies doing irreparable damage to the nations' oil industry, but that Venezuela's oil industry is in freefall and its energy patch is on the verge of collapse.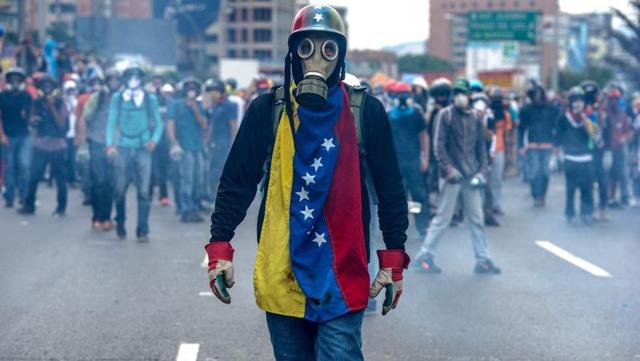 Source: stock photo.
That has a created the potential for a massive geopolitically driven supply disruption, which when compared to only a few years ago when global energy markets were awash with crude, will have sharp impact on supply and consequently prices.
The key problem is that Venezuela's oil industry and state owned integrated energy company PDVSA are in total disarray. Years of political mismanagement, a lack of investment, growing insecurity and policies that have driven away foreign energy companies have all created a perfect storm that sees Venezuela's oil production caught in deadly spiral that shows no sign of ending any time soon.
Production is declining at a faster rate than forecast
According to OPEC's January 2018 Monthly Oil Market Report Venezuela's December 2017 oil production dipped to 1.6 million barrels daily. This represents a massive 32% plunge compared to the daily average for 2016 and is a crushing 42% lower than daily average production during 2013.
In fact, if output deteriorates from the 1.6 million barrels daily for December by 30% then it isn't unreasonable to expect it to plunge by almost 500,000 barrels to somewhere between 1.1 million and 1.2 million barrels daily. That is far lower than 2018 production of 1.4 million to 1.5 million barrels daily predicted by Moody's, Barclays and RBC Capital Markets, representing a 900,000-barrel decline compared to 2017.
In an environment where the global economic upswing has given oil demand growth a healthy bump, OPEC production cuts are keeping around 1.8 million barrels daily off global energy markets and other supply disruptions are looming this could have a far greater impact on global supplies than traditionally thought.
It is likely that despite the ruminations of Caracas and the newly installed PDVSA leadership that they can grow production, such catastrophic declines are going to continue at an even brisker pace. Even the introduction of the Petro cryptocurrency aimed at circumventing U.S. financial sanctions won't be sufficient to reinvigorate PDVSA's operations.
The economic crisis is intensifying
The likelihood of such a monumental drop occurring is high, when the ruinous state of Venezuela's economy is considered. What was once considered one of the wealthiest and economically advanced nations in Latin America is battling chronic shortages of basic foodstuffs, significantly declining government income and rampant inflation.
That is creating a vicious feedback loop whereby neither Caracas or PDVSA can garner sufficient funds to perform critical maintenance on crucial energy infrastructure or to conduct drilling and exploration activities.
It is the reason for Venezuela's selective default on bond coupon payments that fell due in November 2017 and for growing fears that a hard default is imminent. This not only symptomatic of Caracas' financial distress but also highlights PDVSA's plight when it comes to paying operational costs. Its inability to pay oil field service companies such as Halliburton and Schlumberger saw them essentially end their operations in the country.
Drilling activity is declining rapidly
The lack of drilling activity is evident from Venezuela's rig count falling to its lowest level since 2003. This is causing decline rates at Venezuela's all important mature oil fields are accelerating at a rapid rate. Naturally they decline at around 25% annually, highlighting the need for drilling and field development to maintain production but it is believed this will accelerate to 30% during 2018 and even higher in later years unless a sudden turnaround in the situation occurs.
The likelihood of any significant turnaround occurring is slim to nonexistent.
Sanctions will cause the crisis to worsen
Maduro continues to apply pressure to opposition groups and strengthen his own power, including overriding the opposition-led national assembly and replacing with his own 545 seat super assembly.
The U.S. believes that the only means of removing Maduro from power is to apply further pressure by implementing additional sanctions and has gone as far as alluding that a military coup is required. A coup nonetheless is highly unlikely because of the beneficial alliance that exists between Maduro's government and the military.
The additional sanctions being considered are focused on restricting imports of Venezuelan crude as well as exports of U.S. naptha and light crude which are important diluents crucial to the processing of the heavy oil Venezuela produces.
While the U.S. is a crucial market for Venezuela with it accepting 39% of all exports including claiming just over a third of its oil production, they have been declining in recent months. For January 2018, oil exports to the U.S. nose-dived 32% compared to the previous month and plummeted by 50% when compared to the same period in 2016. That sharp decline is already intensifying the impact of declining oil production on an economy where over half of its GDP and almost all export income comes from oil.
Nevertheless, the real impact is being felt by ordinary Venezuelans and not by the Maduro government. That impact would only worsen if the U.S. proceeded with the additional sanctions being discussed. Declining export income will only further reduce spending on critical maintenance for oil infrastructure causing decline rates to spiral ever higher, leading to even lower production.
For these reasons it is easy to see Venezuela's oil production sinking far lower than the numbers being put out by Moody's, Barclays and RBC Capital markets, to somewhere around 1.1 million barrels daily. Analysts from Citibank have formed a similar view warning it could fall to as low as one million barrels daily during 2018. Such a significant decline in a world where energy markets have rebalanced would constitute an unexpected supply shock, buoying oil prices and potentially leading OPEC and Russia to reconsider the mechanics of their deal on production cuts.
Disclosure: I/we have no positions in any stocks mentioned, and no plans to initiate any positions within the next 72 hours. I wrote this article myself, and it expresses my own opinions. I am not receiving compensation for it (other than from Seeking Alpha). I have no business relationship with any company whose stock is mentioned in this article.