In the first two parts of this series I examined how Aimia (OTCPK:GAPFF) can position Aeroplan in the reward points market to continue extracting value from the well-known brand.
Clearly they have a lot of options even after the current Air Canada (OTCQX:ACDVF) contract runs out.
What does that actually mean in terms of profit and cashflow? It's time to find out.
Aeroplan's Biggest Asset
There is value in the brand itself and the large customer base that actively uses Aeroplan. This activity has actually grown since the announcement of the Air Canada changes last year.
But that brand needs a vehicle to get to the market. We already saw how the redemptions could transition to a program that may be better in some ways. Air Canada has already stated it will continue to have flights available on Aeroplan. All of that means nothing if Aeroplan doesn't have an ongoing customer base that keeps generating new points.
The biggest strength in this regard is the bank contracts. Aeroplan cards are issued by TD (TD), CIBC (CM), and Amex (AXP). The cards have been popular for a long time due to the large signup bonuses and the reward rates.
The two big contracts, with TD and CIBC, run until 2024 and can be extended past that date.
We don't have word yet on the Amex contract being extended beyond December 2018.
The Amex extension to 2018 was secured on Oct 25 2016 (page 61), shortly before the end of the prior deal. Thus the fact that it hasn't been renewed is not necessarily a sign of trouble.
The income is reported in two different ways. Gross billings are the dollar amount received for points created and services sold. Some of those points may be used years in the future. The gross billings go into a future reserve (in Aimia's accounting) until the points are used.
Once the points are used, a proportional part of that amount is recognized as current revenue. I'm focusing on the gross billings here because it is representative of the activity generated each day by new points created for credit card users. If you're looking at profit margins then the revenue is more relevant because it aligns point creation and point spending.
The chart below shows that Amex represents 29.7% of the combined activity from TD + CIBC or 22.9% of all credit card activity: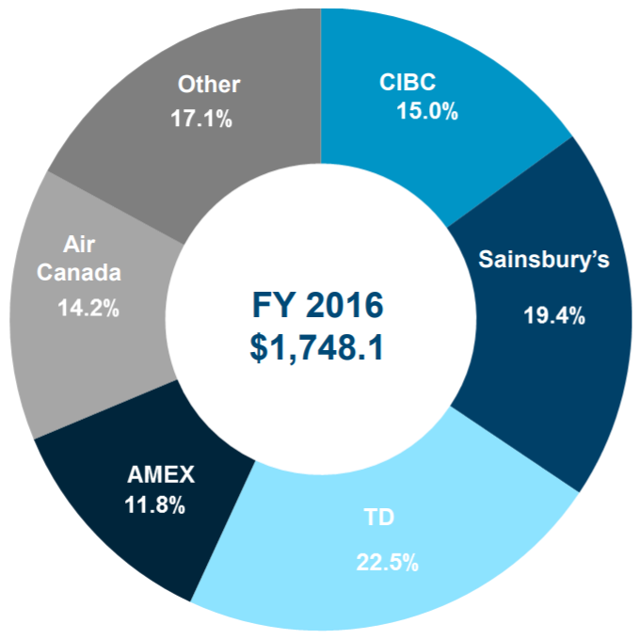 Gross billings from sales of points with major loyalty partners in 2016 (Source: Aimia Q4 2016 presentation)
In 2016 the gross billings were $2,339.7b overall. This breaks down to:
$393.3m from TD credit cards
$339.1m from Sainsbury's (under the now-disposed of Nectar program)
$298.9m from other major point issuance partners
$262.2m from CIBC credit cards
$248.2m from Air Canada flights
$206.3m from Amex credit cards
$591.6m in revenue outside of point issuance (including fees for managing Air Canada's Altitude program)
Altogether that indicates $655.5m in gross billings per year from CIBC and TD, or $861.8m including Amex, if there is no growth from the 2016 level.
The FY 2016 presentation suggests that Aeroplan has a gross margin around 29.3% of its gross billings and an adjusted EBITDA margin around 18.2% of its gross billings.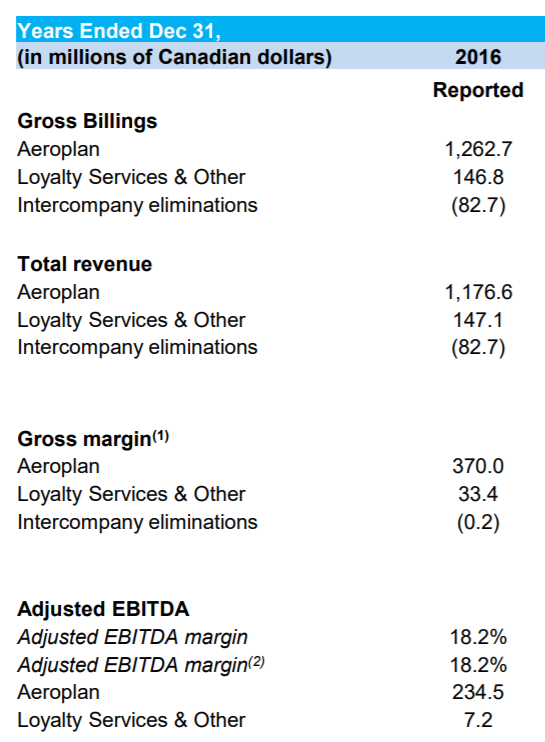 Summary of Americas programs in 2016 (Source: Aimia Q4 2016 presentation)
Multiplying those numbers we get a base EBITDA of $119.3m - $156.8m per year from the Aeroplan credit card partners.
We can arrive a similar result another way. If we conservatively estimate that the profit margin is 15% on each point that is issued and redeemed by a customer, and the breakage (points that are issued by never redeemed) is 10%, then Aeroplan would earn a 23.5% gross margin on points that are issued. Some improvements to those numbers are likely how they got to their actual 29.3% gross margin in 2016.
Increasing Costs
All of this depends on having redemption options. Customers will stop signing up for credit cards and using them if they don't get a reward that's worth something.
Air Canada has already indicated that they will continue to offer flights on Aeroplan on a higher cost basis. As I outlined in the other two parts of this series there are many examples that Aeroplan could follow to extend the program to other airlines.
The current cost per point for Aeroplan redemptions is around 1 cent. This is what Aimia pays.
If they follow the same model as RBC Rewards then the savings to the customer could be capped at 2 cents per point with an average closer to 1 cent per point.
And that's based on the full-priced fares paid by customers. A negotiated bulk discount combined with the breakage could bring Aimia's actual cost to 1 cent per point or even less -- perfectly in line with their current business model.
One of the big appeals of Aeroplan is business class flights which are more expensive. However this does not necessarily mean it can't be done. The last business class redemption I used on Aeroplan gave me a savings of 1.3 cents per point based on the cheapest full-priced flight.
And if they negotiate deals with airlines that want to fill unsold business class seats while getting some added revenue, they might conceivably get some good discounts. This may be less likely as airlines will want to use those as a cheap bonus for their frequent flyers.
On the other hand airlines also want to see if those passengers will pay full price or at least a nice upgrade fee. It's a game of chicken, and the alternative where the airline gets revenue without having to actually post a discounted price in public may have some attraction.
If Aeroplan does sign special deals with some partners, they may end up with a range of redemption costs. They could be paying higher costs to buy Air Canada and Westjet (OTC:WJAFF) seats closer to regular prices, and perhaps lower costs with select partners that want to sell international flights starting in Canada. This is more speculative since we don't know if management is pursuing anything like that.
The redemption cost is critical. If we assume a weighted average of 1.25 cents per point, that could decrease the gross margin by 17.7% which would eat up most of the net EBITDA.
Aimia's challenge will be to reduce that cost while maintaining the perception of customer value. This is one of the things they have done well so far.
How Do Shareholders Get The Value?
If Aimia is able to keep redemption costs at 1 cent per point while retaining existing customers and attracting new ones, then they still have good cashflow at least through 2024. The base level of cashflow would come from $119m - $154m in annual EBITDA depending on whether the Amex contract continues.
That's nice but since they've suspended all dividends and started paying down debts, how do shareholders get that cash?
They do have some liabilities including up to $358m in debts (which may be lower once Q4 2017 results are announced) and preferred shares worth $322m.
The company paid dividends that peaked at $0.80/year per common share and had a share buyback of $24.5m in 2016. In total there were $16.9m in preferred share dividends and $120.3m in common share dividends.
These $137m in dividends came from $266m in cash generated from operating activities, a payout ratio just over 50%. This included $234.5m of EBITDA from Aeroplan while the company as a whole had $234.2m in EBITDA -- the additional contributions from international programs were roughly offset by corporate overhead.
On that basis we can do a rough estimate with a 15% reduction of EBITDA for the sale of the Nectar business, and then divide it by 2 to account for just the core gross billings on TD and CIBC credit cards (taking Aeroplan's EBITDA from $234.5m to $117.3m). This leaves it at 42.5% of the 2016 level.
If dividends were paid out on the same basis this would equate to $0.28 per common share each year, coming from Aeroplan alone. At a 10% yield for a troubled business the stock price would have to be $2.80+ to support that. At a 5% yield for a stable business the stock price would have to be $5.60+. If bond yields are increasing, the company is not likely to see yields much lower than that even with high confidence.
There are several upside factors not included in this analysis:
Share buybacks, which were used in the past to increase return of capital (and would be extremely valuable around current prices); alternately that extra capital could go into higher dividends.
Higher levels of Aeroplan earnings from the continuation of the Amex contract, which could increase the Aeroplan EBITDA by 29%.
Non-credit card reward partners, which are currently a substantial source of gross billings at a volume up to 50% higher than Amex (a small part of this was Nectar points).
Increases in credit card customers and gross billings on credit cards, which are already happening (this forecast models one possible rate of growth).
Beyond Aeroplan
Of course there are other parts to the company including their stakes in Cardlytics (CDLX) and Club Premier.
Aimia itself also has a net cash position with the debts being rapidly paid off, the $300m reserve for Aeroplan released as part of the Nectar transaction on Feb 2, and the possibility of several hundred million dollars in additional cashflow before the end of the old Air Canada contract.
The biggest offsets to this are the value of the preferred shares ($322m) and the possibility of a mass redemption of Aeroplan points (which may be over $1b in the worst case).
The worst case redemption is limited somewhat by the fact that some people will have abandoned their accounts (management estimates this may be worth $700m+) and others will have to earn more points before they can get the redemption they want.
In the normal course of business the cash coming in for new points is more than what is spent on redemptions. And the preferred shares do not need to be redeemed while the business is still running. As long as Aimia is able to continue operating in a substantially similar form those liabilities should not be paid out.
Risks
Bank Programs
The biggest risk is that Aimia stops generating new Aeroplan points. The bank partnerships are a key part of this and they depend on good customers seeking out Aeroplan cards. Banks are willing to pay for this because they earn a lot more from those customers.
The banks have shown that they are willing to run their own programs side by side with Aeroplan. As long as Aeroplan carries added value in the eyes of the consumer (or at least the perception of value) it can compete effectively.
Part of the value to the banks is the Aeroplan customers are good consumers. They spend a lot and they use the card heavily to maximize points (I've been there). This makes it worth issuing hundreds of dollars in points just to sign up one new cardholder. So are they more likely to be the type who switch entirely to Air Canada's new program because they're just flying in business class on Air Canada flights all the time?
Not necessarily -- they might avoid Air Canada, they may not have the right flight patterns to benefit from it, or they may use international airlines more often. Some Canadians even choose airlines such as United or Delta for their primary loyalty program. And there is still the possibility that they use Air Canada for frequent flyer rewards and Aeroplan for credit card rewards. Many of the heaviest travelers and point-maximizers already aren't using Aeroplan so there's nothing to lose with them.
All of those factors reduce the risk of a mass defection.
Air Miles is also a competitor, however it simply does not have the same brand strength as Aeroplan. It may be harder for consumers to understand because the point values are very much out of line with every other program. Air Miles points may be worth up to 20x more but that means the amounts given look very small.
Air Canada
Air Canada will try to market a branded credit card at some point. It's estimated that 25% of Aeroplan users are Air Canada frequent flyers. However this hypothetical card may not compete well with Aeroplan. For one thing Air Canada is not particularly generous in its loyalty programs to date.
They also face conflicting goals if they offer high rewards on a credit card. They want to reward people who actually fly on Air Canada, not just the big spenders who are happy with any airline. Most of their benefits will have to go to customers who actually have a lot of flights.
A branded credit card would be most valuable to customers who fly occasionally but always with Air Canada. They would get an acceleration of the rewards and might see a bonus a little sooner. Meanwhile customers with no loyalty won't get a unique benefit from an Air Canada credit card and the real frequent flyers will get their benefits through the actual loyalty program. Both of those could well continue using Aeroplan credit cards. After all they can still redeem the points for Air Canada flights.
I've seen this with Westjet. I maximize the benefits I get under their frequent flyer program. I don't use their branded credit card though because I already get some of the benefits separately and it offers little value above what I get from any rewards card.
If a lot of Aeroplan customers did switch to using an Air Canada branded credit card that would cut into the point issuance. Currently the points created from Air Canada flights are somewhere between the volumes of Amex and CIBC customers.
Some flights generate far less points for the flight than they do for the payment (I've gotten 125 points for a flight, while getting 300+ points by paying for it on the credit card) and some generate far more (15,000+ points for the flight while getting 3,000 for the payment).
On average if assume a 1:1 ratio and everyone who ever got points for an Air Canada flight also paid for it with the new Air Canada branded card, the impact to Aimia would be slightly more than ending the Amex contract. And that's fairly unlikely.
There probably will be some who switch. I'm guessing it won't be the larger part of the Aeroplan customers.
Marketing
Despite Aeroplan's strength, Aimia may have to increase its marketing budget to help boost and maintain the customer base, as well as explaining the changes to consumers.
Partnerships
If Aimia can't sign on additional airlines that would limit the value. They would continue with Air Canada by default, losing the reduced cost of classic flight rewards, and also losing access to other Star Alliance partners. The Air Canada flights still cover a wide range of domestic and international routes.
However it can't be too hard to go to other airlines and offer to spend a few hundred million dollars on seats at a slight discount. I fully expect more airlines to be available.
Conclusion: Are Investors Missing Out?
Mohnish Pabrai often says "look for investments with high uncertainty and low risk". That's when you find low share prices and big returns.
Right now the future of Aeroplan is extremely uncertain. And yet the core of the business is built on contracts that have a real value that can easily support the current share price.
This completely ignores future improvements as well as the other businesses that Aimia owns.
If Aimia itself can't keep operating, those valuable assets could be sold to other companies. Air Canada could even be a buyer, although if that is their end goal I think it's a huge risk. A successful transition for Aimia would put Air Canada in a weaker position. A coalition of banks or a single bank might also be willing to buy out the brand for access to the cashflow.
Although the management is drawing a lot of negative attention from investors right now, they do understand the core points business well. As long as they don't mess that up completely it's unlikely that Aimia shares will be a total loss.
It's good to see an increased focus on what the management does best -- extracting value from travel points users, and returning capital to shareholders.
The company got a negative debt rating outlook from DBRS with the comment that the Nectar sale "reduces diversification". This is missing the point. Aimia shed a less-profitable, non-core business. The terms of the deal show that it wasn't contributing much. By sticking to what works and streamlining operations they can increase margins and decrease risk.
Will the shares end up with a 10% gain or a 10x gain? It's too hard to tell right now. Either way this is very interesting for value investors.
Disclosure: I am/we are long GAPFF, ACDVF.
I wrote this article myself, and it expresses my own opinions. I am not receiving compensation for it (other than from Seeking Alpha). I have no business relationship with any company whose stock is mentioned in this article.
Editor's Note: This article discusses one or more securities that do not trade on a major U.S. exchange. Please be aware of the risks associated with these stocks.