What happened?
Last week, MetLife (NYSE:MET) postponed its 4Q17 earnings report and issued a profit warning. As a recap, on its 2018 Outlook Call, management announced a review of practices and procedures used to estimate the company's reserves related to certain annuitants who have been unresponsive or missing over time.
After completing the review, MetLife said that it had a material weakness in internal control. As a result, the company expects to increase group annuity reserves by $525-575mn pre-tax, to adjust for reserves previously released, as well as accrued interest and other related liabilities. The additional reserves of $525-575mn correspond to almost 10% of the company's 2018E earnings. The impact on 4Q17 earnings is expected to be $135-165mn.
The shares have fallen by 20% since the announcement.
Buy the dip
Without a doubt, this announcement is certainly a negative for MetLife. The company now needs to restore credibility and regain investor confidence. As such, the event is most likely to have a lasting impact on the stock's valuation. With that being said, we believe the market has overreacted to the reserve build-up. We are buyers here.
First off, it is worth noting that while the announced increase in reserves is negative, it is definitely manageable. Notably, it will not have a major impact on the company's recurring earnings or on its capital position.
More importantly, core operating trends remain solid. According to the press release, adjusted earnings are expected to be between $0.61 and $0.66 per share. Excluding net notable items, which are expected to be between $0.46 and $0.48, MetLife's core Q4 EPS would be between $1.07 and $1.14. In addition, MetLife's book value, excluding accumulated other comprehensive income, increased to $42.18-42.23 per share. That implies a return on equity of 10-11%, which we view as a very solid metric.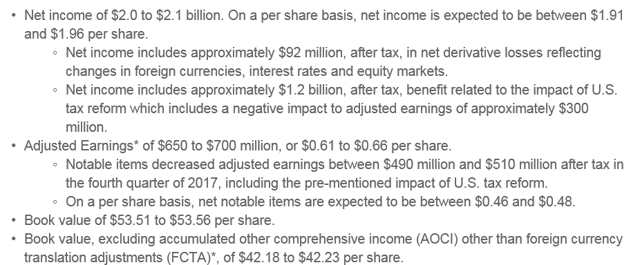 Source: Company data
Although MET's sensitivity to interest rates has decreased since the company completed the separation of Brighthouse Financial (BHF), higher US Treasury yields are still a significant tailwind for the company's earnings. With the 10-year yield hovering around the 2.8-2.85% level, we expect consensus to increase its earnings estimates for MET.
It is well worth noting that there were several cases where US banks and financial companies were negatively affected by unexpected material events. JPMorgan (JPM) and the London Whale trading scandal, Goldman Sachs (GS) and the Abacus Suit, Bank of America (BAC) and the $4bn accounting error, M&T Bank (MTB) and its anti-money laundering issues, just to name a few. While these companies did underperform the sector during the 1-3 month period, they eventually regained their valuation multiples.
Finally, MET's 2018 EPS estimates remain intact. As such, MetLife is still expected to deliver a double-digit RoE in 2018.
Valuation and dividends
MET does not look overvalued on a P/B - RoE basis.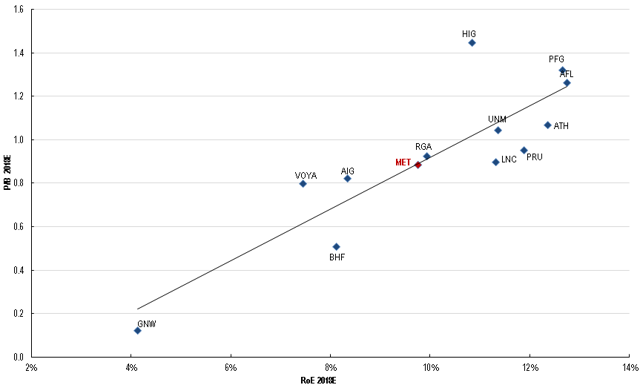 Source: Bloomberg, Renaissance Research
After the sell-off, MetLife offers a 3.6% dividend yield, which looks safe, especially given that the announced increase in reserves should not have a significant impact on the company's earnings or its capital. Given that MetLife is no longer a non-bank SIFI, we would not rule out special dividends or more buybacks. In addition, MetLife still intends to divest its remaining ownership in Brighthouse Financial through an exchange offer for MetLife common stock during 2018. That would be effectively a new buyback program for MetLife, and hence it would be supportive for the stock.
Bottom line
Without a doubt, this announcement is certainly negative for MetLife. The company now needs to restore credibility and regain investor confidence. With that being said, we believe most of the negatives have been already priced in, given that the stock has declined by 20% since the announcement and the increase in reserves corresponds to around 10% of the company's 2018E earnings. In our view, the stock's risk/reward is skewed to the upside, and we are buyers here. MetLife will fully disclose its 4Q numbers on 13 Feb.
Note: This is an excerpt of a Banking on Financials post.
If you would like to receive our articles as soon as they are published, consider following us by clicking the "Follow" button beside our name at the top of the page. Thank you for reading.
We also invite readers to check out our subscription service. Get in-depth fundamental research, stock recommendations, trading ideas, exclusive access to professional databases, sophisticated valuation models and expert commentary on Wall Street recommendation. Go here to learn more; we look forward to having you on board. In addition, we are offering a 2-week free trail.
Disclosure: I am/we are long MET, BHF, JPM. I wrote this article myself, and it expresses my own opinions. I am not receiving compensation for it (other than from Seeking Alpha). I have no business relationship with any company whose stock is mentioned in this article.