Real Estate Weekly Review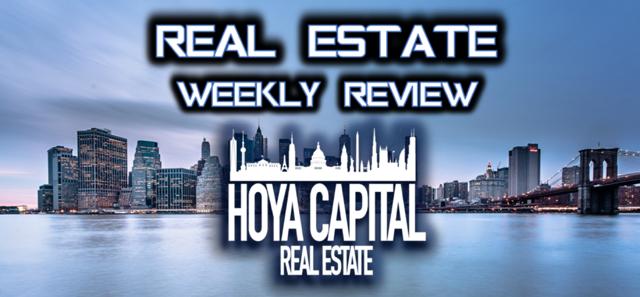 What a wild week on Wall Street. In the most volatile week since the financial crisis, the S&P 500 (SPY) dropped more than 7% and fell into "correction" territory the first time since early 2016. All eyes are on the 10-year yield amid fears of rising inflation resulting from stronger-than-expected economic growth and growing government deficits. Congress approved a $300 billion spending increase this week, which is expected to expand the deficit to more than $1 trillion in 2018, the largest government deficit ever during an expansion.
The simultaneous sell-off in both equity and bond markets appears to have triggered a flurry of systematic trading in investing strategies (such as risk-parity) that are linked to volatility. The implosion of VIX-linked exchange-traded products appear to have contributed to the early-week sell-off but investors were left searching for alternate explanations as the sell-off continued throughout the week.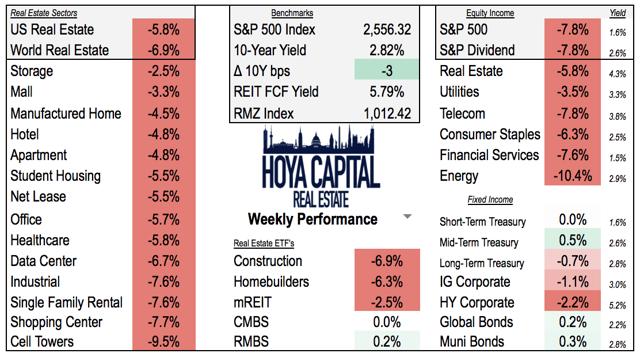 (Hoya Capital Real Estate, Performance as of 1pm Friday)
REIT ETFs (VNQ and IYR) finished the week lower nearly 6% while homebuilders (XHB) finished the week lower by 6.3%. Mortgage REITs (REM) dipped 2.5% while international real estate (VNQI and RWX) fell nearly 7%. REITs are now 25% below their 2016 peaks and 15% below their recent 52-week highs in December.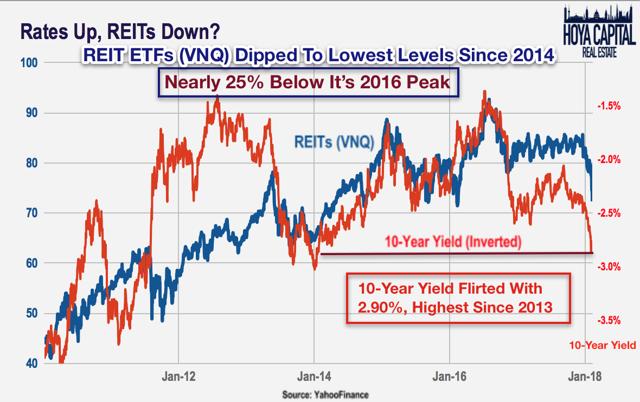 Within the Equity Income categories, we note the weekly performance and current income yield of the Utilities, Telecom, Consumer Staples, Financials, and Energy. Within the Fixed Income categories, we look at Short-, Medium-, and Long-Term Treasuries, as well as Investment Grade and High Yield Corporates, Municipal Bonds, and Global Bonds.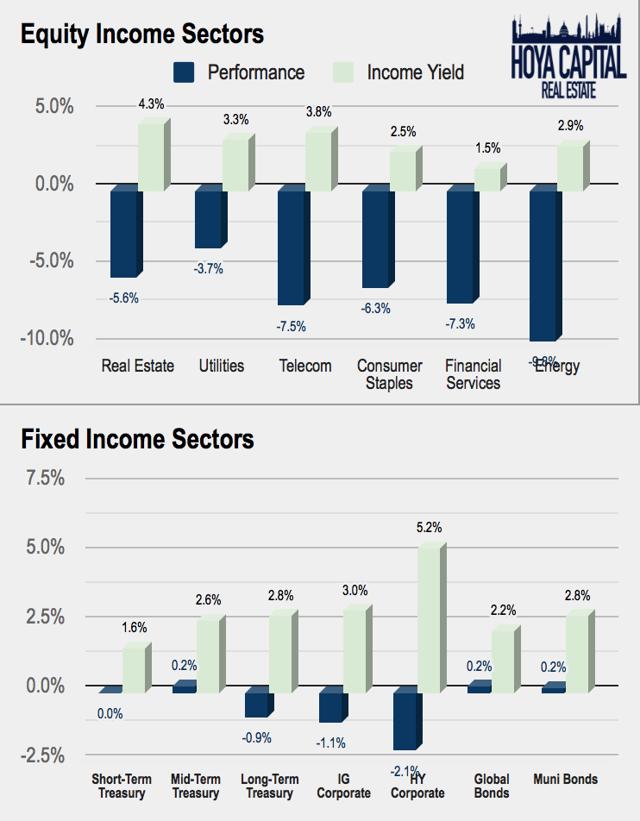 2018 has not been kind to real estate. REITs are now lower by more than 12% YTD, significantly underperforming the US equity markets which have dipped roughly 4%. Homebuilders are down more than 11%. The 10-year yield has climbed 42 basis points since the start of the year.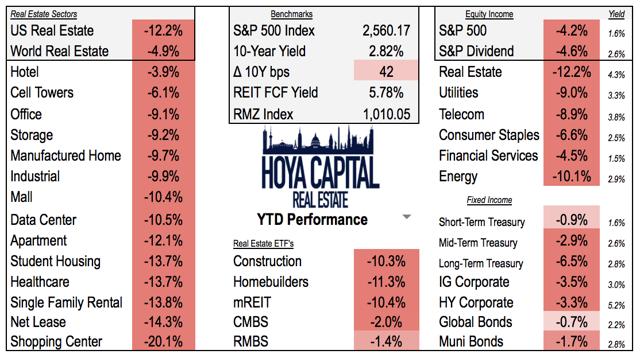 Real Estate Earnings Update
Earnings season continued this week in the real estate sector. So far, results have been solid with more than 40% of REITs beating expectations and less than 10% missing estimates. Forward guidance, though, has been surprisingly conservative. This week, major earnings reports included Macerich (MAC), Cousins (CUZ), General Growth (GGP), UDR (UDR), Essex (ESS), CoreSite (COR), CBL (CBL), Regency (REG), Medical Properties (MPW), and Ventas (VTR).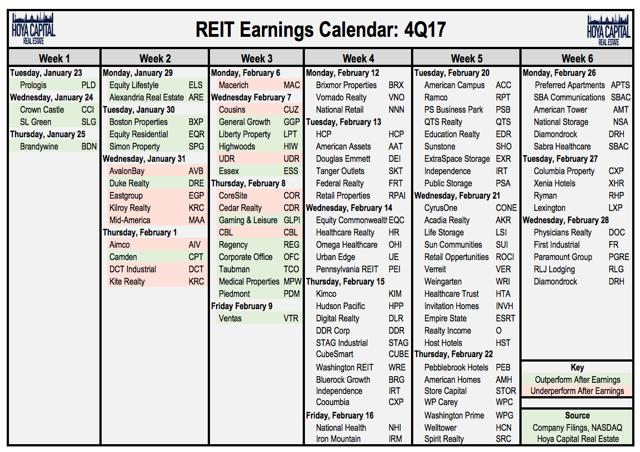 Apartment and retail sectors were the best performers of the week. The relative outperformers this week included Essex, Simon (SPG), Public Storage (PSA), Omega Healthcare (OHI), Taubman (TCO), CubeSmart (CUBE), Medical Properties Trust, and Store Capital (STOR).
More than 15 REITs dipped more than 8% this week, including a 21% plunge in CBL, and 8%+ dips in DDR (DDR), Washington Prime (WPG), Pennsylvania REIT (PEI), SBA Communications (SBAC), Iron Mountain (IRM), CoreSite (COR), Macerich, and First Industrial (FR).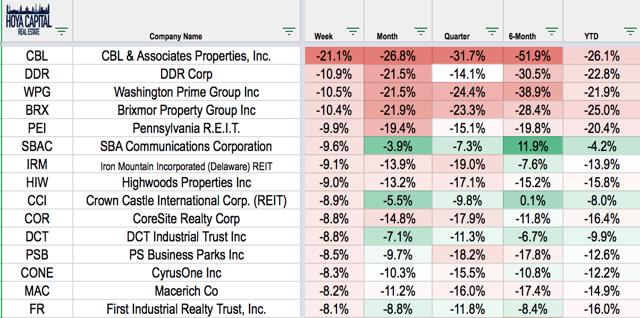 Real Estate Economic Data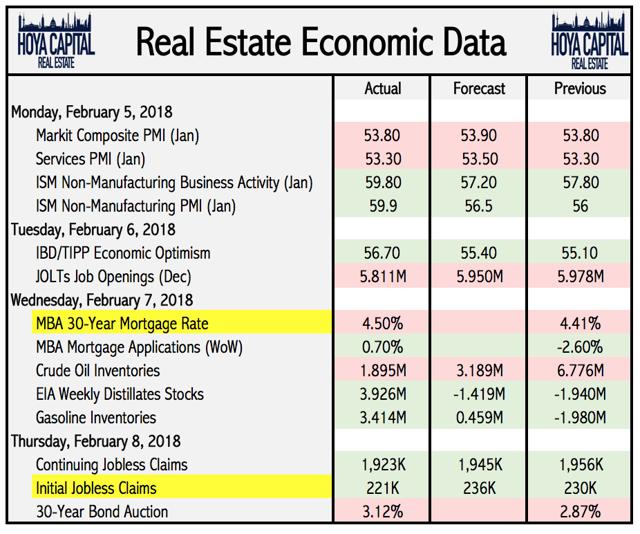 (Hoya Capital Real Estate, HousingWire)
Beneath Market Craziness, Economy Strongest In Decades
Beneath the wild swings in financial markets, economic data continues to reflect a US economy that is growing at the strongest rate in decades. Granted economic data is backward-looking while financial markets are forward-looking and adjust quickly to future expectations, it is easy to lose sight of the underlying economic fundamentals amid the financial media hysteria. Consistent with employment data showing a robust labor market, initial and continuing jobless claims dropped near the lowest level in 45 years. Just 1.4% of Americans are currently on unemployment insurance, the lowest level since at least 1970.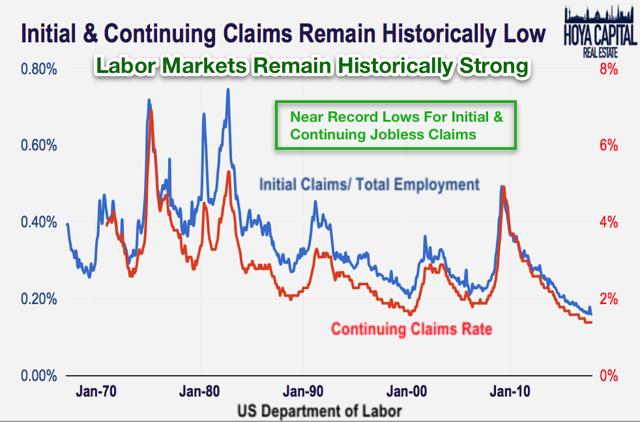 Last week, employment data showed that nonfarm payrolls rose 200k, beating the expectation of 184k. Earlier in the week, ADP data showed a rise of 230k, also beating expectations. Across all labor market metrics, the pace of hiring has slowed only modestly despite signs of tightening labor markets. ADP data continues to show a 2% expansion of the workforce while BLS data shows that hiring has slowed from the 2% rate in 2016 to 1.5% in January.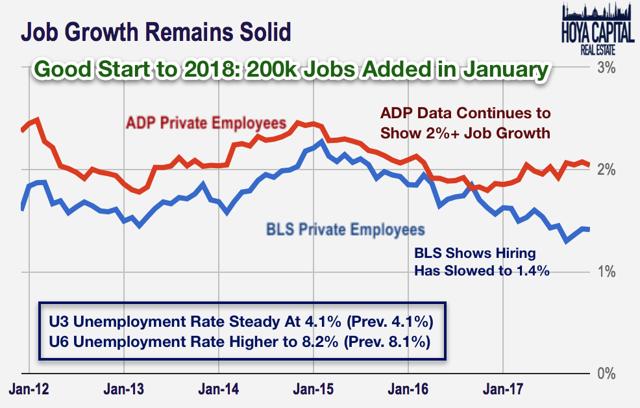 The Atlanta Fed GDPNow estimates a 4.0% rise in Q1 GDP, which would be the fastest rate of real GDP growth since 2014. Given the boost from tax cuts and government spending, nominal GDP appears poised to grow at the highest rate since before the recession. Real GDP growth, however, will ultimately depend on the level of inflation in 2018.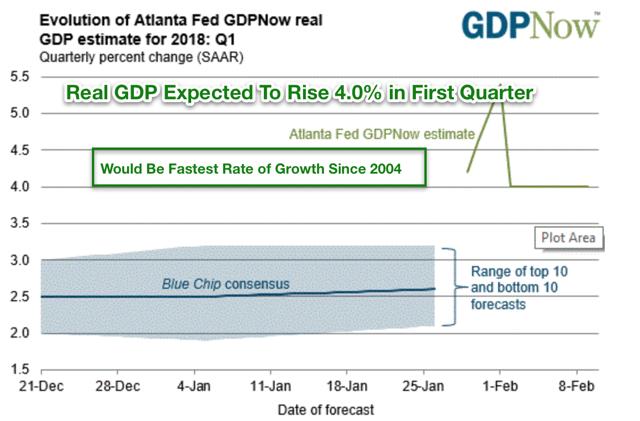 Mortgage Rates Reach Highest Level Since 2014
The 30-year fixed mortgage rate, a critical benchmark in the homeownership markets, rose to its highest level since early 2014 this week. Fixed mortgage rates tend to move in synchrony with long-term Treasury yields, particularly the 10-year yield, which has shot up more than 50 basis points since the start of the year.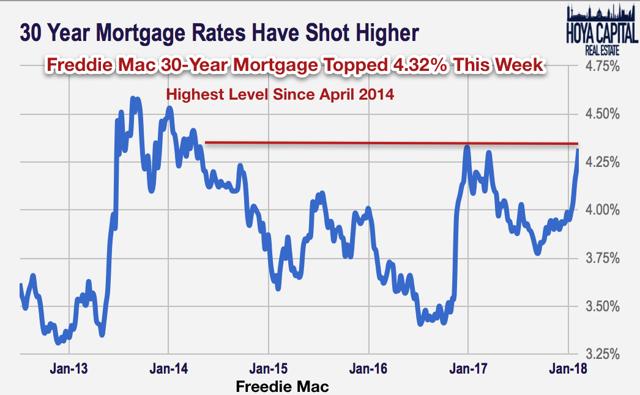 Mortgage rates are an important input in a household's decision to buy or rent. A 50 basis point increase in mortgage rates (from 4.0% to 4.5%) translates into a roughly $900 rise in annual mortgage payments on a $250,000 loan. Below we show our Hoya Capital Buy vs. Rent Index. We estimate that homeowners now pay a 10% premium in annual housing costs relative to renters for an equivalent housing unit. We believe that this has the effect of supporting rental rates and putting downward pressure on house prices.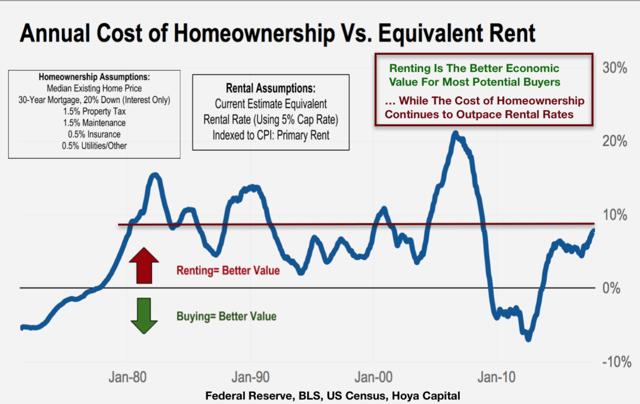 Inflation Expectations Continue To Rise
While uncorrelated over the long-term, REITs tend to become highly interest rate sensitive during periods of heightened interest rate volatility. Rapidly rising inflation expectations have been the driving force behind the surge in the 10-year yield, but as we point out below, the hard data has not yet reflected a significant rise in inflation. The 10-year breakeven rate has surged more than 40bps since November.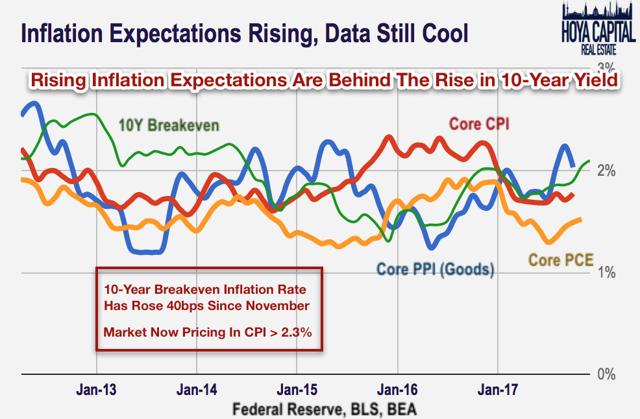 Interestingly, as we've pointed out, much of the inflation in recent years has come from rental housing. In fact, as recent as 2016, CPI excluding shelter was in deflationary territory and has averaged less than 1% over the past three years. Rents (Primary and Owners' Equivalent Rent) account for more than 30% of the total CPI weighting, but data tends to lag other measures of rent growth by 12-24 months. Most rent growth indexes show 2.0-2.5% rent growth in 2017, but the CPI data continues to show rent growth near 4%. This means that CPI rent inflation should retreat to these levels in the coming months based on past patterns.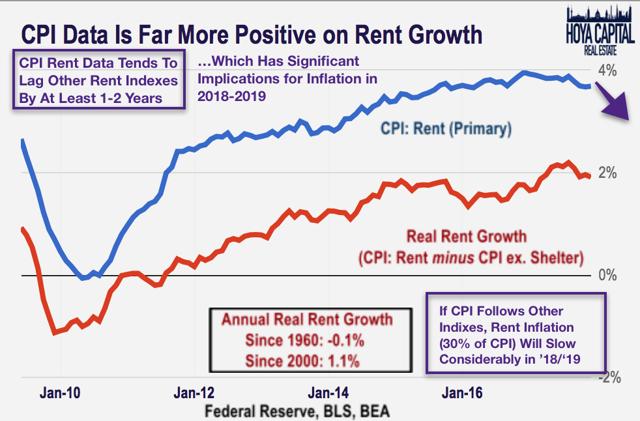 If this does indeed occur, it may have the effect of putting considerable downward pressure on headline CPI inflation. For that reason, inflation may surprise to the downside in 2018 as the correction occurs if other components of the CPI index remain relatively steady. Keep in mind that housing, energy, and healthcare account for more than two-thirds of the CPI basket.
Bottom Line
In the most volatile week in financial markets since the financial crisis, US equities ended the week lower by more than 5%. REITs are now 15% below their December highs. While the implosion of volatility-linked trading products got the blame for the early-week sell-off, the blame quickly shifted to government deficits, which are expected to exceed $1 trillion this year.
In synchrony with the rise in the 10-year yield to 2013 levels, 30-year mortgage rates topped 4.32% this week for the first time since April 2014, fostering unease in homeownership markets. Inflation expectations continue to be the driving force behind rising yields. We outline our contrarian theory for why we think CPI inflation may surprise to the downside in 2018.
Beneath the media hysteria, the US economy is expected to grow at the fastest rate in decades in 2018. Employment data continues to reflect a robust and growing labor force.
This week, we published our first REIT Ranking update of the quarter: Apartments REITs: A Battle Between Supply and Demand. Apartments have been among the weakest performing REIT sectors, dipping 10% YTD. While 4Q17 results were solid, REITs raised caution for 2018 as pockets of oversupply continue to linger. Rent growth finished the year strong, buoyed by the effects of Hurricane Harvey. 2017, however, saw the second-slowest rent growth since the end of the recession at just 2.6%. Robust rent growth from 2013 to 2015 prompted a wave of new development. Multifamily completions are expected to peak in 2018 at nearly 2% of existing supply and remain elevated through 2019. "Renter nation" isn't going away anytime soon, however. Strong job growth, a "rent-by-choice" attitude among a large millennial demographic and homeownership unaffordability should keep demand growth (and rents) firmly above expectations.
For further analysis on all 15 real estate sectors and how they all stack up, be sure to check out all of our quarterly updates: Hotel, Cell Tower, Single Family Rental, Industrial, Healthcare, Apartment, Mall, Net Lease, Data Center, Shopping Center, Manufactured Housing, Student Housing, Office, and Storage sectors.
Please add your comments if you have additional insight or opinions. We encourage readers to follow our Seeking Alpha page (click "Follow" at the top) to continue to stay up to date on our REIT rankings, weekly recaps, and analysis on the real estate and income sectors.
Disclosure: I am/we are long VNQ, SPY, MAA, CPT, OHI, PLD, GGP, STOR, SHO, SUI, ELS, ACC, EDR, DLR, COR, REG, CUBE, PSA, EXR, BXP, EQR, INVH, SPG, HST, TCO, AMT, SBRA.
I wrote this article myself, and it expresses my own opinions. I am not receiving compensation for it (other than from Seeking Alpha). I have no business relationship with any company whose stock is mentioned in this article.
Additional disclosure: All of our research is for educational purposes only, always provided free of charge exclusively on Seeking Alpha. Recommendations and commentary are purely theoretical and not intended as investment advice. Information presented is believed to be factual and up-to-date, but we do not guarantee its accuracy and it should not be regarded as a complete analysis of the subjects discussed. For investment advice, consult your financial advisor.