Intorduction
Make no mistake about it many business owners are looking at robots as a way to increase profits. This may come at the expense of human workers as in most cases robots present a cheaper and more efficient way to make products. As robotics companies continue to innovate with expanding product lines I believe a strong investing opportunity exists
The Continued Rise of Robots
The North American robotics industry continues to see strong growth. Through the first three quarters of 2017, 27294 robots were ordered at a value of $1.473 billion dollars. When compared to 2016 these numbers represent a respective 14% growth in units and a 10% growth in dollars. North America however, is just one of many markets in the robotics industry as Japan and China have the highest market share
Industrial Robots
A type of robot used mainly in manufacturing plants, industrial robots have seen continual growth. Most well known for being accused of replacing human workers, these robots continue to become smaller and cheaper thus becoming more attractive to business owners. To highlight the growth of industrial robots in North America, in the entirety of 2016 a modest 7,406 robots were ordered. In the first quarter of 2017 over 10,000 robots were ordered. I think what we're seeing in this industry is very similar to what is going on in the United States solar industry. Costs are dropping as shown in the graph below, while at the same time the quality of the product is continuing to improve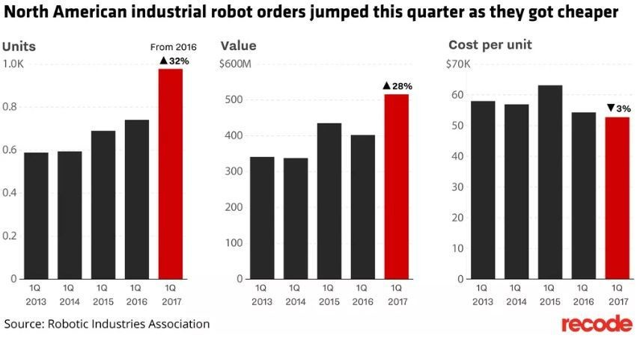 A recent tax incentive may also help increase the number of industrial robots used in the United States. The revised tax code allows companies to immediately deduct the cost of equipment purchases from their taxable income. According to Ken Mathis the president of a Chicago based heavy machinery company, "we probably would have put it off another year without the tax incentives". This is in reference to purchasing industrial robots for his company. As machinery continues become outdated we are going to see more and more manufacturing companies adding industrial robots. This along with a tightening labor force leaves industrial robots in a good spot.
Service Robots
Service robots assist people in tasks that may be considered tedious such as vacuuming and lawn mowing. The industry is seeing a boom worldwide as forecasts from the IFR have sales increasing by an average growth rate of 20-25% between 2018-2020. Most of these sales are from the medical and logistics field which are expected to account for 27 billion dollars. Another big chunk of the service robot industry is the market for personal service robots that perform domestic tasks such as vacuuming. Companies that stand to gain from these strong projected growth rates include iRobot corporation (IRBT), and Intuitive Surgical (ISRG). When it comes to house cleaning the industry leader is unquestionably iRobot the maker of the popular floor cleaner the Roomba. What impresses me with iRobot is it's strong upside, the opportunities are endless as we may seen the day when the standard in most households is only robotic cleaning products. Intuitive Surgical is best known for its innovative robotic machine known as the Da Vinci system. The company strives to serve its clients while at the same time attempting to make break throughs in the healthcare industry such as being able to see into a lung like never before.
Artificial Intellegence
Viewed as an enigma by the media, AI has been portrayed in countless TV shows and movies such as Netflix's Black Mirror and the Disney Channel movie Smart House. While these productions portray AI in a dark and dangerous light it is clear that AI is a hot button topic in today's society. The biggest hurdle AI may have to clear is consumer trust, but I think trust will come from the public as more companies start to use AI in their products. AI is being used in various industries worldwide to help companies make smarter decisions and become more effective. If most companies are looking to gain every edge wouldn't it make sense that AI would become the norm in the workplace? Soon it is more than likely autonomous cars will flood the roadways, machines will continue to perform more tasks then thought possible, and who knows what else, the possibilities for AI are endless.
Investing in Robotics ETFs
When it comes to Robotics ETFs there are two main players, Global X Robotics & Artificial Intelligence ETF (BOTZ) as well as the Robo Global Robotics & Automation ETF (ROBO). These ETFs are overall pretty similar but posses different characteristics, take for example that ROBO holds 85 stocks compared to BOTZ 28 which could help explain why ROBO's management fee is higher. BOTZ has more international exposure as 75% of its holdings are non-U.S. stocks compared to 60% for ROBO. Also when taking an in-depth look at the type of companies that are included in each fund it seems as though BOTZ is heavily investing in AI while ROBO is more composed of automation.
Global X Robotics & Artificial Intelligence ETF (BOTZ)
This funds purpose is to invest in companies that stand to benefit from the increased use and adoption of robotics and artificial intelligence. Incepted in 2016, this ETF is relatively new and has produced 78.42% FUND NAV since its inception. The selling points for this ETF include its high growth potential, unconstrained approach, and ETF efficiency. This fund charges a .68% management fee with 18% ROE, and 21.85 price to earnings ratio. Their holdings are pretty heavily weighted which could expose them to more risk. Leading the way is AI giant NVIDA (NVDA) which comprises 8.69% of the fund. Japanese companies are well represented in this fund with Keyence Corp (OTCPK:KYCCF), Fanuc Corp (OTCPK:FANUY), and Mitsubishi Electric Corp (OTCPK:MIELY) combining to comprise 22.74% of the fund. As with both of these funds I think this is something you hold long term if you believe as I do that the companies that are in the robotics and AI industry will continue to grow and increase returns to investors.
Robo Global Robotics & Automation ETF (ROBO)
Incepted in 2014 he bigger, older, and more diverse of the two funds ROBO has very well diversified holdings. No stock accounts for more than 2% of the overall fund and it is comprised of mainly mid cap stocks, which account for 52% of the fund. Breaking it down by industry, computer processing & AI lead the way accounting for 18%, followed by manufacturing and industrial robot stocks at 16%. The fund has been performing well of late as its 1 year NAV sits at 44.07%. This fund presents a more low risk option due to its diversification of holdings within the industry. In my opinion when looking at the holdings I feel as though there is a good mix of companies at the top such as iRobot (IRBT), and mid/small cap companies with great growth potential such as Harmonic Drive Systems. As with BOTZ this is another long term investment to add to your portfolio, that over a long period of time can reap strong returns.
Conclusion
The robotics industry stands to benefit from continuos advancements in technology, changing consumer preferences, and friendly United States tax policies. Both the ETFs stated above Robo and Botz represent great buy and hold investment opportunities. For investors looking to get exposure in the robotics and AI industry I'd highly recommend at the very least giving these two funds a look.
Disclosure: I/we have no positions in any stocks mentioned, and no plans to initiate any positions within the next 72 hours.
I wrote this article myself, and it expresses my own opinions. I am not receiving compensation for it (other than from Seeking Alpha). I have no business relationship with any company whose stock is mentioned in this article.