As inflation fears roil the markets, we share our outlook for global bond markets
By Rob Waldner, Chief Strategist and Head of Multi-Sector. Posted on Expert Investment Views: Invesco US Blog.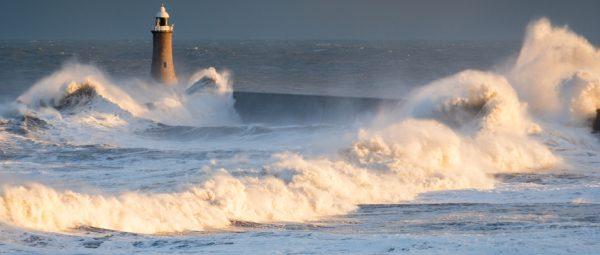 Market expectations of inflation have risen in recent days, after signs of wage growth - often seen as a harbinger of inflation - appeared in the January jobs report. We at Invesco Fixed Income believe investor concerns that inflation is finally showing signs of life have helped drive interest rates higher and impacted credit markets, where worries over higher interest rates (and their potential impact on companies) have caused declines in stock markets and other risky assets.1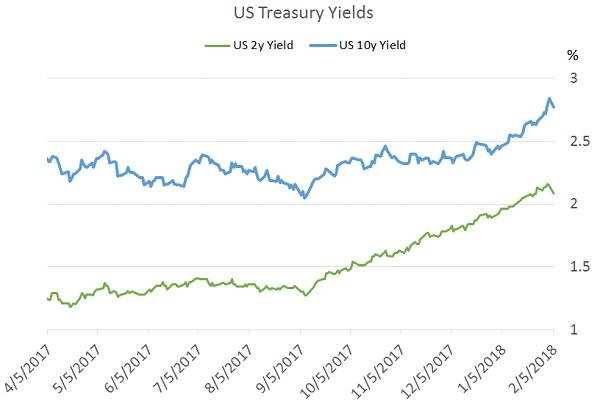 Source: Bloomberg L.P. Data from April 5, 2017 to Feb. 5, 2018
We have noted for a while that investors may have been underpricing inflation and that signs of potential price pressures could disrupt markets. Inflation is a risk we are monitoring closely. This is because concerns over inflation could incentivize the US Federal Reserve (Fed) to hike interest rates faster and higher than previously expected. Tighter monetary policy could tighten overall financial conditions, which could be negative for financial markets.2 There has been little realized inflation, but recent volatility suggests that bond investors are beginning to worry that inflation will rise sharply on the back of strong growth boosted by tax cuts in a late-cycle economy.3 We believe that few investors have anticipated a sharp rise in inflation, so this would be a surprise to the market.
However, our inflation forecast for 2018 (1.8%) suggests that inflation is unlikely to rise quickly to a level that will concern the Fed. We do not believe that inflation is dead, but we do not think it is likely to become a driving factor of monetary policy soon. While inflation concerns may drive interest rates higher in the future, it is premature for the market to factor in a sharp Fed reaction, in our view.
We believe that recent market moves have been driven more by investor repositioning than major changes in economic fundamentals or financial conditions. These moves may have been reinforced by certain financial products that are sensitive to changes in volatility.
In terms of economic fundamentals, Invesco Fixed Income believes that growth should continue to be strong, fueled by easy monetary and fiscal policy, and that inflation is unlikely to accelerate in the next couple of months.4 We do not believe that economic fundamentals justify the high level of market volatility we are currently seeing. That said, we expect risky assets to perform well as volatility subsides, supported by solid growth (we expect 2.75% growth this year) along with continued low inflation and interest rates.
Invesco Fixed Income's view of key asset classes:
Investment grade
Investment grade credit spreads are tighter compared to the start of year.5 We believe the sharp drop in the supply of corporate bonds has been supportive, as companies have used repatriated cash rather than issue new bonds in the investment grade market. Over the past few days, as market volatility has increased, investment grade spreads have held in well.6 Liquidity appears lower than usual, but markets are operating normally.7
We are focused on analyzing the impacts of tax reform on inflation - especially on wage pressures. While inflation itself is typically not bad for credit spreads, potential Fed rate hikes to combat this could be negative. We believe markets need to reassess inflation expectations and monetary policy before we see stability.
Taking a longer-term view, we believe greater volatility could generate attractive opportunities for certain high quality, high yield and investment grade bonds. Such opportunities have been difficult to find in the past. We believe the positive trajectory of the economy continues to support credit, but we are aware of increased volatility risks and the need to be agile.
High yield
The high yield market has been pressured downward by the recent sell-off in risky assets but has outperformed the S&P 500 Index month-to-date.8 In general, the spillover effect of the recent market volatility on high yield has been limited. As we view the high yield market today, we see strong fundamentals and benign overall financial conditions. We do not believe these market underpinnings have changed in the last few weeks. While we acknowledge that overall high yield spreads are tight, we still see value in selected individual names.9 In terms of performance, we believe strong underlying fundamentals will likely allow us to return to a healthy market in which spreads continue to narrow. History has shown that high yield has performed well in rising interest rate environments, having benefited from growing earnings and potentially lower default risk in a stronger economy.10
Emerging markets
In general, volatility has been muted in emerging markets relative to what we would expect based on history, given the significant sell-off in developed market equities. We believe this is due to still-easy overall financial conditions, even if they are tightening somewhat. In the past, the US dollar has often appreciated when US Treasury yields were rising, but this has not been the case recently - and as a result, financial conditions have remained easy.
The primary risk we see to emerging markets debt is a strengthening in the dollar that markedly tightens financial conditions; this could lead to a widening in emerging markets credit spreads and depreciation in emerging markets currencies versus the dollar. Absent such a move, we expect the emerging market asset class to hold up relatively well.
We do not view the recent financial market sell-off as indicative of a slowdown in global growth, but rather a short-term, market-volatility event. Unless the sell-off deepens and materially impacts financial conditions, we do not expect to adjust our expectations for emerging markets growth, fundamentals or return expectations for emerging markets debt for this year.
European fixed income
The yield on the benchmark 10-year German government bond has risen from 40 basis points at the start of the year to 75 basis points in the past week.11 This is a response to an upbeat European Central Bank (ECB) President, Mario Draghi, and the realization that quantitative easing (QE) in the euro area is coming to an end. Our analysis suggests that the ECB could cease its bond-buying program in September, after which other investors would be expected to take up the slack.
While it is possible the market could overshoot, we do not think the European bond sell-off will gather pace unless we begin to see signs that inflation is gathering pace. Our analysis indicates that global inflation pressures could remain subdued for the next six months or so, enabling the ECB to remain accommodative. A slow and gradual approach, coupled with a continued buoyant global economic environment, should be good for risk assets, in our view. The risk, however, is that, with labor markets tight in some regions, such as Germany, we may begin to see material wage increases and subsequently higher inflation. The probability of this scenario has increased in recent months.
As global central banks, including the ECB, bring their QE programs to an end in 2018 and begin to raise interest rates, the safety net is being removed and markets will have to survive without the ECB's constant (and reassuring) demand for bonds. This should undoubtedly create a more volatile environment. However, that may be a positive dynamic for active investors. As central bank policies diverge, we could see more dispersion of returns across markets and asset classes, meaning there may be more relative value opportunities and greater opportunities within currency and rates markets.
Footnotes

Source: Bloomberg L.P. From Jan. 31, 2018, to Feb. 6, 2018, the S&P 500 Index fell 4.6%, the Bloomberg Barclays US Aggregate Credit Index total return was -1.5%, and the Bloomberg Barclays US Corporate High Yield Total Return Index returned -0.95% over the period.
Financial conditions refer to how easy or difficult it is for businesses to borrow and for banks to lend at reasonable interest rates. Easy financial conditions represent periods when financing is relatively cheap, while tight financial conditions represent periods when financing is relatively expensive.
Source: Board of Governors of the Federal Reserve System, FAQs, Feb. 7, 2018. Annual core personal consumption expenditures (PCE) inflation was 1.5%, as of Dec. 31, 2018 (Bureau of Economic Analysis). This is well below the Fed's target of 2% PCE inflation.
Easy monetary policy is central bank policy that increases the money supply, usually by lowering interest rates or keeping them low. Easy fiscal policy is government policy of taxation and spending intended to stimulate economic growth.
Source: Bloomberg L.P. Credit spreads are the difference in yield between two bonds of similar maturity but different credit quality. Typical spreads compare corporate bond yields to US Treasury yields. A wide spread refers to a large difference in yield, while a tight spread refers to a small difference in yield. The spread on the Bloomberg Barclays US Aggregate Credit Index was 84 basis points on Feb. 6, 2018, compared to 89 basis points on Dec. 29, 2017.
Source: Bloomberg L.P. The spread on the Bloomberg Barclays US Aggregate Credit Index was 84 basis points on Feb. 6, 2018, compared to 81 basis points on Feb. 1, 2018.
Source: Bloomberg L.P., TRACE Market Flow, data from Jan. 6, 2018, to Feb. 6, 2018. Market liquidity refers to the ability to transact in a market without significantly affecting prices. Daily trade volume data represented by TRACE Market Flow data show normal trade volumes over the past month.
Source: Bloomberg L.P. High yield defined by the Bloomberg Barclays US Corporate High Yield Total Return Index. From Jan. 31, 2018, to Feb. 6, 2018, the Bloomberg Barclays US Corporate High Yield Total Return Index returned -0.95% compared to the S&P 500 index, which returned -4.6% over the same period.
Source: Merrill Lynch. The spread on the BofA Merrill Lynch US High Yield Master II Index was 345 basis points on Feb. 6, well below the 20-year average of 608 basis points.
Source: JP Morgan. Based on the Bloomberg Barclays US Corporate High Yield Total Return Index; data from Feb. 1, 1994, to June 30, 2009
Source: Bloomberg, L.P.; data from Jan 1, 2018, to Feb. 5, 2018
Important information
Blog header image:Dave Head/Shutterstock.com
Past performance is not a guarantee of future results.
A basis point is one hundredth of a percentage point.
The Bloomberg Barclays US Corporate High Yield Total Return Index covers the universe of fixed rate, non-investment grade debt. The index includes both corporate and noncorporate sectors.
The Bloomberg Barclays US Aggregate Credit Index represents the performance of the US investment grade bond market.
The S&P 500® Index is an unmanaged index considered representative of the US stock market.
The BofA Merrill Lynch US High Yield Master II Index tracks the performance of below investment grade, US dollar-denominated corporate bonds publicly issued in the US domestic market.
Fixed income investments are subject to credit risk of the issuer and the effects of changing interest rates. Interest rate risk refers to the risk that bond prices generally fall as interest rates rise and vice versa. An issuer may be unable to meet interest and/or principal payments, thereby causing its instruments to decrease in value and lowering the issuer's credit rating.
Junk bonds involve a greater risk of default or price changes due to changes in the issuer's credit quality. The values of junk bonds fluctuate more than those of high quality bonds and can decline significantly over short time periods.
An investment in emerging market countries carries greater risks compared to more developed economies.
The performance of an investment concentrated in issuers of a certain region or country is expected to be closely tied to conditions within that region and to be more volatile than more geographically diversified investments.
The information provided is for educational purposes only and does not constitute a recommendation of the suitability of any investment strategy for a particular investor. Invesco does not provide tax advice. The tax information contained herein is general and is not exhaustive by nature. Federal and state tax laws are complex and constantly changing. Investors should always consult their own legal or tax professional for information concerning their individual situation. The opinions expressed are those of the authors, are based on current market conditions and are subject to change without notice. These opinions may differ from those of other Invesco investment professionals.
| | | |
| --- | --- | --- |
| NOT FDIC INSURED | MAY LOSE VALUE | NO BANK GUARANTEE |
All data provided by Invesco unless otherwise noted.
Invesco Distributors, Inc. is the US distributor for Invesco Ltd.'s retail products and collective trust funds. Invesco Advisers, Inc. and other affiliated investment advisers mentioned provide investment advisory services and do not sell securities. Invesco Unit Investment Trusts are distributed by the sponsor, Invesco Capital Markets, Inc., and broker-dealers including Invesco Distributors, Inc. Each entity is an indirect, wholly owned subsidiary of Invesco Ltd. PowerShares® is a registered trademark of Invesco Ltd., used by the investment adviser, Invesco PowerShares Capital Management LLC (PowerShares) under license. PowerShares and Invesco Distributors, Inc., ETF distributor, are indirect, wholly owned subsidiaries of Invesco Ltd.
©2018 Invesco Ltd. All rights reserved.
What does market volatility mean for fixed income? by Invesco US