There is something to be said for a good success story. Pharmaceutical salesman George Garvin Brown and his half brother started J.T.S. Brown & Bros. in 1870, selling whiskey in sealed glass bottles (a radical idea at the time). After a series of changes and fallouts, George Brown entered into a partnership with friend George Forman to create what is known as Brown-Forman Corporation (NYSE:BF.B)(NYSE:BF.A) today. Today the company is an established powerhouse in the liquor industry, most famous for its Jack Daniels brand of whiskey. Already a dividend champion, a closer look shows potential for sizable growth that will fuel investor returns moving forward.


The Brown-Forman product family touches throughout the liquor market with whiskey, vodka, tequila, liqueur, and wine brands. The Jack Daniels product family does however remain the backbone of the company with approximately 78% of nine liter cases sold spread among the various Jack Daniels products.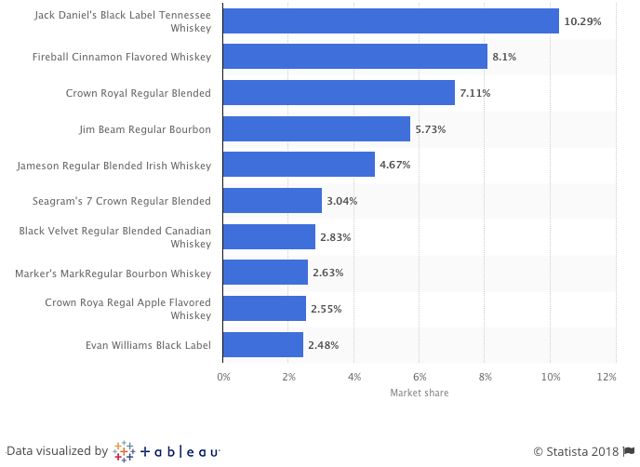 Brown-Forman's original "Black Label Tennessee Whiskey" is the top brand of whiskey in the United States. This market is also is the largest source of revenue for Brown-Forman, with 48% total net sales for the company coming from the United States. Another 26% of sales come from Europe, leaving a rough quarter of sales coming from the rest of the globe.
Brown-Forman has been able to build on its flagship Jack Daniels brand by incorporating the name into flavored variants such as Gentlemen Jack, Single Barrel Select, Tennessee Fire, and Tennessee Honey. Tennessee Honey in particular has been an exceptional success.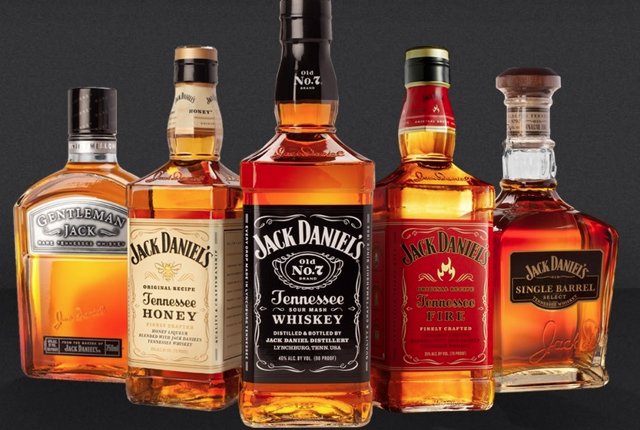 This innovation combined with a strong brand name, has resulted in a long running growth curve of 7% CAGR over the past six decades.
This growth has fueled Brown-Forman's top line, and free cash flows over the years.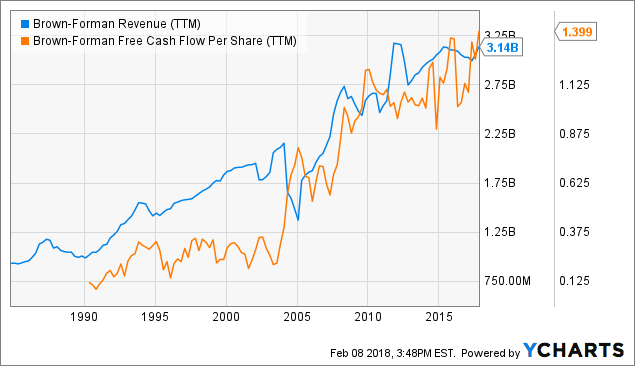 One of my favorite reasons to invest in alcohol companies, is that they typically are very good cash generators, and the business model is very efficient. Making and selling whiskey is not a very complicated business. If the brand and the product are of high quality, the business can really thrive.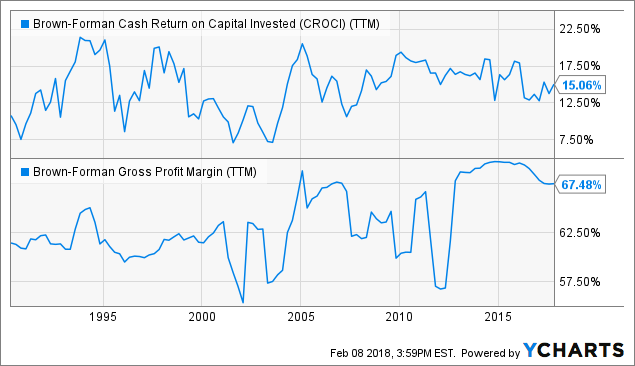 For example, we can obviously see that Brown-Forman realizes very high margins on the products that it sells. We also see a nice cash return on invested capital. I typically look for 10-12% or higher in a business, and that indicates that Brown-Forman gains a nice cash return for every dollar that it invests back into its business. Brown-Forman was also able to turn more than $0.17 of every dollar of revenue straight into free cash flows last year.
When you have a business that throws off a high amount of free cash flows, it typically leads to a well funded dividend. Brown-Forman is a dividend champion with 34 consecutive years of increasing dividend payments. While the yield is low due to its consistently high valuation, the growth is consistently outpacing inflation at 8.5% over the past decade. With that growing dividend, you get a company that is also growing earnings at a rate between 7-10% on an ongoing basis. This leads to consistent double digit returns for long term investors.
If you had bought $10,000 worth of BF.B shares a decade ago, you would have about $35,000 today had you reinvested the dividends. A steady cash generating alcohol stock can just consistently increase your wealth over long periods of time. And while past results don't guarantee the future outcome, there is a nice track for growth available to Brown-Forman.
Brown-Forman is still picking up strong growth in its leading markets. Through the first half of this fiscal year, there is 6% net growth in the United States. There is 7% net growth in the United Kingdom, there is double digit net growth throughout much of Europe, and 11% growth in travel retail.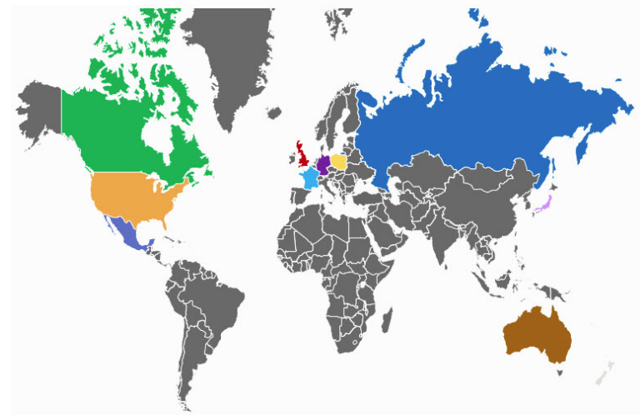 Despite Jack Daniels being the market share leader in the United States, and that market representing half of shipped volumes for the company - the fact that it continues to grow at a 5-6% rate is impressive.
Other growth areas exist throughout the world for the Jack Daniels brand. The South American, African, and Asian markets are untapped for the most part. Jack Daniels brand global sales are growing at a CAGR of 7% over the past decade. Despite this growth, and the strong position in the United States, Brown-Forman still holds only a 3% global whiskey market share.

While Jack Daniels has gotten most of the attention up to this point (it is the needle mover for the company after all), I would be remiss if I didn't mention that Brown-Forman is growing its accessory brands as well. Fellow whiskey labels Old Forester & Woodford Reserve continue to show rapid growth, posting 22% net growth year over year through first half FY 2018.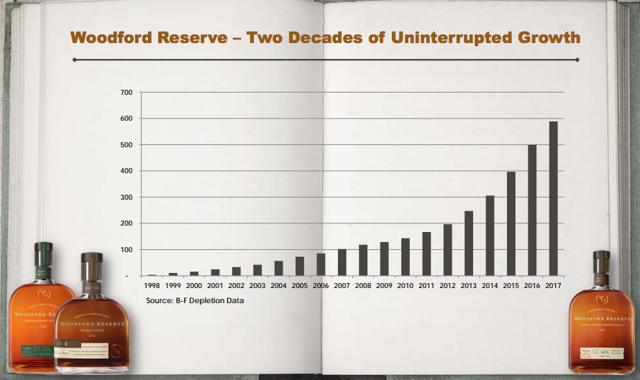 With only 10% share in its largest market (the US), and a runway ahead of Brown-Forman for international growth, I expect the current pace of mid single digit revenue growth at consistently high margins to continue for the foreseeable future. In turn, the cash flow generation will remain strong, and the dividend raises will hold at 7-10% growth over the coming years (as we have been already seeing).
So what happens when a company with high quality product, brand strength, and growth in a lucrative industry such as alcohol, is publicly traded? The shares fetch quite a premium. Brown-Forman is no secret to the market, and shares have traded at an average valuation of 23X earnings throughout the decade.
Management is currently forecasting earnings at $1.90 - $1.98 per share for 2018, that puts shares at approximately 32X earnings.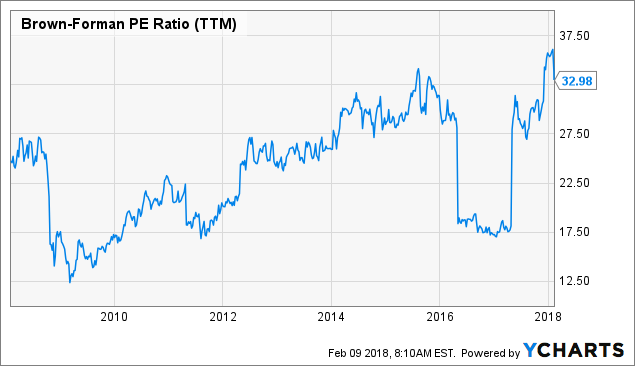 It is important to note that the historical data is heavily skewed because shares were "once in a lifetime" cheap during the recession early on in the decade. If we look at the quality of the company, the sector it operates in, and the consistent growth it is likely to have - we can make a case for 25X earnings. This is a valuation it still hasn't touched over the past few years (ignore valuation drop in 2016, that was a result of onetime gain from divestiture of Southern Comfort brand). However, if we do get a reversal in the markets, it would set investors up for outstanding total returns between 8-11% moving forward. Therefore, I have set my buy in target at $50 per share based on this year's earnings forecast. It may not get there right away, but valuation always matters. It pays off to let your investments come to you at the right price.
Addendum: I focused on the BF.B ticker throughout this article, but there are also BF.A shares available to trade. The difference is that "A" shares carry voting rights in the company, and there are many more "B" shares outstanding than "A" shares. They both pay the same dividend.
Note: Unless noted, all graphics are property of Brown-Forman Corporation.
Disclosure: I/we have no positions in any stocks mentioned, and no plans to initiate any positions within the next 72 hours. I wrote this article myself, and it expresses my own opinions. I am not receiving compensation for it (other than from Seeking Alpha). I have no business relationship with any company whose stock is mentioned in this article.