On February 6, 2018, Allergan (NYSE:AGN) reported strong Q4 2017 results, thanks to a solid performance of the key aesthetics growth drivers and an excellent Opex management.
With the stock trading below 11x on NTM P/E, I think that the current valuation of Allergan is extremely attractive and the market has overlooked the strong long-term growth profile.
Q4/2017 Results & 2018 Guidance
Allergan reported Q4 2017 sales of $4.33B, 1% above consensus expectations, driven by a strong performance in the Aesthetics franchise, thanks to Botox, fillers, and breast implants.
Non-GAAP performance net income per share of $4.86 was 3% higher than consensus, mainly driven by a higher-than-expected gross margin.
2018 guidance looks slightly better than the preliminary one, which has been provided by the management in January. In details, Allergan guided for a non-GAAP performance net income per share between $15.25 and $16, which implies around 2% increase than consensus, which was at $15.50 before the results.
Main Takeaways from the Quarter
The corporate signals from the Q4 2017 results have been excellent, and they should help in restoring investors' faith in the management team:
The performance of the key growth drivers of the Aesthetics franchise has been better than expected. Botox sales were $864M, 4% above consensus, driven by a strong performance in therapeutic space in the US and in the cosmetic market ex US, while Fillers sales were $294M, up 24% YoY, driven by another quarter of exceptional performance ex U.S. These dynamics have been pretty similar to the previous quarters and it's also worth noting that Allergan also reported strong numbers for the Breast Implants franchise, LifeCell and Zeltiq. I don't see any reason for not expecting a similar strong performance for the aesthetics franchise in 2018, and I look for at least a double-digit growth for Botox and Fillers over the next 12 months.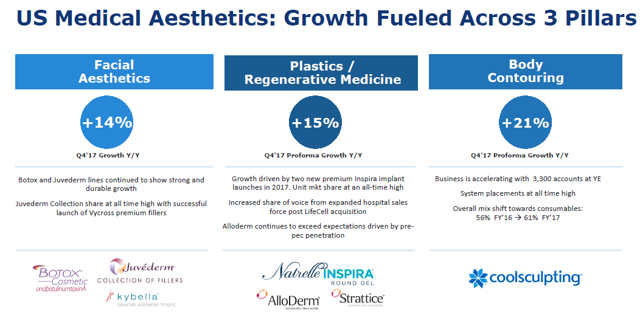 Source: Allergan's Q4/2017 Results Presentation
Related to Restasis, sales were $414M, 3% below consensus. There hasn't been any news about a potential approval for any generics for this drug. Allergan has assumed in its 2018 guidance that Restasis will face generic competition since Q2 2018, but I believe that this assumption is extremely conservative, as I have discussed here.
Lastly, GAAP Free Cash Flow Generation was $2B, approximately equal to non-GAAP adjusted net income, so Allergan has achieved its guidance of $3-4B of FCF generation in H2/2017. In addition to that, the management projected 2018 operating free cash flow of about $4.7-5B, which implies more than 80% of free cash flow conversion. This is a key point to dismiss the bear case of a poor cash flow conversion for Allergan.
Lastly, Allergan has announced positive data for the first Phase III for ubrogepant, its oral CGRP for acute migraine. The data looks strong on both efficacy and safety, and I think that the market has to recognize some value for the strong pipeline that Allergan has built over the past two years. As reported in its press release:
"The ACHIEVE I study included 1327 U.S. adult patients (modified ITT population) randomized (1:1:1) to placebo, ubrogepant 50 mg and 100 mg respectively, who were treated for a single migraine attack of moderate to severe headache intensity. Both doses showed a statistically significant greater percentage of ubrogepant patients achieving pain freedom at 2 hours after the initial dose as compared to placebo patients (50 mg vs. placebo, p=0.0023, 100 mg vs. placebo, p=0.0003) and a statistically significant greater percentage of ubrogepant patients achieving absence of the most bothersome migraine-associated symptom at 2 hours after the initial dose as compared to placebo patients (50 mg vs. placebo, p=0.0023, 100 mg vs. placebo, p=0.0023).

Ubrogepant was well tolerated with an adverse event profile similar to placebo. The most common adverse events were nausea, somnolence, and dry mouth, none of which were reported with a frequency of =5%. In terms of hepatic safety, across all treatment arms including placebo, there were 6 cases with aminotransferase (ALT or AST) elevations greater than 3 times the upper limit of normal (ULN); there were alternative explanations in all cases (concomitant illness or medication) and none were noted by the liver safety adjudication board to have a probable relationship to ubrogepant. There were no cases of Hy's Law."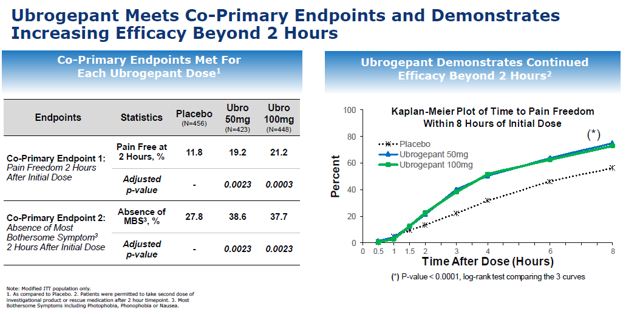 Source: Allergan's Q4 2017 Results Presentation
DCF Valuation
As I said in my previous articles, I believe Allergan is one of the best positioned companies in the pharmaceuticals space and worthy of long-term investment, and I would build a position now.
I discussed the methodology behind my DCF valuation for Allergan here. In this article, I will update my analysis on the basis of the announcement of FY 2017 results and to account for the positive results for ubrogepant.
Here are my key assumptions for the estimates of sales, EBITDA margin and FCF:

Source: Bloomberg & My Own Valuation Model
As you can see, these estimates are slightly above consensus.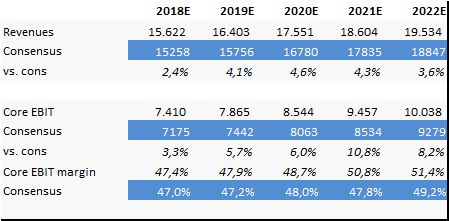 Source: Consensus Comparison vs. My Own Valuation Model
To generate a DCF analysis, I used two different methodologies:
Perpetuity Growth Method
I used conservative assumptions about the perpetual growth rate and the WACC. In detail, I used a perpetual growth rate of 0%, which is below the Bloomberg estimate, and I assumed a WACC of 8% that is in line with peers.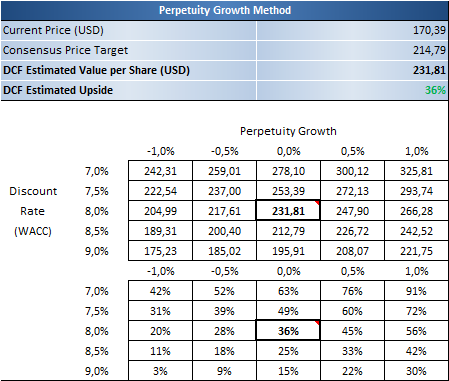 Source: Bloomberg
As can be seen in the table above, Allergan is undervalued by around 36% based on the Perpetuity Growth Model.
EBITDA Multiple Method
This analysis reveals a similar result for Allergan's valuation, because the company looks undervalued by around 31%. I have assumed an EBITDA exit multiple of 10x, which is really conservative because it's below Allergan's last five years' EV/EBITDA valuation, as shown by the following tables: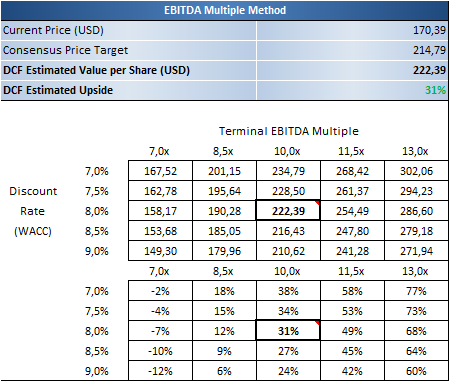 Source: Bloomberg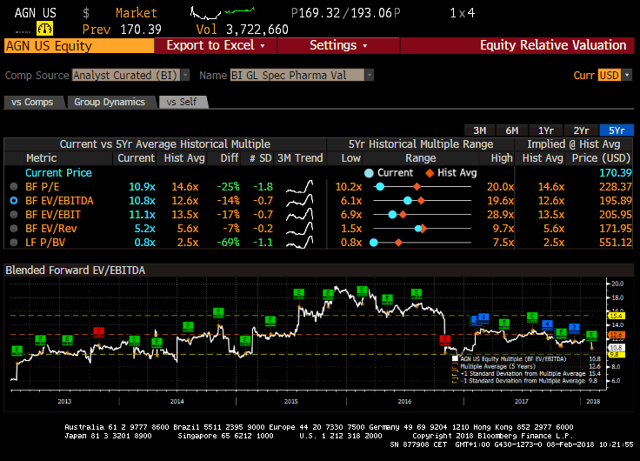 Source: Allergan's Current vs. Five-Year Average EV/EBITDA (Absolute Analysis) - Bloomberg
Multiples Comparison
Lastly, Allergan has traded historically at 14.6x NTM (next twelve months) P/E, which was at a slight discount to the pharma peers. Today, Allergan is trading at a discount to the five-year average historical P/E on an absolute and relative basis, as shown by the following analysis.
In particular, the stock is trading at 10.9x NTM (next twelve months) P/E, which is at a 25% discount to its historical P/E valuation.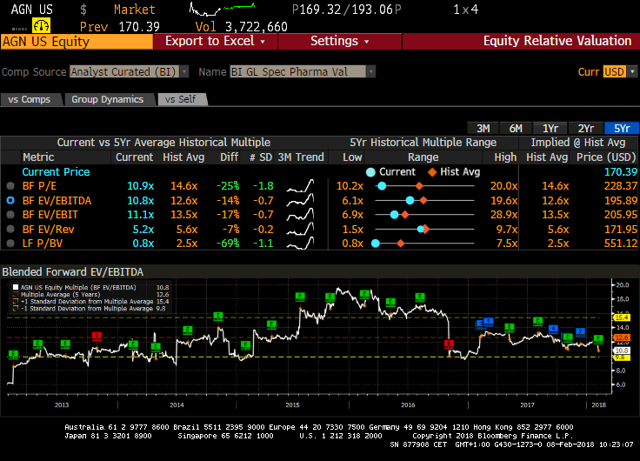 Source: Allergan's Current vs. Five-Year Average P/E (Absolute Analysis) - Bloomberg
Conclusion
In summary, if you've read my previous article, you know I like Allergan's business model. The three key points behind my bull thesis on Allergan are:
Allergan could benefit from a broad and underappreciated pipeline with more than ten assets with >$500 mln peak sales in Phase II/III (ubrogepant, atogepant, abicipar, Esmya, etc.). The market is assigning limited value to these products, so any positive news could be the catalyst for a re-rating of Allergan.
AGN's presence in the Aesthetics business (e.g. Botox & Fillers) should deserve a premium valuation vs. peers, given that these franchises will benefit from steady demand, limited pricing pressure, and lack of competitive pressure.
Consensus estimates for 2018 seem conservative, looking for -2% sales growth and -4% EPS growth.
Lastly, as shown by this quantitative analysis, I believe Allergan is trading with an attractive risk/reward setup, and I would take advantage of the recent weakness to build a position.
Disclosure: I am/we are long AGN. I wrote this article myself, and it expresses my own opinions. I am not receiving compensation for it (other than from Seeking Alpha). I have no business relationship with any company whose stock is mentioned in this article.
Additional disclosure: Not investment advice.