More pain for midstream and MLP stocks this week. The negative factors from last week remained, but oil prices piled on this week. Oil prices are on a six-day losing streak and broke below $60/bbl Friday. Stocks were volatile, and midstream/MLPs held up ok on a relative basis and have been a decent place to hide the last few weeks if you avoided the biggest losers in the group.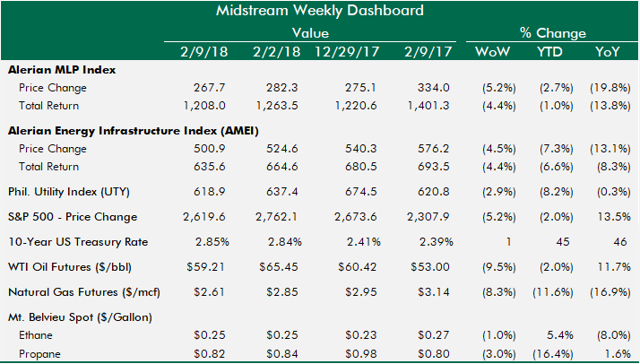 The MLP Index crossed into negative territory YTD this week. MLP outperformance relative to the S&P 500 and other midstream corporations is bleeding away, not helped by ongoing reminders of corporate governance, financial and operational challenges facing the group.
While the market entered 2018 with optimism after substantial progress on leverage, coverage and IDRs in 2017, we got a few reminders this week of challenges that remain. IDR eliminations still need to happen, and they tend to be:
Hugely dilutive to distributable cash flow in the near-term;
hugely dilutive to the marketing story that supports the MLP's multiple; or
hugely dilutive to current distributions in an MLP takeout.
With still several large potential IDR eliminations out there (TEP, ETP, DCP, EQM, WES, AM), it's hard to get excited about owning MLPs ahead of those transactions.
Bottom line: While MLPs were impacted negatively by broad market trading this week, MLPs aren't doing a great job of helping themselves. The majority of MLP earnings releases this week contained negative 2018 guidance revisions, and there was more than one case of general partners behaving badly.
Maybe next week will be different, maybe earnings from the likes of DCP, WES, WPZ, ANDX will provide some more positive data points. A number of Canadian midstream companies also report (TRP, ENB and Keyera), which will offer them an opportunity to remind the market of their generally more defensive structures that haven't attracted interest from investors.
General Reminders
With so many IDR simplifications pending and special committee negotiations to be had, it is important to remember a few things about the relationship between GPs and their MLP subsidiary:
Limited partners serve at the pleasure of their general partners

Drop-downs aren't guaranteed

Publicly-traded GPs have disproportionate upside but limited downside

Rather than cutting distribution at the MLP and letting the resulting IDR reduction flow up to the GP, the GP will always choose to merge and then cut or do a stealth cut

The result is a takeout or merger valuation based on a payout and IDR payment that's not sustainable
If you Don't Know Now You Know
Also, it is worth reminding, MLPs have cut their distributions. It should not be a surprise at this point. Online this week, I was surprised to see those surprised when NS management said 54 MLPs have cut their distributions the last few years. As we discussed last year in a paper published here, some MLP marketing machines have tried to whitewash with distribution growth charts showing only positive annual numbers.
We counted 56 distribution cuts just among MLPs that were in the Alerian MLP Index. And that was as of October 2017. These aren't just marginal asset MLPs (E&P, coal, refinery, etc.), these are the pipeline guys, with "toll-road" like cash flows. Prominent names like PAA (twice), ETP (stealth cut into SXL), WPZ (twice - one stealth cut, one outright cut), EEP, GEL, and even OKS (small stealth cut).
Fly Eagles Fly
For those of us in the Philadelphia area, the week never really got started… After outlasting the Patriots in a Super Bowl shootout Sunday night, it was one big victory lap that devolved into a blur of celebrations, snow days and parades.
Congrats to long-suffering, green-bleeding Eagles fans everywhere who got the monkey off their back, while simultaneously diminishing the New York Giants stature as the only team to beat Tom Brady's Pats. Well done, we're all real happy for you…now if we can get back to normal, or at least get the essential services of the city back online, that would be great...
Winners & Losers
Earnings were a driver of divergent performers on both sides this week. PAA led all MLPs by a wide margin after lowering 2018 guidance, but also announcing lower leverage on accelerated asset sales. SPH's results were well-received as well.
On the other side, worse-than-expected earnings and lowered guidance slammed NGL and NS (-45% distribution cut from NS didn't help). TEP's surprise announcements around structure and a diverted drop-down were also not well received.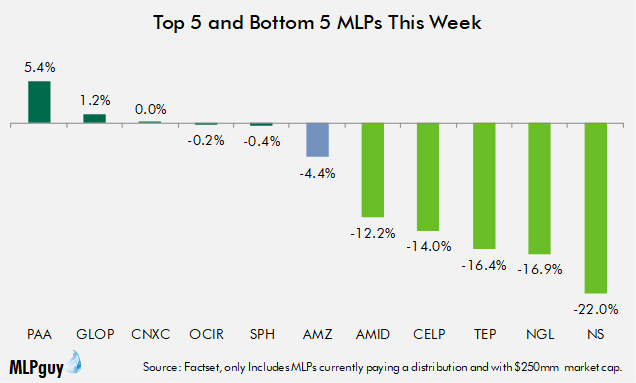 On the year to date leaderboard, CCLP and CNXM remain at the top. The group of losers YTD got three new members this week (TEP, NS and DM).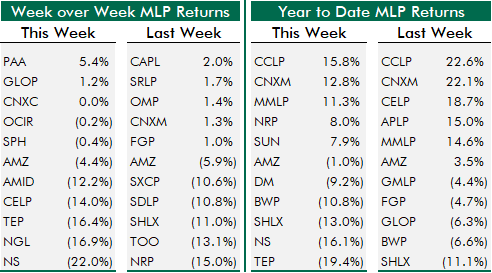 General Partners & Midstream Corporations
In the GP and corporation group, PAGP was the sole positive stock this week. NSH's merger announcement at a tiny premium sent its stock price tumbling lower and erasing any valuation gap that had opened up between NSH and NS to start the year. TEGP-OLD was volatile, but landed somewhere in the middle.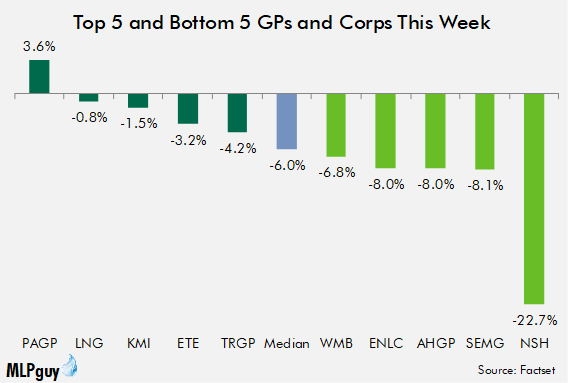 Cheniere (NYSEMKT:LNG) took over the top spot in this group YTD this week after announcing another LNG offtake contract announcement. NSH had been the best performer of the group through last Friday, but was crushed this week. OKE and WGP are clinging to positive returns year to date.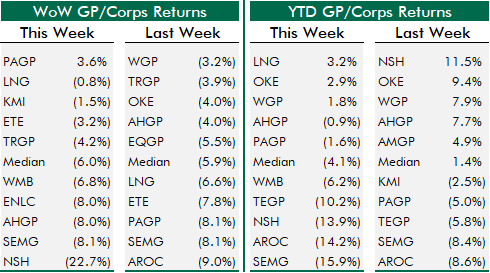 Canadian Midstream
KML again was the best performer in Canadian midstream, the only positive stock in a group that was mostly down 5%+.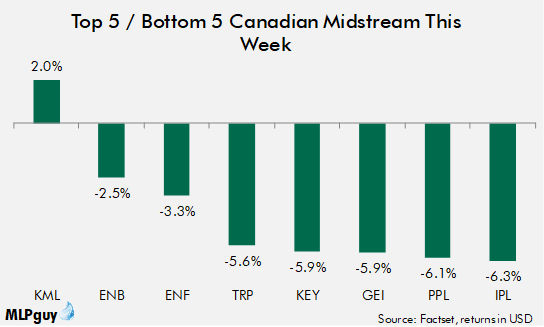 KML extended its YTD lead relative to the rest of the group. ENB outperformed, and climbed a few spots as others fell back to join ENB with double-digit losses so far.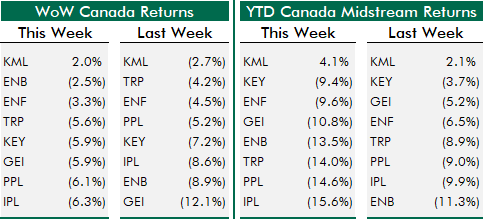 News of the (Midstream) World
No equity deals this week, but plenty of other news alongside earnings announcements. Expect more of the same next week. Simplification wave is continuing to wash over the sector, expect that steady flow to continue with the likes of WES, ETP, DCP, EQM among others still pending. Notable, however, that customer demand is there for additional development of infrastructure like processing plants (TRGP) and LNG offtake (Cheniere).
Capital Markets
TransMontaigne (NYSE:TLP) priced public offering of $300mm of 6.125% senior notes due 2026 at par (press release)
Growth Projects/M&A
NuStar Energy announced merger with NuStar GP Holdings in a unit for-unit exchange which will eliminate IDRs, 2% economic GP interest, and 10.2mm common units currently owned by NSH (press release)

NS will issue 23.6mm units to NSH implying a 0.55 exchange ratio and a 1.7% premium based on prior day closing

NS also reduced its distribution by 45% and management expects to achieve coverage of 1.1-1.2x in 2018
Tallgrass Energy GP and Tallgrass Energy Partners announced multiple intra-company transactions and plans to evaluate simplification alternatives (press release)

TEGP acquired 25.01% interest in Rockies Express Pipeline (NYSE:REX) and 5.6mm TEP common units from Tallgrass Development (TDEV) in exchange for 27.6mm TEGP common shares valued at $645mm (press release)

TEP acquired the remaining 2% interest in Tallgrass Pony Express Pipeline from TDEV for $60

These transactions put all remaining TDEV assets into TEGP and TEP

Tallgrass plans to spend 2018 evaluating potential reorganization that could simplify TEP and TEGP's structure and improve equity and debt cost of capital
Targa Resources announced $1.1bn of development joint ventures (DevCo JVs) with Stonepeak Infrastructure Partners (press release)

The DevCo JVs will own:

TRGP's 25% interest in the Gulf Coast Express Pipeline with Stonepeak owning an 80% interest in the DevCo
20% interest in the Grand Prix Pipeline with Stonepeak owning a 95% interest in the DevCo
100% interest in TRGP's next fractionation train with Stonepeak owning an 80% interest in the DevCo

Stonepeak committed $960mm of capital, including an initial contribution of $190mm to reimburse TRGP for capital spent to date

TRGP committed to fund $150mm for future capital costs and will control the management of the DevCo JVs

DevCo JVs will significantly reduce TRGP's equity funding needs for 2018 and 2019

TRGP has option to acquire all or part (in $100mm increments) of Stonepeak's interest for a four-year period beginning on the earlier of the date that all three projects have begun or 1/1/20

TRGP also announced plans to construct two new 250 MMcf/d cryogenic natural gas processing plants and a new 100,000 bpd fractionation train in Mont Belvieu, a $350mm project that will be owned by the DevCo JV

Exceedingly complicated way to avoid issuing equity in the public capital markets, as evidenced by the number of bullets above

Cheniere announced two LNG sale and purchase agreements with China National Petroleum Corp. (CNPC) (press release)

CNPC will purchase 1.2mm tonnes per annum of LNG with a portion of the supply beginning in 2018 and the balance beginning in 2023

The term of each contract continues through 2043 and the LNG purchase price will be indexed to the Henry Hub prices plus a fixed component

Management expects these agreements to support a financial investment decision for Corpus Christi Train 3 later this year
CNX announced the sale of 95% interest in the Shirley-Pennsboro wet gas gathering system to CNXM for $265mm (press release)

Purchase price represents a 11.5x multiple of expected 2018 EBITDA
Energy Transfer (ETE/ETP) received two construction approvals during the week:

FERC approved Rover to resume drilling at the Tuscarawas River after being halted on January 24 (FERC letter)

PA Department of Environmental Protection allowed HDD construction to resume on Mariner East 2 after being halted on January 3 (PA DEP letter)
Tallgrass Energy (TEP) and Silver Creek Midstream announced a JV, Iron Horse Pipeline, to transport crude oil in Powder River Basin to Guernsey, Wyoming (press release)

Tallgrass Energy announced the acquisition of Buckhorn, which owns 10 salt water disposal wells and 39 miles of produced water gathering infrastructure in the Bakken, for $95mm (press release)

CF Industries (NYSE:CF) announced exercise of its right to acquire all remaining outstanding units of Terra Nitrogen Company LP (NYSE:TNH) for $390mm (press release)

6mm units at $84.033/unit

TNH was one of the oldest remaining MLPs, having gone public in 1992
Distribution Announcements
Only four MLP distribution announcements this week, and we've had 81 so far in my database. Expecting another 5 announcements in the next few weeks. The chart below doesn't include NS's distribution cut, which doesn't officially happen until next quarter.