Market Intro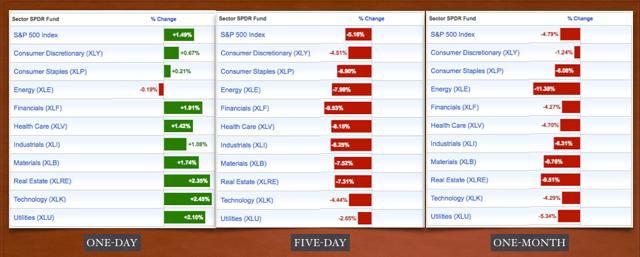 Source: SectorSPDRs
Friday was a jolting day with a pleasant finale for equity bulls (SPY, DIA, QQQ, IWM). But the five-day and one-month return profiles detail a different story. Equities are down on every sector. Real Estate (XLRE) and Energy (XLE) stocks have been hit hardest over the last month, while Financials (XLF) took the brunt in the prior week. For a "heat map" of the sector performances, click here.

S&P 5-day Price, FinanceYahoo!
Stocks had a roller coaster of a ride last week, and Friday was absolutely no exception. After falling to an intraday low of 2532, the S&P managed to close out nearly 90 points higher at 2619. Will the positive finish provide momentum into the beginning of next week? Perhaps, but stocks and bonds (IEF, TLT, AGG) will have a loaded economic calendar to contend with.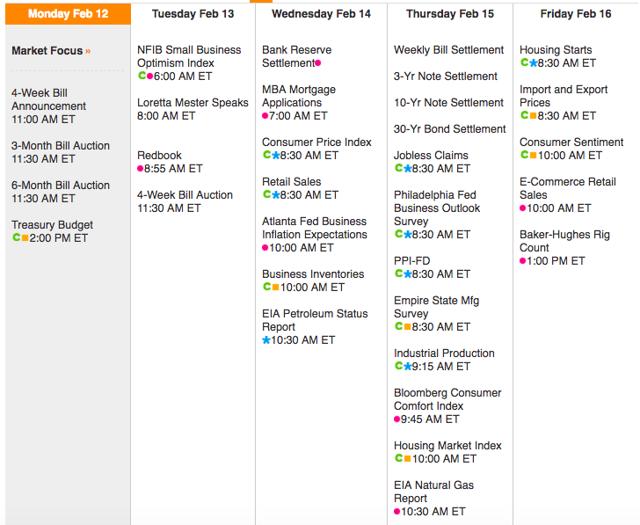 Looking out over the next week, Wednesday's CPI figure appears to have the greatest potential to further roil bond yields, and by extension stocks.
Overall, risk markets appear to have lost their overall sense of narrative, which means that the economic calendar may take on greater capacity to generate greater volatility, but not necessarily a better sense of how the data themselves should be interpreted. I will point out that the economic calendar is reasonably full this week, so caution is warranted.

Six-month WTI Crude, FinanceYahoo!
Stocks were not alone in their plunge last week. Crude oil (USO) has given up a good portion of its gains, which is interesting given that the USD (UUP) has not strengthened significantly and that much of the rise in bond yields has been predicated on a strengthening global economy. Crude is worth keeping an eye on as cross-currents whip around regarding what the narrative ought to be and who the winners and losers are.
Shout Out
Want a quick reference guide for how the latest drawdown compares against others? Jill Mislinski pens S&P 500 Snapshot: More Declines, A Correction, And Market Sell-Off under Doug Short's SA handle.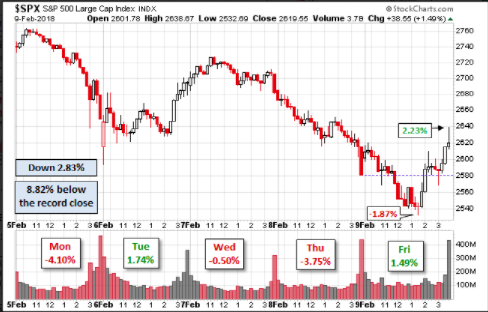 The article does not have a thesis, which for some is offputting. But I'll argue that such charts have value in that investors have gone a very long time since they've experienced this kind of uptick in volatility, and anything visual that is not intended to scare can help clear the mind, perhaps better than a well constructed argument.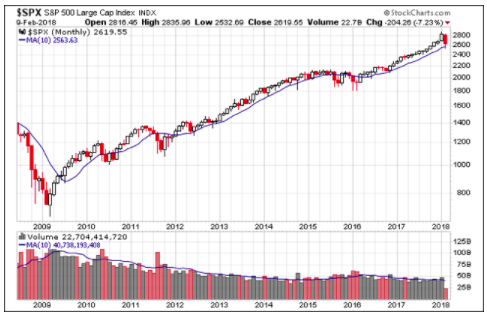 This visual stood out as one of my favorites. In particular, I like the stretch that begins in early 2016 and, with the brief exception of Brexit, simply stretches up up up in an almost continuous chain of white candles.
Investors have had it really good. And it's not just in the US, but throughout the world. Why risk assets enjoyed such a steady string of returns under an almost surreal period of low vol is worth pondering. Some say a strengthening economy, while others credit (often scornfully) central bank largesse. Still, none of these responses are singularly adequate in my view.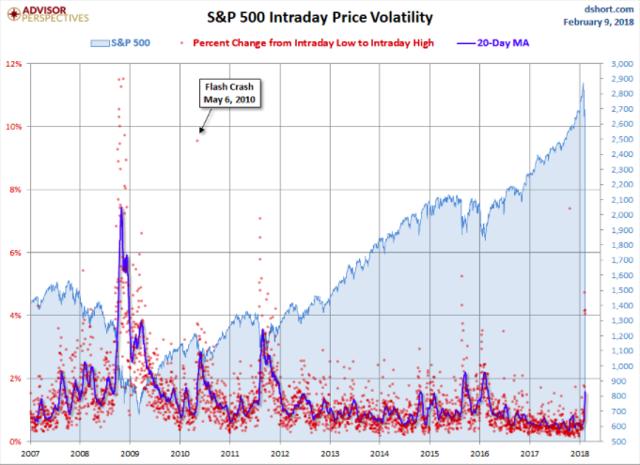 Intraday market action served up plenty of indigestion for traders and investors last week (see below). Consider from the chart above that the dots with high levels tend to be clustered together. This means that this period is unlikely to simply vanish with the turning of the new week. Even so, there is a surprising number of periods where equities whip around a good deal without ultimately going much of anywhere. I think such scenarios are worthy of special attention.
What are your thoughts? Do you have a dedicated view on whether intraday volatility is going to (mostly) settle down over the next week or so, or are you of a mind that markets rage both higher and lower throughout any given trading session?
Thoughts on Volatility

Actually the bounce to which Mr. Gundlach alludes was a repeat performance of sorts: Tuesday's pre-market action saw an even bigger bounce off of a reasonably similar bottom, to a high of 2720 briefly realized on Thursday.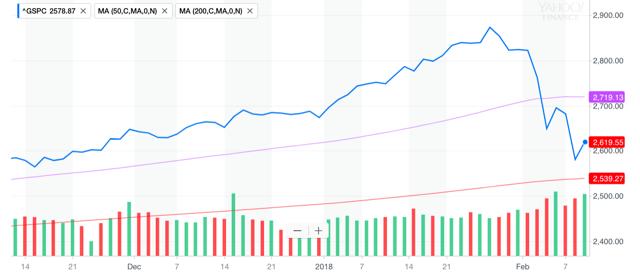 So the S&P currently is bouncing hard off the 200-day as support and the 50-day as resistance. As mentioned in the intro, I think the economic data would suggest that we're in a period of confusion: what constitutes good or bad news? My own belief is that realized vol is with us for the next several upcoming weeks, and carries stronger potential to diminish as we head out a couple months.
Unprepared For Battle
Of course the big news event last week was the explosion of the VIX and concomitant destruction of the short-vol ETP known as XIV.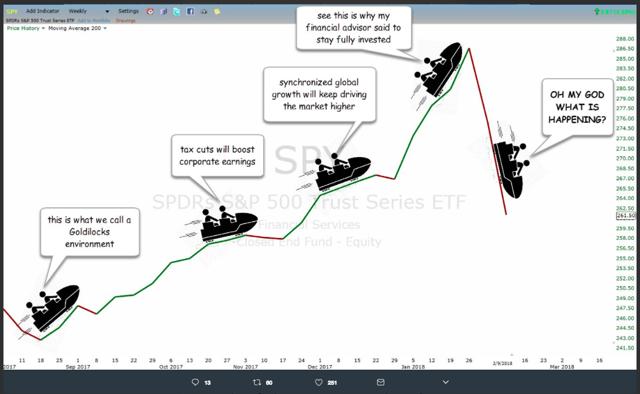 But StockCats as usual employs humor as a way of making a larger point: many investors were caught completely off guard and felt powerless during the churning and burning of the week.
The interesting thing was that there really was not much news that caused such action. No huge economic releases or earnings misses. Now lest we forget the January NFP figure, with its 2.9% wage growth, is what really got the ball rolling on this move to begin with. So I do not want to indicate that data has played no roll whatsoever.
But it appears that volatility itself is what made the markets volatile. Really, this is just the opposite of what we've experienced over most of 2017, where markets simply refused to move around much almost out of principle. In each case, high or low vol simply fed on itself. The bulls were just caught completely off guard, and while there were some technical bounces, had little in the way of responding to the onslaught. The short-lived nature of Thursday's bounce, and devastating fall from the peak levels, was prime evidence for this lack of ability to "do battle".
Positive Economic Backdrop To The Rescue?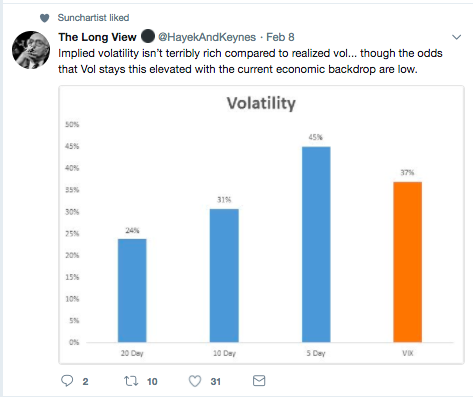 We'll see below that this is true. There blue bars above report realized vol as of Feb 8, while the orange looks at VIX, a standard measure of implied vol. Given how stocks were sucker punched by realized vol, there exists a wide gulf between 20-day and 5-day volatility. VIX is nestled below the 5-day HV. There is not much of a volatility risk premium, at least based on the most recent history. This is even more true of futures, and it suggests that option markets do see big increases in volatility say over the next thirty days, but that they are also looking for markets to catch their breath some.
If that assumption fails to materialize, then long-vol products (VXX, TVIX, UVXY) still have plenty of room to post strong gains.
Term Structure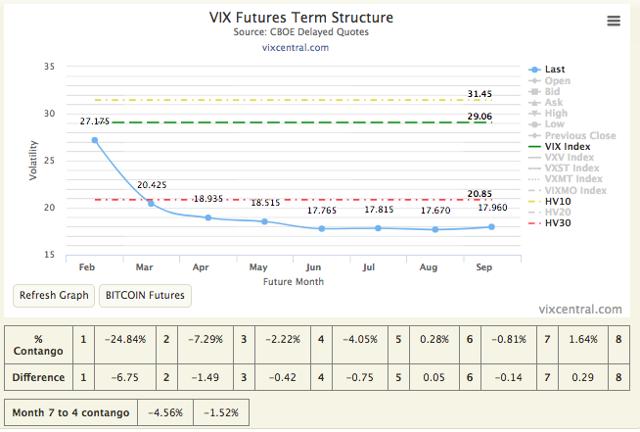 As we pointed out above, historical vol (HV) for the S&P is elevated to say the least. But while spot VIX must respond, and certainly the Feb futures contract that expires on Wednesday morning alongside spot, the the entire rest of the curve is calling "bull" against sustained levels of implied vol.
This actually is important for those considering taking a position in short-vol instruments like SVXY or ZIV: futures are already skeptical that this increase has legs. That skepticism may be well placed, but it also means that a plunge in implied vol is unlikely to result in large spills in the futures. Given the huge discount that futures are trading at relative to both spot or HV, I'd argue that long vol is actually still the high-probability trade, at least for now; the major exception to that call being the Feb contract, which necessarily will track spot quite loyally over the next couple sessions.
Conclusion
If this is your first time reading Market Volatility Bulletin, thanks for giving it a try. If you're a regular, we thank you for your ongoing contributions in the comments section.
As we close out, I'll leave a double comment from Alan248 and JohnBerchick as it relates to the crazy price action in leveraged long vol products UVXY and TVIX.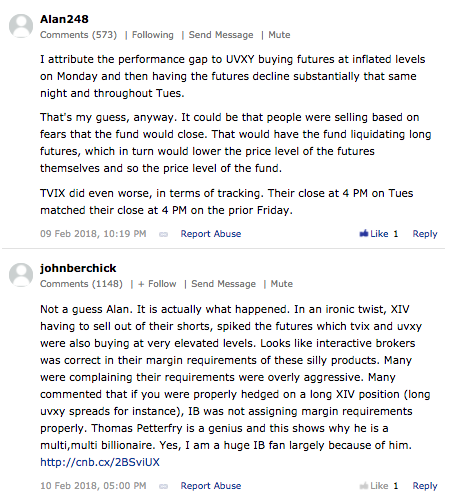 A bit of advice: Enjoy the rest of your weekend! Watch the Olympics! Take a walk. Talk with your family, and not incessantly about markets. I'm with my family on the famed River Kwai at the moment, and we're headed to Penang, Malaysia early next week for its legendary cuisine while we homeschool and I get some work and trading done. My point is that up or down, markets are fascinating, but only a part of what is hopefully a life well lived.
Please consider following us.
Disclosure: I/we have no positions in any stocks mentioned, and no plans to initiate any positions within the next 72 hours. I wrote this article myself, and it expresses my own opinions. I am not receiving compensation for it (other than from Seeking Alpha). I have no business relationship with any company whose stock is mentioned in this article.
Additional disclosure: I actively trade the futures and options markets, potentially taking multiple positions on any given day, both long and short. I also hold a more traditional portfolio of stocks and bonds that I do not "trade". I do believe the S&P 500 is priced for poor forward-looking returns over a long timeframe, and so my trading activity centers around a negative delta for hedging purposes.