Welcome to the Weekly Oil Markets Recap Edition of Oil Markets Daily!
WTI finished the week down 9.55%, one of the largest weekly declines since early last year.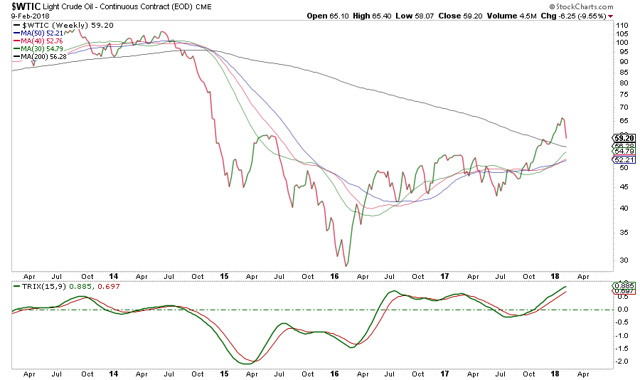 Last week, we wrote that the pullback was here for oil prices and energy stocks. Little did we realize that the short-volatility ETN (XIV) blow-up on Monday would take place and cascade into a massive risk-off event this week. The sell-off in risk assets also brought WTI lower following a relatively bearish oil storage report on Wednesday.
Over the past few weeks, we have been saying that oil prices are seasonally weaker in February as refinery maintenance season pushes a crucial part of the physical demand buying away. We started to see this become more evident into last week when WTI started to move with global macroeconomic forces rather than fundamentals. For example, the correlation between EUR/USD and WTI was much higher, as you can see in the chart below:

We saw this correlation breakdown slightly this week.
What do we expect with this pullback?
First, the pullback was much faster than we expected. We thought the pullback would last two weeks with WTI falling to the $60-62 range, but the pullback has already pushed WTI below $60/bbl.
Here are three things we are watching on this pullback:
Brent-WTI spreads. There's a good chance that we see Brent test the $60/bbl range as "sort of" a psychological test to see whether the markets are fundamentally tight. If this level holds, then we expect Brent to drag WTI higher.
Refinery margins or e.g. crack spreads. We need to see crack spreads move higher with the sell-off in WTI and Brent.
Physical grades need to tighten. There are various benchmarks we will be watching to see if physical balances tighten.
For us, the key to this pullback is that it allows a nice reset for the physical market. Over the past two weeks, we started seeing some traders worry over falling crack spreads and narrowing global physical grades. We also noted that for EIA to keep reporting bullish tilted oil storage reports, the key factors to watch for are imports and exports, as these will dictate which direction storage swings.
In essence, we will be watching physical grades to confirm a tightening of fundamentals. That will be the key signal to watch for when WTI and Brent will bottom.
For readers that do not have access to this information, we recommend watching:
Calendar spreads. The price difference between March and April WTI contracts, for example.
More specifically, what you want to see is a stronger backwardation.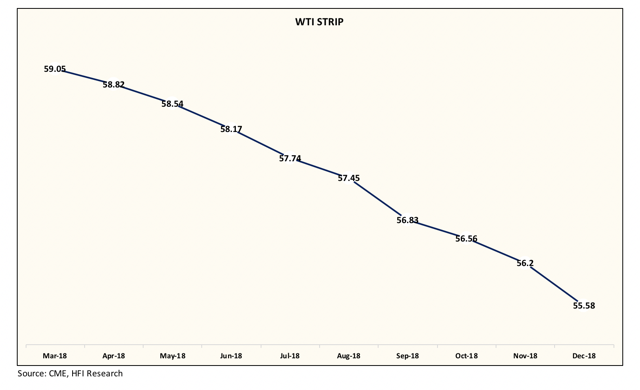 Here is a chart showing what we mean: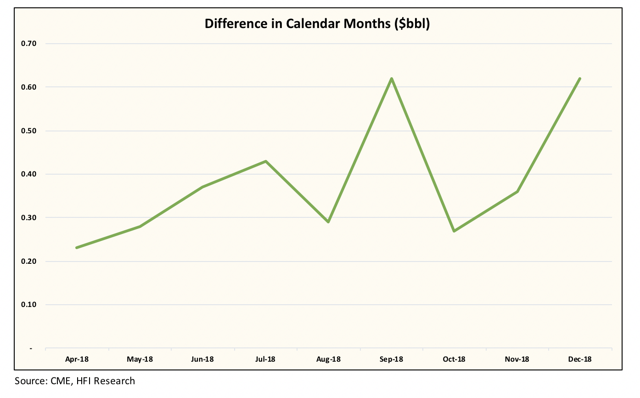 You see in April 2018, where the spread is $0.23/bbl between March and April? You want to see that spread increase (more positive).
You can track the daily settlement difference for free here. If you start to see backwardation get stronger, that's a telling sign.
The second sign to watch for will be the Brent-WTI spread. You want to start seeing Brent leading WTI higher.
Risk-Off Everywhere - Don't Let It Confuse You
The oil market balance did weaken over the past two weeks, but the bullish oil thesis is not even remotely dented. Global physical balances will lead the way for oil prices to move back higher. We will be watching physical grades closely to spot the bottoming sign, and readers can watch calendar spreads and Brent-WTI spreads for clues as to when the bottom takes place.
Our view
Now that we have risk-off everywhere, sentiment or animal spirits can take hold in the next two weeks, with a potential retest for Brent at the psychologically important $60/bbl level. This sell-off could come even as physical markets start showing signs of tightness, and when financial prices diverge like this with the physical market, we will know the correction is over and prices will rebound higher.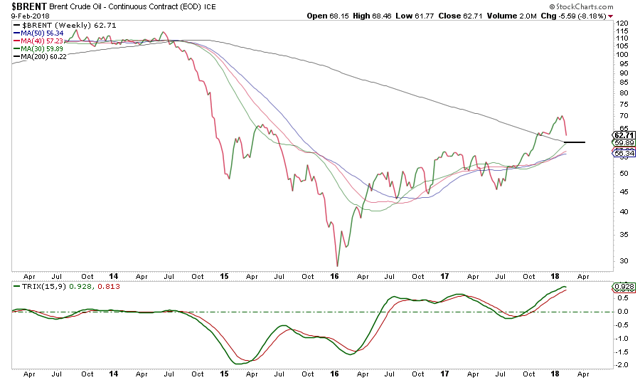 HFI Research Premium
For those of you who have found our articles insightful, interesting and different, we think you should sign up for HFI Research. Our incentive is aligned with our readers as we put our money where our mouth is, and our contrarian analytical framework was what set us apart when we made the $65/bbl Brent call in June 2017 and $60/bbl WTI call for the end of 2017. For more information about our service, please click here. We look forward to seeing you join the HFI Research community.
Disclosure: I/we have no positions in any stocks mentioned, and no plans to initiate any positions within the next 72 hours. I wrote this article myself, and it expresses my own opinions. I am not receiving compensation for it (other than from Seeking Alpha). I have no business relationship with any company whose stock is mentioned in this article.