Summary
REITs have been hit hard by the spike in bond yields and equity market correction, and have materially underperformed.
On the upside, this has lead to a higher dividend yield, which in the past has created tactical buying opportunities.
However, greater opportunities may come as bond yields remain at risk of heading further higher and uncertainty lingers around the stock market.
US REITs have been double-hammered by the rise in bond yields and equity market correction. Since peaking in August 2016, the Dow Jones REIT index fell -17%. By way of comparison, the S&P500 index *rose* +19% over the same time period (even after the 10% correction), which represents a miserable -36% underperformance. It did gain some respite, however, 'only' falling -9% vs. -10% for the S&P500 during the correction so far.
One positive out of that though is that the index dividend yield has risen to the highest point since the 2011 correction (which in hindsight proved an opportune buying time).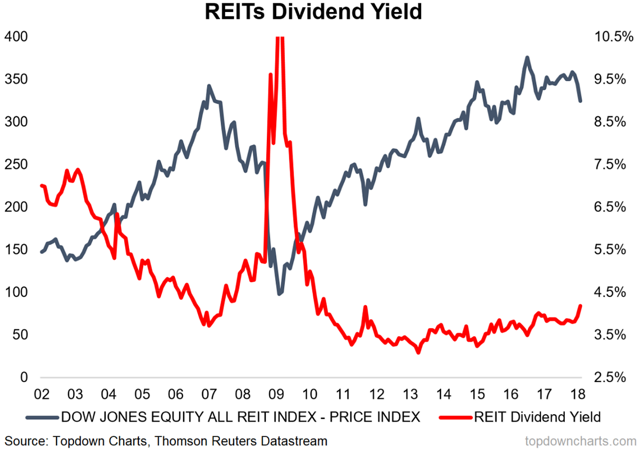 As we know (just look at the 2008 experience), cheap things can get cheaper, and dividend yields can move higher during sustained down moves and bear markets. Given that our base case is that bond yields move higher, and lingering uncertainty around the equity market, it is possible that REITs could come under further pressure.
While REITs are often thought of as a defensive asset, in this environment, that has only proven partially true, and should a deeper downturn in equities take hold, there will be no hiding in REITs.
However, spikes in dividend yields like the one we are seeing now have in the past proven good tactical buying opportunities. So while a better opportunity to allocate to REITs may come, the case is slowly building.
Disclosure: I/we have no positions in any stocks mentioned, and no plans to initiate any positions within the next 72 hours. I wrote this article myself, and it expresses my own opinions. I am not receiving compensation for it. I have no business relationship with any company whose stock is mentioned in this article.