The market made a seismic reset this week.
We felt tremors leading up to this week's market earthquake, but the calm uptrend over the past year made the jolt seem even more severe.
I had a feeling something like this would happen. But the market defies easy prediction. The exact "when" and the precise "cause" of a market turn are as hard to predict as its severity and length.
The universal question seems to be, "Is this a short correction or the beginning of a bear market?" My hunch is correction. I don't think a bear market is imminent because a key precursor of a recession has not yet appeared: an inverted yield curve, where long term interest rates are lower than short term rates. But, this week's activity may be the birth pangs of the next recession, triggered by the growing velocity of interest rate increases. The yield on 10-year U.S. Treasury notes has risen to 2.857%. If the interest rate uptrend continues (which means falling fixed income prices), corporate bonds and U.S. treasuries will become increasingly competitive with dividend stocks. We're beginning to see signs of inflation, which is a leading cause of recession. I expect more gains in 2018 though I expect continued volatility.
We don't know when the next bear market will arrive, but the question is "when," not "if." In his book, Beating the Street (p. 46), Peter Lynch wrote:
"A decline in stocks is not a surprising event; it's a recurring event ‑ as normal as frigid air in Minnesota. If you live in a cold climate, you expect freezing temperatures, so when your outdoor thermometer drops below zero, you don't think of this as the beginning of the next Ice Age. You put on your parka, throw salt on the walk, and remind yourself that by summertime it will be warm outside."
Thus, my goal is to design, build and maintain a portfolio that can weather bear markets. For me, the key elements of a sturdy portfolio are:
Quality, as in balance sheet strength, measured in part by credit ratings;
A history of earnings and dividend growth;
Strong managements that see good prospects for future growth; and
Diversification.
I used the downturn to improve the portfolio's quality and income.
This week's market gyrations demonstrated the importance of maintaining a long-term view. If an investor is relatively new to the market, panic can be an instinctive reaction to a sharp selloff. But, if one can stay focused on the long term portfolio objective, a downturn becomes an opportunity.
This week I heard several analysts say, "There's nowhere to hide." The entire market was caught in the downdraft. Some investors will routinely hold 20% or more in cash to be ready for weeks like this. I tend to be fully invested and I entered the week with 4.65% cash (which is a high percentage for me). I keep a shopping list handy and when the sky started falling on Monday, I began to deploy that cash, which is now 0.29% of the portfolio. By Tuesday morning, the cash was deployed and (as I wrote in a blog post comment thread), "Now, for the hard part: do I sell something that I think is less attractive to buy something that seems considerably better? Time for more homework!"
The Great Recession of 2008-2009 taught me that in a bear market great companies decline in market value along with not-so-great companies. When virtually everything is on sale, it's possible to improve the portfolio's quality by purchasing new high quality positions or adding to present high quality positions. Sometimes I'm willing to take a loss on a lesser quality company to redeploy those funds into higher quality companies that are marked down.
Circumstances occasionally present an opportunity both to improve the portfolio quality and to increase the portfolio's income. I responded to the market reset by making a portfolio reset.
This week I closed five positions:
At the right time and the right price, I'd be happy once again to own shares of GPC, VFC, HRL and KO.
This week I opened two new positions
WEC Energy Group (WEC) is a regulated utility (formerly Wisconsin Energy) that provides electricity and gas service to customers in Wisconsin and parts of Illinois, Michigan and Minnesota. Headquarters are in Milwaukee, Wisconsin.
Northwest Natural (NWN), is a natural gas local distribution and storage company (formerly Northwest Natural Gas) that provides natural gas service in western Oregon and southwestern Washington. Headquarters are in Portland, Oregon. NWN has underground gas storage facilities in Oregon and California.
WEC Energy
WEC is one of my favorite utilities. I first purchased shares of WEC in December 2013 at $41.24 when they were in the process of acquiring Integrys. At that time the yield was just under 4%. I closed that position in October 2017 at $67.33 at a yield of 3.09%. I immediately put WEC on my watch list, waiting for a pullback. I re-established a position this week at $60.12, at a yield of 3.68%.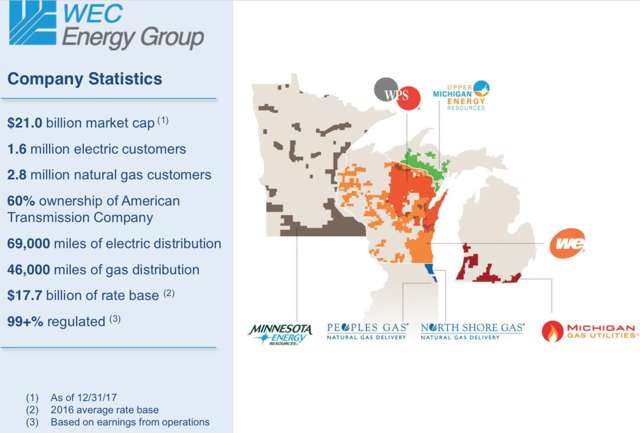 (From January 2018 Investor Presentation)
In 2013-14, I developed a great appreciation for Chief Executive Officer Gale Klappa. I consider him one of the best leaders in the utility sector. Klappa retired as CEO and continued to serve as non-executive Chairman. He was succeeded by Allen Leverett, who suffered a stroke in October, 2017. Gale Klappa was named Interim CEO on October 12. A month later, the term "interim" was dropped from Klappa's title. He made this statement during the Q4 earnings call on January 29, 2018:
"Allen Leverett is in good physical condition and he continues to make progress in his recovery and rehabilitation work. Among other activities, Allen is engaged in extensive speech therapy at a leading stroke rehabilitation center. No specific time table has been established for his return to the Company, so as we announced a few months ago, I've agreed to serve as Chief Executive for as long as necessary...."
I like WEC's steady performance and their forward outlook. The company's policy is to pay 65% to 70% of earnings in dividends. WEC is confident that it can achieve 5% to 7% earnings growth. Their January 2018 Investor Presentation, "Poised For Growth," indicated the mid-point of 2017 adjusted earnings per share guidance was $3.09. The actual number was $3.14. Colder weather added $.02 to earnings, putting EPS over the top end of guidance.
The following graph from the Investor Presentation was entitled:
"Confident In Achieving Our EPS Growth Guidance."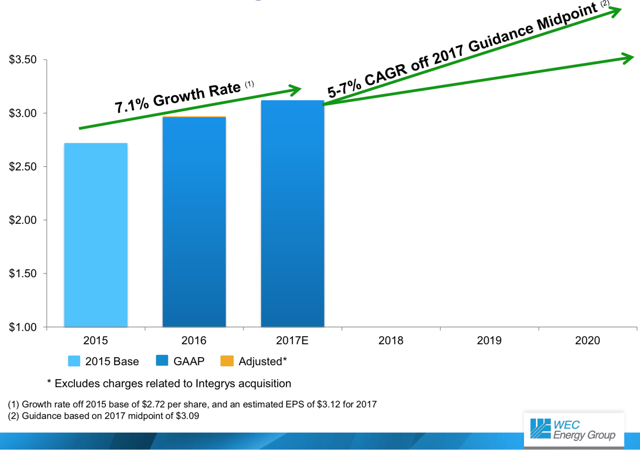 The following research report is from BetterInvesting.org. Notice that the figure for 2017 EPS is $3.79. This includes a one-time non-cash gain of $.65 from the tax law that was signed in December 2017. The report below shows current P/E ratio of 15.7, but this is based on EPS of $3.79. If adjusted EPS of $3.14 is used, the P/E is in line with the company's 5-year average P/E.
WEC's closing price on Friday, February 9, 2018 was $61.10, for a current yield of 3.62%. Notice that the high yield for WEC hasn't reached 4.0% since before 2013.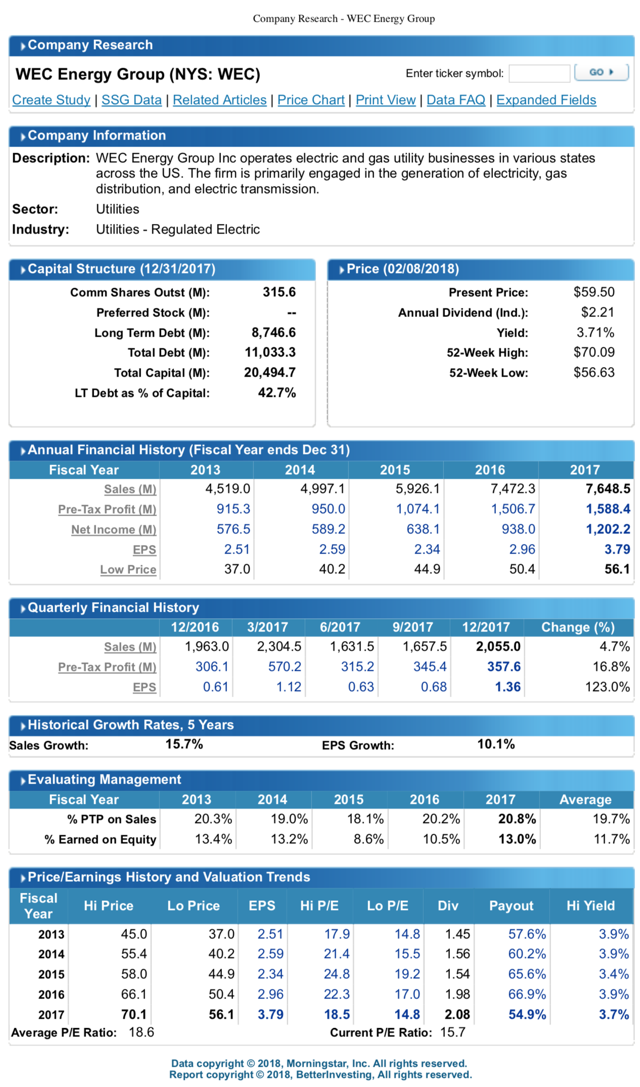 (Research Report from BetterInvesting.org)
The Better Investing report indicates long term debt is 42.7% of capitalization. F.A.S.T. Graphs (below) puts company debt at 42% of capital. In the Klappa-Leverett era, WEC has maintained a strong balance sheet.
WEC has a S&P credit rating of A-, as indicated below. On January 18, 2018, the company announced a 6.3% dividend increase, effective with the dividend payable March 1, from $.52 per quarter ($2.08 per year) to $.5525 per quarter ($2.21 per year). The F.A.S.T. Graph below shows a 3.4% yield, which has not yet been updated to reflect the new dividend.
The black price line on the F.A.S.T. Graph for WEC indicates that the market gives this utility a premium valuation. It also shows the recent downturn, which I used as a buying opportunity.
The company has increased the dividend for 15 consecutive years. David Fish lists WEC as a Dividend Contender (10+ years).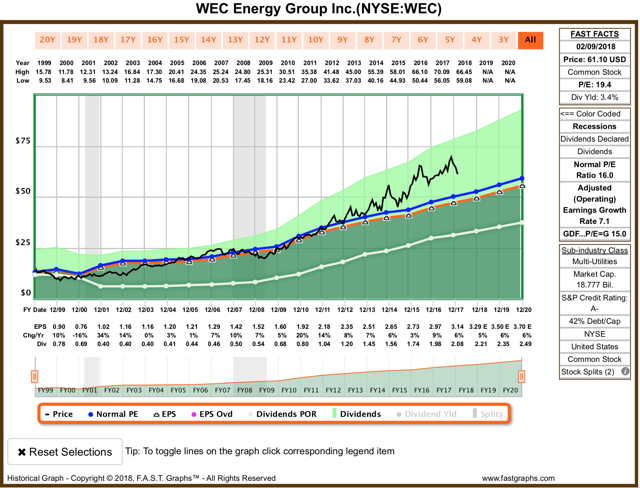 (Graph from F.A.S.T. Graphs)
Simply Safe Dividends gives WEC high marks for dividend safety and yield, with a somewhat lower score on dividend growth. However, as a regulated utility I'm satisfied with the company's growth projection of 5% to 7% and their dividend policy of paying out 65% to 70% of EPS.

(Graphic from Simply Safe Dividends)
NW Natural
NW Natural is a relatively small natural gas utility. The market cap is $1.626 billion, compared with WEC's $20.495 billion. By comparison, Duke Energy (DUK) has a market cap of $94.944 billion. I first purchased shares of NWN in April 2013 at $40.30. I sold some shares in April 2015 at $48.79, and eventually closed the position in August 2015 at $43.12.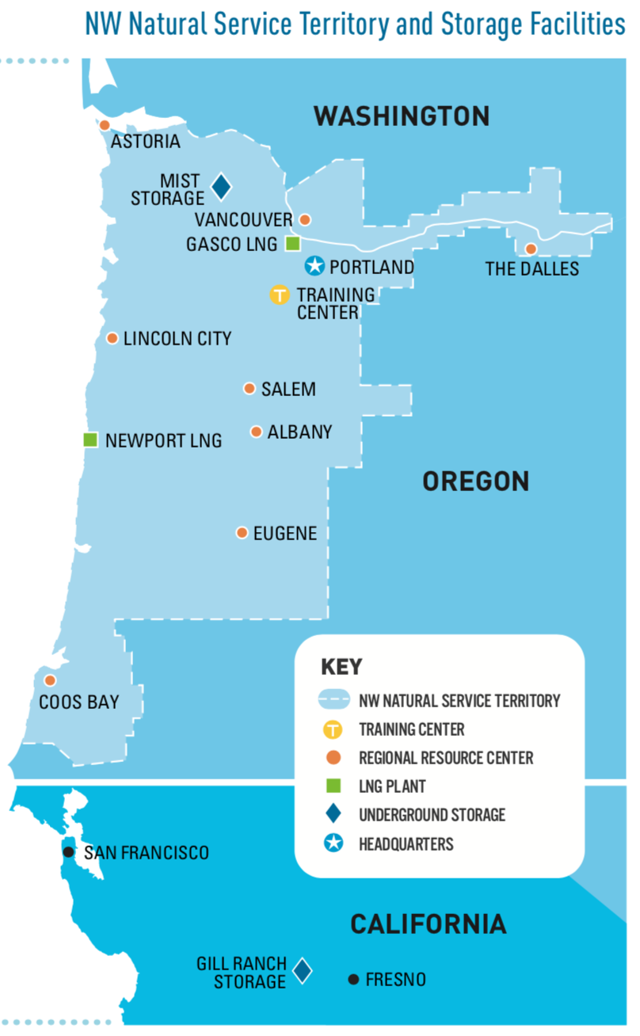 I've continued to watch NWN. The market gives this small utility a premium valuation. Why the premium? And, why did I re-establish a position?
The premium may be due to its excellent credit rating and longevity of NWN's dividend performance. Though a slow dividend-grower, the stock (particularly when bought on dips) has compared favorably with bonds because it has consistently raised the dividend. NWN is number three on David Fish's list of Dividend Champions, with 62 consecutive years of increases. The only companies with longer streaks are American States Water (AWR) at 63 years and Dover Corporation (DOV), also at 62 years.
In much of 2016 and 2017, the company benefited from strength in the utility sector and (I believe) from the takeover of other gas utilities. In addition to the aforementioned 2014 WEC acquisition of Integrys, in 2016 Black Hills Corporation (BKH) acquired Source Gas; Southern Company (SO) acquired AGL Resources; Duke Energy acquired Piedmont Natural Gas; and Dominion Energy (D) acquired Questar.
When I exited NWN in 2015, I sought more growth. I saw better opportunities elsewhere. Now that I am nearing the distribution phase (beginning in about three months) I re-established a position because I value NWN's stability and relative dividend safety. Also, NWN provides the portfolio some utility exposure to the northwestern U.S., and it adds a small cap holding to a portfolio that is mostly large cap.
The Better Investing report below has not been updated to reflect Q4 2017. The current 52-week price range is $52.48 to $69.50. The current price of $56.10 is a 19.3% below the 52-week high. The BI report indicates a conservative balance sheet but flat to declining sales. The report shows a very high dividend payout ratio. I will keep an eye on this number. By comparison, note that WEC lowered its payout ratio in 2017 to 54.9%.
In the Q3 2017 earnings call on November 3, 2017, CEO David Anderson reported net income for the first nine months was up $3.9 million year over year with strong customer growth.
For the 12 months ended 9/30/17, total Oregon employment grew 3.9%, the second fastest rate among the 50 states. Unemployment dropped from 5% to 4%. In the same 12-month period, NWN added 12,700 new customers, for a growth rate of 1.8%.
The 2017 Q4 earnings call will be Friday, February 23, 2018. In the last call, Chief Financial Officer Frank Burkhartsmeyer reaffirmed 2017 EPS guidance in the range of $2.05 to $2.25 per share. The company reported adjusted net income of $1.20 per share for the first nine months of 2017. To achieve the mid-point of 2017 guidance ($2.15), NWN must earn $.95 in Q4. The company earned $1.01 in Q4 2016.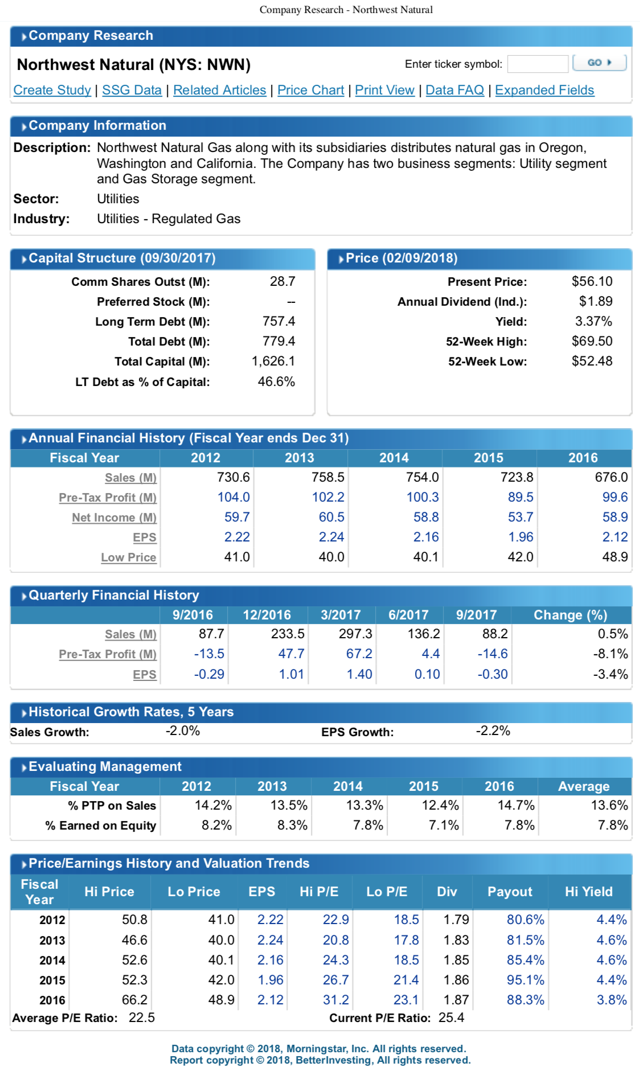 (Research Report from Better Investing)
The Better Investing report indicates long term debt is 46.6% of capitalization. F.A.S.T. Graphs (below) puts company debt at 46% of capital. NWN has had an A+ S&P credit rating since January 2010. An A+ credit rating is rare for a utility. The outlook is stable.
The F.A.S.T. Graph reflects the company's strong market performance. It only brushed the orange 15 P/E level during the Great Recession. The blue "Normal P/E" ratio of 18.4 looks like a "launching pad" in mid-2015 after several years of consolidation in that range. The sharp downturn since late 2017 provided an opportunity for me to re-establish a position in NWN. The line indicates the price continues to be elevated. I took a "half" position in NWN and I will look for opportunities to bring it to a "full" position. My current target for adding more NWN shares is $51.08 (which would be a 3.7% yield).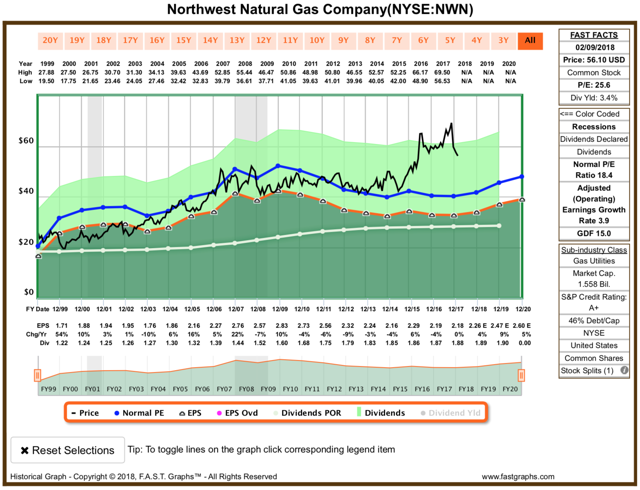 (Graph from F.A.S.T. Graphs)
Simply Safe Dividends gives NWN a score on dividend safety of only slightly above average, perhaps because of its high dividend payout ratio. The dividend yield score of 71 puts it above average (50), but the dividend growth score is only in the 7th percentile of companies in the SSD universe. NWN is a growth tortoise. I took only a half position because I want to monitor NWN's progress.

(Graphic from Simply Safe Dividends)
Additions to other portfolio positions
I'm very happy that WEC is back in the portfolio. But the best part of the week's portfolio reset was the addition of shares to some existing positions:
These additions have resulted in a heavier portfolio weighting for the blue chip dividend stalwarts. The top nine (above) have S&P credit ratings of AA- or better.
During the week, I received numerous alerts from Custom Stock Alerts that various buy price targets had been reached. These were reminders that the Wall Street sale was gaining velocity.
The portfolio yield on February 2 was 3.75%. The yield as of February 9 was 4.06%. The reset increased the portfolio income by 3.15%. The cash position is 0.29%.
The portfolio is down 5.62% year-to-date. It's up 32.16% since 12/31/2015.
I always learn from our Seeking Alpha conversations. I welcome your opinion. Your comments enrich our discussion.
It's not my intent to advocate the purchase or sale of any security. My purpose is to offer ideas for stocks to study and to share a journal of my effort to design and build a retirement portfolio that puts a priority on relative safety, a history of dividend growth and solid future prospects. Your goals and risk tolerance may differ, so please do your own due diligence.
Disclosure: I am/we are long JNJ, PFE, MSFT, MMM, AAPL, MRK, WMT, XOM, PG, TD, RY, CSCO, WPC, WEC, KMB, BCE, D, DUK PPL, ADP, PEP, SPG, TGT NNN, O, IBM, VTR, BEP, EPD, MMP, SKT, BIP, HASI, APLE, PEGI TXN, NWN, VTI, VEA, VWO, VYM, VOE, VNQ, VPU. I wrote this article myself, and it expresses my own opinions. I am not receiving compensation for it (other than from Seeking Alpha). I have no business relationship with any company whose stock is mentioned in this article.