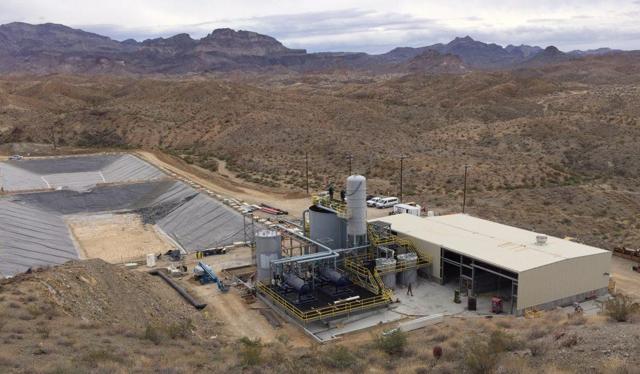 Photo: Northern Miner
Northern Vertex (NHVCF) is a Canadian mining company that is operating the Moss Mine in the Oatman district, located in NW Arizona. After speaking with company executives at the Vancouver Resource Investment Conference recently, they have nearly completed the mine development phase and expect to start production in Q1 2018, right around the corner. Their project has low all-in sustaining costs (hence AISC), is in a very safe region, is located within a mining district that has produced over 2 million gold ounces, and is run by an experienced management team. Here I will discuss my thoughts on the company and the investment potential.
Management
The number one concern for investors in the precious metals mining space is management. Good deposits often don't make it to production when management mishandles the project, or the costs spiral out of control causing operational losses which leave investors wanting for more.
The CEO of Northern Vertex, Ken Berry, is a former hockey player and Olympian. He is also founder and Chairman of Kootenay Silver Inc. He worked primarily in senior management positions and directorships responsible in areas of finance, business development, strategic planning and corporate restructuring prior to working in mining.
One of the company directors is James McDonald, a geologist with 30 years of experience who is also CEO of Kootenay Silver, Inc. Mr. McDonald founded National Gold which merged with Alamos Minerals for which he was Director of the technical committee until 2012.
Gordon Ulrich, a company director, was CEO of Luscar Ltd. (coal, oil and gas) which had six producing mines at one time and has 40 years of mining experience. Further, Mr. Ulrich has been an independent director of several Canadian resource companies.
David Ferrell, a company director, worked with Endeavor Financial for over 12 years. Christopher Park is CFO and was Controller of Imperial Metals and their $660 million Red Chris mine in British Columbia.
The mine manager is Bill Martinich who held similar positions with New Gold, a multinational mining company with over $714 million in revenues in 2016 and Taseko Mines with recently over $200 million in revenue. Prior to these roles, Mr. Martinich worked for Barrick Gold and Placer Dome.
Two recent additions were added to provide the exploration on additional resources, given the majority of the land package that Northern Vertex owns on site has not been fully drilled and mapped. Perry Durning and Bud Hillemeyer are in charge of the blue sky exploration program for the company. Here is a bio of the pair's accomplishments:
Perry Durning and Frank (aka Bud) Hillemeyer formed La Cuesta International in 1993 after roughly a decade together at Fischer-Watt Gold, an Arizona and Nevada-based mineral exploration firm. Perry and Bud are recognized for their outstanding record of grassroots discoveries, particularly the:

San Sebastian Silver-Gold Mine - in production with current resource of 70 million silver equivalent ounces. San Agustin Gold Mine - in production with indicated resource of 850,000 oz gold and an inferred resource of 28.26 million ounces silver. Pitarrilla Silver Deposit - hosts a Measured & Indicated resource of 526 million oz of silver. Camino Rojo Gold Discovery - hosts a Measured & Indicated resource of 7.5 million oz of gold and 64.7 million oz of silver. Los Gatos Mine in Chihuahua - presently in development - hosts a measure & indicated resource of 178 million oz of silver eqv. grading 602 g/t silver eqv. and an inferred resource of 47 million oz of silver eqv. grading 405 g/t silver eqv.

In 2010, Bud and Perry received the coveted Thayer Lindsley International Mineral Discoveries Award, in memory of Thayer Lindsley, one of the greatest mine finders in all time.
The management team can be characterized as very solid with an exceptional exploration lead team that provides upside potential to investors when additional resources on the property are located.
The Resources and Region

Source: Northern Vertex
Northern Vertex has 435,000 gold equivalent ounces Measured and Indicated (hence M&I), with an additional 43,000 ounces Inferred. The equivalent ounces are a mix of gold and silver as shown in the chart above.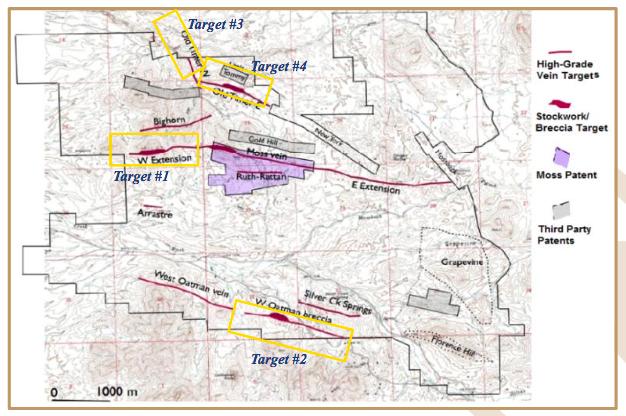 Source: Northern Vertex
The company has low AISC per ounce of $603. The strip ratio is 1.85:1 because the mineralization is at surface and the company expects to open pit mine using heap leach methods. The NPV of the project, assuming $1,250 gold price and discount rate of 5%, is $106 million over a ten-year mine life. The internal rate of return of 63% provides a project payback of 1.8 years. Recovery rates are 82% gold and 65% silver at about 0.83 grams per ton (hence gpt) equivalent gold for the project.
One of the reasons the project has low comparative costs to other providers is due to location - the infrastructure is in place and they do not have to build a mining camp due to proximity of other cities. The company expects to produce about 45,000 ounces per year during the 10-year mine life. Given the current market capitalization of $80 million, there is upside to the current stock price when compared to the project NPV of $106 million.
This, of course, does not consider the additional ounces that will likely be identified under the current exploration program which I think is one of the major reasons to be excited about the potential of this company.
De-risking the Project: The Financials
The company believes they have taken both technical and financial risks out of the project. Pilot production in 2016 produced 4,000 gold and 20,000 silver ounces, proving the project could be economically mined. Further, the company has strong financial partners who believe in the project success, including a $20 million Sprott lending facility which the company has now been fully exercised. In addition, Greenstone Resources has invested $6 million with the company, with Michael Hayworth from Greenstone acting as a Director for the organization.
The company has about $12 million (as of December 2017) in cash and $19 million in debt. Overall, the financials of the company are solid, but there is some debt on the books that will have to be serviced out of production.
The reason for the debt is the development of the mine, which has taken a bit longer than management originally anticipated. When examining the financials, the company has negative cash flow for several years as it developed the resource and established the mine. The company has lost an average of $3.75 million the last two years while in the development phase. In 2016, $13.6 million was spent on CAPEX alone. Because development is nearly complete, most of the development CAPEX is already spent.
The company has issued 174.88 million shares, with 5.4 million outstanding options and an additional 44.37 million in warrants ranging from $0.65 to $1.00 strike prices. Daily, about 93,000 shares are traded.
Valuation and Investment Thesis
Provided that gold is hovering above $1,300 at time of this writing, the PEA has underestimated the value of the gold ounces at today's trading prices. Further, the silver resources could be undervalued for two reasons. I think that silver market prices are too low given demand factors (both industrial and monetary) which will put upward pressure on silver price in the coming years.
Further, the recovery rates for silver on this project are low (65%) due to the focus on gold as the primary product. If the silver prices rise significantly as I expect, there may be additional money spent on advanced silver mining techniques, such as what is being implemented at First Majestic Silver (AG), to increase the silver recovery rate.
The current economic analysis prices silver as a gold equivalent in M&I resources without considering the vastly different fundamentals of the silver market and the upside potential. One of the great things about buying gold and silver producers is that those mines with significant silver reserves may find themselves re-rated with much higher valuations in a few years due to the supply/demand dynamics of that market.
Right now, the company is probably due for a doubling of market capitalization when they pour their first gold, and they are then valued as a production company at today's gold prices.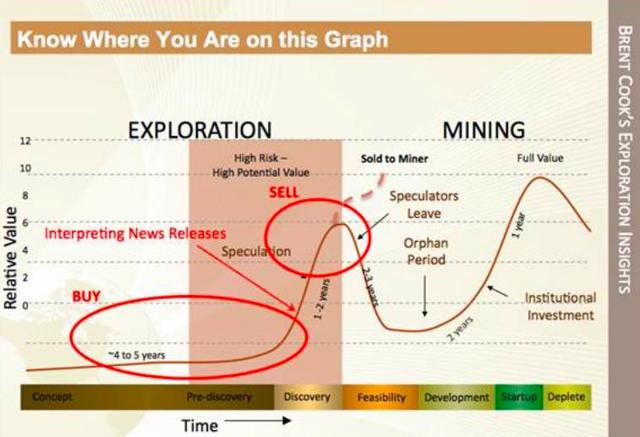 Source: Goldseek
The chart above illustrates the re-rating of share price that happens when companies finally move from development to mining. Institutional investment tends to come back to the company and retail investors take notice during the updated news cycle, pushing up the share price to more fair valuations of the resources which are now being taken out of ground and put on the market.
Where I see true value in the company is after the first pour where the market will rate the company as a producer. The sales will provide much needed funds to explore the rest of the property, where several interesting formations along the strike line have promising results. Given the district's history of production, it would not be a surprise to see more resources found in the coming few years of exploration which would serve to extend the mine life, increase the NPV of the project, and provide more upside to the share price.
One of the keys will be management financing exploration and not taking too much debt or diluting the existing shareholder base. I fully expect the current warrants to be exercised after the share prices begins to rise in 2018 during production, which will provide some downward pressure on the share price at both $0.65 and $1.00 as those price targets come into view. I wouldn't expect the share price to significantly exceed $1.00 during 2018 unless Perry and Bud's exploration efforts find significant intercepts of high grade gold and silver and upping the companies potential resources.
The downside is not high given the current low price and stage in the miner development cycle. If the AISC estimate is proven to be too low, it could reduce the value of the current resources and lower the share price. It is unlikely there are geopolitical issues in Arizona which affect the project, or issues with labor which is stable in the region. However, at 0.83gpt, the project is about median grade quality for a gold mine, and for that reason, I do not expect this to be a five or ten "bagger" type of stock in the near-term horizon dependent on what the blue sky exploration team finds on the rest of the property.
The hidden, long-term value of investing in Northern Vertex is the exploration team's ability to locate additional profitable gold and silver in the ground as well as the upside potential of the silver market price accretion to the project's NPV. Therefore, I rate this stock as a solid buy and will be participating. As always, do your own due diligence before making any investments in this sector.
Standard Risk Disclaimer Language
Investing in small or micro capitalization mining companies comes with inherent risks that are discussed below. Refer here for source information.
Trade liquidity - less shares, as a whole, may be traded on these companies on a daily basis. Therefore, stagger your positions by adding small tranches over time, and do not put yourself in the position of having to sell a mega position of shares. Investments in these companies should probably make up no more than 5-10% of your overall investment portfolio, depending on your risk tolerance. Use the rest of your money to find good dividend companies or market leaders with strong upside. Balance those with smaller cap companies to provide opportunities for higher overall portfolio returns while minimizing your potential risk exposure.
Funding - some smaller companies may not have easy access to funding, though resource companies with proven resources and good management generally do not have this problem. However, lack of access to capital may increase operational risk of the project to the investor, so please be aware of this risk.
Media Coverage - smaller companies often get less coverage, and sometimes no coverage. That is why it is always advisable to contact company representatives to answer questions and provide company marketing and financial materials to the investor. Proper due diligence often reduces lack of market information, and may also lead to increased investor awareness in the sector in the process. More information is always better when making investment decisions. It is up to the individual investor to determine individual comfort levels.
Operational History - mining companies, in particular, have stages of development from exploration to development to production. For earlier stage companies, the easiest way to mitigate the lack of existing operational metrics is to examine management's success on prior projects as a clue as to their ability to find resources and deliver results. Also, check the attractiveness of the mining district and be aware of any geopolitical concerns in the area. Established mining districts always reduce the investor's risk.
Editor's Note: This article covers one or more microcap stocks. Please be aware of the risks associated with these stocks.