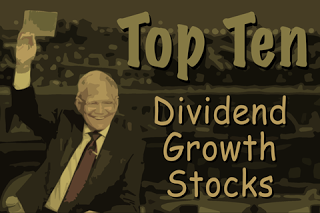 David Fish's CCC list is an excellent source for dividend growth investors. Compiled and updated every month, the CCC list contains U.S. companies with at least 5 consecutive years of increasing dividends. The accompanying spreadsheet provides key statistics of the CCC stocks.
In my monthly 10 Dividend Growth Stocks series, I identify 10 CCC stocks worthy of further research. To create the list, I trim the CCC list using various screens and rank the remaining stocks using a proprietary ranking system. I also assign a 7-star rating to each stock. Stocks rated 5 stars or better are worthy of further analysis.
Trimming the CCC List
The latest CCC list (dated 1/31/18) contains 844 stocks.
This month, I used the screener at DividendStocks.cash to trim the CCC list. The screener provides several dynamic filters, which measure the stability of dividend, earnings, and revenue growth over a 5-year period. For example, dividend growth stability measures the correlation between a stock's year over year dividend increases and dividend growth implied by the stock's 5-year dividend growth rate. A perfect correlation between dividend increases and time is defined as a correlation of +1. You can read more about dynamic filters here.

I used the illustrated filters to screen for dividend growth stocks with very high dividend and earnings stability. I also wanted stocks with earnings-based payout ratios of less than 60%. Finally, I required dividend yields of at least 0.75%.
These filters reduce DividendStocks.Cash's database of 610 stocks to 39 candidates, although two are not CCC stocks. Like last month, I also added the stocks in my DivGro portfolio that happen to be in the latest CCC stocks. In all, this compilation produced 77 candidates.
Here is an analysis of the 77 candidates, courtesy of finbox.io:

Collectively, the 77 stocks have a fair value downside of about 6%, but they show a solid 1-year return of 18%. Furthermore, the stocks have outperformed the S&P 500 by about 150% over the last five years.
The Ranking Process
I ranked the 77 candidates using data available in the CCC spreadsheet and additional sources like finbox.io, Morningstar, S&P Capital IQ, F.A.S.T. Graphs, and Simply Wall St. My ranking system favors established dividend paying stocks with strong fundamentals and stocks potentially trading at or below fair value. Dividend safety is another important factor.
Here are the top 10 ranked stocks for February 2018:
Stocks I own in my DivGro portfolio are highlighted.
Seven stocks from last month's top 10 appear in this month's top 10. These stocks are identified with a subscript that represents last month's ranking. For example, CVS4 means CVS was ranked fourth last month.
Ratings and Sectors
Here are the top 10 ranked stocks by sector, along with my star ratings for each stock (out of 7 stars). The top two stocks each earned 7 stars, while the remaining stocks each earned 6 stars. I consider stocks with a 5-star rating or better worthy of further analysis:
1 • CVS Health (NYSE:CVS) ✭✭✭✭✭✭✭ Consumer Staples
CVS provides integrated pharmacy health care services. The company advises patients on medications at CVS Pharmacy locations; provides cost control programs through CVS Caremark; delivers care to patients through CVS Specialty; and provides pharmacy care for seniors through Omnicare. CVS was founded in 1892 and is headquartered in Woonsocket, Rhode Island.
2 • Altria (NYSE:MO) ✭✭✭✭✭✭✭ Consumer Staples
Dividend Champion MO was founded in 1919 and is headquartered in Richmond, Virginia. The company manufactures and sells cigarettes, smokeless products, and wine in the United States. In March 2008, MO spun off the subsidiary Phillip Morris to protect it from litigation in the United States.
3 • Hormel Foods (NYSE:HRL) ✭✭✭✭✭✭✩ Consumer Staples
Dividend Champion HRL is a multinational manufacturer and marketer of consumer-branded food and meat products. The company sells its products through sales personnel, as well as through independent brokers and distributors. Customers include retailers, hospitals, nursing homes and marketers of nutritional products. HRL was founded in 1891 and is based in Austin, Minnesota.
4 • T. Rowe Price (NASDAQ:TROW) ✭✭✭✭✭✭✩ Financials
Dividend Champion Founded in 1937, TROW is a financial services holding company that provides global investment management services to individual and institutional investors in the sponsored T. Rowe Price mutual funds and other investment portfolios, as well as through variable annuity life insurance plans. TROW is based in Baltimore, Maryland.
5 • TJX (NYSE:TJX) ✭✭✭✭✭✭✩ Consumer Discretionary
Founded in 1956 and based in Framingham, Massachusetts, TJX operates as an off-price apparel and home fashions retailer in the United States and internationally. The company sells family apparel, home fashions, seasonal items, jewelry, and other merchandise. TJX operates stores under various names, including T.J. Maxx, Marshalls, and Sierra Trading.
6 • Cummins (NYSE:CMI) ✭✭✭✭✭✭✩ Industrials
Founded in 1919 and headquartered in Columbus, Indiana, CMI is one of the leading designers and manufacturers of diesel engines. The company also produces natural gas engines and engine components and subsystems. CMI sells its products to original equipment manufacturers, distributors, and other customers worldwide.
7 • Walgreens Boots Alliance (NASDAQ:WBA) ✭✭✭✭✭✭✩ Consumer Staples
Dividend Champion WBA operates a network of drugstores in the United States. The company sells prescription and non-prescription drugs as well as general merchandise products, including household items, convenience and fresh foods, personal and beauty care products, and photofinishing services. WBA was founded in 1901 and is based in Deerfield, Illinois.
8 • Lowe's (NYSE:LOW) ✭✭✭✭✭✭✩ Consumer Discretionary
Dividend Champion LOW is a home improvement retailer. The company offers a complete line of products for maintenance, repair, remodeling, and home decorating. It also offers installation services through independent contractors, as well as extended protection plans and repair services. LOW was founded in 1946 and is based in Mooresville, North Carolina.
9 • Ross Stores (NASDAQ:ROST) ✭✭✭✭✭✭✩ Consumer Discretionary
ROST and its subsidiaries operate two brands of off-price retail apparel and home fashion stores, Ross Dress for Less (Ross) and dd's DISCOUNTS. The company offers apparel, accessories, footwear, and home fashions at substantial savings off the regular prices charged by department and specialty stores. ROST was founded in 1982 and is headquartered in Dublin, California.
10 • Aflac (NYSE:AFL) ✭✭✭✭✭✭✩ Financials
Dividend Champion Founded in 1955 and based in Columbus, Georgia, AFL is a supplemental health and life insurance company that operates in the USA and in Japan. In the USA, the company sells health and disability insurance, mainly as part of employer-sponsored group insurance plans. In Japan, AFL provides health insurance, life insurance, and annuity products.
Please note that the top 10 ranked stocks are candidates for further analysis, not recommendations.


Key Statistics and Fair Value Estimates
The table below presents some key statistics as well as fair value estimates for the top 10 stocks.
In the table, Yrs are the years of consecutive dividend increases, Payout is the EPS (earnings per share) payout ratio and Debt is the ratio of debt to equity. When available, the compound dividend growth rate over a 5-year period (5-Yr DGR) is provided. Standard & Poor's Credit Rating, as well as Value Line's Safety and financial strength (Fin. Strength) ratings also are provided. I've added Safety and Growth scores (out of 100) from Simply Safe Dividends. Finally, I present my own estimate of Fair Value.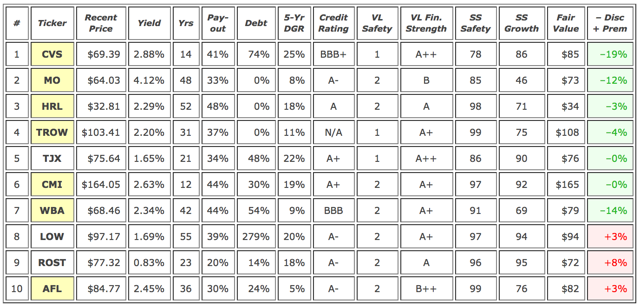 Except where otherwise noted, data in the table are from the CCC spreadsheet.
To estimate fair value, I calculate my own fair value estimates using proprietary implementations of the multi-stage Dividend Discount Model and the Gordon Growth Model. I also reference fair value estimates and target prices from other sources, including Morningstar, finbox.io, and S&P Capital IQ. With up to eight estimates available, my final fair value estimate ignores the lowest and highest, then averages the median and mean of the remaining estimates.
Three stocks are trading at discounts of at least 10% to my fair value estimates: CVS, WBA, and MO.
CVS is discounted most, but the company has frozen its dividend following its purchase of Aetna (AET), so CVS won't be raising its dividend or repurchase stock for some time. I'm holding my position and won't be increasing it in the foreseeable future.
MO is one of my home run stocks, a designation I give to positions when total returns exceed 100% of my initial investment. Risks are mounting for cigarette makers, but MO has been able to increase its revenues through consistent price increases. The company should benefit from the US corporate tax rate cut. It is one of my smaller positions (0.92% of portfolio value). MO looks attractive at $64 (yielding 4.12%).
However, looking at MO using F.A.S.T. Graphs, it seems like stock needs to trade even lower before it would reach its normal P/E ratio of 16.3: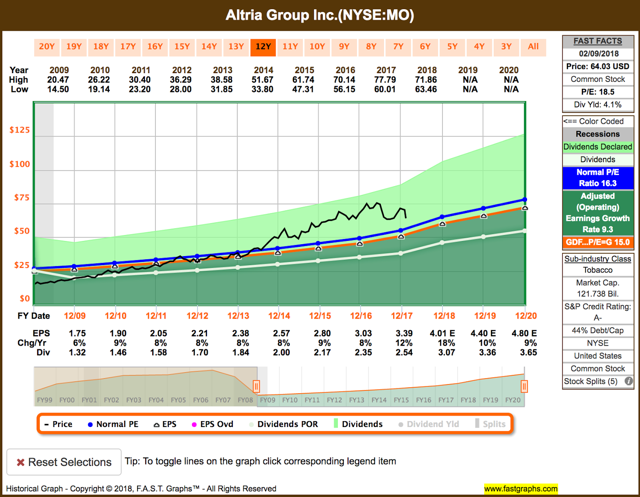 My WBA position also is small at about 1.05% of portfolio value. The stock reported strong Q1 results and appears to be positioned well after its purchase of stores from Rite Aid (RAD). The stock took a hit recently when Amazon.com (AMZN), JP Morgan Chase (JPM), and Berkshire Hathaway (BRK.A, BRK.B) announced a partnership to form a healthcare company. At just above $68, WBA yields 2.34% and the stock looks attractive considering it traded above $80 on 29 January.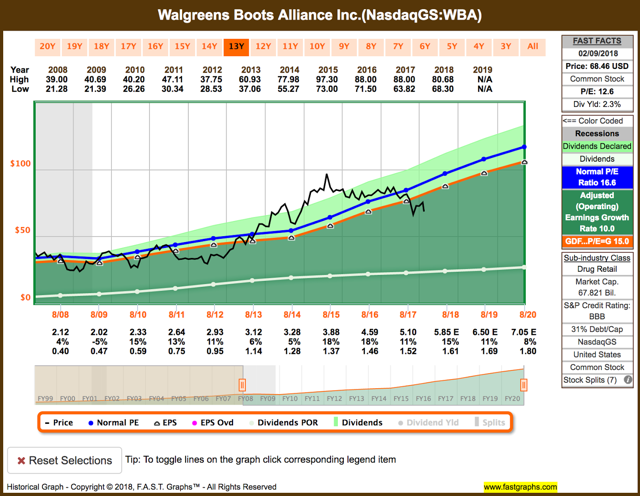 Trading at about fair value now, both TJX and CMI look interesting. TJX yields 1.65% and has an impressive 5-year DGR of 22%. CMI yields 2.63% and has an equally impressive 5-year DGR of 19%.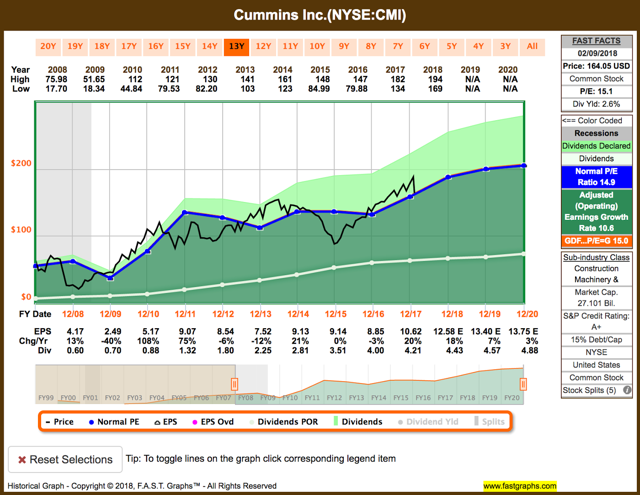 Given the choice, I'd probably opt to increase my current position in CMI rather than opening a new position in TJX. But TJX looks pretty attractive despite its lower yield. The company is a leading retailer in the discount retail space and it continues to open new stores.
Concluding Remarks
My monthly 10 Dividend Growth Stocks articles present a ranked selection of the CCC stocks. To introduce some variation, I use different screens to select candidates from the CCC list. This month's selection favors dividend and earnings stability.
After the market correction in February, it is easier to find quality dividend growth stocks trading at or below fair value. This month's list of top 10 ranked stocks provides seven such candidates, and I'm excited to get my buying list ready!
A Personal Note: Compiling the top 10 list every month takes several hours. Based purely on the number of page views, it looks like readers find value in these articles. I'm wondering what you like and if you have any suggestions for improvements? Your feedback will influence future articles and the format of presentation. And I will truly appreciate any feedback you give!
Thanks for reading! If you liked this article and would like to read similar articles in future, please click the Follow link at the top of this article.
Disclosure: I am/we are long AFL, AMZN, CMI, CVS, HRL, MO, TJX,TROW, WBA.
I wrote this article myself, and it expresses my own opinions. I am not receiving compensation for it (other than from Seeking Alpha). I have no business relationship with any company whose stock is mentioned in this article.