I am very excited to discuss a few very interesting things in this article that have made Bank of America (BAC) a rock solid outperformer over the last few months. A few tailwinds that I have discussed are currently unfolding and massively boosting America's second biggest bank.

Source: Bank of America
The Bottom Line
One of the things, if not the most important thing, I always mention in my articles about Bank of America is inflation and rising rates. Rising rates have probably been one of the most underestimated trends since the Great Financial Recession.
On the 14th of December I mentioned the following outlook in my article:
And just to be clear, I am not predicting the full year of 2018. I always base my research and outlook on a mid-term outlook of 3-6 months. And speaking of 3-6 months, that's also the time period in which we will see inflation above 3% and government bonds at 2.8%. Both are very bullish for Bank of America.
My research was fully based on leading economic indicators and the general trend of the economy as I will discuss in this article. Not only are we seeing higher inflation, we also see strong economic growth. Both are very bullish for banks. Especially global money center banks like Bank of America who are able to ignore a short term yield curve flattening.
Inflation & U.S. Growth
Let's start with an indicator that has been a frequent part of my articles. Below, you find the leading ISM manufacturing index. This index is a leading indicator and tells us what we can expect in terms of economic growth over the next 1-3 months. In other words, it precedes coincident indicators like industrial production, new orders etcetera.
What we see is that this indicator has been in a massive acceleration trend since the first quarter of 2016. It is a growth acceleration trend that normally occurs after a recession. Even the latest release showed that the ISM index lost 0.2 points from 59.3 (adjusted) to 59.1 in January. This is a minor decline at above-average levels.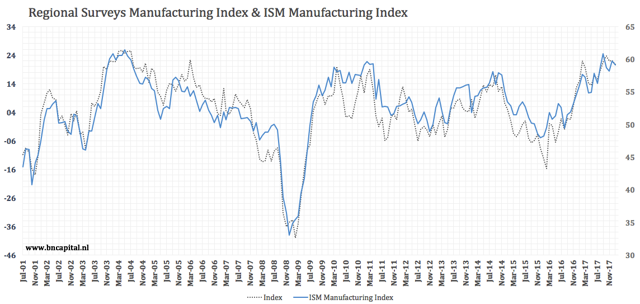 Not only has this been (and still is), a good sign for the economy, it also pushed down the USD index as you can see below.
And just to be clear, this is not because people distrust the Trump administration or a sign of weakness, it is the result of strong economic growth and money that flows into so called 'risk-on' assets like foreign stocks and currencies.
That being said, it also lifts cyclical commodities through higher economic growth and the fact that USD denominated commodities are getting relatively less expensive.
This is wonderful news for commodities that do business in these sectors and bad news for bond bulls. Why? Simply because rising prices are putting pressure on fixed income assets.
Now, let's look at the graph below. The graph shows the leading regional prices index and the year-on-year change of the consumer price index. There is no better proof of the current inflation thesis. Inflation expectations are currently at the highest levels since 2010. Official consumer prices are still at 2.0% but are soon to be expected above 2.5%. This is a sleeping wrecking ball and most important reason to start thinking about rising rates.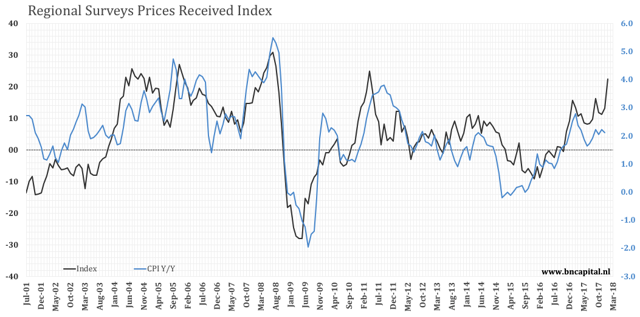 Anyhow, the 10-year yield is doing exactly what I expected it would do: it just crossed 2.8% and is on its way to 3.0%. We are seeing massive breakouts on a long-term, mid-term and short-term basis. And just to be clear, this trend is 100% justified and fully backed by fundamentals. Even if official inflation numbers are still 'not that high'.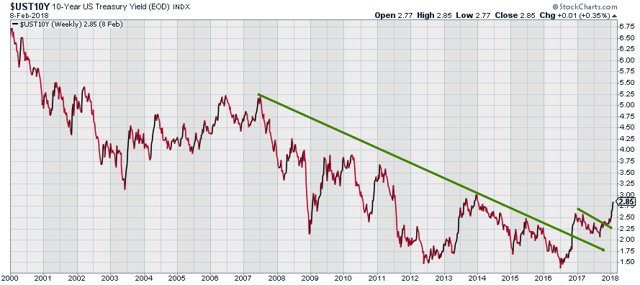 Paul Tudor Jones hit the nail on the head with this quote:
If I had a choice between holding a U.S. Treasury bond or a hot burning coal in my hand, I would choose the coal.
Banks Could Not Be Happier
Another indicator I frequently shared is an overview of the monthly comments from finance & insurance managers. These comments were retrieved from the monthly ISM/NMI reports and are a good guideline to see what managers actually think of the situation.

What we see is that managers continue to be very bullish. 2016 has more or less been the last year of slower growth, followed by strong optimism after the election of President Trump. And just to be clear about the growth trend: it started before Trump got elected, he fueled it by promising less regulations and a tax cut as we are currently witnessing.
These 2 Graphs Matter
The next graph shows the ratio spread between banking stocks (KBE) and real estate companies (IYR). banks are absolutely crushing real estate companies this year. The ratio is currently at its highest level since 2010 before rates started to accelerate to the downside - along with growth in 2014.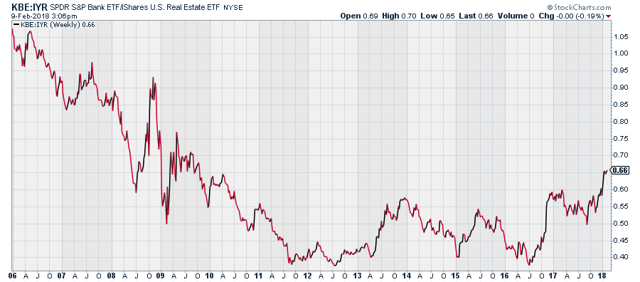 And it gets even more interesting. Bank of America has outperformed the S&P 500 in the current stock market correction. The ratio has been in a massive uptrend since 2017 and traders have not allowed the ratio to be oversold. It does not get more bullish than this. And let's be honest, who would have thought that one of the biggest, most cyclical mega banks would outperform the market in a severe correction?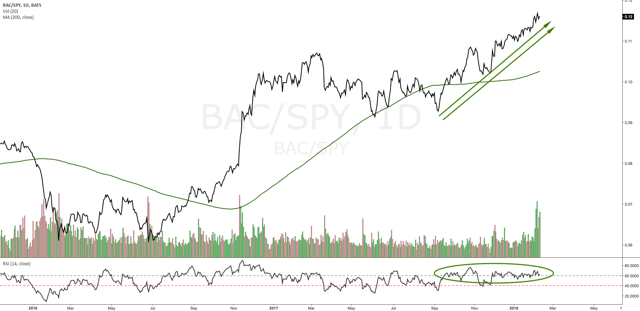 Source: TradingView
Takeaway & One Last Graph
At this point, you get to buy Bank of America at the lower bound of its uptrend that started in September of 2017. The company has had some ugly candles but investors were always looking to push the price back towards $32. This is a very good sign since many companies got absolutely clubbed lately.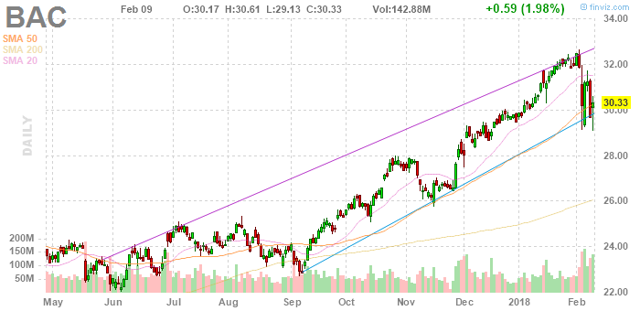 That being said, you are not only buying into one of the most fascinating bull cases, you are also getting paid 1.6% to wait for capital returns (dividend). This is not my main motivation since I am more of a mid-term trader, but it is a bonus for long term investors who get to add shares at a very interesting point.
Furthermore, I am very excited to see that my bull case is working out. Inflation indicators are rising further which will push official consumer prices growth to at least 2.5% over the next few months. Additionally, we will see rates go up further towards the 3.0% mark. This will further benefit Bank of America and give you additional alpha.
I do not know how long the current correction will take, but I expect Bank of America to recapture the $32 mark rather sooner than later.
Please let me know what you think about this bull case. I know that many of you are long term investors and I would love to hear if you are using these prices to add or if you sold some.
And, as always, stay tuned!
Author's note: Thank you for reading my article. Please let me know what you think of my thesis. Your input is highly appreciated.
Disclosure: I am/we are long BAC. I wrote this article myself, and it expresses my own opinions. I am not receiving compensation for it (other than from Seeking Alpha). I have no business relationship with any company whose stock is mentioned in this article.
Additional disclosure: This article serves the sole purpose of adding value to the research process. Always take care of your own risk management and asset allocation.