I've received requests from my readers to provide an update on the recent trading action in offshore drilling stocks. The last week was very turbulent – in energy and elsewhere. In a matter of few trading days, Brent oil (BNO) went from $70 to $62, where it was able to find support. Not surprisingly, offshore drilling stocks were deep in red across the board. Notably, the previous rally in offshore drilling names that lasted from mid-December 2017 to early January 2018 was completely reversed and stocks reached levels seen in early December or even below.
I see several reasons for this. The first one is the broad market sell-off. Generally, the company needed to provide good quarterly results to be able to go against the selling wave. Good examples of this are Snapchat (SNAP) and Twitter (TWTR), which pleased investors with surprisingly good quarterly reports. Everything else was deep in red, even the calm mastodons like Coca-Cola (KO) and Procter & Gamble (PG). Also, quarterly results from the likes of Exxon Mobil (XOM) and Chevron (CVX) put significant pressure on everything energy-related, as energy stocks are often bought and sold by baskets, be it ETF-based trading or speculative trading.
Another reason that I discussed in my article "Offshore Drillers: Short-Term Rally Comes To An End" is that offshore drilling stocks have gone way ahead of themselves. As often happens with speculative industries (and offshore drilling at this point is surely speculative), the market is too optimistic during the upside and too pessimistic during the downside. This is a norm rather than exception and investors should expect overreactions to positive and negative catalysts in the future.
The third catalyst that triggered a sell-off is that the rebound in contract activity is less than one could have expected by simply looking at the charts of offshore drilling stocks and at the oil price. Contracts appear here and there, but so far we haven't seen a major upside trend outside of the North Sea segment. It is possible that the market will reassess its stance following the release of drillers' fleet status reports which are coming soon, but for now market participants have to base their decisions on available information.
Together, these three main reasons put tremendous pressure on offshore drilling stocks. However, as I said above, the market is often too pessimistic during the downside, and I believe that this is the case here. Together with oil and the general market, offshore drilling stocks dropped too far too fast and a rebound should be expected. Let's get to the charts of the main offshore drilling stocks that may present an investing and trading interest at current levels.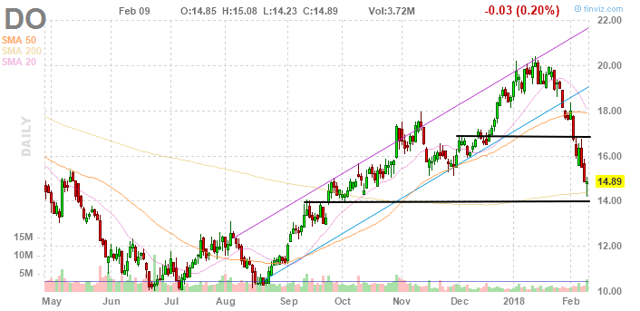 Diamond Offshore Drilling (DO) will report its quarterly results on February 12, so there's a good chance that by the time this article goes through editorial review and is published, you'd already know the results. However, given the wild nature of the pullback, it's hard to expect that quarterly results will play a major role in short-term trading of the stock. I see significant support around $14 level and resistance near $16.80 and I expect that the stock will rebound close to $17 unless there is another downside leg in oil prices.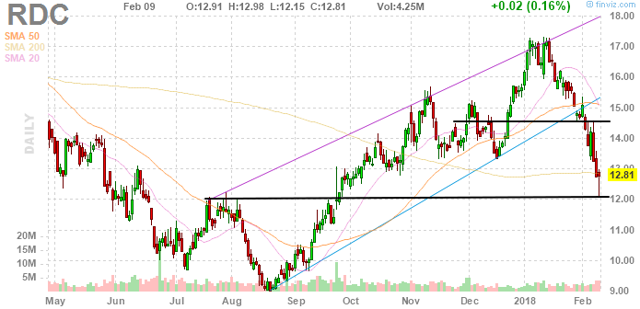 Rowan (RDC) is probably the most fundamentally strong driller due to solid financial position and the lucrative joint venture with Saudi Aramco. The company's shares have already reached the very significant support level near $12 and have already started to rebound with first resistance somewhere around $14.60. From a fundamental point of view, Rowan is the safest way to go if you want to "buy the dip".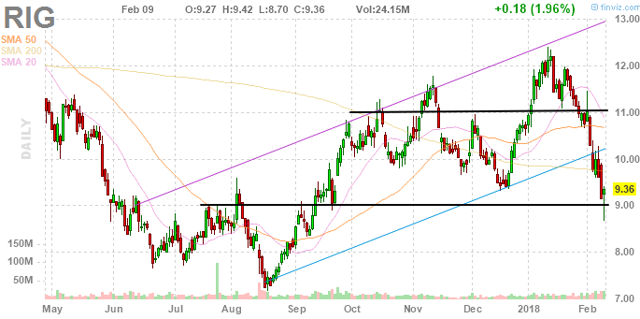 Transocean's (RIG) shares have briefly been below $9, in the area where, by my expectations, many buy orders of investors who were waiting for a pullback were filled. The Songa purchase made Transocean's shares a bit less volatile than the shares of its peers and this pattern should be expected to continue.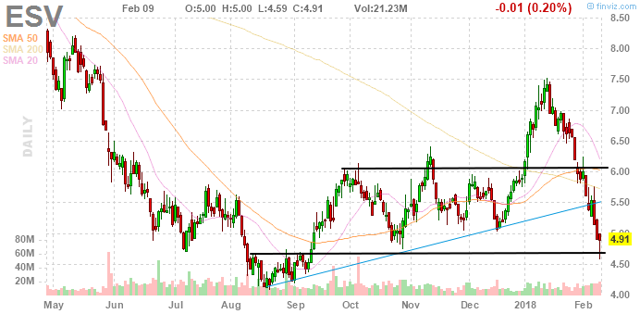 Ensco's shares (ESV) are once again paying the price for the acquisition of Atwood Oceanics, an aggressive bet that always puts pressure on the stock during the downside. As a result, Ensco's shares are not that far from lows once again. It will be very interesting to hear what Ensco's management team has to say when the company reports its quarterly results on February 27. So far, the market is clearly unimpressed.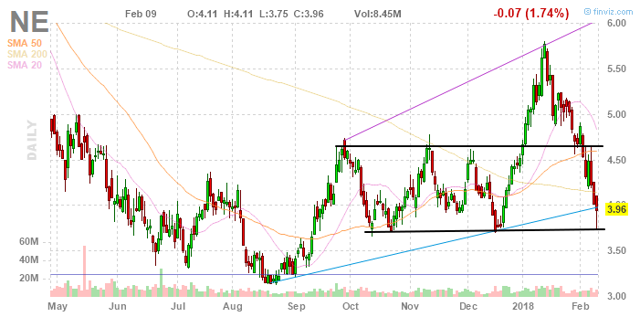 Noble's (NE) shares were another victim of the sell-off, dropping right on the major support area around $3.70. The company's shares rebounded from this area several times in a row, and I expect them to do this again, driven by technical rebound in oil prices and the general market.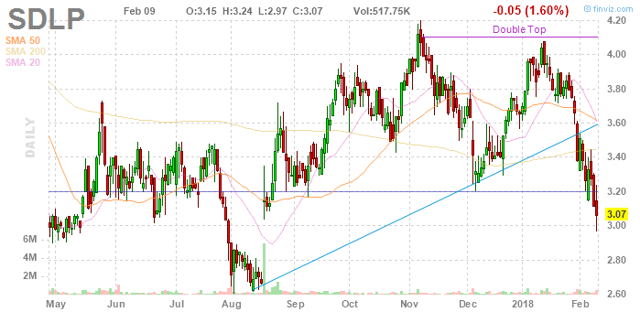 Seadrill Partners (SDLP), whose valuation depends on the outcome of the company's negotiations with creditors, also suffered during the sell-off. I've recently highlighted the company's units as an interesting yield play for high-yield searchers and I will add that nothing has changed fundamentally while the yield has grown to 13%. In my opinion, those investors who are searching for 10%+ yields (and are fully aware of the risks associated with investing in such yields) should be interested in Seadrill Partners' units.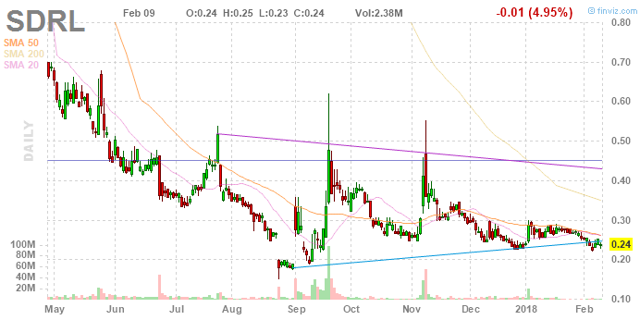 Seadrill (SDRL) shares did nothing during the sell-off, but it does not mean that they are so strong that they were able to ignore the market's weakness. The key restructuring hearing was postponed once again, so investors have no news to digest and general market fluctuations and even oil price fluctuations mean nothing to common equity, whose fate is solely dependent on the outcome of restructuring negotiations.
Ocean Rig (ORIG) shares have declined from $29 to $24 during the sell-off, but the trading volume and general uncertainty regarding the company make them a dubious choice for a rebound play. I've recently shared my thoughts on Pacific Drilling (OTCPK: OTCPK:PACDQ) in "Pacific Drilling: New Important Information On Restructuring Revealed" and have nothing to add at this point.
To conclude, I see significant potential for a rebound play in offshore drilling stocks and energy stocks in general. I would also like to remind that long-term investors should be prepared to see their holdings go up and down in value numerous times and that both the upside and the downside will be significant.
If you like my work, don't forget to click on the big orange "Follow" button at the top of the screen.
Disclosure: I am/we are long NE, RIG, RDC.
I wrote this article myself, and it expresses my own opinions. I am not receiving compensation for it (other than from Seeking Alpha). I have no business relationship with any company whose stock is mentioned in this article.
Additional disclosure: I may trade any of the above-mentioned stocks.
Editor's Note: This article covers one or more microcap stocks. Please be aware of the risks associated with these stocks.