Overview – On the surface this dividend is an outlier
With a market capitalization of $45.75 million, Digirad Corporation (DRAD) is considered a nano-cap. It is not common to see nano-caps paying a dividend of 9.6%. Nor is it common to see a company in the medical diagnostic testing industry achieving this yield level. So a nano-cap in the medical diagnostic industry paying a 9.6% dividend should raise eyebrows.
Digirad Business Model
Digirad defines its footprint in healthcare to include mobile diagnostic imaging, solid-state nuclear imaging, cardiac monitoring, women's health services and other. They break it out on the income statement into two segments; (1) Services and (2) Product/Product Related.
Services makes up the majority of the revenue for Digirad; 79% of the total revenue through the first 9 months of 2017. Services includes the following three categories; (1) Nuclear and Ultrasound Imaging, (2) Cardiac Event Monitoring Services, and (3) Mobile Healthcare.
The Product segment is broken out into two categories; (1) Diagnostic Imaging and (2) Mobile Device Sales and Services. The Mobile Device Sales and Services (MDSS) business primarily sold Philips branded imaging systems in the upper Midwestern territory of the United States. The agreement with Phillips is set to expire on March 28, 2019. In Q1 2018, Digirad sold the portion of MDSS that provided post warranty contract maintenance services for large diagnostic imaging equipment to Phillips for $8 million.
Metrics to measure current dividend's health
Let's first look at the liquidity of the balance sheet. Cash and short-term investments has been steadily declining. The chart below shows the ending year balance from 2013 through 2016, and September 30th for 2017. This chart shows how serious of a concern the cash balance is.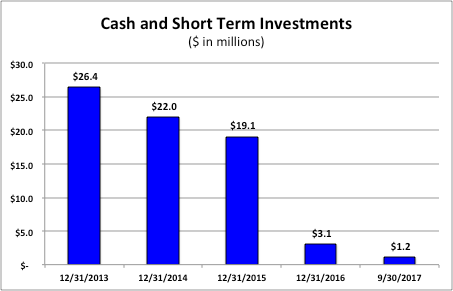 Source: Google Finance

While the chart above is alarming, influxes of cash have been received since the last reported balance sheet from September 30, 2017. $8 million was received from Philips for the warranty contract maintenance sales portion of the MDSS business. The company also had an additional $1.5 million of debt it could pull down from its $20 million credit agreement with Comerica Bank (CMA). It is a very bad sign that the company is selling a portion of the business unit and potentially taking on additional debt in order to maintain cash.
Next, let's look at the company's operating cash flows. Through the first 9 months in 2017, Digirad's operating cash flows are $4.1 million on a GAAP basis and $2.7 million on a non-GAAP basis. Operating cash flows are down $2.7 million on a GAAP basis and $0.3 million on a non-GAAP basis for the same period in 2016.
Operating cash flows are declining, and to make matters worse, Digirad's management drastically cut costs in 2017 from the operating expenses. In the first nine months of 2017, Sales and Marketing expenses were reduced $1.2 million and General and Administrative was reduced by $1.0 million.
Operating expenses had to be cut because the company faced large reductions to their gross margins. Gross margins dropped 5.0% from 2016 to 2017 through the first nine months; Services down 2.8% and Products/Product Related down 10.1%.
Reimbursement impact to earnings starting in 2018
The impact to Digirad's earnings starting in 2018 from the "Protecting Access to Medicare Act of 2014" (PAMA) is unknown and may occur indirectly. Many diagnostic tests have seen a reduction in reimbursements. Physicians who handle the billing directly may seek a reduction to services provided, or could stop all together if the reductions are too great. With new reimbursement rates not established by the government until late 2017, and the first phase of the rollout taking place on January 1, 2018, it is too soon to tell if or how much of an impact this will have on Digirad. This is a risk right now for many medical diagnostic companies.
Conclusion – metrics moving in the wrong direction and too many current issues
Management is still committed to the dividend, as CEO Matt Molchan said after the Q3 2017 earnings were released, "We remain committed to our dividend and growing stockholder value over time."
The only number moving in the right direction for Digirad is the dividend payout, as it was increased in Q3 2017 by 10%, and is now yielding 9.6%.
There are too many issues facing Digirad to buy this yield. The issues include: cash balance has become dangerously low, revenues are declining year over year, gross margins have dropped significantly year over year, forced to sell a portion of the MDSS business when Philips Healthcare cancelled its contract with Digirad on 12/31/2017, large cuts to the operating structure of the company, unknown revenue risk driven by PAMA and a decline in operating cash flows (both on a GAAP and non-GAAP basis).
These issues make the dividend very risky. I do not believe there is enough good news coming for the industry or for the company in the near future, and eventually they will be forced to make a reduction to their dividend.
Disclosure: I/we have no positions in any stocks mentioned, and no plans to initiate any positions within the next 72 hours. I wrote this article myself, and it expresses my own opinions. I am not receiving compensation for it (other than from Seeking Alpha). I have no business relationship with any company whose stock is mentioned in this article.
Editor's Note: This article covers one or more microcap stocks. Please be aware of the risks associated with these stocks.