The Dogs of the Dow of 2018 include two newcomers, General Electric (NYSE:GE) and Procter & Gamble (NYSE:PG). These two stocks made the list of top 10 dividend yielding stocks in the Dow Jones Industrial Average Index for 2018 and replaced Boeing (NYSE:BA) and Caterpillar (NYSE:CAT). Unfortunately, the new additions are weighing down the performance of the Dow Dogs so far this year as they are the worst performing stocks out of the ten Dow Dogs year to date through Friday's market close.
The Dogs of the Dow strategy is one where investors select the ten stocks that have the highest dividend yield from the stocks in the Dow Jones Industrial Index (DJIA) after the close of business on the last trading day of the year. Once the ten stocks are determined, an investor invests an equal dollar amount in each of the ten stocks and holds them for the entire next year. The popularity of the strategy is its singular focus on dividend yield.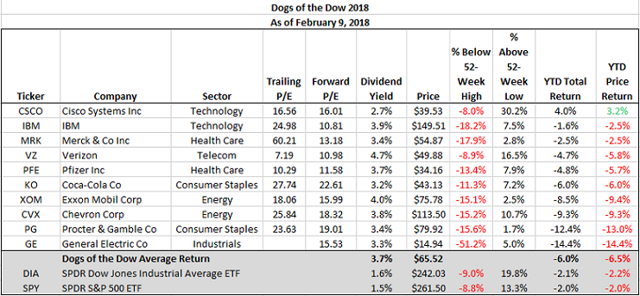 As the above table shows, the Dow Dogs return trails the return of both the Dow Jones Industrial average Index as well as the return of S&P 500 Index. Just as was the case last year, the energy holdings that comprise the Dow Dogs of 2018 are contributing to the underperformance in addition to GE and PG. Additionally, the absence of financial holdings in the Dow Dogs may serve as a headwind for the strategy this year as well.