Look Ma - I broke the Market
Markets continued their wild ride with the S&P 500 finishing 10% lower from the year high with 10y yields up this year by nearly 0.5%.
It is difficult to pinpoint the proximate cause of the sell-off.
The January wage print of 2.9 was a nothingburger - higher-than-expected average hourly earnings were pulled up by a drop in the length of the workweek. No sharp spike was seen in wages of production and non-supervisory workers - the more important group when gauging broad inflationary pressures.
Volatility-targeting and risk-parity funds derided the fingerpointing with Cliff Asness of AQR claiming the AUM of these funds is too small to move the markets.
The inverse VIX traders were too busy shutting down their failed products to say much of anything, but the $2-3bio of cash managed by them is a rounding error on total daily volumes.
The best answer we can come up with is the narrative of the interplay between sharply higher yields causing equities to stall and putting in place the conditions for a negative feedback loop of algorithmic selling which exacerbated the sell-off. We are more inclined toward the technical explanation because of the stark underperformance of S&P relative to other geographic markets and asset classes.
What were the lessons of the sell-off?
Diversification didn't really work - Yields marched higher even as equities moved lower. It's true that 10y yields fell 13bps when the S&P collapsed over 4%, but overall bonds lost value this week.
Flight to quality assets didn't work - The Yen was up only 1% and Swiss Franc fell.
Sectors NAVs performed as expected - Apart from better-than-expected performance from EM assets and commodities. This is something fund investors can at least hang their hat on and be happy in the knowledge that all that careful portfolio allocation work didn't go to waste!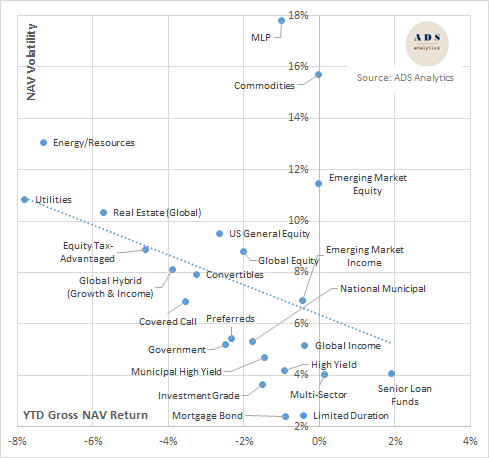 What is to be Done?
Closed-end fund investors are now faced with the classic investment problem whenever asset prices move sharply lower, to buy or not to buy? Here we look at this question in the context of the Muni sector since what is happening in bond yields is particularly relevant for it.
To answer this problem, we need to ask the following questions:
What is different? Well, so far not much. It doesn't appear that fundamentals drove the risk-off move. Other asset classes (credit, emerging markets), flight-to-quality assets like the Yen or funding-sensitive indicators like currency basis have not reacted strongly. This doesn't mean they can't - Wall Street has some experience in wagging Main Street, but we haven't seen it yet. We do have concerns about the unfavorable bond market technical picture given the Fed roll-down plan, increased Treasury issuance, higher government deficits and tax-driven corporate bond portfolio selldown, each of which is hundreds of billions large. However, none of this fundamentally changed in the last two weeks.
Are assets cheap or just cheaper? The distinction is important. Expensive assets can continue to cheapen for a very long time. To answer this question, we need to come up with a reasonable risk premium metric which we do below.
What is the risk/reward? Our back-of-the-envelope calculation for the Muni sector is the following. Duration of the sector is around 4 and total NAV YTD loss is 1.8%. Subtracting this from the distribution rate of 5.3% leaves 3.5% of PL by year end. Dividing this by the duration means that if we see an 88bp rise in rates, the total NAV return for the sector will be zero. This quick calculation makes some heroic assumptions such as the investor doesn't care much about price risk and that NAV durations remain stable (we suspect they will rise somewhat as some bonds will not be called) etc., etc. However, 88bps is a big number. Very few people are predicting this and the market is already pricing in nearly three hikes this year. However, if at the end of the year we have a total yield increase of 133bps (88bps + 45bps already seen YTD) and the Muni sector NAV is flat, that is not a tragic result.
What if it all goes horribly wrong? Can we see a 200bp rise in yields this year? Maybe, but it's pretty unlikely given the turbulence we have seen from a 45bp rise. The only inflation we have seen so far is in commodities. Their rise has driven breakevens higher which has driven nominal yields higher. Oil has already fallen sharply and further market volatility will likely drive the entire sector lower. Furthermore, yields are unlikely to move higher despite market distress - we saw a sharp move lower in yields this week when stocks sold off and the Fed will likely step in if equities continue to weaken from here which will cap upside in rates. This means that fixed-income benefits from a kind of positive feedback loop.
Risk Premium Roundup
We divide the risk premium discussion into three different sources:
Sector: We look at two closely-related valuation metrics - sector discount and sector distribution rates. Discounts are close to post-crisis lows and yields have ticked up somewhat. This looks attractive to us.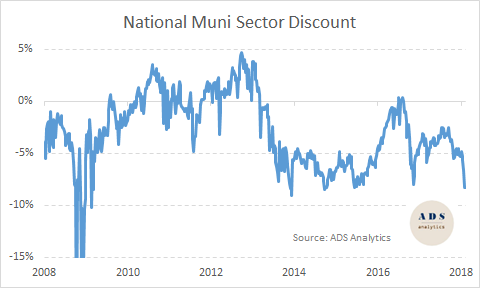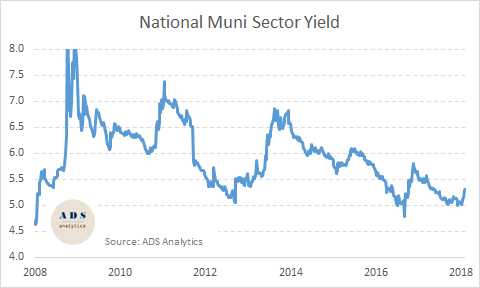 Interest Rates: Treasury term premium is low but is off recent tights. We think that a historically low term premium is actually justified given the level of interest rate volatility, Fed's inflation targeting credentials and various disinflationary trends. This looks fairly priced to us but we would not be surprised for another 10-20bps higher term premium.
Macro: The Fed premium, which is the difference between the Dot plot and the number of hikes priced in by the market, has fallen and is very low. Inflation risk premium, which is the difference between breakevens and current inflation, is close to zero but is now at Fed's target inflation level and has risen substantially. This looks fairly priced to us.
Overall, we think the risk premium in the Muni sector is attractive and would add some risk here. It's worth pointing out that we would not be surprised if the market transitions to a higher-volatility regime which would keep pressure on discounts as well as NAVs. That said, increasing exposure at a measured pace and keeping an eye on further opportunities that are sure to come we think is worth doing.
What's on Offer?
We attach below our latest Muni fund screen which collates various risk factors and weighs them equally. We recommend marrying this with a distribution coverage check but it's a reasonable start.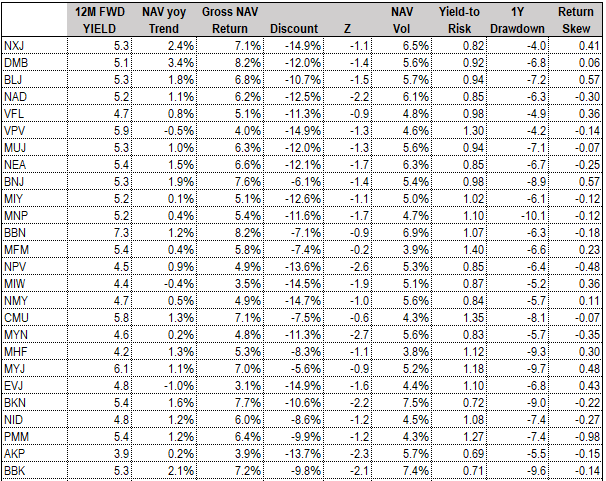 Source: ADS Analytics
Good Luck!
Disclosure: I/we have no positions in any stocks mentioned, and no plans to initiate any positions within the next 72 hours. I wrote this article myself, and it expresses my own opinions. I am not receiving compensation for it (other than from Seeking Alpha). I have no business relationship with any company whose stock is mentioned in this article.
Additional disclosure: This article is for information purposes only and does not constitute investment advice or an offer or the solicitation of an offer to buy or sell any securities. Past performance is not a guarantee and may not be repeated. Investment strategies are not suitable for everyone and you should always conduct your own research or speak to a financial advisor. Although information in this document has been obtained from sources believed to be reliable, ADS ANALYTICS LLC does not guarantee its accuracy or completeness and accept no liability for any direct or consequential losses arising from its use. ADS ANALYTICS LLC does not provide tax or legal advice. Any such taxpayer should seek advice based on the taxpayer's particular circumstances from an independent tax advisor.