The S&P 500 fell 6 percent last week based on inflation fears according to many accounts. How real is this concern? I built an investment model using over a hundred indicators. Below is my GDP Indicator which is a composite of GDP Growth and gap between GDP and Potential GDP. The economy is growing while at its potential which may lead to inflation at some point in the future. For this reason, my GDP indicator is strongly negative.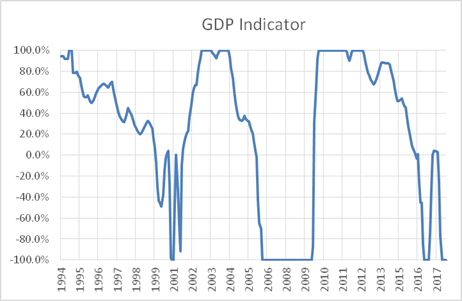 Next is my Inflation Probability Indicator. Mr. Market likes 2% inflation, so my Inflation Probability is based on the inflation rate deviating from 2% combined with inflation probabilities available at the St. Louis Federal Reserve FRED database. My indicator tells me that inflation is ideal for investing in the short-term.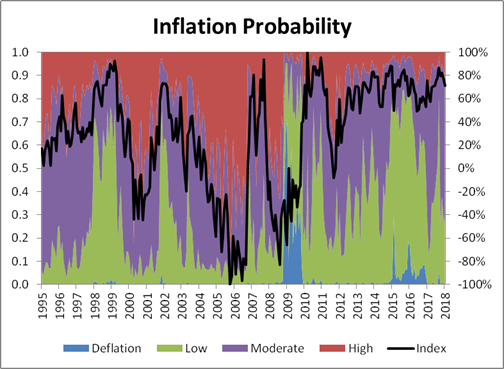 Federal Funds Rate
When the economy is nearing capacity and inflation is starting to rise, the Federal Reserve raises short term interest rates to slow the economy as shown in the next chart. The Fed Funds rate is starting to rise on the prospect of future inflation. Notice that during the past two expansions, the Fed Fund rate was around 5%. The 1 year treasury is higher than the Fed Funds rate which is a positive sign. While not shown, the stock market can rise for years while the Fed Funds rate is high or rising because the negative impacts are countered by a growing economy.
The Federal Funds rate is one component of my Monetary Policy Indicator along with M1 and M2 money supply, and monetary base.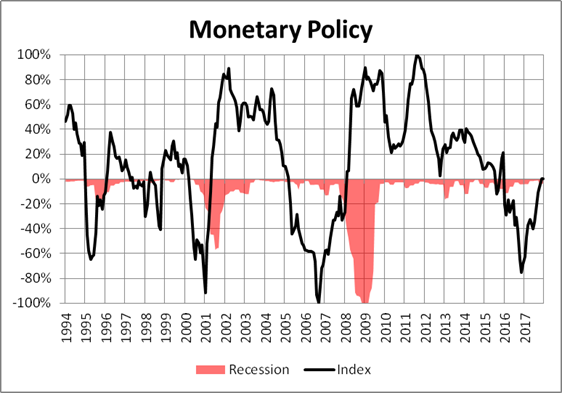 The Fed has unwound over 20 percent of quantitative easing over the past 3 years. Unwinding is one of the many factors impacting stock prices.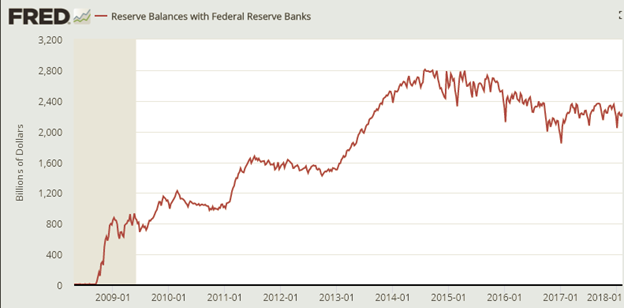 Valuation
Valuations as measured by market capitalization to GDP are high compared to historical levels. In the event of a recession, the stock market will likely decline by 30 percent or more.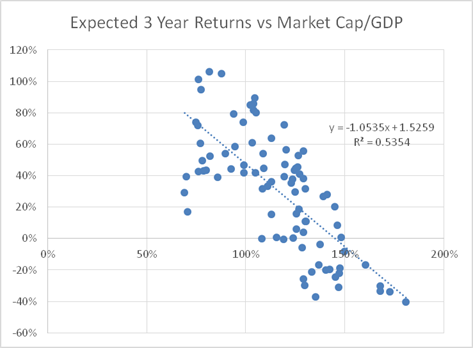 Recession Indicator
Below is my recession indicator which is calculated from 15 indicators that are most sensitive to the economy. The probability of a recession in the near term is extremely low.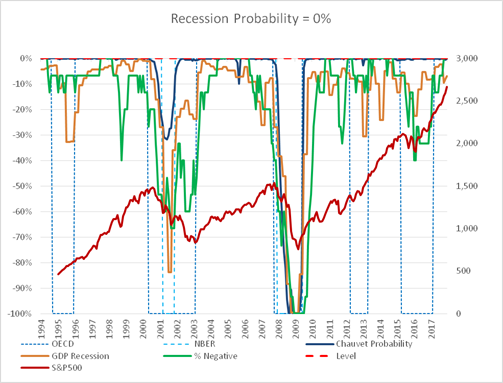 Technical Indicator
My Technical Indicator, based on relative strength, weekly declines, 200 day moving averages, drop from the 4 year high, and stock to bond ratio is positive. A correction after the large run up in 2017 is to be expected, but does not create a negative value.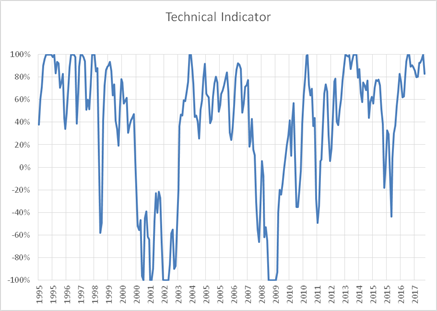 Risk Indicator
My Risk Indicator is a composite of financial stress, policy uncertainty, and volatility. The high VIX does impact the value, but it is still strongly positive.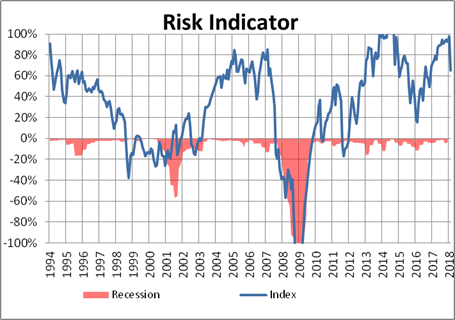 Inflation Expectations
The Forward, Break-even and Expected Inflation are not rising.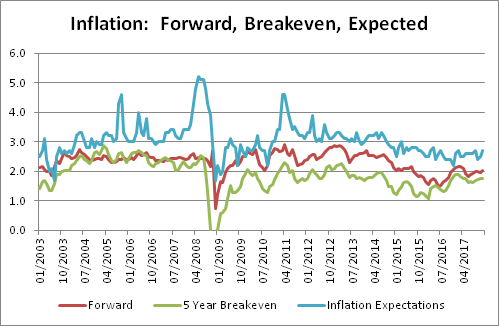 Demographic Trends
Japan's working age population began to decline in the late 1990's following by more than a decade of deflation. While there may be trends of rising inflation due to the business cycle, the U.S. being on the verge of a declining working age population may have have long term downward pressure on inflation.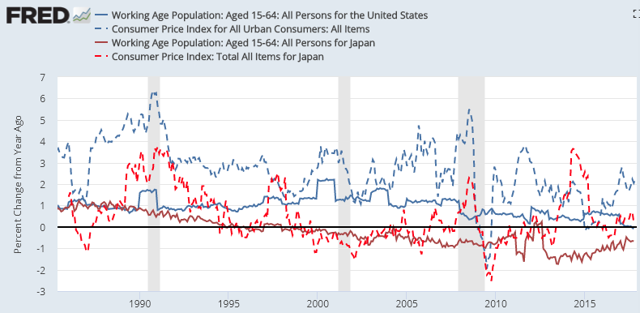 The Market Drop in Perspective
Since 1980 (1,987 weeks), there have been 123 (6%) weeks when the Wilshire 5000 Total Market Full Cap Index declined by more than 3%. During the following two months, the index gained an average of 2.24%. 32% of these large weekly declines occurred while the economy was in a recession, and the stock market gained 0.9% in the two months following the decline. There were 83 large weekly declines while the economy was expanding and the average subsequent two month gain was 2.9%. There were 29 large weekly declines that occurred while inflation was increasing and the Fed Funds rate was increasing and the index gained 1.3% in the following two months. There were only 9 large weekly drops that occurred with rising inflation, rising Fed Funds rate, and high valuations and the index gained 2.8% in the following two months.
The next chart shows that following almost all large weekly drops other than during recessions, the market gained several percent in the following two months. If historical trends hold true then the market will recoup most of this week's decline during the next two months.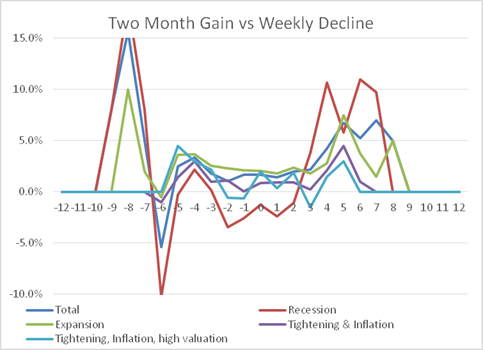 Investment Model
Below my Investment Model, based on over 100 indicators, reflects a growing economy in a low risk, low inflation environment.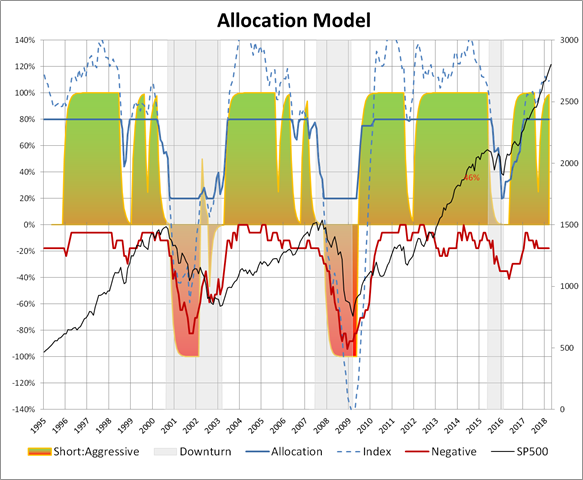 Momentum Ranking System
I added a Momentum Ranking System of over a hundred mutual funds and ETF's to my Investment Model. The system is based on momentum and acceleration over the past year with penalties for negative price changes. I update it at the end of each month. For self-education, I added in this week's weekly decline for February. As examples, I show the highest ranked funds and some of the lowest ranked funds. Even with the recent decline, the top funds increased about 4% over the past three months.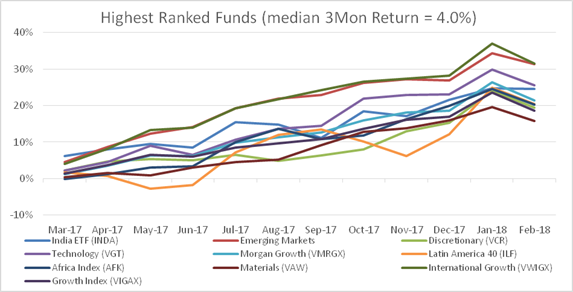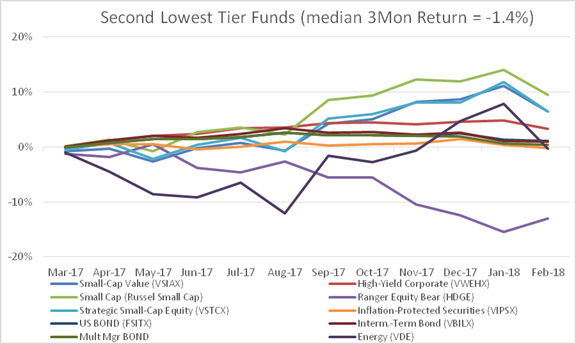 Conclusion
One bad week does not make a trend. My opinion is that computerized trading and locking in gains from the strong rise in the markets over the past year led to the large decline.
I developed my Investment Model and Momentum Ranking System to moderate my emotions during times like this week. Each month, I will make small adjustments to change my allocation to match my Investment Model, trim the losers and buy those with higher momentum. Reviewing my investments, this week's decline, does not influence any significant changes.
Disclosure: I am/we are long VCR, ILF, VMRGX, VAW, AFK, VWIGX.
I wrote this article myself, and it expresses my own opinions. I am not receiving compensation for it (other than from Seeking Alpha). I have no business relationship with any company whose stock is mentioned in this article.
Additional disclosure: I am not an investment adviser nor an economist. Investors should do their own research or consult with an investment professional.