U.S. equity indexes ended the week defying expectations, rallying sharply on Friday off of the Thursday lows. All major indices now sit within a hair's breadth of correction territory, down a little over 9% from recent highs. Volatility, as measured by the VIX, ended down off of its highs but still sharply elevated. Although slowing its run in the last 2 days, the U.S. dollar has still posted 6 straight days of gains, up over 2% from its recent low. Despite the higher dollar, agricultural commodities ended the week higher, suggesting that food inflation may also contribute to the overall inflation number.
From a technical perspective, the major indices (with the exception of the NASDAQ100, which hovers just above its 100 day moving average) now sit between their 100 day and 200 day moving averages, suggesting the possibility that they may trade in a downward range between these two plots. Looking at an RSI plot, although the indices have either traded down or are trading down into oversold territory, the fact that they have been so overbought recently means that simply kissing oversold territory will scarcely be enough to complete a healthy correction. This also suggests that we can expect more volatility ahead. This is confirmed by the fact that the Average True Range (NYSE:ATR) for all four indices is sharply elevated, with no immediate sign of reversing.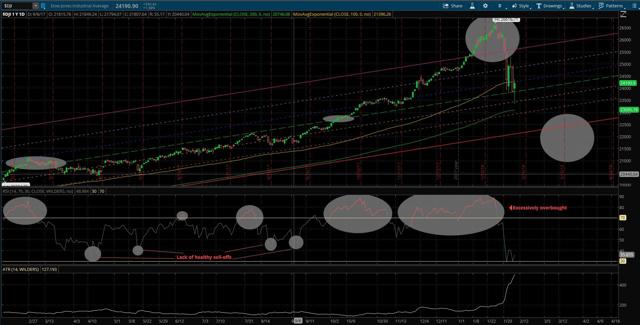 I have maintained in previous writings that stocks need to trade back into their long-term price channels, and then rotate down, for a healthy sell-off to complete. In fact, given that three of these four indices traded up outside of their price channels for almost three weeks, it would not be at all surprising if they overshoot to the downside before normalizing. This often happens in the case of reversions to the mean; there is frequently an overshoot to the opposite before full mean reversion. The Russell 2000 has already demonstrated this by trading and closing below the lower bound of its price channel on Thursday (although it did briefly overshoot the midpoint of it's price channel), and then closing Friday trading squarely on that same lower bound.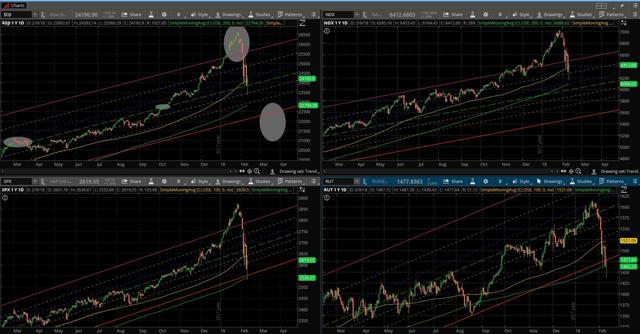 The eleven S&P sectors ended the week higher, with Energy being the only exception, down 0.35%. Real Estate and Information Technology were the top gainers, up 2.4% and 2.53% respectively. Consumer Discretionary, Healthcare, Financials, Information Technology and Telecommunication Services are the five sectors that have yet to trigger an oversold RSI signal. I still maintain that this selloff, although dramatic, is a healthy one; and that it will not be complete until these sectors cross into, and spend some time in (along with the other sectors), oversold territory. While this may sound counterintuitive, the market needs to shake out some of the weaker hands before it can resume its run higher.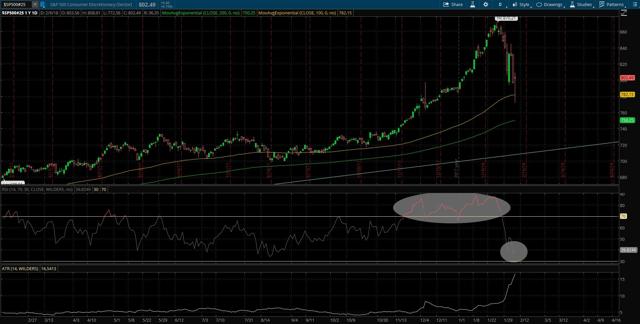 Looking at this picture from a fundamental perspective, the conditions driving fears last week that led to the beginning of this sell-off have not substantially changed. The fact that the dollar and bond yields continue to trade higher tells us that bond and currency traders still subscribe to this narrative, and are placing their bets accordingly.
Adding fuel to the fire is U.S. fiscal policy. Here I am not just referring to the recent tax legislation (although that is part of the fundamental backdrop). I am referring to the early morning Friday agreement ending the second (brief) government shutdown this year, which adds $300 billion to government spending and $420 billion to the national debt over the next 10 years. President Trump is also promising a $1.5 trillion infrastructure package, though his ability to deliver on this promise remains to be seen.
Finally, the arrival of the weekend wouldn't be complete without geopolitical events. Overnight, Israeli forces launched an air offensive aimed at Iranian and Iran backed targets in Syria after claiming that Syrian army forces shot down an Israeli F-16. Although in the recent past this type of event (such as North Korean missile tests) has been quickly shrugged off by equities markets as they marched higher, it is not likely that jittery investors will be that sanguine this time around. This month's Winter Olympics also have a geopolitical backdrop, as Kim Jong Un and South Korean President Moon Jae-in have been moving towards a detente of sorts in recent weeks. Kim's invitation for Moon to attend a summit in Pyongyang after the Olympics conclude will likely be met with skepticism by Washington and by investors, as it is widely believed that Kim's sudden charm offensive is squarely aimed at driving a wedge into the special U.S. and South Korea relationship. It will be interesting to watch these events unfold.
Conclusion
Investors that have moved into cash early this week have certainly dodged a bullet. At this point I would advocate sidelined investors start accumulating a shopping list to buy when this correction has run its course. I believe that now is not that time. A lot of excess has yet to be purged from the system. For investors that prefer not to invest in individual securities, I would suggest that they start initiating long positions in the iShares Russell 2000 ETF (IWM), the SPDR S&P 500 ETF (SPY), the SPDR Dow Jones Industrial Average ETF (DIA) and the Powershares NASDAQ 100 (QQQ) (in that order of preference, as I believe that those indices which have led us into this correction will also lead us out). Investors might also be wise to select certain sectors to rotate into. At this point it is early to tell which ones may be the strongest coming out, but at the bottom of my list would be Information Technology (XLK), Financials (XLF), Healthcare (XLV) and Consumer Discretionary (XLY).
Disclosure: I/we have no positions in any stocks mentioned, and no plans to initiate any positions within the next 72 hours.
I wrote this article myself, and it expresses my own opinions. I am not receiving compensation for it (other than from Seeking Alpha). I have no business relationship with any company whose stock is mentioned in this article.