Summary
Publishing two of the 8 new Week 7 breakout stocks that are available only to subscribers with better than 10% short-term upside potential.
Performance Results for 2-week holding periods of the Odd Weekly Portfolios are beating S&P 500 YTD +4.58 to -1.67% respectively.
Top Gainers thru Week 6: PIRS +6.44% / Week 5: QNST +21.94% / Week 4: WK +6.33% INVA +4.05% / Week 3 APTO +11.69% / Week 2: KEM +4.65%.
The streak of weekly gains with at least one Breakout Stock gaining more than 10% in less than five days ended this week after 5 consecutive weeks.  PIRS did manage a +20.14% comeback Friday, but finished a volatile week with a +6.44% gain.
Continuing from last year now makes it 40 out of 46 trading weeks (86.9%) with at least one stock move 10% or greater within a 4 or 5 day trading week.
Breakout Forecast Selections for Week 7
Market conditions remain unfavorable again this week as the conditions have been since Week 5. Readers are strongly cautioned to minimize market exposure until the momentum gauge returns a positive market indicator. The Week 6 selections from last week are available here. Negative momentum is still recording the highest conditions while the positive momentum indicator still remains near all time lows. All time low is 10 (last week) and all time high is 120 (last August), the current measure is at 11.

This week I have selected 8 breakout stocks from the following sectors: 2 healthcare, 2 technology, 2 services, 2 consumer goods. The market is undergoing a shift in volatility and trend changes as described in my latest article: What Is The VIX Telling Us From 3 Prior Events?
The two new selections of positive momentum stocks for this week include:
FireEye (FEYE) - Technology / Application Software
Fluidigm Corporation (FLDM) - Healthcare / Medical Laboratories & Research
Full Charts and highlights follow at the end of the article.
Breakout Forecast Performance Results: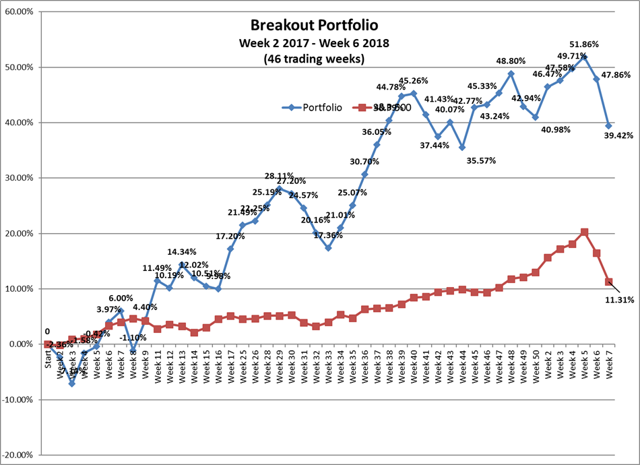 Total Return Chart: +39.42%

Total Breakout portfolio returns by week for the past 5 weeks (t-5) are listed below through the end of Week 6 to illustrate the rolling returns of prior top performers and total portfolio returns:

| | |
| --- | --- |
| Breakout Forecast | Portfolio gains past 5 weeks / Top 3 Performing Stocks |
| Week 6 | -8.44% / (PIRS) +6.44%, (DGII) -3.26%, (CCXI) -4.79% |
| Week 5 (t-1) | -8.10% / (QNST) +21.94%, (STAA) -6.69%, (CNAT) -7.16% |
| Week 4 (t-2) | -6.08% / (WK) +6.33%, (INVA) +4.05%, (ADAP) -1.85% |
| Week 3 (t-3) | -5.84% / (APTO) +11.69%, (INVE) +5.17%, (AVEO) -1.61% |
| Week 2 (t-4) | -13.19% / (KEM) +4.65%, (PFNX) -7.99% |

For those who are new to this short-term selection method I would highly recommend that you review the end of year performance summary and the links to methodology articles about how these high volatility, typical low cap, breakout selections work. Basically, I am trying to maximize the frequency of substantial positive returns using the parameters that resulted from my published doctoral research by focusing on the most volatile sector of stocks.

2018 YTD Chart: -1.77%
Cumulative return with 1-Week holding period.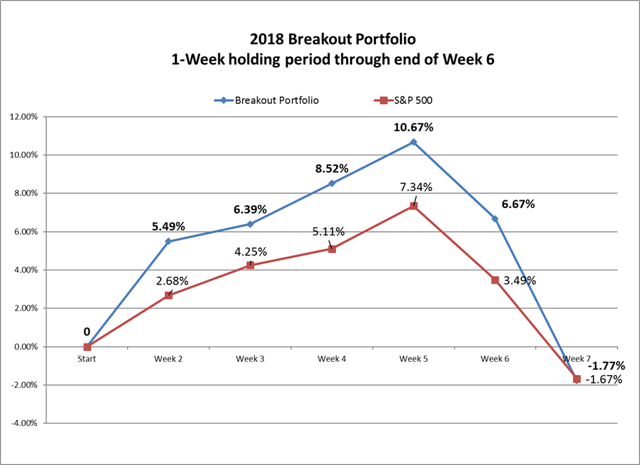 The next charts shows the cumulative return for a longer fixed 2-week holding period instead of the 1 week holding period charted above. Because 2-week holding periods overlap with weekly selections, I have separated it into two charts, Odd and Even weeks:
Using 2-week holding periods, the ODD Weekly Breakout portfolios have returned 4.58% compared to -1.67% for the S&P 500 YTD over the same holding periods.
The EVEN Weekly Breakout portfolios have returned -4.28% compared to -1.62% of the S&P 500 in the equivalent 2-week holding period.

Chart 1. Chart 2.


These stocks are not necessarily recommended for long term buy/hold unless you are comfortable with very large price swings. As I continue to observe, strong momentum events usually last from one to three weeks and may encounter some substantial decline before returning again to positive gains. These are the most volatile selections I offer from among all the portfolios.
Proposed entry points for each of the selected stocks are as close to the highlighted prices in yellow on the charts at market open. All stocks are selected for high short-term breakout results over one to three weeks. Based on feedback I've changed the format of the stock charts and details below, let me know if you like this more detailed approach better than previous forecasts.
Breakout Stock Charts for Week 7
Pick #1: FireEye (FEYE) - Technology / Application Software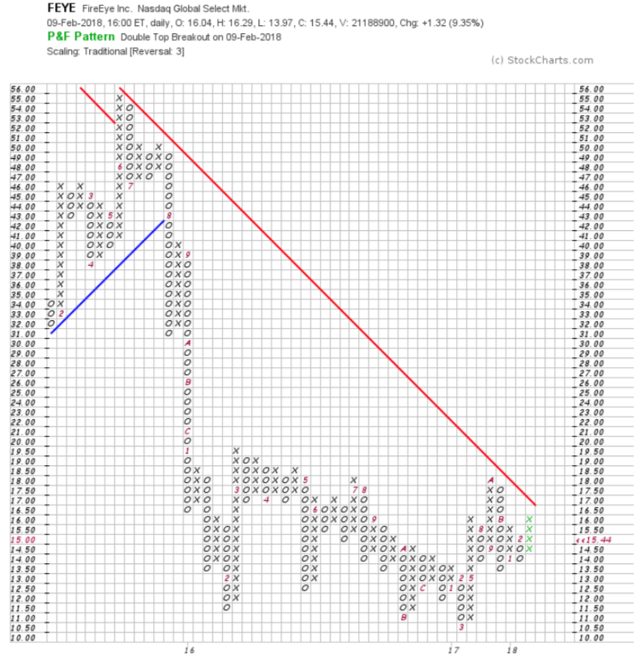 Feb 8th, FireEye Inc. (NASDAQ: FEYE) announced better-than-expected fourth-quarter 2017 results on Thursday after the market closed, including broad-based growth across each of its product lines and geographies while closing a record number of large transactions.
Billings grew 9% year over year to $242.2 million, also above guidance for $210 million to $230 million. Most notably, product subscription billings increased 22% sequentially from last quarter to $117 million.
Product revenue increased 14% to $38.3 million.
FireEye booked 52 transactions greater than $1 million -- a new company record -- including two transactions of over $5 million.

Pick #2: Fluidigm Corporation (FLDM) - Healthcare / Medical Laboratories & Research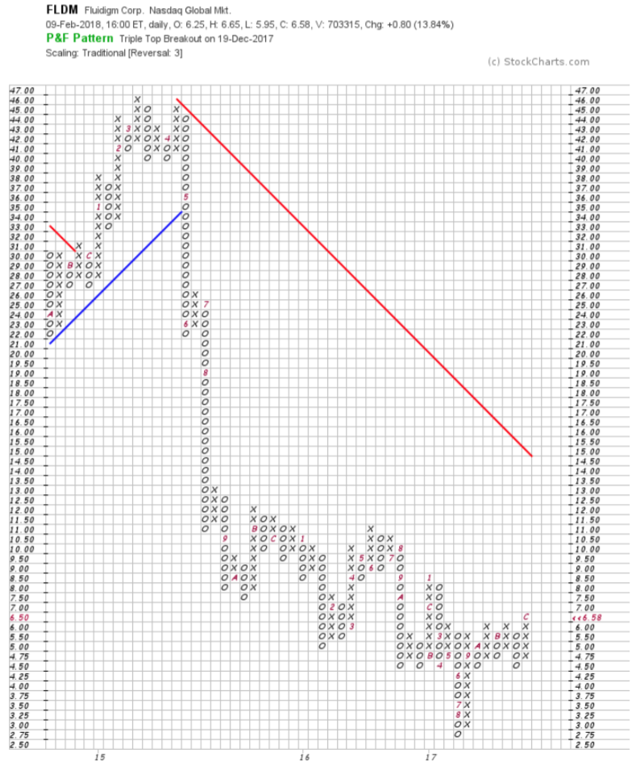 Feb 8th, Fluidigm Corporation (FLDM) today announced financial results for the fourth quarter and full year ended December 31, 2017.
Total revenue for the fourth quarter of 2017 was $27.7 million, an increase of 12% from $24.7 million in the third quarter of 2017 and an increase of 11% from $25.1 million in the fourth quarter of 2016.
Net loss for the fourth quarter of 2017 was $10.5 million, compared with a net loss of $17.7 million for the fourth quarter of 2016.
V&M Portfolio Returns through Week 6:
Results following Dow's biggest decline since Oct 2008 and VIX largest spike since Aug 2015. Dow's worst week since Jan 2016: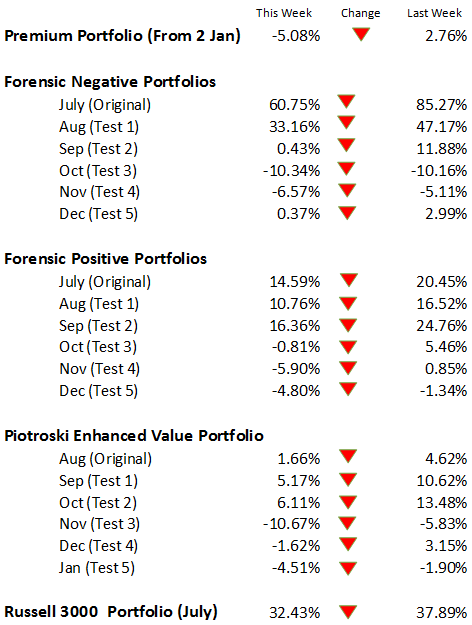 Full portfolio composition reports are exclusive to members, however the most recent public portfolio articles are available here:

Piotroski Enhanced Value Stock Selections - January
Forensic Analysis Value Stock Selections - December
The Weekly Breakout Forecast was started in week 2 of 2017 with 40 weeks of breakout stock trading.
Additional articles on the different categories of portfolios and samples of research provided to subscribers are listed in my public research profile.

If you are interested in subscribing to any of the Value & Momentum Breakout portfolios offered you can visit my subscription page here. Otherwise please click the "Follow" button at the top of the page and enjoy free updates on the progress of each of the different portfolios I offer that are outperforming the S&P 500 in each of their respective time periods.

As always, I wish you the very best in all your investments!
JD Henning, PhD, MBA, CFE, CAMS
Disclosure: I am/we are long PIRS, SVXY, KEM, AVEO. I wrote this article myself, and it expresses my own opinions. I am not receiving compensation for it (other than from Seeking Alpha). I have no business relationship with any company whose stock is mentioned in this article.
Editor's Note: This article covers one or more microcap stocks. Please be aware of the risks associated with these stocks.