The markets have fallen almost 10% within a matter of days. Almost nobody saw it coming and almost everyone has a strong opinion at this point. In this article, I want to show you why this might be one of the most beautiful "buy-the-dip" moments of modern history and why there is no reason to panic.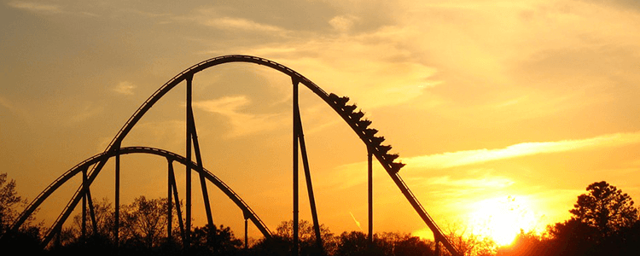 Source: SalesHandy
One Of Them Is Wrong
Let's cut right to the chase. Since the recovery of the Great Financial Crisis, there have been two corrections like the one we are currently seeing.
The first one being in 2011 when the European debt crisis started to heat up which resulted in tremendous pressure on European bond prices, especially those of riskier countries like Greece, Italy and Spain. This was followed by the statement that the ECB would do everything in its power to stabilize the Euro Area which was a massive relieve back then.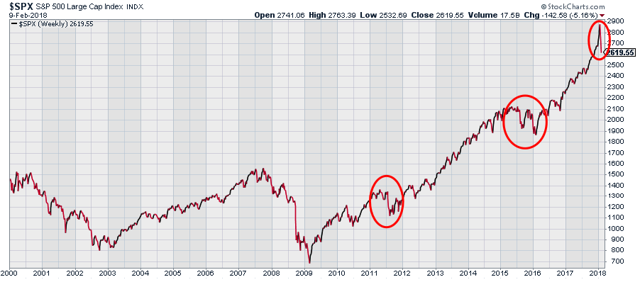 The second correction(s) in 2015 and early 2016 were preceded by an economic growth decline that started in 2014. The third quarter of 2014 started by a massive USD appreciation which crushed cyclical commodities and manufacturing companies. It all ended by stocks falling more than 14% in the first quarter of 2016 (compared to their 2015 all-time-high).
The current situation is different as you can see below. I compared the leading ISM manufacturing index to the year-on-year performance of the S&P 500. This is valid because the ISM index is preceding coincident indicators like industrial production, new orders and of course the GDP growth rate. In other words, it is one of the, if not the most important indicator to predict stock market returns. And it has worked extremely well in the past. Note that I added the returns of the next few months. These are fully based on the current price and are only an indication to show us how high stocks are valued if the price didn't move at all.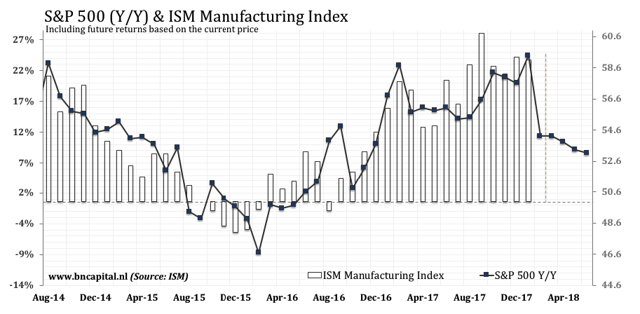 Moreover, it has predicted the entire rally in 2017 when stocks seemed to have no breaks. But guess what, according to the ISM it was fully justified. Hence it happened.
The long term graph between the ISM index and S&P 500 returns looks like this:
What we see is that stock market returns tend to overheat even though there is 'no real reason'. We saw it happening in 2012 and 2013 for example. This was mainly fueled by cheap money from almost every single major central bank. A situation where returns are dropping without a falling ISM index is extremely rare. Note that even the 2008 recession was predicted by the ISM index.
In other words, we are in a situation were stocks are either predicting lower economic growth or taking a breather from being overheated. That's it. 2 options. One of them is going to be true and the outcome is going to be more momentum. Either to the upside or to the downside.
Stocks Were Overheated
One of the reasons why I believe that we should not worry too much is the simple fact that stocks did go nuts. There is just no other way to put it. Not only did the S&P 500 touch the upper bound of the uptrend, it broke out and started another massive acceleration. At one point, the market was up 8% in the first weeks of this year.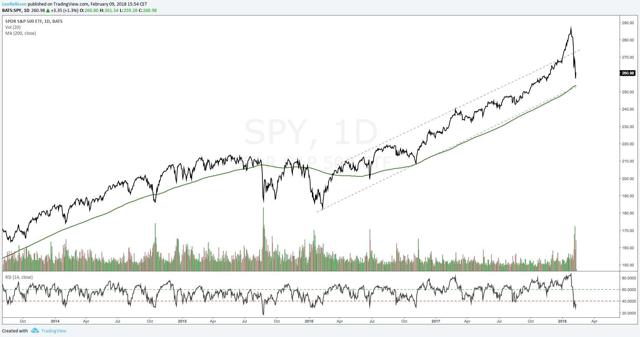 While I am writing this, we see that the market has returned to its 'normal' uptrend that started in the first quarter of 2016. That's the quarter when growth started to bottom as you can see in my ISM graph.
On top of that we were in the longest post-WWII streak without a 5% correction.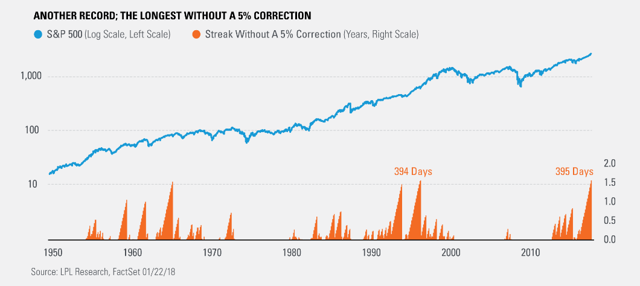 We are currently not seeing a crazy correction, what we see is the end of a crazy rally that has brought us back to 'normal' levels.
It Does Not Stop There
I frequently use sentiment indicators that tells us how traders are positioning themselves. Most indicators compare a cyclical asset to a less cyclical asset. This ratio spread then indicates whether we are in a 'risk-on' or 'risk-off' situation. 'On' and 'off' refer to the willingness to take risk were 'on' is a desired outcome.
Let's look at consumer cyclicals versus consumer staples. Not only did they not indicate weakness, they even made new highs during the correction. Sure, one reason is the pressure of higher bond yields on consumer staples but on the other hand: consumer cyclicals do not outperform in times of weakness.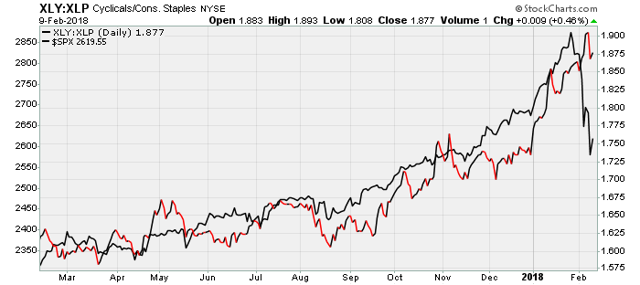 The same goes for the even more cyclical ratio between basic materials and utilities. They supported the stock market all the way up and started to decline simultaneously. The only difference is that investors massively bought basic materials when they thought the correction had been over.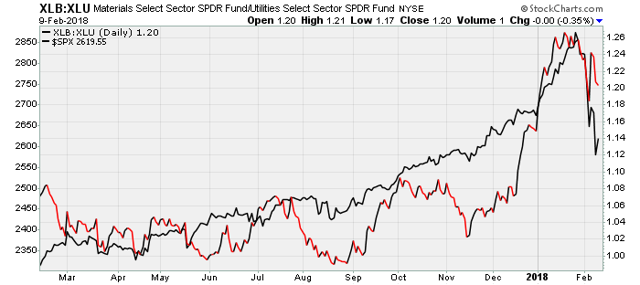 Furthermore, the number of stocks above their 200dMA is another indicators that the overall market might be weakening. The indicator did not signal market weakness ahead of the correction. What it did was indicate that the market was getting too hot. At this point, we are getting an entry signal that is quite usual for dips that occur in times of strong economic growth (post-Q1/2016).
What's Next?
To be honest, I could write an entire book about my thoughts of the current market environment. However, what counts is that we are seeing a few clear signals that the market is not as bad as some bearish traders suggest. The market was massively overbought in January and was due for a correction. The question is whether it had to be this bad. Personally I did not predict a decline like this. However, I have always said that dips need to be bought in this economic environment. And I am fully standing behind that call. Economic growth is doing very well while cyclical stocks are still very able to outperform the market and other, less cyclical assets.
I think that the market is going to continue its uptrend until economic growth is showing clear signs of a peak. At that point we might be in for extended weakness. Note that I am not predicting this yet. It is just to give you an idea of an 'event' that would change the fundamental narrative.
Personally, I am adding to some cyclical trades at these levels after my stops automatically sold some positions shortly after the correction started. Note however that we are still in a very volatile period which means that we should still expect strong moves to both the up and downside.
Please let me know what you think of my article. I am highly interested in your thoughts and experiences in this environment. And, as always, stay tuned.
Author's note: Thank you for reading my article. Please let me know what you think of my thesis. Your input is highly appreciated.
Disclaimer: This article serves the sole purpose of adding value to the research process. Always take care of your own risk management and asset allocation.
Disclosure: I/we have no positions in any stocks mentioned, and no plans to initiate any positions within the next 72 hours. I wrote this article myself, and it expresses my own opinions. I am not receiving compensation for it (other than from Seeking Alpha). I have no business relationship with any company whose stock is mentioned in this article.