Editor's note: Seeking Alpha is proud to welcome Value Growth Master, as a new contributor. It's easy to become a Seeking Alpha contributor and earn money for your best investment ideas. Active contributors also get free access to the SA PRO archive. Click here to find out more »
Oh Newell! Newell Brands (NWL) owns some of the most iconic products within our everyday lives. Do you have a Sharpie® or Parker® pen lying around on your desk? Is your coffee made every day by a Mr. Coffee® brewer? These are just a couple of products that lives within Newell's portfolio of over 200 well-known brands, organized across 4 main categories- live, learn, work, and play. Over the past 5 years, Newell Brands has been a good performer within the S&P 500 and outperformed the index for the majority of that period. That is, until this recent crash.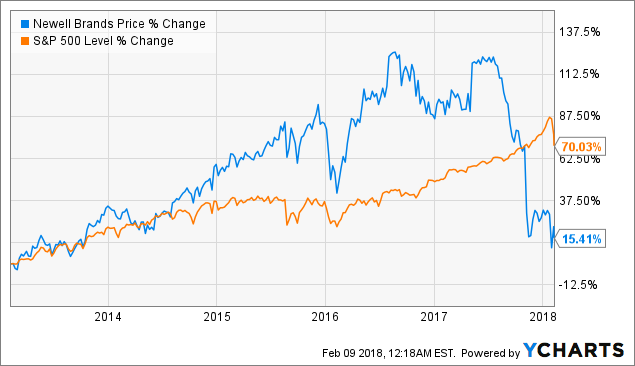 What happened?
2017 started out strong for Newell, and its first 2 quarterly results were impressive. Operating income rose double-digits during both quarters and revenue more than doubled in Q1. These numbers led Newell's management to raise its dividend for the first time since 2015 and the stock was riding high. The first two months of Q3 looked promising as well and investors were excited.
That's when problems began to emerge. The first inkling of trouble was when NWL lowered EPS guidance in September 6, 2017 to $2.95 to $3.05 from $3.00 to $3.20. Investors began to get worried and several analysts lowered revenue and profit estimates. This led to NWL's stock dropping 15% on this announcement. Things didn't get any better from there on.
3rd quarter is the crucial back-to-school period for Newell and it dramatically underperformed. Despite depressed revenue and profit estimates, Q3 results still missed on both by reporting adjusted EPS of $0.86 on revenue of 3.68 billion. Revenue showed a $276 million (7%) decline year over year as well as a nearly $400 million decline in revenue from Q2. The EPS miss was embarrassing, which somehow eluded both the lowered guidance and analyst estimates (by 6 cents). Excuses regarding Hurricane Harvey disruptions in supply chain were neither sufficient nor well received. Exacerbating the problem was the second guidance cut of the year, this time down to $2.80 to $2.85 per share.
Obviously, this news was disastrous and the reaction was much more profound than the first guidance cut. Trading at $41 dollars before, NWL dropped to a new 52 week low of $30 after Q3 earnings were released on Nov. 2.
Just as you thought it could not get worse, it did. On January 25, 2018, NWL released a transformation plan that aimed to shrink the size of the company by 25%. It plans to sell many industrial and consumer brands, including Rubbermaid Commercial Products, Process Solutions, and Waddington. Management also expects to divest smaller, non-core businesses like Rawlings, Goody, and U.S. Playing Cards. The new company would have projected EBITDA of $2 billion on $11 billion in revenue, compared to $14.8 billion expected before this transformation plan. Hidden within this though, was the 3rd EPS guidance cut of the year, down to $2.72 to $2.76 per share.
Wall Street didn't like this at all and its hate toward Newell increased. That same day, NWL plunged 21%.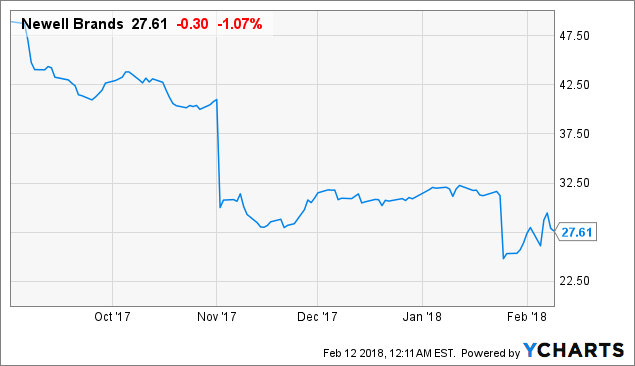 Just a bad quarter?
Was Q3 just a fluke? That doesn't look likely. Everyone knows about struggles the retail industry is facing. Brick and mortar stores, such as Macy's (M) and J.C. Penney (JCP) are quickly losing ground to e-commerce sites like Amazon (AMZN) and eBay (EBAY). The majority of Newell's revenue still come from traditional brick and mortar retailers. While their own e-commerce is growing at double-digit speeds, this is still not fast enough. Without argument, Newell is struggling. Q3 results show clearly that it is finding it increasingly harder each quarter to maintain brick and mortar revenue in this increasingly digital world. Management had to take action to change NWL's course, and it just did. This recent transformation plan will simplify logistics and allow for more focused operations, hopefully turning the company around. It has not been a good period for NWL, but the market's reaction is greatly overdone. As we look underneath the obvious, many strengths of the company begin to emerge and look to serve as catalysts for a quick turnaround.
Diamond in the Rough
No doubt Q3 was bad, but many numbers point toward a brighter future. Newell started the year out strong and 9 months in, has increased net revenue 20% YOY. In this same period, net income more than doubled and the dividend was finally raised. This all occurred with a poor 3rd quarter. Q3 revenue did decline 7%. However, due to higher margins, lower operating costs, and a one-time tax benefit, net income actually increased 25% YOY. This shows management focusing on capturing more of the revenue as a way to adapt to the changing retail landscape. They have to accept the fact core sales will be near impossible to grow at 3-4%, continuing operations the way they are. By adapting new strategies, Newell will be able to raise profit margins and grow the bottom line, even if the top does not. This is how greater shareholder value will be achieved.
The new transformation plan should also help in his regard. Yes, it does cut off a quarter of the company but Newell will still remain a large consumer goods force. When it acquired Jarden for $15 billion in 2016, management's goals were too ambitious and obviously unrealistic. Managing over 200 brands is a very difficult task for any company. It becomes even harder when businesses are spread over so many consumer areas. When operations are so vastly different from brand to brand, logistics and administration become incredibly complicated and expensive. Limited synergies can definitely be recognized, $86 million this past quarter, but are not incredibly significant and could have been offset by any dissynergies. Looking back, NWL overestimated the extent of possible synergies and blatantly overpaid for its assets. For example, how does combining Newell's Rubbermaid businesses with Jarden's Bicycle playing cards save money? It simply doesn't.
But now, the reinvented Newell will be smaller, allowing it to focus on 9 core consumer divisions. This allows a significant reduction in operational complexity and cuts down significantly on overhead. The company's global factory and warehouse footprint, along with customer base will both be cut in half; meaning much lower SG&A expenses leading to a greater bottom line. Wall Street did not respond kindly to this news, but investors should applaud Newell's management for taking action to right the ship. Bigger is not always better. It is good to see management recognizing past mistakes, and taking steps to become a smaller company will help NWL out of this storm. Short term pain will hurt, but long term gain will be sweet. In a market full of chaos and turmoil, it is a great opportunity to buy NWL. Trading at less than 10x EPS, how could anyone turn this down.
Debt
Most consumer goods powerhouses are built through consistent acquisitions, and Newell is no different. Today it has a total debt load of $11.5 billion, close to NWL's current market cap. Scary at first but short-term debt only represents $1.3 billion and it has $800 million of cash on hand ready to pay. Following proceeds coming from divestitures, chances of near term bankruptcy is nearly 0. The company has shown consistent determination toward paying off debt and reaching the targeted leverage ratio of 3x. Since April 2016, it has paid back $3.4 billion. Debt is not an issue, and it has no major maturities looming until $1 billion due 2021, still far, far away into the future.
Peers
No matter how promising a single company looks, it is always smart to look at its peers. NWL operates in the consumer goods sector, along with bigger rivals such as Procter & Gamble (PG) and Colgate-Palmolive (CL). These all together, belong in the iShares U.S. Consumer Goods ETF (IYK).
Here are the performances of all those securities over the past 5 years: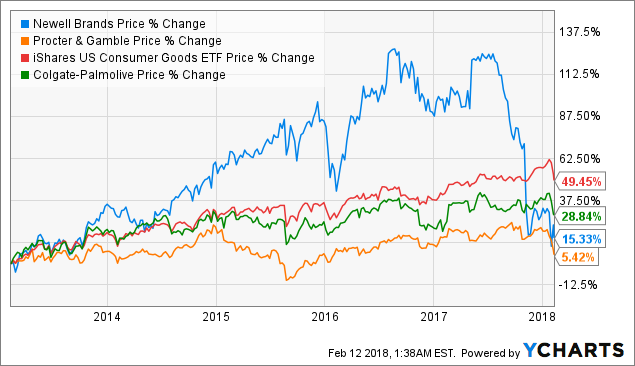 A differentiating factor for NWL is its dividend and low PE ratio. At such a low stock price, NWL yields 3.33%. Compare this to CL's 2.3% and IYK's 1.8% dividend, NWL is the winner. PG does yield 3.45% but its stock is the worst performing component of this group and has seen stagnant revenues are earnings. NWL still managed to beat PG despite this epic crash and trades at a PE of 10, compared to PG's PE of 21. IYK has a PE of around 20 and CL is not even comparable in this regard, with a PE ratio of over 30. Neither the iShares U.S. Consumer Goods ETF, Proctor and Gamble, nor Colgate-Palmolive is the optimal choice. Newell Brands is.
While more volatile, NWL has shown potential to be a breakout company and is a good growth stock for years to come. And a healthy 3.3% dividend does not hurt. Currently it is in a period of change. But once it passes, it will continue to grow like it has recently in the past. Buy the drop here.
Conclusion
Newell Brands has suffered way too much this past year. Q3 was ugly but Newell Brands still has many catalysts that ensure a quick turnaround. Cautious investors should wait and see what new announcements will come out of 2017 full year earnings on February 16th. But even now, manageable debt, focused operations, and a 3% dividend make NWL, trading at less than 10x EPS an obvious buy.
Disclosure: I/we have no positions in any stocks mentioned, but may initiate a long position in NWL over the next 72 hours. I wrote this article myself, and it expresses my own opinions. I am not receiving compensation for it (other than from Seeking Alpha). I have no business relationship with any company whose stock is mentioned in this article.
Additional disclosure: I/we are Long JCP.