Welcome to the OPEC OMR edition of Oil Markets Daily!
OPEC released its monthly oil market report today. You can see here to get the report, or you can see here for our Dropbox link.
There were some interesting charts we wanted to share with you.
OECD Storage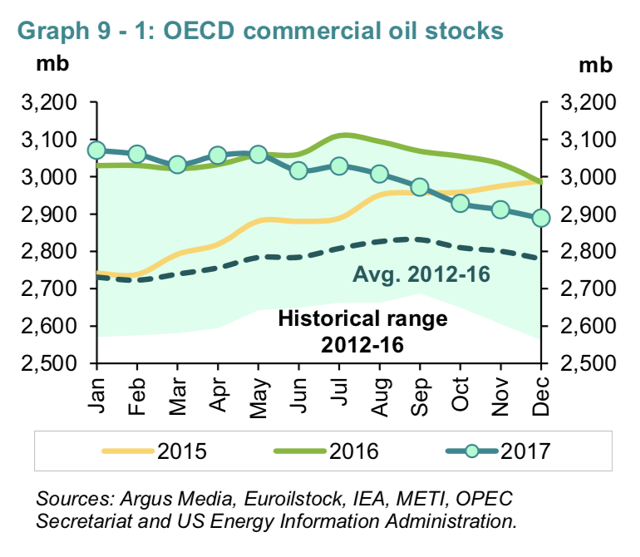 According to OPEC's latest OMR, OECD commercial oil stocks fell to 2,888 million bbls, which was ~97 million bbls below the same time last year and 109 million bbls above the latest five-year average.
In December, OECD commercial oil stocks fell 23.4 million bbls. This is lower than IEA's preliminary estimate.
Breaking down OECD storage, here's what OPEC reported:
EU + Norway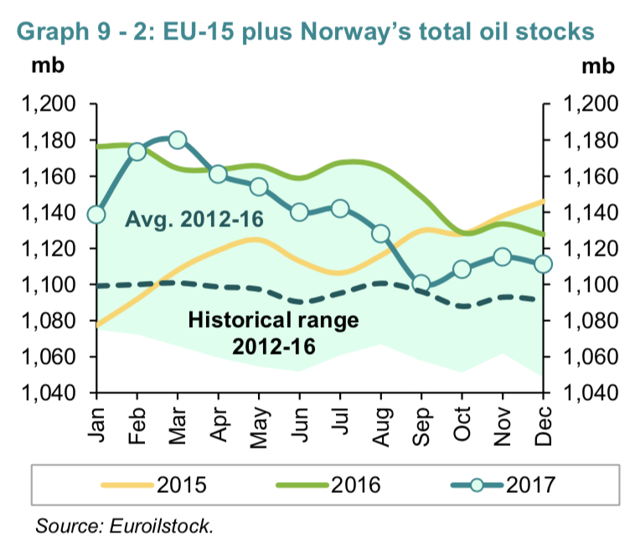 Total European stocks fell 4 million bbls in Dec. This leaves European stocks 19.9 million bbls higher than the five-year average.
Japan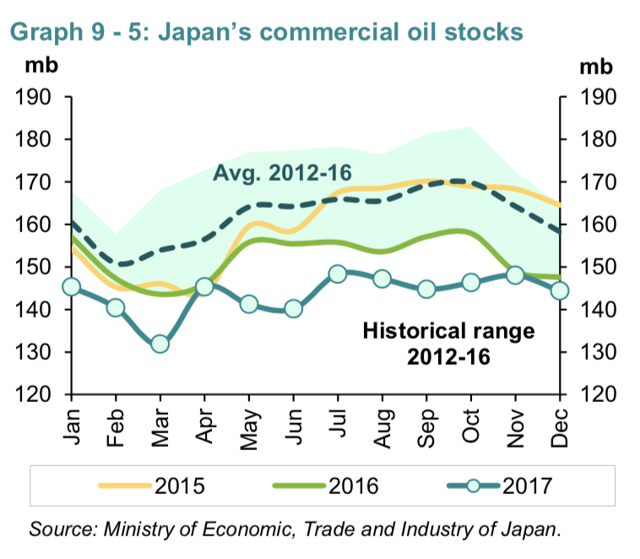 Japan's total commercial oil stocks fell 3.6 million bbls in December. This leaves Japan's total commercial oil stocks 13.9 million bbls below the five-year average.
China

China's total commercial oil stocks rose 18.6 million bbls in December. Most of the increase came in products while crude contributed a gain of 6.4 million bbls.
Non-OPEC Supplies Forecast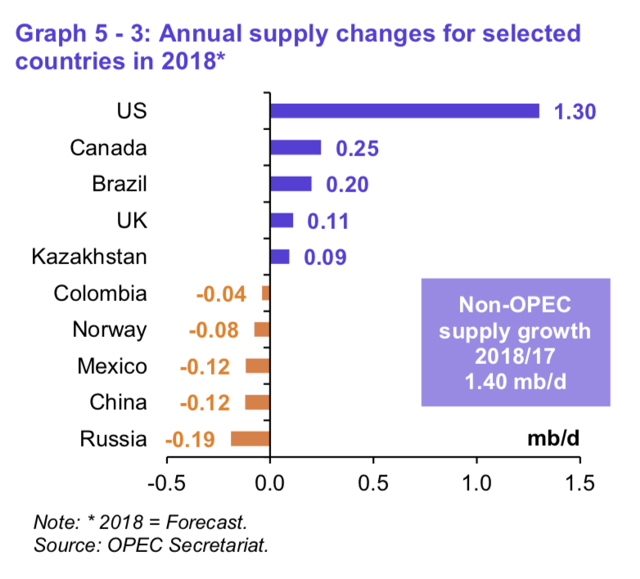 In OPEC's latest OMR, it revised higher US oil supply changes to 1.3 million b/d. For all of non-OPEC, it is forecasting growth of ~1.4 million b/d with declines in Mexico, Russia and China contributing to overall declines.
Other than the US, OPEC is expecting Canada, Brazil, and UK to contribute ~560k b/d of supply growth.
US Supply Forecast
Here's a breakdown of what OPEC is assuming in its US supply forecast: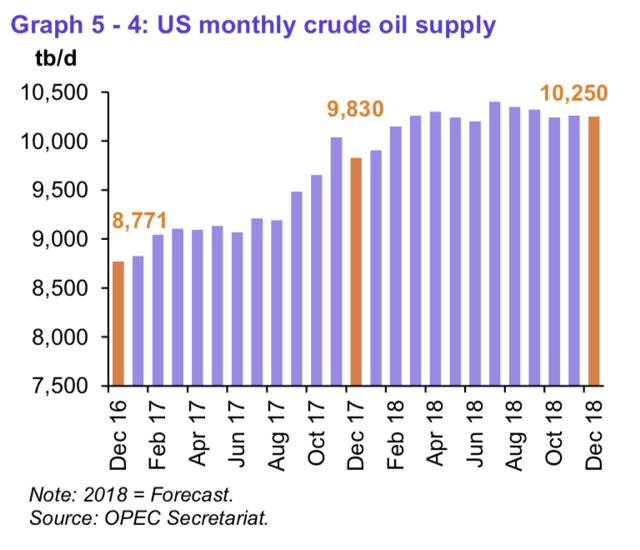 For Dec 2017, OPEC is forecasting 9.83 million b/d, which will be much lower than the November EIA 914 figure. For Dec 2018, OPEC is forecasting 10.25 million b/d, which we think is too low at the moment.
Our view is that US oil production will be closer to 11.25 million b/d or some 1 million b/d higher than OPEC's forecast.
But we are mindful of OPEC's forecast as it also uses forecasting data from Rystad Energy, see the breakdown below: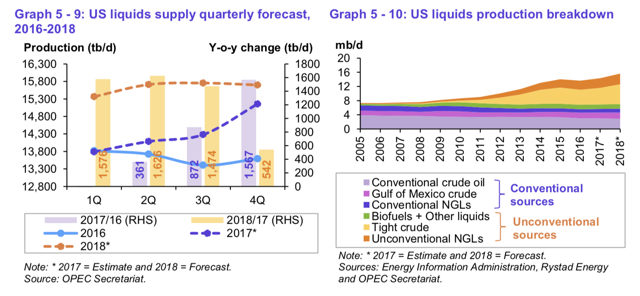 For the Permian, OPEC has a forecast of 610k b/d, and we think that's where the underestimation is. In our latest estimate, we think Permian can grow closer to ~700k b/d.
Demand Forecast
On the demand side, OPEC revised higher 2017 oil demand growth up to 1.6 million b/d from 1.57 million b/d previously.
For 2018, it's forecasting 1.59 million b/d, up from 1.53 million b/d previously.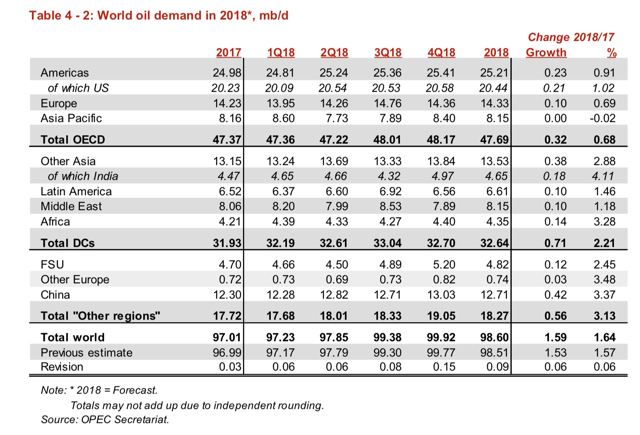 The big drivers of demand will be from "Other Asia" where India is included. That is expected to push demand up by 380k b/d y-o-y.
China is also expected to show strong growth of 420k b/d y-o-y.
US will contribute 210k b/d of growth from total Americas' growth of 230k b/d.
Overall, oil demand growth is expected to remain very healthy according to OPEC.
OPEC Supplies
According to secondary sources, OPEC's production decreased from 32.31 million b/d in Dec 2017 to 32.302 million b/d in Jan 2018.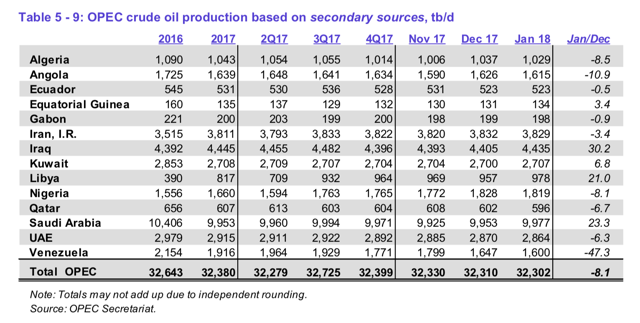 The standout figure in this is Venezuela's oil production which secondary sources are saying it's around ~1.6 million b/d.
This is in direct contrast to Venezuela's self-reported production figure of 1.769 million b/d.
Let's just say that Venezuela's oil production will likely keep surprising to the downside this year. We would not be surprised to see Venezuela come in around 1.2 to 1.3 million b/d by the middle of this year before stabilizing.
Call on OPEC or Oil Market Balance for 2018
Putting everything together, this is OPEC's forecast on "call on OPEC" for the rest of 2018:

If we take OPEC's ~32.3 million b/d and drag it out for the remainder of 2018, this is the balance we get:
Q1 2018: +640k b/d
Q2 2018: +180k b/d
Q3 2018: -1.42 million b/d
Q4 2018: -1.6 million b/d
Average: -550k b/d
Of course, as we said earlier in this write-up, OPEC is understating US oil production to the tune of 1 million b/d in Q4, so you can reduce that balance from -1.6 million b/d to -0.6 million b/d.
But then you add differences in Brazil's production, which we think will disappoint again this year by 200k b/d. Venezuela will be lower 400k b/d by Q4 2018, and that leaves the balance for the rest of the market around -1 million b/d in Q4 2018.
Nonetheless, by reading the report and the assumptions, you can get a feel for where the oil market is headed. We expect the second-half of 2018 to show substantial storage draws yet again. US crude exports will likely average new highs in the second half of 2018 as Brent leads WTI higher.
Our takeaway from this OPEC OMR is that OPEC is likely underestimating growth in US shale, but underestimating production decline in Brazil and Venezuela. These two combined will take off 600k b/d from the 1 million b/d underestimation in US shale. The balance for 2018 even taking these variables into consideration remains very bullish for oil price outlook.
HFI Research Premium
For those of you who have found our articles insightful, interesting and different, we think you should sign up for HFI Research. Our incentive is aligned with our readers as we put our money where our mouth is, and our contrarian analytical framework was what set us apart when we made the $65/bbl Brent call in June 2017 and $60/bbl WTI call for the end of 2017. For more information about our service, please click here. We look forward to seeing you join the HFI Research community.
Disclosure: I/we have no positions in any stocks mentioned, and no plans to initiate any positions within the next 72 hours. I wrote this article myself, and it expresses my own opinions. I am not receiving compensation for it (other than from Seeking Alpha). I have no business relationship with any company whose stock is mentioned in this article.