Finding value when the markets drop
While I don't like using P/E to determine whether something is cheap, it's a good way to compare similar assets. Some assets will always trade at a higher multiple, simply because of the quality of it.
Today, the S&P 500 has a trailing P/E of 23.53 compared to 20.99 for the S&P Europe 350, an index with 350 blue chip European stocks. Based on Price to Cash Flow, the US market is even twice as expensive. Are the tax cuts and the spending bill big enough to warrant these prices? I think for any investor, including US-based investors, European stocks can be a good addition to the portfolio. They simply trade at a lower price, so it's going to be easier to find value. At the same time, the monetary policy in Europe is still accommodative, and the tightening of rates has already begun in the US.
Over the last 5 years, the S&P 500 has strongly outperformed the European market. This is because of the sovereign debt crisis and political issues. However, Europe's economy grew 2.5% last year compared to the United States that grew 2.3%.
I believe 2018 could be the year where European stocks outperform. Over the last 12 months, the S&P 500 returned 15.78% while the S&P Europe 350 only grew 3.29%. It's time for the European stocks to catch up.
This is only my third article on Seeking Alpha, but I think this one is a great example of the stocks I like to own and write about. I always look for a trend that is supportive of long-term growth for the company. Preferably, this trend is global and can't be tied to a specific demographic class.
Another thing I've noticed is that I like lesser-known companies. Less analysts flocking the stock means a bigger chance of the market not putting the right price on it. At least that's what I believe. It also forces you to really do your own research and dig in deep. I tend to write about European stocks as I'm Belgian myself. If the company is owned or operated by families, this is a plus for me as well. Finally, I like stocks that pay a dividend. If you read my other two articles, you'll find the same characteristics.
Corticeira Amorim (COR.LS) is a typical stock I would like. Full disclosure: I own it for almost a year and have been adding over time. The ISIN code is PTCOR0AE0006. The annual report comes out 27th of February. But first, let's dig into the numbers.
The stock is now priced at €9.88 ($12.09). The financials will be in euro, but this shouldn't matter too much.
With valuations on the US stock market being high, many investors are starting to become interested in European stocks as an alternative. Stocks are still a bit cheaper on a valuation basis, and monetary policy will very likely remain more accommodative in the short term.
To help American investors who wish to diversify their portfolios, I will soon write an article explaining how you can invest in European companies as an American citizen.
What has changed over the last year?
I first researched this company with a group of 6 people in December 2016. In May 2017, I posted a follow-up analysis (I like to follow up, so I can measure and learn) on my blog. I will quote some of the things I said there.
I did a DCF analysis using the following metrics:
Sales growth until 2020: 5%, terminal growth 2%
WACC of 5.3%, comprised of beta 0.65 (Reuters), market equity premium 8%, risk-free rate 0.405 (EUR 10-Y bonds)
Financial debt of €152 million, cash of €52 million
The total Enterprise Value came out at €2,370 million or a fair value of €17.78 per share. At the time (May 21), the company traded at €11.05, meaning there was 60% upside potential.
Remember the metrics used here: 5% sales growth until 2020 with 2% terminal (in line with typical inflation). The actual sales growth in Q1 year over year came in at 9.6%. The company used its free cash flow to pay off debts (which are extremely low at XX already).
Now, as you can see in picture, the difference between what I valued the stock at and what the market was valuing it at was around 60%. Perhaps I am just completely wrong.
Now, to answer the question: what has changed over the last year?
The stock has lost 6.8%, that's what changed. It's 22.5% of its 52-week high €13.30. In the meantime, indices such as the SPY and Eurostoxx have gained 23.14% and 12.78%, respectively.
I still believe my analysis makes sense. That is if, the numbers are still right. So, let's take a look at the latest financial report of Q3 2017 to find out why the stock is supposedly worth less.
The latest earnings report
The latest report is a 9-month report: it groups Q1, Q2, and Q3. In those nine months, Corticeira Amorim has done two take-overs.
In XX, it purchased 60% of a French peer called Bourrasse for $29 million. It will buy the remaining 40% over the next 5 years. It also bought Sodiliege completely for $3 million. This small table shows you how these businesses add to the revenue and profits of Corticeira Amorim.
| | | | |
| --- | --- | --- | --- |
| Name | Sales | EBITDA | Price |
| Bourrassé | €55 million | €8.8 million | €29 m (60%) |
| Sodiliège | €3.2 million | €0.135 million | €3 m(100%) |
Source: made using figures of the 9M report
The company took over the debt of both companies for a total of €35.4 million. This increased Corticeira's debt from €40.4 million to €75.8. This is with €10.9 million government grants taken into account already.
Recently, it also bought 70% of Elfverson, a Swedish competitor for €5.5 million. There's not much known about the deal, but it shows the company is still deploying its cash to fuel inorganic growth.
So, in the DCF, I estimated sales growth of 5% until 2020 and 2% afterwards. Let's see what has happened for each business unit over the last 9 months.
| | | | |
| --- | --- | --- | --- |
| Name | Sales Growth 9M '16 vs 9M '17 | EBITDA/Sales | Size |
| Raw materials | +4% | 13.5% | 1.5% |
| Cork stoppers | +12.2% | 20.3% | 67.7% |
| Floor and wall coverings | +1.5% | 7.2% | 16.7% |
| Cork composites | -3.5% | 15.8% | 12.7% |
| Insulation Cork | -9.4% | 17.8% | 1.4% |
| Average | +8.3% | 19.8% | 100% (total) |
Source: made using figures of the 9M report
Now, you know the size and growth of each business unit. Cork stoppers is by far the most important division. It has the strongest sales growth, the best EBITDA/Sales and is the largest in sales already. Raw Materials and Insulation Cork are almost negligible due to their size. Let's dig deeper into Cork Composites and Floor and Wall Coverings for a second.
A recent news report states growth in the Floor and Wall Coverings over 2017 will be 4%. The largest part of sales is made in Germany, about 60%, so this is not subject to fluctuations in the US dollar (more on this later in the article).
For this business unit to really support cash flows, it will have to become more efficient and increase its EBITDA/Sales ratio rather than only grow revenues at a moderate pace.
The Cork Composites unit is problematic, though. Growth is negative, and the EBITDA/Sales dropped from 19.2% to 15.8%, wiping away €3.1 million in EBITDA altogether (in the 9M period alone).
All in all, it seems growth is within my expectations. The company grew its sales by 8.3% (5.6% excluding Bourrassé). This is in line with my previously made model. The margin is also stabilising around the 20% I was aiming for.
Net income per share will not grow that fast, however, as the acquisitions need to be managed and integrated. In the long term, this is a positive for me. The company is deploying its cash at a return of investment rate of 26.1%. Corticeira Amorim can do this because it has nearly no debt and a good free cash flow.
The growth scenario for cork
I think about the future of long-term cash flows. Will this company still be around (and relevant) in 10 to 20 years? Will the amount of cash it can distribute to shareholders have grown? For those questions to have a yes, there has to be a long-term growth scenario in place. Preferable it's one that's not sensitive to one region or type of consumer.
I will discuss two long-term trends I see and how they positively influence the two biggest business units of Corticeira Amorim.
Cork stoppers
To me, the cork stopper business is fascinating. Essentially, you can almost take the growth in bottles of wine produced and estimate how this would influence the business of Corticeira Amorim. There are threats, though, substituting products like screw caps, but more on this later.
People all over the world drink wine. But there is one market in particular that can spur growth in the near future. In March 2017 a report estimated that the Chinese wine market will grow by almost 40% over the next 3 years. It would then become the largest wine consumer behind the US.
The urban middle-class population by China is growing 40% each year and currently, less than 5% of the Chinese population regularly consumes wine. Estimates range from 30 to 70 million people drinking wine. There is plenty of opportunity for the market to rise.
Global growth of the wine market is estimated between 5% and 6% world-wide annually the next 5 years.
There is a major threat: screw tops. More and more wines are being sealed with screw tops. But the numbers are still in cork's favour. In 2017, 12 billion bottles were sealed with cork, 4.7 with screw tops and 1.8 with plastic stoppers.
Flooring and wall coverings
I believe the flooring and wall covering market could drive growth going forward. Cork is a very sustainable product and could easily turn into 'a trend'. Consumer preferences are changing, and a move toward more sustainable building blocks to one's house seems probable. Even more so if you, like I do, governments around the world will start supporting these sustainable long-term purchases. Be it by offering tax discounts on some products or by taxing more unsustainable products more.
4 reasons to buy the stock right now:
To conclude, I'll give you 7 reasons to purchase the stock. Please do your own research. To make sure you don't get excited, I have added three major threats as well.
The moat is substantial
It's not easy to produce a lot of cork. Portugal produces more than 50% of the cork worldwide for a reason: it has the forests. It takes 25 to 30 years before you can start harvesting your cork trees: it's not a market you can develop overnight.
It's also pretty hard to build a global network with many medium and small players to reach those peacefully hidden wine farms in France or South Africa. Building these relationships takes time. Corticeira Amorim, being around for over 130 years has time on its side.
The growth scenario is intact
The long-term growth scenario is still in play. I believe globally, more wine will be consumed 20 years from now than today. I also think corks will still play a major role in sealing these bottles. Other beverages such as Champagne but after craft beer use corks as well. It's possible to drill these new markets.
Additionally, there is a market for cork in the housing industry, by most measurements, the biggest industry in the world. The sustainable character of cork, it simply getting harvested every 25 years instead of the tree being chopped down, is in line with consumer trends and expected regulations.
The lack of debt
The company took over three competitors, albeit small, and only has €75 million debt on the books. The net debt to EBITDA ratio is 0.57 and average cost of debt is a hallucinating 1.66%. You can't really go wrong borrowing at 1.66% and buying profitable businesses. The gearing ratio of 16.7% is very conservative.
In times of a prolonged bull run and some more risk to the downside, I prefer a company with low debt. It can use its cash flow to grow when things are rough.
The price is right
The stock is just a bargain at these prices. My position is slightly under the water since I bought around a year ago, but the company has only grown. My investment thesis remains the same. Like any investor, I try to make money. But I also focus on not losing money. That's why I favour stocks with a big margin of error. I think the stock is worth around 50% to 70% more today, but the market seems to disagree. I don't need 50% returns to happy with my invest, at least not in the short term.
While the multiple is a bit higher than historically is the case, this is a fact for many stocks in the market. At around 18x earnings, I don't think buying an 8% growth company is a bad deal. This is just one of those stocks that's hard to pick up at insanely low valuations. It has almost no analysts covering it, and for the post five years and has steadily gone up without major pullbacks. In 5 year times, the stock has gone times 5.
3 Threats on the horizon
Screw tops
As I've said before, wine producers switching to screw tops is a major threat to Corticeira Amorim. So, what if the wine market is growing, if it's not sealed by cork, the company is done for. This could be a Nokia moment in hindsight. One where consumers simply moved on to a more modern and useful product: the smartphone. It's all about ease of use nowadays, and cork doesn't have that advantage.
However, I think a major disruption is not very likely. How much can one innovate in the sealing space? Cork stoppers help brands sell their wines at higher prices and is still being preferred by consumers, especially for more expensive wines.
A major reason why cork stoppers lost market share from 95% in 1990 to 66% today is due to tainted cork. However, back then, there used to be around 5 bottles out of a 100 tainted. Now, only 5 out of 1,000 is tainted according to the industry.
Supply of cork
Costs for Corticeira Amorim are estimated to rise 11% this year due to the tight supply of cork. There have been horrible forest fires in June and October which aggravate this issue. Planting more cork can actually help against the forest fires according to the company. Analysts of BPI believe the supply will improve again in 2018 though.
In the long run, this is both a strength and a weakness. It makes the moat of the company strong, but it can impact earnings heavily. The company has managed to increase the EBITDA/Sales regardless.
The dollar is too weak
Every 10% drop of USD to EUR delivers a 7% blow to the EBITDA. The exchange rate is very important, even though the company occasionally hedges.
I personally believe the USD dollar will have to strengthen versus the EUR on a structural long-term basis. The US has entered a monetary tightening cycle, while the ECB is far behind. At the same time, political risks in the Eurozone remain very real.
Let's conclude with the dividend history
Because I'm planning on building a dividend growth portfolio, I pay special attention to the history of dividend increases.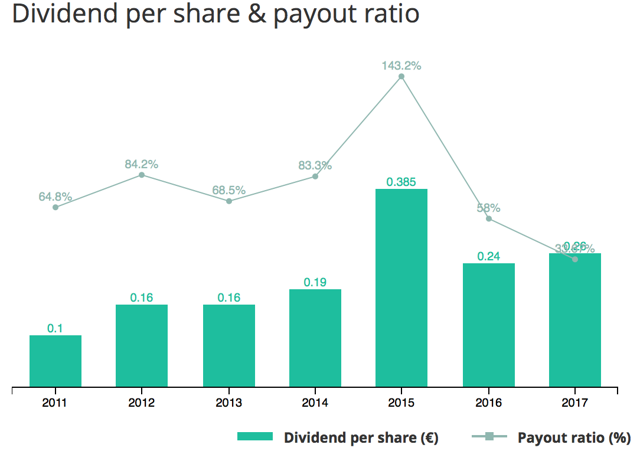 Source: the company website
The dividend per share has increased 14,6% yearly on average since 2011. I believe the dividend could easily be increased again this year. The company paid out 33% of net income in 2017 while traditionally it has been around 80%. I'm not saying it will double the dividend in one year, but there is space. Currently, the stock is yielding 2.62%.
I believe Corticeira Amorim is still a buy at these levels and have been accumulating my position for almost a year. It wouldn't surprise me if the annual report catapults them back to their 52-week high of €13.3. This represents an upside of almost 35% from today's price.
Disclosure: I am/we are long CORTICEIRA AMORIM.
I wrote this article myself, and it expresses my own opinions. I am not receiving compensation for it (other than from Seeking Alpha). I have no business relationship with any company whose stock is mentioned in this article.
Additional disclosure: I own the stock Corticeira Amorim (COR.LS) on the Lisbon Stock Exchange. This is the ISIN code: PTCOR0AE0006