Sugar is an agricultural staple, and its price is a function of the supply and demand for the sweet commodity. Brazil is the world's leading producer of sugarcane, and the crop each year is one of the leading factors when it comes to the path of least resistance for the price.
Sugar hit its last peak back in October 2016 when the price traded at 23.90 cents per pound. Since then, the price of sugar futures that trade on the Intercontinental Exchange declined to reach a low of 12.53 cents in June 2017 which was the lowest level since February 2016 when the sweet commodity was on its way higher from the August 2015 bottom at 10.13 cents per pound. On a long-term basis, the price of sugar has been volatile and traded from a low of 2.29 cents in 1985 to a high of 66 cents in 1974. The most recent high, aside from the October 2016 peak at 23.90 cents, was in 2011 at just over 36 cents per pound.
On a fundamental basis, sugar tends to rally to a level where a market surplus develops and falls to a price where production declines and demand increases. We are currently closer to the bottom end of its long-term trading range. In the world of futures markets, there are price patterns that often trigger price reversals. A double bottom or top occurs when a price trades at the same level on two consecutive periods, and in the sugar market, we have witnessed the sweet commodity put in these trading patterns over recent months and each time it has led to a price reversal.
An August double bottom leads to gains
Since late May 2107, nearby world sugar futures on the Intercontinental Exchange have traded in a range from 12.53 to 15.49 cents per pound. It took around six months for the sweet commodity to climb to the high end of the range in November, and since then it has been testing to upper and lower ends to the trading band. Meanwhile, it has been the double bottoms and double tops when it comes to price action that has been triggering reversals in the sugar futures market.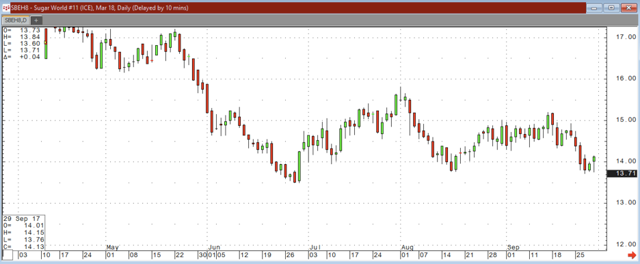 Source: CQG
As the daily chart dating back to August 2017 shows, the March futures contract traded to a pair of lows at 13.77 cents per pound on August 16 and 17. A rally followed the double bottom in the sugar futures market.
In November a double top led to losses
August price action, the price of sugar rallied to a high of 15.49 in late November.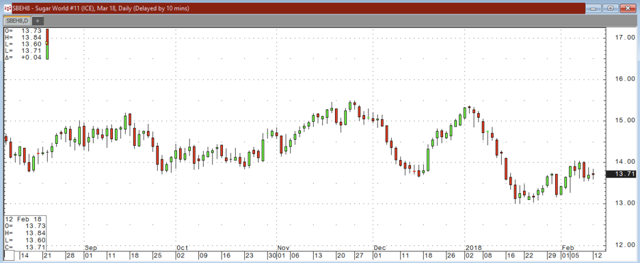 Source: CQG
As the chart of March futures shows, the price traded at highs of 15.49 on both November 24 and 27 which turned out to be the high for the move. Sugar then declined to a low of 13.64 cents on December 15 which gave way to a rally to 15.37 cents on January 3. The sweet commodity made a lower low followed by a lower high. The bearish price pattern led to an even lower low in mid-January.
January double bottom and another recovery
So far in 2918, the highest price of the year for March sugar futures came on January 3 at 15.37 cents per pound.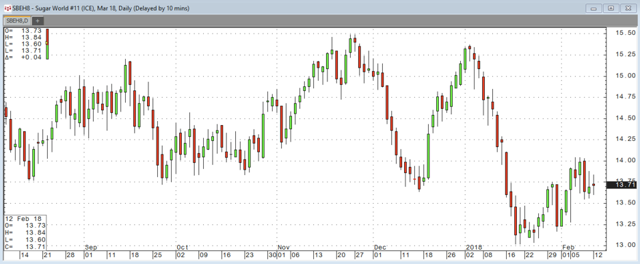 Source: CQG
The early January high led to the lowest price since the week of September 25 when the continuous contract fell to a low of 13.01 cents. March sugar futures did not violate that low, but they came close. On January 18 and 19, sugar once again put in a double bottom at 13.02 cents and rallied in the aftermath.
The latest double top
The latest double bottom led to a rally to highs of 14.04 cents on February 6. The next day, sugar's high was at the same price putting in yet another double top in the futures market for the sweet commodity, and as has been the case in all past examples, sugar has headed lower since its latest double high. Sugar settled at 13.73 cents per pound on Monday, February 12. If the price action since August 2017 stands as a guide, the price of sugar will now drop to a level where the low stands for two consecutive days after which the price can move to the upside once again. Meanwhile, sugar futures made a lower low in mid-January, and a lower high on February 6 and 7 and the technical pattern could lead to another lower low in the days and weeks ahead. However, critical technical support stands at the September 25 low at 13.01 which now takes on greater significance since the price stopped one tick short of a test of that level in January.
Sugar is near the bottom end of its trading range, and the long-term pattern favors a limited risk long position
While the latest double price in the sugar market was a lower top, I continue to believe that risk-reward in the sweet commodity favors an eventual move to the upside and break above critical technical resistance at the 15.49 cents per pound level. The long-term chart of the sugar futures market looks a lot like many other agricultural commodities. In corn, soybeans, and wheat, prices have been making higher lows for the past two decades. Coffee has been making higher lows since 2001, and so have other soft commodities. Sugar has been trading in this price pattern for longer.

Source: CQG
As the quarterly chart illustrates, the price of sugar has been making higher lows since 1985 when the price hit its all-time nadir at 2.29 cents per pound. I believe that sugar will find a low sooner rather than later for the same reason that many other agricultural markets display positive price patterns. Rising population and wealth around the world mean that more people with more money are competing for finite raw materials each day, and sugar is no exception. While the potential for supply disruptions and fundamental deficits tend to create the most significant rallies, steadily growing demand provides a constant flow of support for commodities like sugar.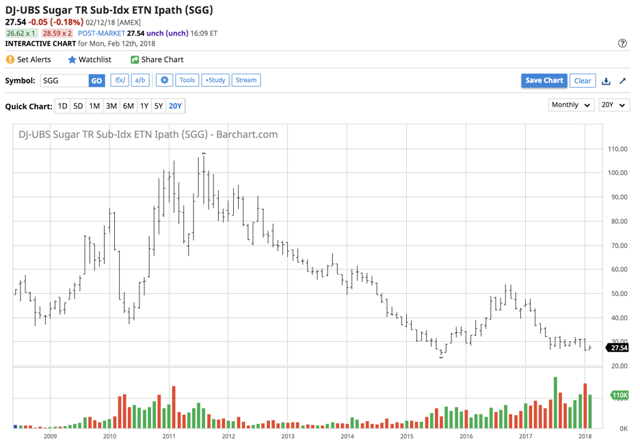 Source: Barchart
SGG is the Sugar ETN product that Barclay's will delist in April. SGG has total assets of $73.13 million with an average daily volume of 121,380 shares per day as of February 12. SGG closed on Monday at $27.54 per share.
SGGB is the replacement for SGG, and as of February 12, it had net assets of $9.87 million with an average daily volume of 583 shares. SGGB closed Monday at $50.98 per share. I am still trading SGG but may transfer positions and concentrate solely on SGGB in the coming weeks when the new ETN builds critical mass. Meanwhile, there is another product that is an ETF, CANE, from the Teucrium family of funds. CANE only has net assets of $7.16 million, but it trades an average of 22,263 shares each day. I will be weighing whether CANE or the new SGGB is better suited for an investment that replicated the price of sugar futures. CANE's price reflects the weighted average of the closing settlement price for three futures contracts months for ICE sugar. Meanwhile, the SGG and SGGB ETNs reflect the performance of the Bloomberg Sugar Subindex. I am more comfortable with the CANE methodology and the ETF structure, but I would like to see it build more liquidity before I transfer my SGG trading to CANE.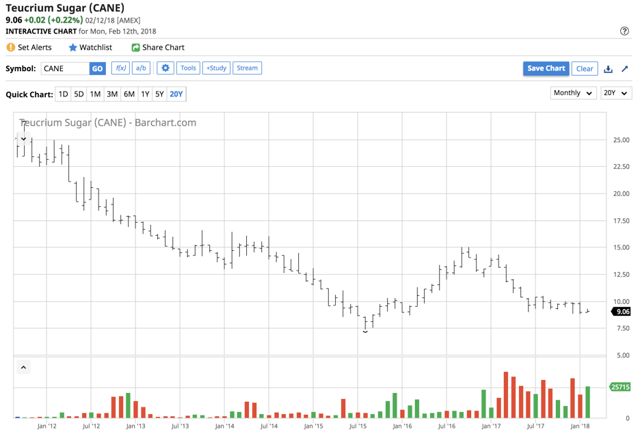 Source: Barchart
CANE closed on Monday, February 12 at $9.06 per share. I believe that sugar will eventually rebound and that this is an excellent time to begin scale-down buying in the sweet commodity via the futures and options market, or the ETF/ETN markets for those who do not venture into the highly leveraged world of futures and options that trade on the Intercontinental Exchange.
Double tops and bottoms have defined highs and lows and signaled trend reversals since August. However, the price of this volatile commodity will eventually break the pattern, and my bet is that whether it occurs on the up or downside, the price will head higher. The long-term trend and fundamentals support a higher price as demand underpins prices at the bottom end of the trading range which currently stands at just over ten cents per pound and is likely at the 12.53 level, which was the lows from April 2017.
To profit from commodities, you have to stay ahead of the trade. As a veteran commodities market watcher, I'm uniquely qualified to help you do that. My Marketplace service, the Hecht Commodity Report, offers a comprehensive weekly outlook on over 30 individual commodities markets, including U.S. futures. One of the most detailed commodities reports available, The Hecht Commodity Report provides weekly up, down or neutral calls on each market and highlights technical and fundamental trends. I also make timely recommendations for risk positions in ETF and ETN markets and commodity equities and related options. The Hecht Commodity Report is a must-read if you want to profit in commodities, so subscribe today. And, there is an active chat section in the service where I reply quickly to answer all questions.
Disclosure: I/we have no positions in any stocks mentioned, and no plans to initiate any positions within the next 72 hours. I wrote this article myself, and it expresses my own opinions. I am not receiving compensation for it (other than from Seeking Alpha). I have no business relationship with any company whose stock is mentioned in this article.
Additional disclosure: The author always has positions in commodities markets in futures, options, ETF/ETN products, and commodity equities. These long and short positions tend to change on an intraday basis.