I Turned Bearish on Gold and Gold Miners Two Weeks Ago
I published an article in Seeking Alpha two weeks ago titled "Gold and Gold Miners – Their Runs Are Over," in which I made a bearish call on gold's and gold miners' short-term direction and a bullish call on US dollar's both short-term and long-term direction.
In the article I mentioned,
Gold and gold miner charts showed that their pullbacks will be imminent.
U.S. dollar's recent breakdown was a fake one, and it should return to above $90 level soon.
I invite all who are interested in gold and gold miners to click the above link to read the article carefully.
The response: overwhelming comments did not agree with my call. I will not quote the comments here as it is just waste of time to do so.
It Is Once Again Proved That My Calls Are Right On The Spot
What happened in the last two weeks: both gold and gold miners turned down and gold miners dropped like a rock. US dollar returned to above $90. JDST which I was long, gained over 50%.
See the table below for the detailed results: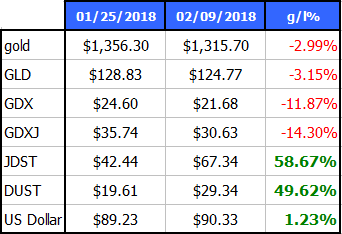 Source of data - from my own data
where the ticker symbol names are:
- SPDR Gold Trust ETF (GLD)
- VanEck Vectors Gold Miners ETF (GDX)
- VanEck Vectors Junior Gold Miners ETF (GDXJ)
- Direxion Daily Junior Gold Miners Index Bear 3x Shares ETF (JDST)
- Direxion Daily Gold Miners Index Bear 3x Shares ETF (DUST)
These are their Friday's (02/09) close prices. If using Friday's intraday low or high prices, things could be much worse or better depending on how one looks at it.
Gold spot price fell to $1,307 on 02/08, not far from its $1,300 support. GDX tumbled to $20.83, a new year low, before bouncing. GDXJ broke down its $30.00 support to $29.88 in its Friday's intraday trading.
On the other hand, the two 3xbear leveraged gold miner ETFs made huge runs in two weeks. JDST gained 58.67% and DUST rose 49.62%. JDST ran to $71.62 high or up 68.22% before pulling back.
I have answered quite a lot of questions after the article publication.
I told my members, many of my followers and readers what were my expected targets for the pullbacks:
Gold – drop to 1,280–1,300 level;
GDX and GDXJ - will at least re-visit their year lows;
JDST – to 65-70, this is the price range when GDXJ drops to 30-31 level.
Now, most of the targets already met. But many more new questions are coming. I would like to answer some of them here.
Q1. Have We Seen The Bottom?
Before answering this question, we will first look at their updated charts.
Gold - $1,315.70 or SPDR Gold Trust ETF at $124.77. Gold's recent high was $1,366.07 achieved on 01/24, one day earlier than when the market rose to its all-time high. Its low of $1,306.81 was seen on 02/08, also one day earlier than when the market made a new recent low. It was down last Friday but no new low was seen. Its STO indicator also showed an oversold condition.
Can this be used as a leading indicator for the market top or bottom?
If this is the case, we will most likely see a strong market rebound tomorrow. Gold price should move higher as well.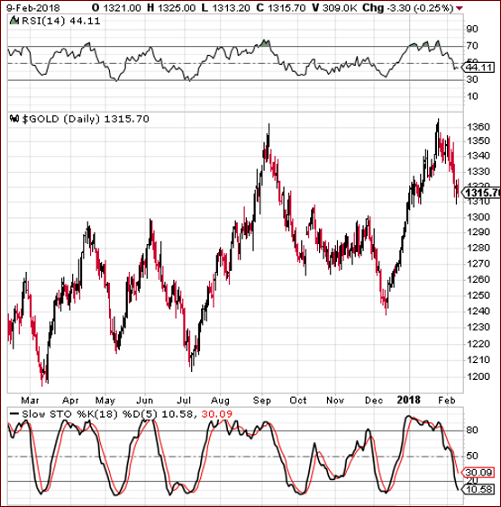 Source of chart - stockCharts.com
GDX - $21.68. Its last Friday low of $20.83 was a new year low. Its previous low of $20.89 was achieved in May last year. Gold miner ETF performed much weaker than gold last two weeks. While gold gave up only 40% or 50 dollars of its recent gain, GDX lost more than 100% of its gain on intraday basis. If the market rebounds tomorrow, GDX will certainly follow.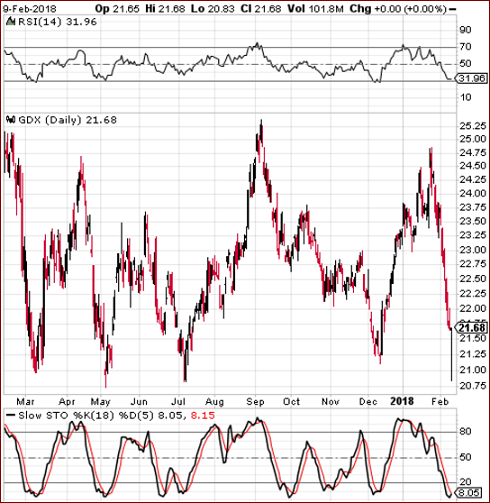 Source of chart - stockCharts.com
GDXJ- $30.63. Its last Friday's low was $29.88, below $30.00, but did not set a new year-low. Its bounce, however, was not as strong as what GDX did, still down 2.32% for the day.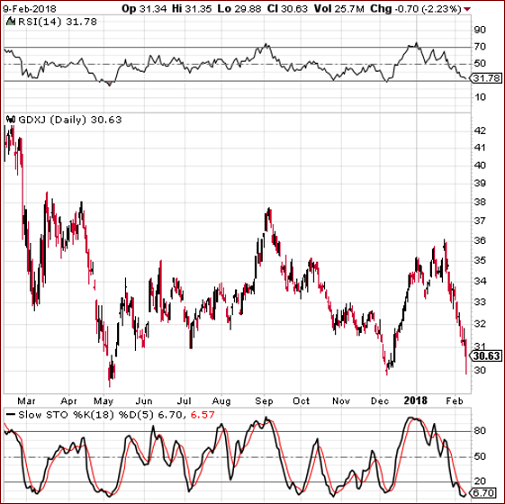 Source of chart - stockCharts.com
Have we seen the bottom for both GDX and GDXJ?
It can be seen that both are sitting at their key strong support levels. GDX's $21.00 has been tested four times in 2017 and all bounced back strong. GDXJ's $30 was tested twice last year and bounced back strong as well. In addition, both of the two key technical indicators, RIS and STO showed oversold conditions.
My view: gold, GDX, GDXJ will all see a short-term rebound. But it is still too early to conclude that the bottom is here. This is especially true for gold.
A few of my other key technical indicators have not shown the oversold conditions.
S&P 500 may have room to move lower.
US dollar may move higher even on a short-term basis.
S&P 500 – 2,619.55.
Let us examine S&P 500 daily chart below: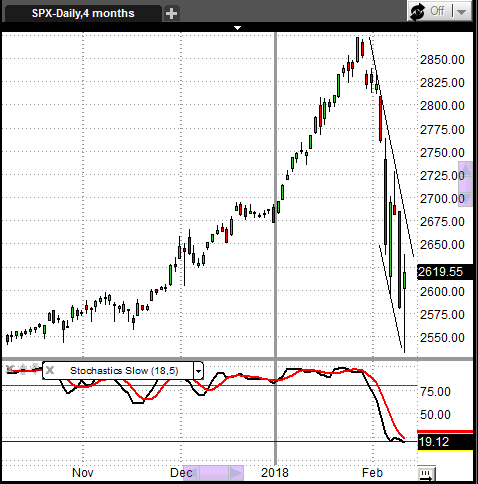 Source of chart - scottrade.com
S&P 500 Index bounced back strong from its 200-day MA last Friday. It has retrieved 11.84% on intraday basis from its all-time high. But the recent trend is still down with lower-highs and lower-lows and formed a clear downtrend channel. The current resistance is at around 2,650.
If S&P 500 can make a decisive break-out move, the downtrend may be no longer valid. This may or may not happen and we can find it out this week.
But even if a breakout happens, we may not see a V shape move as the current correction has been a long-awaited one. We have not seen an over 5% pullback for almost two years, which is very unusual. A quick recovery is not in my cards now. A W shape move will be the most likely scenario. If S&P 500 revisits its recent low later for a double bottom, both GDX and GDXJ may follow.
US Dollar - $90.33. The US dollar just returned to above $90.00 as I expected. My short-term goal is $92.00 level, which should be seen in 1-2 months. Its long-term trend is still quite controversial. Not many agree with my assessment. But I still stick with my prediction that we will see it moving to above $110 in two years.
Many believe that the US government's high debt level will drag the US dollar to a much lower level in coming years as Russia and China will take over US's superpower quickly.
Yes, I agree that both countries made big progress in their economy in recent years.
But Russia and China are also facing their own problems, some are very big ones.
Russia's future is still highly reliant upon its oil and natural gas. If oil and natural gas prices drop big later, Russia may go back to recession and its currency will become cheaper.
China's situation is much better. But China has its own structural problems: sky-rocket high housing prices; rapid, ever-increasing labor cost; high inflation; shrinking labor pool and aging population; and the huge hidden debts from local government, etc., just to name a few.
Chinese yuan was up big against the US dollar since bottomed at 1:6.9 last year and now at 1:6.20 level. Stronger yuan is not what the Chinese government wants and they do not want yuan to become uncontrollable.
My view is that the US dollar will still be trading in its recent ranges in the foreseen future, not too strong but not too weak either.
I have won the first inning on my US dollar prediction. Will I win the second inning? Only time can tell. If the US dollar continues its move, where will the gold be?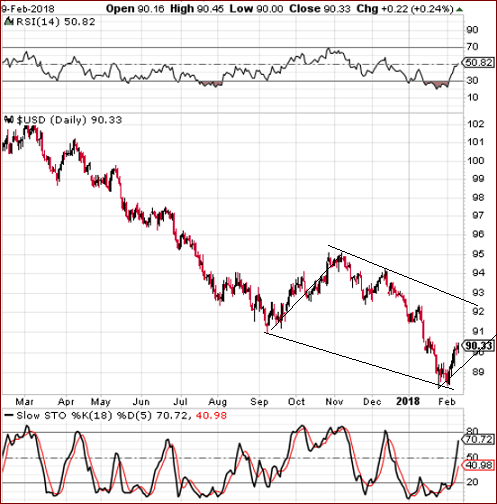 Source of chart - stockCharts.com
Based on the above observation, I can say that it is still too early to conclude that we have already seen the bottom. But short-term traders may make quick bull bets on possible gold and gold miners' rebound.
Q2. Are Trading JNUG/JDST or NUGT/DUST Pairs Highly Risky?
The answer is yes and no.
If buy-and-hold leveraged ETF in trending market, the risk is very low and the return will be very high.
But buy-and-hold leveraged ETF with underneath assets cyclical in nature, the risks will be very high.
JNUG/JDST and NUGT/DUST pairs fall into the second category of leveraged ETFs and thus risks are very high. Even the most experienced expert on gold may lose big if their timing to buy and sell is not perfect. Time decay is the source of trouble.
It has been long well known that 3xleveraged ETF has been subject to time-decay problem, which I first discussed in my January 3, 2009, blog post Traps on Buying Short ETFs
But most investors may not realize that leveraged ETFs also have leveraged acceleration feature, which if used wisely can give excellent investment returns.
Take GDX as an example.
GDX made a huge run in 2016: from $12.85 to $31.30, a gain of 243% in eight months. In the meantime, NUGT moved from $15.68 to $134.34, up 856%, far above the projected 3x return.
JNUG gave us a 1,369% return via GDXJ's 294% gain in the same period, which gives us 4.65x return.
The recent JDST run is another example: while GDXJ dropped 14.30% in two weeks, JDST gained 58.67%.
In general, buy-and-hold leveraged ETF works the best in trending markets such as leveraged ETFs for S&P index, leveraged ETFs for semiconductor sector ETF SOX, leveraged ETFs for SPDR Biotech ETF (XBI), etc.
For cyclicals such as most commodities including oil, gold, silver, etc, buy-and-hold does not work. Identifying trend reversal points will be extremely important.
Since February 2017, I have made seven calls for the gold & gold miner short-term direction and all are quite accurate. As a result, all my bets on JNUG/JDST or NUGT/DUST pairs made quite good returns.
See the table below for the actual results: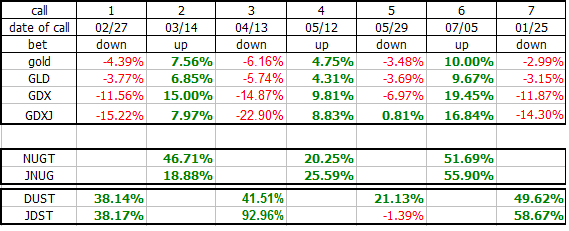 Among the seven bets, four are bearish bets, betting gold down and three are bullish bets or betting gold to move up.
The accumulated one-year return for the seven bets on NUGT/DUST pair is 269.02% and the compounded one-year return will be 938%. That is, one only needs to make seven round-trip trades, three on NUGT and four on DUST, the compounded investment return will be over 900% via 10% investment loss if buy-and-hold GDX during the same time period.
I did not use JNUG/JDST as an example because GDXJ was in re-balancing in March and May last year, that is, it kicked some holdings out from the Portfolio and added some into the Portfolio. The numbers were not representative for those two periods.
Why I only make bets on the gold and gold miners, not buy-and-hold some?
The reason: After reading their earnings reports, I found out that very few meet with my investment criteria - "at least 100% earnings growth in the next two years with solid revenue growth." Most gold miners are only good for short-term trading.
I am glad that I made the right decision.
My Core Portfolio was up 56.20% in 2016 and up another 55.98% in 2017.
Click here and here to see the actual month-by-month performance and holdings.
It will be hard to imagine that gold miners will make a repeat run seen in 2016 as gold miner price was very low at the start of 2016 while it becomes harder and harder for the gold miners to dig out gold from the ground now.
We may see a break-out run only gold price makes a substantial run later this year. By that time, I will make a strong call to buy-and-hold some good gold miner stocks.
Below are the links to the articles I published in Seeking Alpha on gold and gold miners in 2017:
Gold And Gold Miners - Prepare For A Pullback (Feb 27, 2017);
Gold And Gold Miners - Pullback Is Over (Mar 14, 2017);
Gold And Gold Miners - A Small Pullback Or A Deeper Correction? (Apr 23, 2017);
Gold And Gold Miners - Gold Price's Run Will Start This Week (May 15, 2017);
Gold And Gold Miners – Why I Am Shorting Gold And Gold Miners Now (May 29, 2017);
Gold And Gold Miners - Switching Gears, Gold Has Bottomed (July 5, 2017)
I did not publish more gold and gold miners articles in later 2017 because my focus was switched to energy stocks when I found they were all very attractive.
Disclosure: I am/we are long JDST. I wrote this article myself, and it expresses my own opinions. I am not receiving compensation for it (other than from Seeking Alpha). I have no business relationship with any company whose stock is mentioned in this article.