The better-than-expected jobs and wages report on February 2 raised fears of inflation and rising interest rates, which in turn caused expectations of volatility to rise.
Volatility seemed to have been initially caused by the sudden increase in the relative attractiveness of bonds versus stocks. Rising interest rates can make bond yields more attractive than stock yields. Rising interest rates can also increase the cost of capital for companies, which in turn has a negative impact on valuations.
On February 2, the Volatility Index (VIX), which indicates market expectations of 30-day volatility, closed at 17.31, up from 13.47 the day before. From May 2017 through January 2018, the VIX had mostly stayed between 9 and 11. For February MTD, the VIX has more than doubled to 29.06.
In comparison, the ProShares VIX Short-Term Futures ETF (NYSEARCA:VIXY) increased by 67%, and at least one inverse ETN, the VelocityShares Daily Inverse VIX Short-Term ETN (NASDAQ:XIV), seems likely be liquidated for an almost complete loss.
As for the S&P 500 Index for February MTD, it has declined -7.23%, and the corresponding SPDR S&P 500 Trust ETF (NYSEARCA:SPY) has declined by approximately the same amount.
From a variety of market commentary and news reports, it appears that many hedge funds were using strategies that involved shorting volatility and going long stocks. Perhaps some hedge funds were selling VIX-related call options and using that cash to buy stocks.
It seems fairly easy for a small-time trader to get 10-to-1 margin at some independent trading houses, so it is fair to imagine some hedge funds were even more leveraged.
When the VIX rose above its long-term range, this caused hedge funds and other investors to close their VIX short positions presumably for a loss, which required that they also sell stocks to meet margin calls. It is even possible some hedge funds were long cryptocurrencies, and that this added market volatility just added to their difficult in meeting margin calls.
The markets are largely made up of quantitative and technical trading programs managed by hedge funds which seem to use similar strategies. Since many of the factors hedge funds use are similar, for some the key edge for some of these large hedge funds have is execution speed - they can recognize a trend and execute a trade before others.
Since execution speed is a key edge for many large hedge funds, it seems likely that many of them anticipated these margin calls and tried to step ahead in line before they actually occurred. This, in turn, has probably driven a lot of selling as well.
(In contrast, our Opportunistic Long/Short Model portfolio strategy assumed a 100% cash position in the long model just prior to the close on February 5 and a 100% cash position in the short sale model just prior to the close on February 8. Readers were alerted to the long model cash prior to the market close on February 5 and to the short sale model cash position just after the market close on February 8. This theoretical model has locked in a +2.57% assumed return for the month. Our Core Long/Short Model portfolio strategies, as well as our two ultra-large cap Buy and Hold Model portfolio strategies, continue to assume fully invested positions. MTD the Core Long/Short Model has a theoretical return of +1.88%, and the two Buy and Hold models are slightly below and above the S&P 500, respectively. These theoretical returns to not make any assumptions for execution costs, margin fees, short sale availability, or any other costs.)
Despite the late afternoon ramp on Friday, February 9, and the higher opening on Monday, February 12, as I submit this note, my sense is that a recovery from the recent volatility may take some additional time to fully subside.
Meanwhile, companies themselves are still fundamentally strong. While it is possible that this recent dissipation of market wealth may cause some companies to be more cautious with providing guidance, the sell-off does not seem to have reached the vicious level required to alter consumer buying decisions.
In summary, I see no need to rush out and buy even the highest-quality names at the current level. Instead, I suggest making a list of attractive names with the intention of getting more aggressive on the next significant down day. These list of names do not necessarily have to be from our own list of high-quality stocks. This market choppiness has created opportunity across the board.
In my opinion, using January 2016 as an analogy, the S&P 500 may bounce down -3% to -5% from the current level several more times. If this assumption is correct, investors don't need to rush out and change their investment strategies or allocation. If you were happy with your stocks two weeks ago, then they should be as happy with them as they were today. Two high-quality stocks that we particularly like, which we have written about previously, are Arista Networks (NYSE:ANET) and Thor Industries (NYSE:THO).
A higher-risk strategy may be to buy a list of low-quality stocks, and buy these at lower levels. Low-quality stocks tend to rise faster than high-quality stocks in market rallies. One option which may be less riskier than buying individual low-quality stocks may even include going long the SPDR Bloomberg Barclays High Yield Bond ETF (NYSEARCA:JNK) on a particularly sharp down market day. Our low-quality portfolio has tended to move in line with changes to this ETF in recent months.
Risks to the Moderate Choppiness Thesis
The risk to this "moderate choppiness" thesis is if the S&P 500 declines much more than -3% to -5%. If we get a decline of another -10% or more from here, this could signal something is very wrong with the underlying mechanics of the market - perhaps the signal of another Long Term Capital Management liquidation event. With quantitative easing already giving way to quantitative tightening, it is difficult to see the Fed coming to the rescue of a large hedge fund.
Another risk is missing out on current buying opportunities if ongoing market volatility subsides. With the markets opening sharply higher Monday, maybe investors have already missed the perfect buying opportunity. For most investors, doing nothing is probably the best alternative. Also, please read about some key risks associated with the model portfolio strategies and associated equity research.
Core Long Model Strategy - Theoretical Returns January-March 2016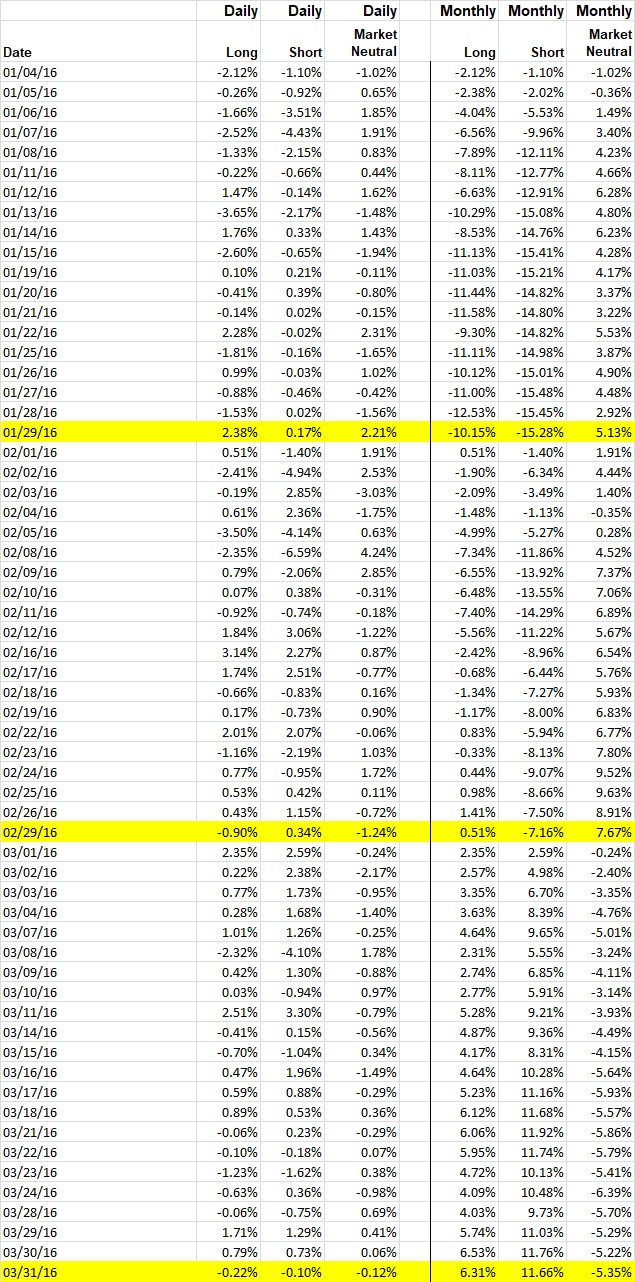 Core Long Model Strategy - Theoretical Returns February 2018

Opportunistic Long Model Strategy - Theoretical Returns February 2018

Past performance is not representative of future results. These theoretical returns to not make any assumptions for execution costs, margin fees, short sale availability, slippage of theoretical execution prices versus actual execution prices, or any other costs. Monthly return data in the above are simple cumulative returns (the sum of daily returns).
Fundamental Momentum provides access to an equity research analyst with more than 20 years experience at renowned sell side and buy side firms. This successful service provides long/short model portfolio strategies, buy-and-hold large-cap dividend yield model portfolio strategies, and fundamental research of the most promising names.
Disclosure: I/we have no positions in any stocks mentioned, and no plans to initiate any positions within the next 72 hours.
I wrote this article myself, and it expresses my own opinions. I am not receiving compensation for it (other than from Seeking Alpha). I have no business relationship with any company whose stock is mentioned in this article.
Additional disclosure: There are limitations inherent in the theoretical model results, particularly with the fact that such results do not represent actual trading and they may not reflect the impact material economic and market factors might have had on our decision making if we were actually managing client money. Theoretical returns to do not make assumptions for execution fees, slippage, margin, short sale availability, or any other type of cost. The information contained herein accurately reflects the opinion of Ascendere at the time the report was released. The opinions of Ascendere are subject to change at any time without notice and without obligation or notification. No warranty is made as to the accuracy or relevance of the information contained herein. This is for informational purposes only and is not intended to constitute a current or past recommendation, investment advice of any kind, or a solicitation of an offer to buy or sell any securities. Buying or short selling stocks includes a high degree of risk, including the risk of total loss. This information is intended for the sole use of clients of Ascendere. Any other use, distribution or reproduction is strictly prohibited. Please see additional disclosures and disclaimers in our "Key Risks" note.