J.M. Smucker Company (NYSE: SJM) has seen shares trade between a wide range over the past year. Earnings misses caused by struggles with the pet food and coffee businesses have soured the market on the name as the ongoing bull market has provided other options for investors to put their money. These operational headwinds appear to be fading, and shares are still a value - even though we are now well off of 52 week lows. With the business rebounding, and the company's effective tax rate set to dramatically fall due to tax reform - J.M. Smucker is poised to deliver good news when it posts its most recent quarter on February 16th.
Operational Struggles
J.M. Smucker has traditionally been a strong performing consumer goods stock, delivering consistent top and bottom line growth over the years.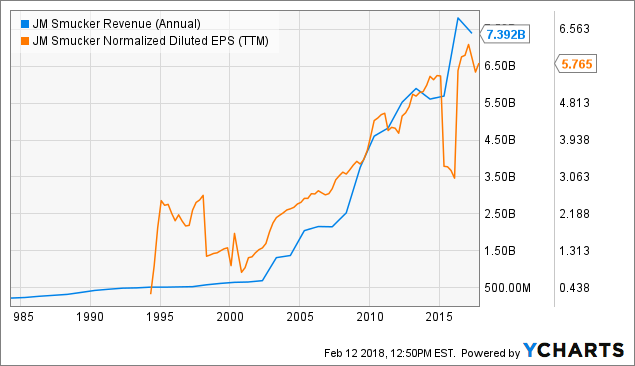 This consistent growth powered by a strong brand portfolio and multiple bolt-on acquisitions, has enabled investors to receive a return on shares of more than 14% per annum over the past two decades. With a portfolio filled with market leading brands, J.M. Smucker is a true blue chip stock in the consumer goods sector.

Over the past year, shares have slid from highs of more than $140 per share to lows of $99 per share, and hovered somewhere in between since. Part of the downward pressure shares have seen, have come from slipping sales and margins that have combined to wreak havoc on sales, and/or operating profits throughout the business.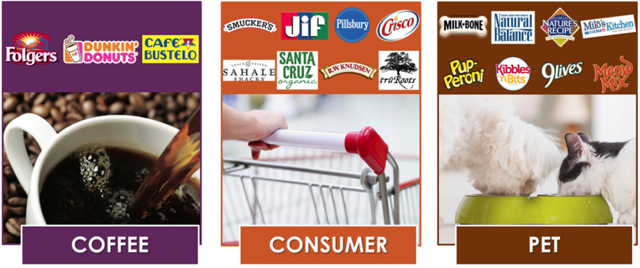 In coffee, sales comps for Smucker brand Folgers were down based on the prior year setting the bar high, as well as increased competition from both coffee shops such as Starbucks (NYSE: SBUX), and competing product brands such as Keurig Green Mountain owned by JAB Holding Company. The Folgers brand saw year over year net sales declines of 13% and 6% in the first two fiscal year 2018 quarters. Higher input costs from a rise in green coffee prices put a simultaneous squeeze on margins, that saw a combined drop in operating profits of 29% in the first quarter, and 18% in the second quarter.
In consumer foods, a loss of a high importance retailer disrupted distribution for the Crisco brand, bringing sales for the brand down 20% through the first half of the year. Smucker brand Pillsbury has also struggled this year due to competitor price points putting pressure on sales. Despite these issues, profits for the consumer foods segment managed to hold flat in Q1, and actually increased 10% on expanded margins in Q2. The expanded margins were due to pricing power and supply chain management. That is a quick side reminder on how brand power can help boost your business performance.
The pet food segment has seen its own share of struggles as well, although it rebounded in Q2. The first quarter saw an ugly 20% drop in profit (despite 7% sales growth) due to higher marketing expenses, and costs (the pet food industry is very price competitive) putting pressure on margins. By Q2, cost cuts and synergies restored profit growth with a 7% year over year bump.
These struggles have forced management to twice in two quarters, revise end of year earnings guidance to the lower end.
In all, these are all signs that J.M. Smucker is facing some short term struggles with controlling margins, and dropping sales. A lot of these margin pressures will go away (and have already begun to do so) as J.M. Smucker continues to find cost savings (a common initiative among defensive, consumer staple type companies). Sales can be improved on with promotions, marketing, product innovations, etc. The trick is to have a robust brand portfolio, with names that resonate with consumers (they do), and to have a management team that is capable of executing sales strategies (I still think that they are competent in this area).
The market is a short term tool of judgment, and these short term struggles are why the shares have come all the way down from $142 the way that they have. As a long term investor, these moments of vulnerability give me the opportunity to accumulate shares at attractive valuations.
And Valuations Are Still Attractive
Despite us looking at $120 per share at the moment, shares are still attractively valued. The low we saw of $99 per share was a heck of a deal, and just because we have moved on from that valuation, doesn't mean that shares are over-valued today.
With the company forecasting to end the year earning about $7.90 per share (after two downward revisions), shares are priced at just over 15X this year's earnings. That is a significant discount to historical averages that have put the earnings multiple at 19X in the past. The dividend is also yielding above 10 year averages, with its current yield of 2.61% vs its historical average of 2.28%.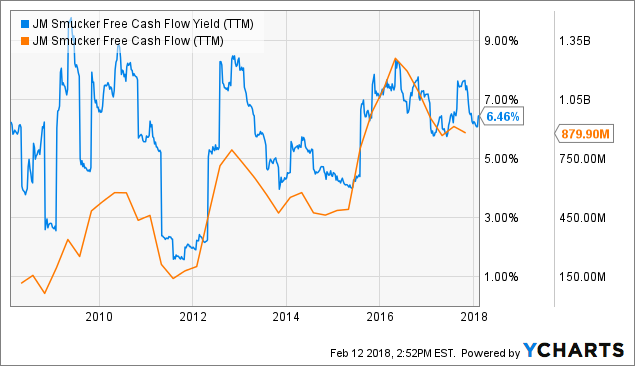 Cash flow yields are 6.5% of share prices, but this is partially elevated because cash flows have come down in the past couple of years. Meanwhile, free cash flow is going to further shrink in 2018. Forecasted to come in at $775M due to increased CAPEX of $310M, the struggles seen in various business segments with operating profits contribute to this shrinkage.
Again, the market is punishing shares based on short term performance, with analysts expecting mediocre growth over short term.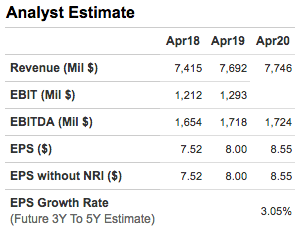 source: Guru Focus
The market is not excited about the next few years for business, that is why shares continue to trade at such an attractive valuation. I am not as bearish as analysts are on J.M. Smucker over the next few years.
Big Heart Pet Brands Will Continue Growth
J.M. Smucker has certainly lagged in cutting enough costs, and providing enough synergies since the acquisition has closed. The additional margin squeeze from expenses has really hurt the momentum of the acquisition's positive contributions to the business. The latest quarter showed some signs of life, with a 70 basis point increase in margin last quarter. If this keeps up, I expect the pet brands segment to do some more lifting for Smucker's bottom line.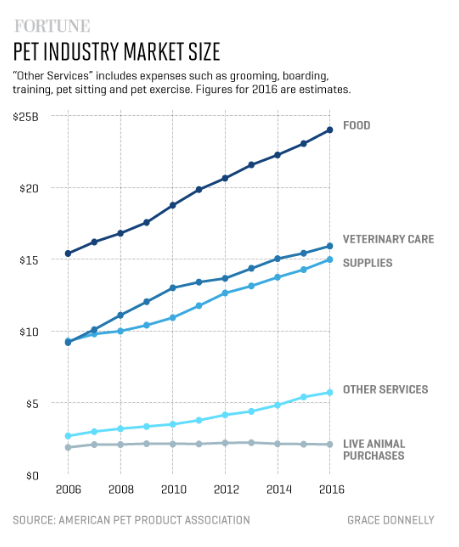 With various household names in the pet food market such as Meow Mix, Kibbles 'N Bits, 9-Lives, and Milk Bone - sales should trickle down to J.M. Smucker. Pet food is arguably the fastest growing spend category for pet owners in the pet ownership category.
Almost A Dividend Champion
J.M. Smucker has increased its dividend for 20 consecutive years, well on its way to 25 years - earning its title of "dividend champion" in the process.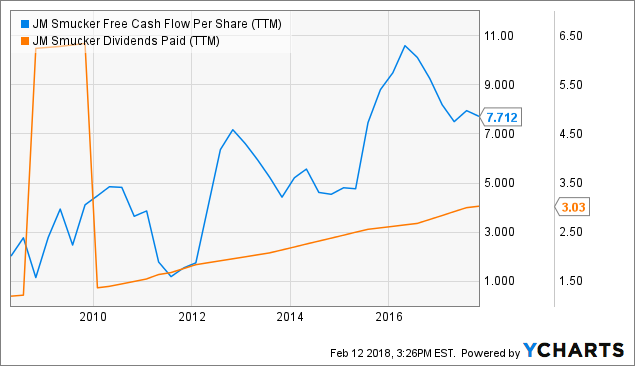 J.M. Smucker has been a strong free cash flow generator, and the dividend has remained extremely well funded as a result. Even if we consider that free cash flows for the company will shrink to $775M in 2018 (or $6.80 per share), the annual dividend of $3.12 per share still consumes less than half of these compressed free cash flows.
The important take away with this, is that when your business model is of high quality (in other words, it turns a large portion of sales into free cash flows), it can take a lot of abuse, and STILL maintain the flexibility to invest cash as needed, where it is needed. That may mean raising the dividend (which it has, and will continue to do so at an inflation beating pace), or seek out growth with a bolt-on acquisition, or invest internally to spur organic growth. Through these short term operational struggles and bolt-on acquisitions over the past 10 years, the dividend has still grown between 7-10% per year. The business model is strong enough to withstand the ebbs and flows of change and the occasional struggle over time. That is why it has managed to compound investors' wealth at 14% for years.
Poised To Benefit From Tax Reform
The recently passed tax reform has benefited all of Wall Street. While it has benefited some companies more than others, J.M. Smucker is in the camp that stands to see a nice cut in its taxes.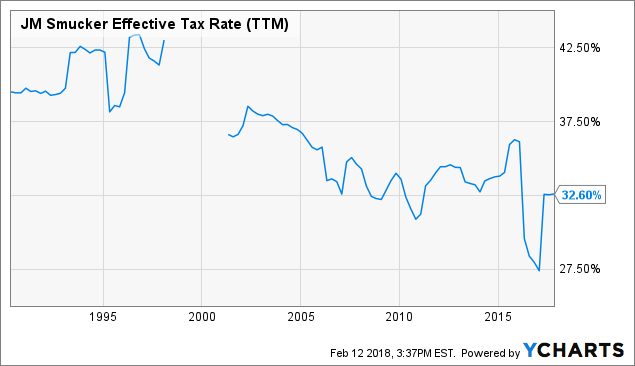 Consistently facing a tax rate in the low to mid 30% range, the tax cut pushing corporate taxes lower to a rate of 21% will benefit J.M. Smucker. I expect we will learn more about the potential effects of this legislation when Smucker reports its Q3 earnings on the 16th. Possible options include a "pass down", to pricing - using the additional profitability to lower prices to consumers making them more competitive. Management could also invest the cash back into the business, go hunting for its next acquisition, etc. This is an opportunity for the company to receive a catalyst to the upside.
Earnings Report Should Be Interesting
This all comes together, and makes the upcoming earnings call very intriguing for J.M. Smucker investors. While the tax benefits are exciting, and will likely lead to a boost to guidance, the business was already starting to rebound from a tough start to the year. Management has long predicted the second half of the year to easily outperform the first half. Coffee prices are expected to rebound in J.M. Smucker's favor, leading to margin expansion. The pet food business should continue to see margins expand as well thanks to cost cuts. A combination of positive news could change the market's angle on J.M. Smucker for the better. In my opinion, the business would have to completely revert to the rough start it had in Q1 to really cause any noteworthy downward momentum. I just don't see that happening. The latest operational notes point to continued momentum.
Wrapping Up
I really hate the idea of trading ahead of earnings. Earnings are complete wild cards, and J.M. Smucker has proven volatile with strong upward and downward movements after recent quarterly earnings reports. As a long term investor however, I see the current window being open to grab shares while the stock is still "beaten up" by the market.
You just don't see quality companies such as J.M. Smucker trade at 15X earnings very often. Even in a state of struggle, the company is a cash generating machine, and the reduction in its tax rate will only enhance that characteristic. While investors could look at the 52 week low of $99 compared to today's price and scoff - don't. I would wager that it's more likely than not that we don't see $99 again barring a complete economic, or market wide collapse. Depending on how earnings look, a market trying to rebound from a recent correction may shoot shares higher if the market likes what it hears this Friday.
Disclosure: I am/we are long SJM.
I wrote this article myself, and it expresses my own opinions. I am not receiving compensation for it (other than from Seeking Alpha). I have no business relationship with any company whose stock is mentioned in this article.