I once believed that Pandora (P) could, under optimistic assumptions, be worth $20/share by 2020. And all the company had to do to make it happen, even if easier said than done, was to execute on its three-year, subscription-centric plan laid out as recently as October 2016.
Today, plan tossed out the window and following changes in a few key leadership roles, the declining stock seems to find relief in the numerous takeover speculations that pop up every so often. But otherwise, not much seems to be going the company's way.
To me, P looks less like a roller coaster ride worth taking a gamble on than a toboggan trip to the bottom.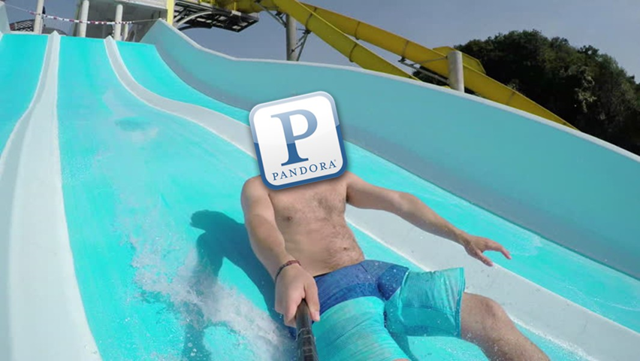 Montage by DM Martins Research, image credit to HD Footage and Pandora
Where Pandora stands today
A macro-level look at the recorded music industry suggests that Pandora is becoming a smaller fish in an increasingly larger pond. The graph below illustrates how digital music continues to grow at a fast double-digit pace, even if industry-wide revenues earned appear to have plateaued as a result of the dying physical distribution model. Growth in streaming music revenues alone has been accelerating strongly each year, having reached a whopping 60.4% in 2016.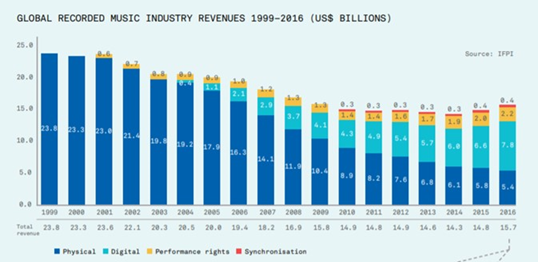 Source: ifpi.org
But within this growing ecosystem, Pandora has become all but irrelevant. Once a powerhouse brand, Pandora now falls behind in the ranks to Spotify (MUSIC) with 60 million subscriber, Apple's (AAPL) streaming service Apple Music with 28 million paid users, Amazon (AMZN) Music, and even underdogs like Deezer and Tidal. From a paid user perspective in the U.S., Pandora is not much more relevant than late 1990s sensation Napster, and not at all a presence outside its home country.
See graphs below.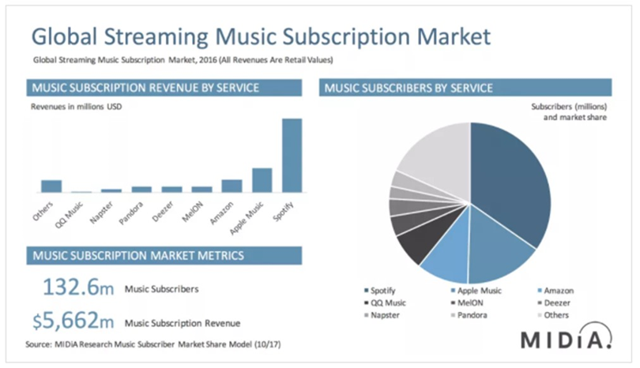 Source: Midia
Pandora is now launching a restructuring program that is likely to result in reduced headcount and other operational redundancies, as the company goes into survival mode. While I think the initiative is welcome, it is not quite clear to me how the move will allow Pandora to regain its top-of-mind status and substantially increase listener growth. Rather than simply keeping the house in order, I believe Pandora needs to address the key issue of market appeal and penetration, to which I think a solution is not very simple to put together and implement.
Last words
Pandora is just coming off a year of deep internal transformation that included a swap at the CEO seat, changes at the Board of Directors, and the scrapping of a return-to-growth plan reliant on the subscription model that, to me, seemed plausible at first glance. Now, the company is going into a restructuring phase that may or may not help to resolve its problems. Pandora's road to redemption looks to me like a very bumpy one.
For the reasons above and regardless of any kind of valuation or liquidity analysis, I choose to take a pass on P. I believe there is better value with higher chances of success to be found elsewhere in the tech and media worlds.
Note from the author: If you have enjoyed this article and would like to receive real-time alerts on future ones, please follow D.M. Martins Research. To do so, scroll up to the top of this screen and click on the orange "Follow" button next to the header, making sure that the "Get email alerts" box remains checked. Thanks for reading.
Disclosure: I am/we are long AAPL. I wrote this article myself, and it expresses my own opinions. I am not receiving compensation for it (other than from Seeking Alpha). I have no business relationship with any company whose stock is mentioned in this article.