Many people are struggling with the question of what the cannabis stocks will do from here. In order to answer fully, I have to go back to the basics that make up my philosophy about stocks and stock market cycles.
My first mentor and the person who brought me into the investment business as a research analyst was a well-known, high-profile money manager in Vancouver. This was in the days when our database was a pile of Friday Wall Street Journals on the floor in the corner of the research department. Anyway, I adopted his market philosophy that I use to my advantage today.
The Market Cycle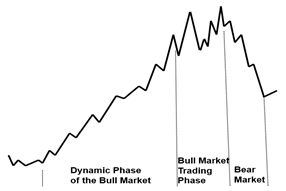 The entire market cycle is thought of in two separate parts. The first is the bull market, which is a time when stock prices are generally rising. The second stage is the bear market, which is an extended period of price declines. The bull market is further separated into two sections: the Dynamic Phase and the Trading Phase. There are a couple of other points worth noting. First, the bull market usually lasts much longer than the bear market. It can last three or four times longer than the bear market. This leads to another axiom: 'Always err on the side of optimism.' In other words, if you don't know what to do, assume the market is going to rise because that is what it does most of the time. Second, although bear markets don't last as long, the rate of price decline is more rapid, and for investors, the experience is scarier. Third, the bear market typically does not surrender all the gains made in the preceding bull market. This means over the long term, stock prices rise. The long-term return on common stocks in the U.S. and Canada has been around 9% per annum assuming reinvested dividends. Finally, although I will use one model for the stock market cycle, each one is unique. Some are longer or shorter, go up more or less and so on. As a result, it is important to think of the model as a hypothetical cycle that generally represents real life.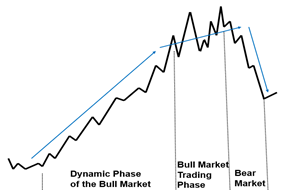 The next chart illustrates the trends in each phase. In the Dynamic Phase of the Bull market, the rate of price increase is the highest. On the other hand, during the Trading Phase, the corrections become larger and more frequent. However, despite this increased volatility, the overall trend in prices remains upward. In other words, during both stages of the bull market, prices are rising. During the Trading stage, even though the average return is less than during the Dynamic Phase, the opportunities for higher profit from trading exist. It is also during this phase that more new issues are brought to market. This is the stage at which many new companies are underwritten as the investor appetite for speculative stocks is higher. The bear market decline is often steep and short. However, this is the stage at which most investors feel the greatest stress probably related to the fact that people do not like to lose money or see their profits dissipated. I often liken bear markets to bad movies - just when you think they're never going to end, they do.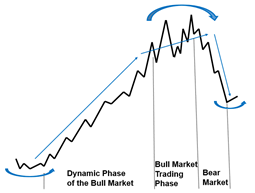 The market transitions from one stage to another, that is, the rollover to the next phase is not instantaneous. It takes some time. This means you don't change your outlook for the market instantly. This has important implications. First, you shouldn't change your outlook from one stage to another overnight. Portfolios don't normally respond well to drastic, short-term adjustments. One reason, of course, is if you change one way too quickly, you will probably change back just as quickly. Your portfolio will incur substantial trading costs that will hurt performance. Second, because the market will generally segue from one phase to the next, it often gives you a second chance to alter your strategy. Third, and this may sound simplistic, as the market goes higher, you are getting closer to the point at which you should sell. Conversely, as the market goes lower, you are getting closer to the point at which you should buy. This is obvious, but you will find it incredibly hard to do. That is why there are very few great investors in the world. If it was easy, we'd all do it.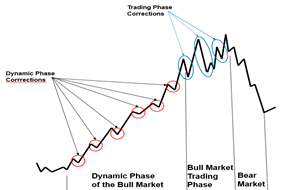 The characteristics of each phase dictate how you should manage your investments. In the Dynamic Phase, prices are predominantly upwards. When corrections or setbacks occur, they tend to be relatively brief, and the declines are small. Generally, for larger markets such as the New York Stock Exchange and the Toronto Stock Exchange, corrections on the major indexes will not often go over 5%, and they need to approach 10% before anyone worries. This means the appropriate strategy for a portfolio is to buy and hold. Because cannabis stocks are more volatile, I think normal corrections during the Dynamic Phase can be as much as 10%.
When you get to the Trading Phase, corrections in the overall markets will frequently exceed 10%, and for cannabis stocks, that should translate into 20% to 30%. The markets become more volatile and corrections more frequent. For portfolios, it is a time to take some profits on strength and nibble at stocks on weakness. But what a portfolio manager should try to do is sell more on strength than they buy on weakness thus increasing cash reserves in the portfolio as you progress through the trading phase. Bear markets using a rule of thumb definition for the major markets is a decline in the leading indexes of over 20%. Cannabis stocks are considerably more volatile, so the decline might be 40% to 50% during a bear market.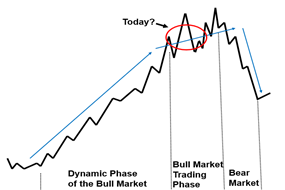 It is clear that we have crossed over to the more volatile stage of the overall stock market and the cannabis stock market cycle. The chart above illustrates where I think we are in terms of the cannabis cycle. Note that I am not engaging in trying to forecast the market. So to identify where I think we are today, I have used a large oval instead of a small dot. It is just not possible to be that precise. However, I am willing to go so far as to say I think we are still in the cannabis bull market, and the trend over the foreseeable future will be positive. However, the cannabis group will definitely experience more severe ups and downs as we move forward, and this will be exacerbated by the fact that the overall market will be doing the same thing.
Whereas the appropriate portfolio strategy in the Dynamic Phase is to buy and hold, that changes in the Trading Phase. Now, when cannabis stocks rally strongly, investors should look for opportunities to sell. Sell the ones that have made the sharpest, short-term upward move. Conversely, when prices fall, look for stocks in your portfolio to buy. Emphasize buying better quality stocks that have dropped the most and selling lower quality stocks that have risen the most in price. Finally, when you buy on weakness, spend less money than you raised by selling on strength. This will have the effect of increasing your defensive cash position and raising the overall quality of your portfolio as we work out way through the trading market.
Conclusion:
I have tried to convey an approach to the markets that have helped me over many decades and can help you moving forward. I am applying the strategy from the overall markets to the cannabis stocks at this time. My strategy for the next six to twelve months is to use a disciplined method to consistently upgrade holdings and build cash reserves as a defensive position.
At the present time, we are probably near the bottom of the first major correction in the trading phase of the cycle. This is a point at which buying is more appropriate than selling. But there is a reason this is called the trading phase. So, when and if the market rallies and cannabis stocks go up, the favoured response will be to sell and raise some cash.
Here is a rundown on the stocks I have been covering here on Seeking Alpha: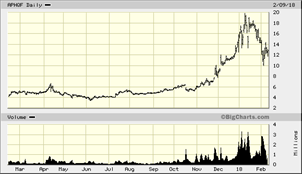 Aphria (APHQF) has come back in the correction. In addition, it has said it is considering the sale of its U.S. assets that put it in conflict with the Toronto Stock Exchange listing requirements. I am inclined to wait to see if and how that sales proceeds. You often don't get the best price when you are a forced seller.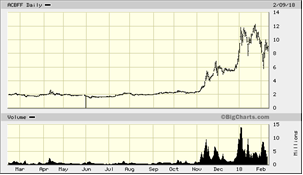 Aurora Cannabis (ACBFF) overpaid for CanniMed Therapeutics (OTC:CMMDF), in my opinion. Having said that, ACBFF is now the Avis of the cannabis group, and presumably, it will continue to try harder. I would still wait to see the CMED transaction close before making significant purchases.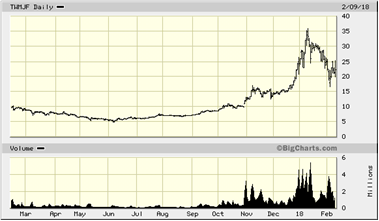 Canopy Growth (TWMJF) remains one of my picks in the Licensed Producer group. In my original Seeking Alpha article in November 2016, I referred to TWMJF as an 'ETF Surrogate', and I stand by that comment over a year later. When I am asked what cannabis stock would you buy if you could only own one, TWMJF is my consistent choice.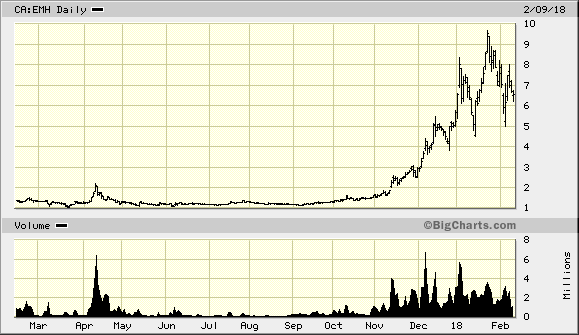 Emerald Health (OTCQX:EMHTF) has had an outstanding run, and I have backed off in recent weeks. The reason is the market can often add value to a company much faster than management can by growing operations and this has happened with EMHTF. To use one of my old comments, changed slightly, now is a time to wait and not overweight this stock. Note: the chart shows CA.EMH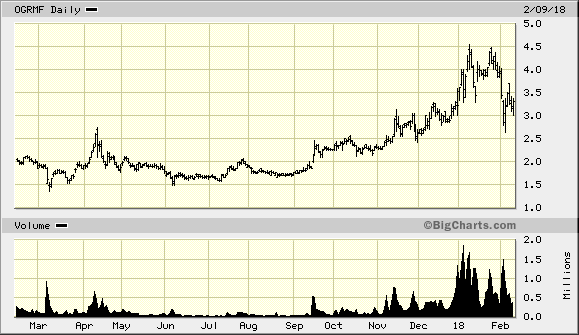 Organigram (OTCQX:OGRMF) has been a long-term favourite of mine and continues to be. It is set up to be a major supplier when Canada legalizes around mid-2018, and the recent raise $100 million to expand internationally gives shareholders something to look forward to. The international moves will fill the one gap in its resume. I would be a buyer here.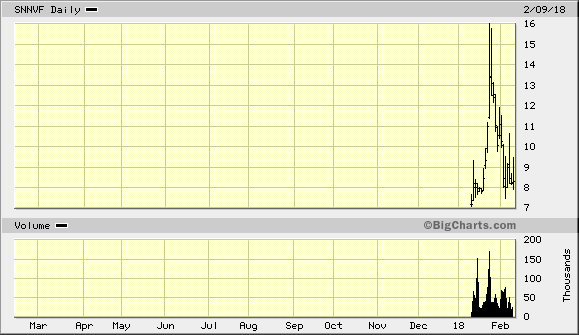 Sunniva (OTCQB:SNNVF) I wrote it up just as it started trading a little over a month ago. When the stock ran up sharply, I suggested it wasn't a good idea to chase the stock higher. Now that it has returned to the initial buy range when I first recommended it, I would be actively buying it here. If you stood by and watched Lexaria or Namaste trade at very low prices and missed them, don't make the same mistake with SNNVF.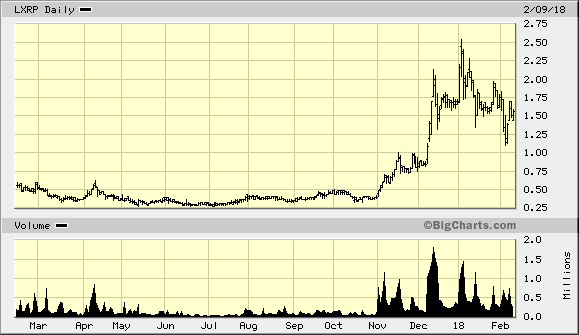 Lexaria (OTCQX:LXRP) is my pick of the smaller cap stocks I have written up. It had outstanding performance, but it wasn't overdone as much, and now, it has settled back a bit. I think 2018 is going to be a banner year for LXRP, and on the offhand chance that you still don't own it, correct that oversight now. LXRP has many significant prospects, and I suspect some of them will bear fruit in the next 12 months.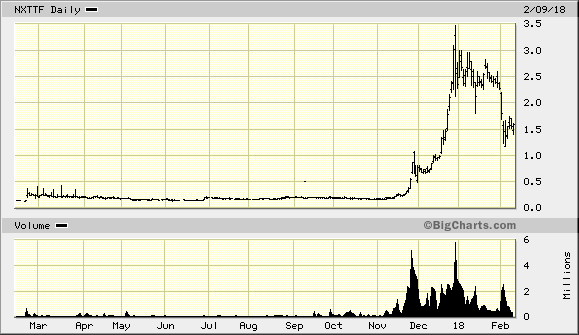 Namaste (OTCQB:NXTTF) was probably the biggest winner on my list in 2017, but I fear things got a little overdone, and it went from a ten-bagger to a five-bagger in fairly short order. In volatile markets, stocks that go up the most often fall back the most and frequently more than anyone expects. I also was not happy that it was late-publishing its audited annual report for the second year in a row. I would like to see the stock consolidate more before starting to buy again.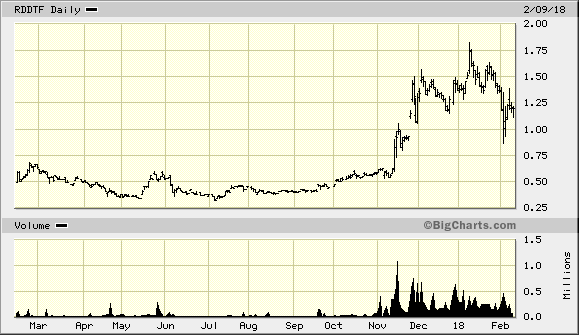 Radient (OTC:RDDTF), like Lexaria, performed very well but was not overpromoted. The stock came back a bit, and I think it will participate in any recovery from here. Its outlook in 2018 is positive as it is clear that Aurora plans to make RDDTF a major part of its plans in the year ahead. Again, it may be not as wild and exciting as some others because they have already picked their dance partner, but it can be a comfortable position in your cannabis portfolio.
Disclosure: I/we have no positions in any stocks mentioned, and no plans to initiate any positions within the next 72 hours. I wrote this article myself, and it expresses my own opinions. I am not receiving compensation for it (other than from Seeking Alpha). I have no business relationship with any company whose stock is mentioned in this article.
Editor's Note: This article discusses one or more securities that do not trade on a major U.S. exchange. Please be aware of the risks associated with these stocks.