Skynet is a fictional neural net-based conscious group mind and artificial general intelligence system that features centrally in the Terminator franchise and serves as the franchise's main and true antagonist.

-- Wikipedia
When the Fed did QE, it in effect dominated the Treasury auctions and suppressed long-term interest rates as well as bond and stock market volatility. When the Fed reversed QE and started quantitative tightening (QT), it in effect reversed its short volatility position in the bond market, which also affects stock market volatility. Discussing this scenario in my January 11 column, I ended with this comment and question:
Well, the time to sell [bonds from the Fed's balance sheet] is now. The Fed is in effect unloading its short volatility position on the market in 2018. What do you think will happen to stock and bond volatility this year in that scenario?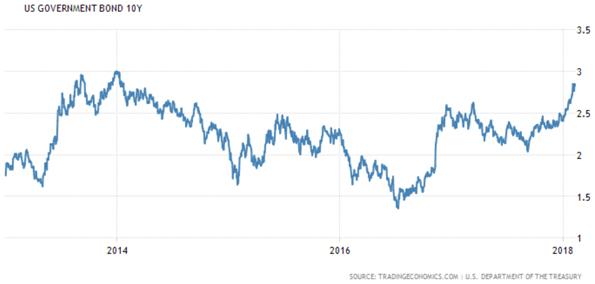 Graphs are for illustrative and discussion purposes only. Please read important disclosures at the end of this commentary.
I am not saying this was a prediction of the fastest explosion in stock market volatility in history, but I am suggesting that I am not surprised by the developments over the past week. Still, I think it is overly-simplistic to think that there is one root cause for this mess. Here are three reasons that come to mind.
(1) Records Inflows into Stocks in January
January is typically a strong month over longer periods of time due to the tendency for a lot of pension funds and other institutional money to enter the market. This year was no different as equity funds have enjoyed their biggest monthly inflows on record, attracting about $102.6 billion in January, according to EPFR. January's total came in well above the previous record haul of $77 billion in January 2013. This gush of money caused the stock market to experience its best January returns since 1987.
When so much money enters the stock market, it is not surprising that it became the "most overbought" market on record, as defined by more than one popular technical indicator. The trouble is the inflow rate slowed down in February, creating an air pocket under the market. It is no surprise that February is an exceptionally weak month if one looks at historical data over longer periods of time, like 50 years. This year February has been much weaker - and it is far from over yet - because the air pocket under the market was much bigger, courtesy of the record inflows into stocks in January.
(2) Computers and Leverage
Those that are worried that Skynet (of Terminator series fame) has conquered financial markets are urged to read Flash Boys by Michael Lewis, describing the proliferation of high-frequency trading. I do think that the speed of the decline over the past week was driven by computers trading with other computers on high amounts of leverage. High frequency trading routinely surpasses 50% of volume on most stock exchanges and, judging by the speed of many of last week's moves, it may have been higher.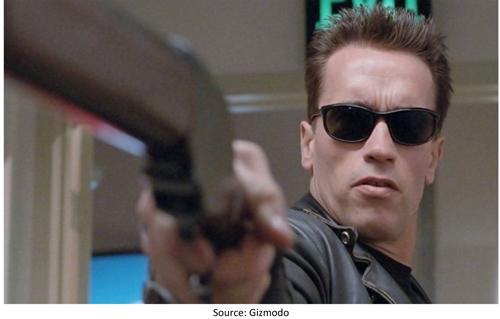 The 1987 crash in the stock market was blamed on "portfolio insurance," a form of computerized trading in which the lower the stock market went, the more the computer programs sold into the lower move, which created a quick avalanche effect. Some of last week's moves felt like small avalanches, like this: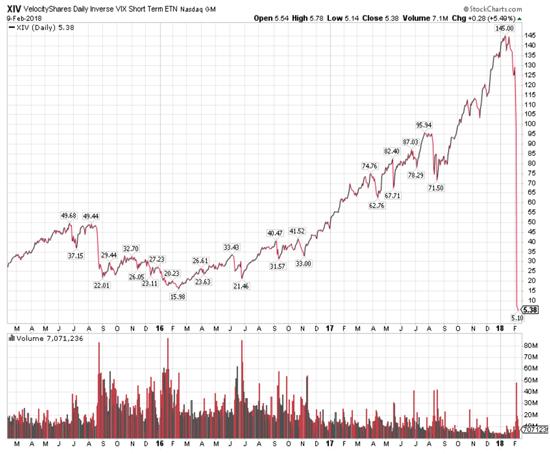 Graphs are for illustrative and discussion purposes only. Please read important disclosures at the end of this commentary.
(3) The Effect of (Short) Volatility ETFs
The exchange traded product (ETP) space is over $3 trillion. As that space has grown, so has the use of computerized trading that helps manage ETP securities. Much of the blame over the past week has been put on short volatility ETFs, which among other things take short positions in front-month VIX futures.
The expulsion of stock market volatility causes those ETPs to reverse their short VIX futures positions, causing a record surge in VIX futures buy orders after-hours, when such ETPs typically square their positions. On the day the Dow Jones Industrials closed down 1175 points, a surge in VIX futures buy orders created a surge in S&P futures sell orders as they are inversely correlated. Because of the record buying of VIX futures, their prices rose quickly after-hours, which caused many ETPs whose portfolios are short VIX futures to suffer record 80%-+ declines after-hours, in effect blowing up their portfolios.
While most of the assets in short-volatility ETFs have already been liquidated over the past week, there are still over $3 trillion in assets in all ETPs, so I am sorry to say that Skynet is still lurking in the stock market. It looks to me like the regulators allowed a monster to grow in the face of the ETP industry and they will have a very difficult time reining it in.
While this latest avalanche effect may have been triggered by the air pocket of inflows in stocks in February catalyzed by spiking long-term interest rates, there is likely to be more volatility for the rest of 2018. The Fed is slated to keep reversing its own "short volatility position" in the bond market by intensifying QT operations so the roller coaster we experienced in January and February may repeat--more than once.
Disclosure: *Navellier may hold securities in one or more investment strategies offered to its clients.
Disclaimer: Please click here for important disclosures located in the "About" section of the Navellier & Associates profile that accompany this article.