The S&P 500 (SPY) and Dow Jones industrial average (NYSEARCA:DIA) started a free fall since January 26, 2018, and Investors, analysts and fund managers are scratching their heads to find a plausible reason and predict what will happen next. However, the paradoxical condition makes it hard to say why exactly it happened; Recent earnings reports show that companies are doing better than expected, at the same time bond markets are facing strong sell pressure, major indexes are declining fast, and VIX and other fear indicators jumped at a pace never seen before.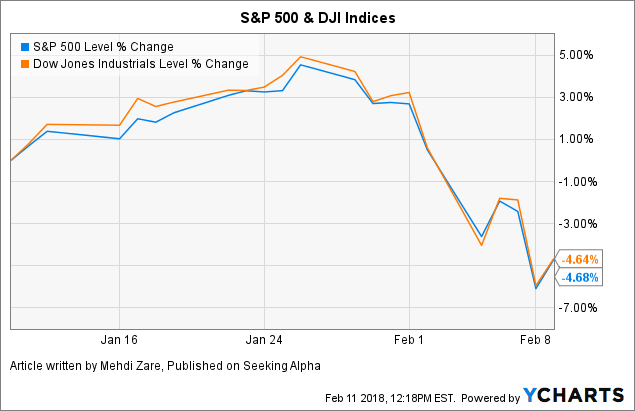 An Obvious Trend, Ignored by Everyone
It worths to check the primary global indices over the last month and see how they moved.
Nikkei 225, one of the prominent indexes for Japan's equity market, reached its highest level on January 23, 2018, then started to fall. It's down 11.36% from its peak; (24,124.15 to 21,382.62 on February 9, 2018).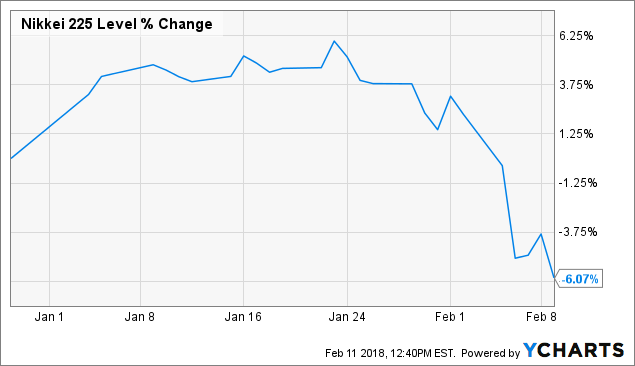 FTSE 100, London's stock market index, maxed on January 12, 2018. Peak to trough decline is 686.21 point or 8.82%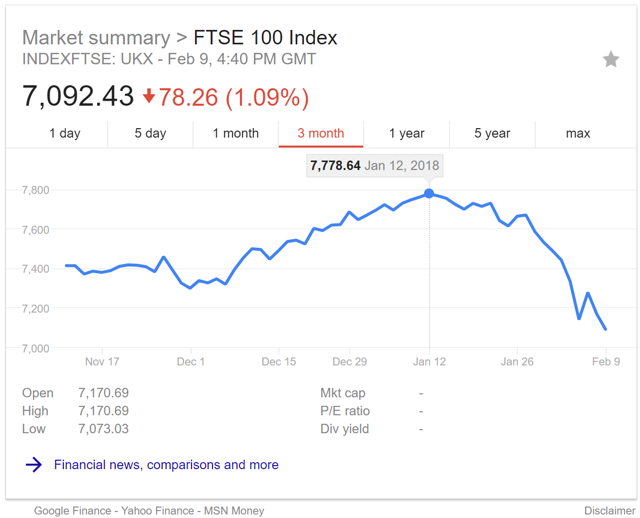 Source: Google
ISEQ, Irish stock exchange index reached its highest level on January 23, 2018. By the end of February 9, 2018, it's down by 635.44 points or 8.8%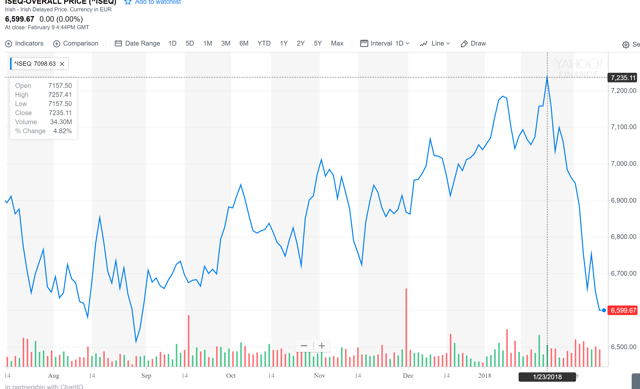 Source: Yahoo Finance
Shanghai Composite index changed direction on January 24, 2018. Its fall is enormous, 429.61 points or 12.07% by the close of February 9, 2018.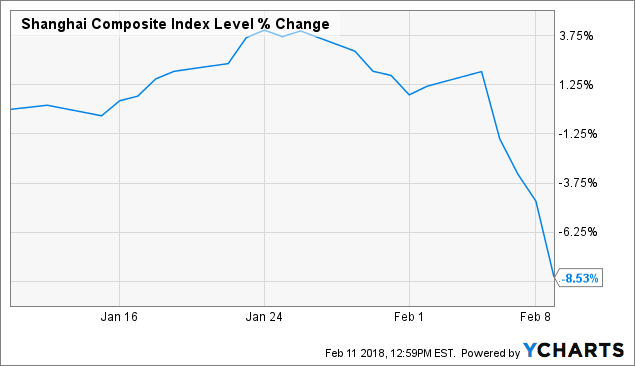 Euronext 100, reached its highest level on Jan 22, 2018. By the end of February 9, 2018, it was down by 89.65 points or 8.32%.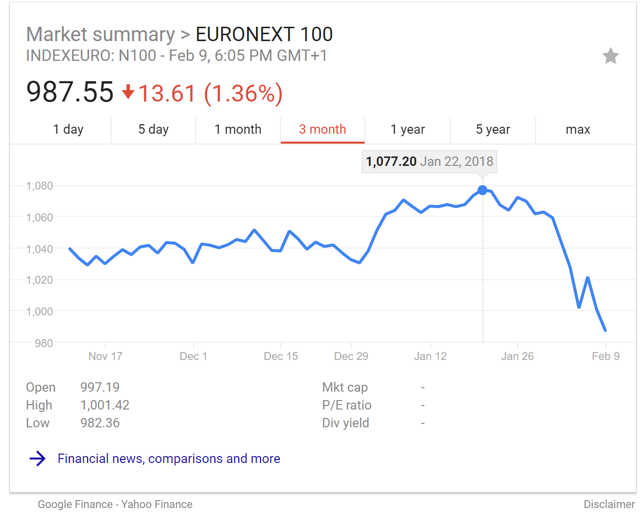 Source: Google
No matter which index and country you check, the pattern is the same; Most global indexes (with a few exception) started to fall, and then US markets followed a few days later. You can find the list of major market indexes and their trends on The Wall Street Journal and Bloomberg.
Tax Cuts and Jobs Act of 2017
Under new tax law, companies with international operations are subject to a new tax on their retained earnings kept overseas. Depending on the way they kept their earning, corporations now have to pay 15.5% on cash and 8% on other types of earnings they had since 1987.
The new rules require U.S. companies to pay a tax of between 8% and 15.5% on overseas earnings made since 1987 if they remain offshore. After making this one-off payment, they'll be able to bring the money back home without paying additional tax.

Source: CNN Money
There are two major points here that I believe investors are ignoring:
This is a mandatory payment. Companies have to pay it no matter what they're going to do with their assets overseas.
It's based on their post-1986 previously untaxed accumulated earnings and profits. Unlike what most people think, it's not based on the cash held overseas.
This means that companies are going to either recognize a new liability or reclassify their long-term tax liability as a current liability, and start making payments on that. For example, Apple (AAPL) is going to pay around $38B in such taxes. In 2018 Q1 earnings report, Apple noted:
As of September 30, 2017, the Company had a U.S. deferred tax liability of $36.4 billion for deferred foreign income. As a result of the deemed repatriation tax, which is based on the Company's total post-1986 deferred foreign income, the Company replaced $36.1 billion of its U.S. deferred tax liability with a provisional tax payable of $38.0 billion. The estimate of the deemed repatriation tax is based, in part, on the amount of cash and other specified assets anticipated to be held by the Company's foreign subsidiaries as of September 29, 2018. As a result, the final amount may change as the amounts are finalized. The Company plans to pay the tax payable in installments in accordance with the Act.

Source: Apple 10Q Filing
How Will Companies Finance This Charge?
This one-time tax charge is enormous, even for giant corporations such as Apple and Alphabet (GOOG). The Tax Cuts and Job Acts also put a cap on the amount of interests payments companies can deduct from their earnings; it's now just 30% of adjusted taxable income (see here). Considering these facts, It's reasonable to assume that they're going to repatriate their assets rather than raising the required cash in debt market.
This trend will put pressure on debt markets as US corporations are now sellers rather than buyers.
Effect of Repatriation on U.S. Economy
So far we saw different reactions and announcements by corporations. Walmart (WMT) is raising base salaries, Home Depot (HD) is paying cash bonuses, and analysts are predicting a jump in share buyback programs.
Based on an article published by Bloomberg Businessweek, buyback may jump by 70% on an annualized basis to $875 billion after tax overhaul.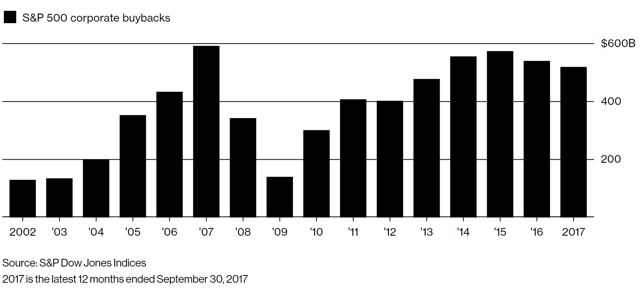 Source: Bloomberg Businessweek
Higher wages, cash bonuses and share buybacks, all will increase the money available for consumption, and the consequence is pretty clear, higher demands in the short term. Economy 101 tells the story that will follow; in the short term, we'll see inflation as the economy was overheating even before the tax cut.
Conclusion
Current downtrend in global equity markets ignited overseas and then spread to the U.S. within a few days. The underlying reason seems to be one of the side effects of Tax Cut and Job Act of 2017.
Companies started to repatriate their cash assets to cover tax bills and pay higher wages and bonuses. Surplus cash was parked overseas in the form of sovereign bonds, money market accounts, and corporate bonds. To move it back, current assets first need to be turned into cash. This should describe a portion of pressure we saw on the bond markets.
Raising the minimum wage, paying cash bonuses and the tax cut for individuals will put a few thousands of dollars in the pocket of consumers. The short-term effect of this distribution would be a jump in demand for food, entertainment, and other personal consumptions. Economics 101 tells us that in short-term, an increase in demand, push prices higher.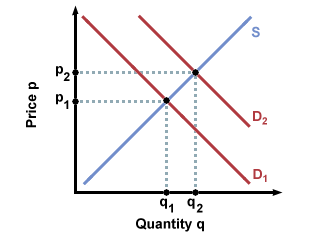 Source: Sparknotes
Higher prices mean higher inflation and higher inflation means lower prices for bonds with fixed rates. This should be another reason of sell pressure on the bond markets. It's reasonable for investors to unload their bond portfolios right now before higher inflation rate catch them and cause loses.
The higher inflation rate will also increase the interest rate investors demand on their equity investments, resulting in lower valuation and a decline in the equity market.
A recently published article by Ray Dalio, founder and co-chief investment officer of Bridge Water Associates, explain this cycle with more details.
Disclosure: I am/we are long GOOGL. I wrote this article myself, and it expresses my own opinions. I am not receiving compensation for it (other than from Seeking Alpha). I have no business relationship with any company whose stock is mentioned in this article.
Additional disclosure: I have a portfolio of options, stocks and mutual funds which results in a complex exposure to the market. This analysis is provided as is, with no guarantee of any sort.