Tips for travel are at the end. Tips for portfolio planning come first.
Few workers plan ahead for the retirement they really want. We can make a few generalizations about different generations. These broad metrics should help investors understand the impending retirement crisis. Let's break down the situation by evaluating Baby Boomers, Generation X, and Millennials.
Millennials
The millennial generation has a few unifying themes. They begin saving for retirement at a younger age. Automatic enrollment in 401k plans is a major factor. The vast majority are very concerned about the solvency of Social Security. Here are several other key traits: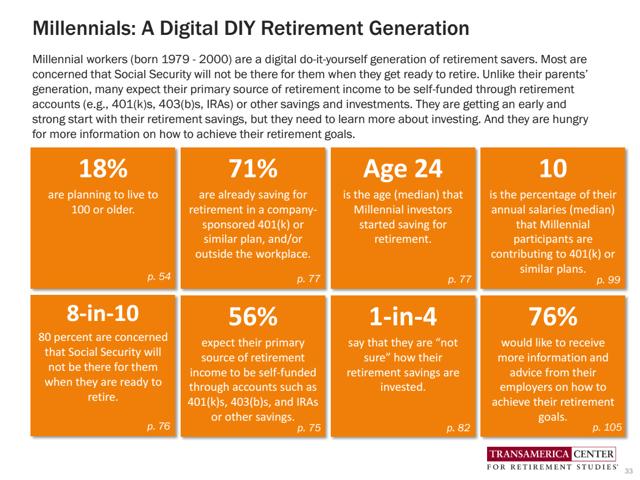 Source: Transamerica Center
Generation X
Generation X began saving later than the Millennials. A substantial chunk of them were hurt by the Great Recession and have not recovered. This is a great example of investors underperforming the market. The stock market is dramatically higher today than it was before the Great Recession. House values in many areas are higher today than they were before the Great Recession. Like Millennials, many of them are concerned about the future of Social Security: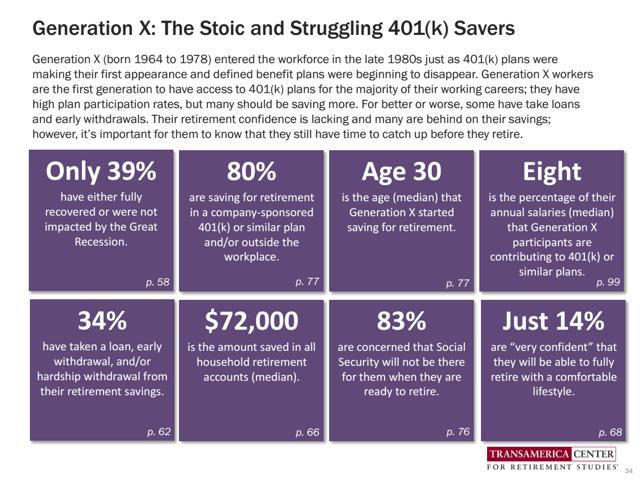 Source: Transamerica Center
Baby Boomers
Many Baby Boomers are already entering retirement. Baby Boomers have dramatically more faith in Social Security to fund their retirement needs. While Generation X had 83% concerns about the availability of Social Security, 38% of Baby Boomers plan to use it as their primary income source. The median savings in retirement accounts is $164,000. That means at least 50% have exactly $164,000 or less. Only 28% have a backup plan for retirement income if they lose their job before the intended retirement date.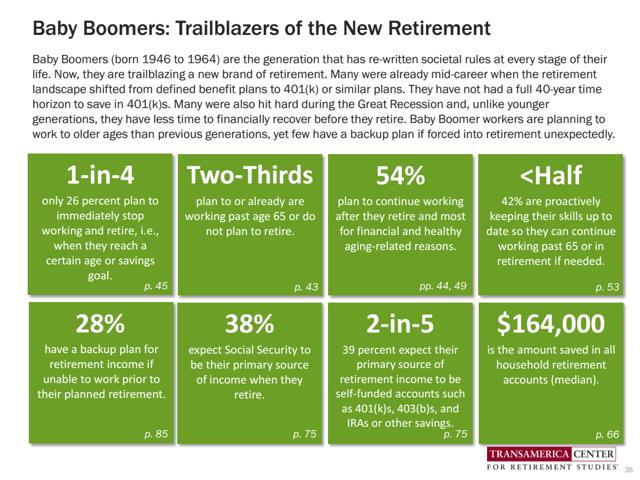 Source: Transamerica Center
Active retirement
Many people have self-reported a plan for working in retirement. It seems improbable that all of those people genuinely want to work for so long. Some may simply be readjusting their "dreams" to more closely match the reality.
The most common dream is traveling. It dwarfs second place: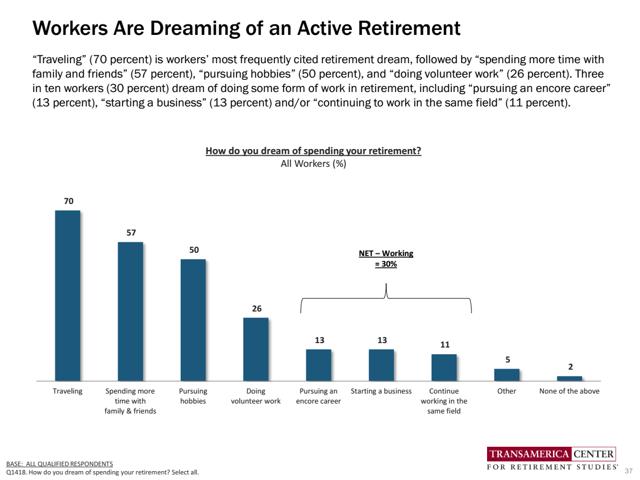 Source: Transamerica Center
The 11% who dream of continuing to work in the same field have a key trait in common. They do not believe their retirement starts after they are finished working.
Dreams of retirement
A desire for travel is the most common retirement wish. In each generation, it wins first place by a large margin. Retirement dreams are pretty similar across the generations with the exception of starting a business. Many Millennials want to start a business and very few Baby Boomers are inclined to do so.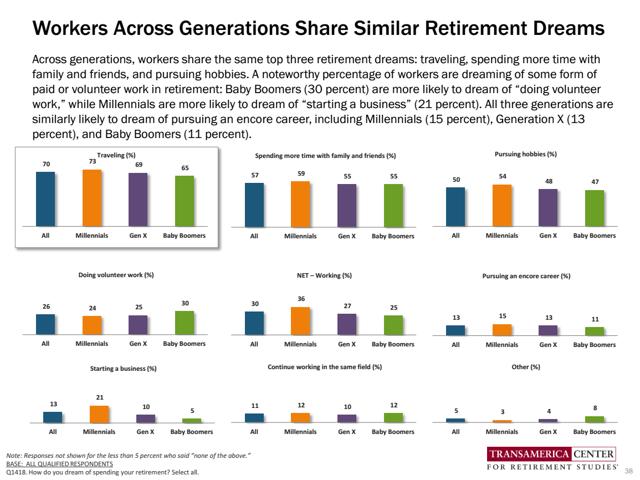 Source: Transamerica Center
Retirement is too expensive
Given the median amounts saved for retirement, it should be shocking to hear that 52% to 63% of respondents wanting to travel were confident or very confident they could afford their dreams. Perhaps the most shocking metric comes from the Millennials. 59% were at least confident they could afford those goals. Remember that over 80% were concerned about the solvency of Social Security.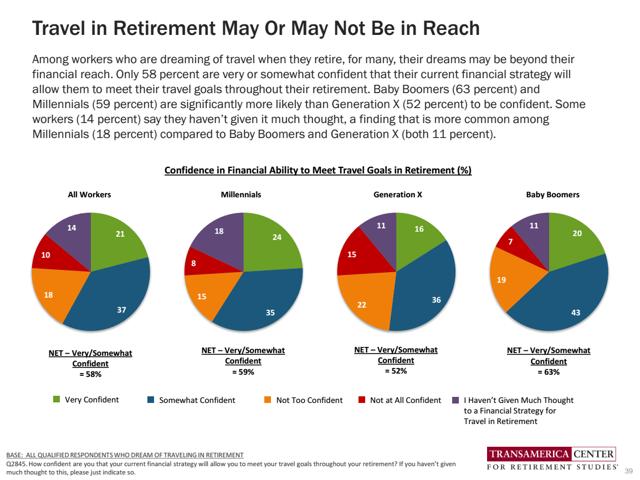 Source: Transamerica Center
Building a retirement portfolio
Investors in each generation need to plan for their retirement. Many of the investors will simply use broad market ETFs like the top 5 dividend ETFs for 2018. Indexing is becoming a very popular strategy. However, for people who enjoy doing the research, I would suggest researching individual stocks. My expertise is in REITs, but here is a starting point for a diversified portfolio:
Consumer Staples

Yield

Healthcare

Yield

Consumer Discretionary

Yield

Technology & Others

Yield

Target

(TGT)

3.45%

Gilead Sciences

(GILD)

2.85%

General Motors

(GM)

3.62%

CenturyLink Inc.

(CTL)

12.89%

Costco Wholesale

(COST)

1.10%

Merck & Co Inc

(MRK)

3.46%

NIKE Inc

(NKE)

1.21%

AT&T Inc.

(T)

5.50%

Walmart

(WMT)

2.05%

Johnson & Johnson

(JNJ)

2.58%

Disney

(DIS)

1.62%

Verizon

(VZ)

4.71%
After this starting point, I would like to suggest some REITs.
Simon Property Group
Simon Property Group (SPG) is the largest mall landlord in America. They have an exceptional balance sheet. They have grown their dividend rapidly since the great recession. Even if investors are concerned about the future of malls, SPG is the safest choice within the subsector.
SPG is a solid buy.
Realty Income Corporation
Realty Income Corporation (O) is a quality triple net lease REIT. The tenants pay almost all of the operating costs. Realty Income Corporation simply pays the overhead costs. The leases usually last longer than a decade. The long leases provide the landlord with more protection against recessions.
Annaly Capital Management
Annaly Capital Management (NLY) is a mortgage REIT. Their common stock is quite volatile, but the preferred shares are an excellent source of higher income. The F series and G series both have many years of call protection. Both series switch to a floating rate when the call protection ends. If short-term yields increase materially the floating rate would protect investors from interest rate risk.
Equity Residential
Equity Residential (EQR) is a strong apartment REIT. The company's properties are focused on gateway markets. Those market tend to have solid growth in rental rates because of the expensive family homes in the area. EQR has exceptional management.
EQR is on a great sale.
How you can travel in retirement
The first step in the planning process is to build an adequate retirement account. Some of the stocks mentioned here could help. A solid dividend yield helps investors to plan for their cash flows. I prefer to focus on building a more defensive portfolio so investors can sleep easy as they travel. Here are a few tips to make the most of your traveling:
Sign up for e-mail notification on sales. Many cruise lines offer "drop and go" specials on unsold rooms.
Call hotels ahead of time and negotiate for a better deal. My wife won't make these calls, but I will. Each dollar I save can be used for more dividend stocks.
Consider taking a red-eye flight. Tickets can be dramatically cheaper. TSA PreCheck is affordable and makes the airport experience easier.
If you like to drive, buy an older Toyota off Craigslist. Depreciation on new vehicles is simply too expensive.
Camping is a very affordable way to travel.
Skip the rental car and simply take an UBER.
Bring your wine with you. The restaurant margin on wine is too high.
Travel during the off-seasons. Airfare, hotels, and cruises are all much cheaper away from the peak travel months.
If you have looked at taking a certain trip before, search again with the private browser feature. Many websites use cookies to track your history and aim to raise prices.
Be flexible about your destination. There are countless great places to travel. Being flexible will enable you to find dramatically better prices.
Share your knowledge
Many of us have experiences to share. Whether it's about retiring or traveling around the world, thousands of other readers could benefit from your experience or tips.
The REIT Forum is the home of the best research on REITs and preferred shares. The Forum's portfolio has returned over 20% every full year since inception.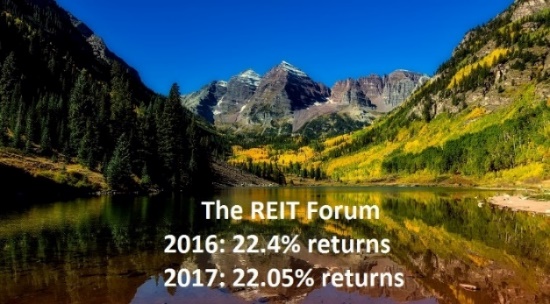 You will have access to spreadsheets of every REIT and preferred share we cover updated in real time. The spreadsheets have easy to follow buy/hold/sell ratings. Subscribers get instant actionable SMS alerts on time sensitive investments.
A highly knowledgeable and interactive chat room, with 63/63 5-star ratings, is great for both new and mature investors. Join The REIT Forum for 2018 with weekly preferred share updates and rapid fire roundups for common stocks.
Disclosure: I am/we are long EQR, NLY-F, SPG, WMT. I wrote this article myself, and it expresses my own opinions. I am not receiving compensation for it (other than from Seeking Alpha). I have no business relationship with any company whose stock is mentioned in this article.
Additional disclosure: No financial advice. Investors are expected to do their own due diligence and consult with a professional who knows their objectives and constraints. CWMF actively trades in preferred shares and may buy or sell anything in the sector without prior notice. Tipranks: Buy SPG and EQR.