The gold market (NYSE:GLD) remains a very difficult sector to trade. Gold has actually formed a daily swing low which could mean we have a daily cycle low on our hands. Why? Well the momentum oscillators have reached oversold territory and short-term sentiment in gold has reached pessimistic levels (both charts shown below). However there are a few question marks as to whether the bounce out of this daily cycle low will gain any traction. The mining complex for example (NYSE:GDX) has completely broken down in this latest down move and have actually taken out its December 2017 lows.
I still favor the long side in gold but I recommend that any long trades adopt strict risk management in the event this bounce doesn't make higher highs. We are now two months into this intermediate cycle (last clear intermediate low occurred on the 12th of December in 2017). The time to be aggressive is always at the start of an intermediate cycle and not midcycle. Furthermore, the mining complex at stated is demonstrating that gold will not be able to beak out of its present trading range. Here is how I see the state of affairs in precious metals at present.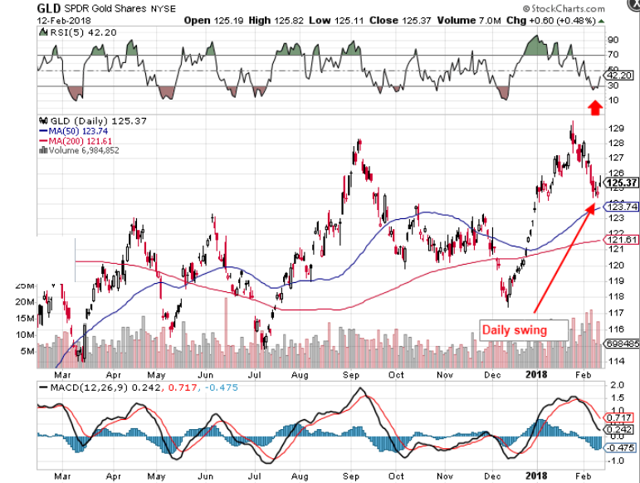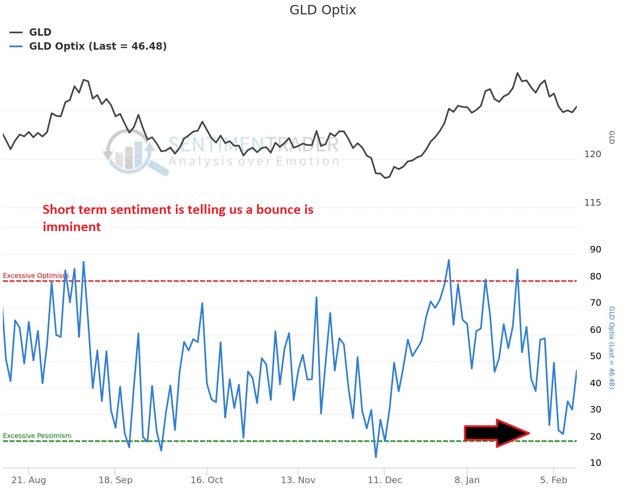 Source : Sentimentrader.com
First the positives. Since gold's intermediate bottom in December 2016, the yellow metals has clearly been making higher lows and higher highs. The problem is that both silver (NYSE:SLV) and the mining complex have not joined the party. Gold though from a technical standpoint has been doing everything correctly. What has been difficult is where the yellow metal is printing its intermediate tops. In the previous 2 intermediate cycles, for example, one was right translated (topped late in the cycle) whereas the most recent one topped early in the cycle. This is essentially where the risk lies in the gold market at present. I do not know whether the top on the 25th of January last will end up being an intermediate top. This is why strict risk management must be adopted on all long trades from here on out.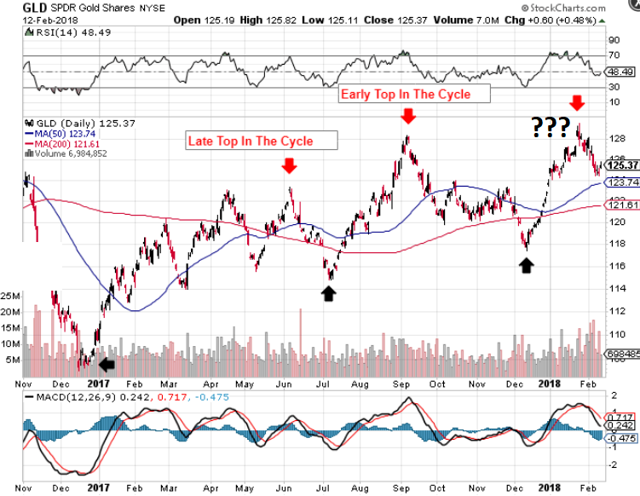 Furthermore sentiment in silver is illustrating that we are much closer to a buying opportunity than an intermediate top. Silver would probably be the vehicle I would use for getting long precious metals at present. Its long-term sentiment levels are approaching pessimistic extremes which usually means a bounce is on the cards. The problem with the white metal is that it remains trading below its 200-day moving day average of about $15.90. Throughout the past few years, silver's gains have been muted since it regained this psychological level. However if gold continues to make higher highs, you just feel that the gold:silver ratio of around 80 at present will eventually begin to fall. Sentiment readings in silver at present are now not that far away from what they were at the bear market bottom back in December 2015.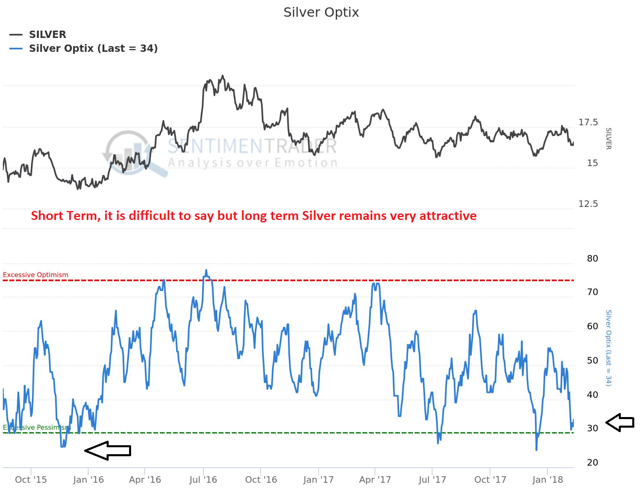 Source : Sentimentrader.com
Another strategy to control risk in swing plays would be to monitor the dollar. The US dollar (NYSE:UUP) as we can see from the chart below has printed a daily swing high. The recent hard bottom in the greenback on the 25th of last month was definitely an intermediate low given the multiple months of weakening prices before that. Therefore this latest swing high should only be a half cycle low in the dollar. It should be swift (usually days) before the greenback starts rallying again up to a strong daily high. Swing traders could place stop losses on precious metals' positions by using the February 9th high on the greenback as their reference. Why? Well the greenback's bounce over the past 3 weeks has been quite weak for a bounce out of an intermediate low. The metals could easily receive a nice tailwind from the greenback over the next while if this downswing gains traction.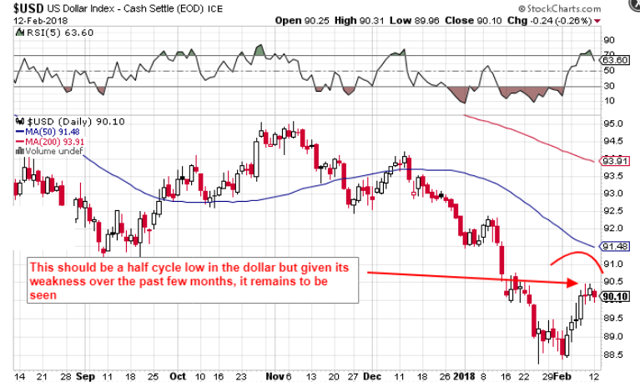 We could easily take out the recent January highs in gold if the dollar cooperates. Silver will be in all likelihood be our preference for any long trades in this sector. if the dollar rebounds quickly, then a swing trade will be off the cards. Patience is not simply the ability to wait - it's how we behave while we're waiting.

Disclosure: I/we have no positions in any stocks mentioned, but may initiate a long position in SLV over the next 72 hours. I wrote this article myself, and it expresses my own opinions. I am not receiving compensation for it (other than from Seeking Alpha). I have no business relationship with any company whose stock is mentioned in this article.