I've never liked the large auto companies with respect to investing for many of the same reasons Warren Buffett never liked the airlines. Every year they change models a little so people are compelled to buy the new version or get the newest gadgets. The business is very capital intensive and most auto manufacturers have enormous amounts of debt.
I love businesses with a competitive advantage, either a founder CEO or one who takes on that persona, high insider ownership, has a excellent performance tack record, and is shareholder friendly.
In the case of Fiat Chrysler (NYSE:FCAU), I can't say they have a competitive advantage, but they check the other boxes. As I will detail later, I also believe the value is compelling at current prices.
Basic Story
Fiat Chrysler (29% owned by the Agnellis family) has a plethora of brands – from pickup trucks and jeeps to Sports cars. The company seemed to fall into the unloved region in 2017, trading at a large discount to book value. Since then the stock has rallied, yet has fallen back 13% from its highs earlier this year (January 22nd). The company has made improvements in profitability and trimmed CAPEX. They also closed 2 factories for re-tooling and discontinued production of the Dodge Dart and Chrysler 200, which were drains of profitability. This resulted in lower vehicles sales in Q3 with higher margins. As consumer demand shifts to SUVs from cars and pickup truck demand is strong, FCAU began making those vehicles in late 2017 and should have an increase in vehicle production of up to 500,000 profitable vehicles in place of those.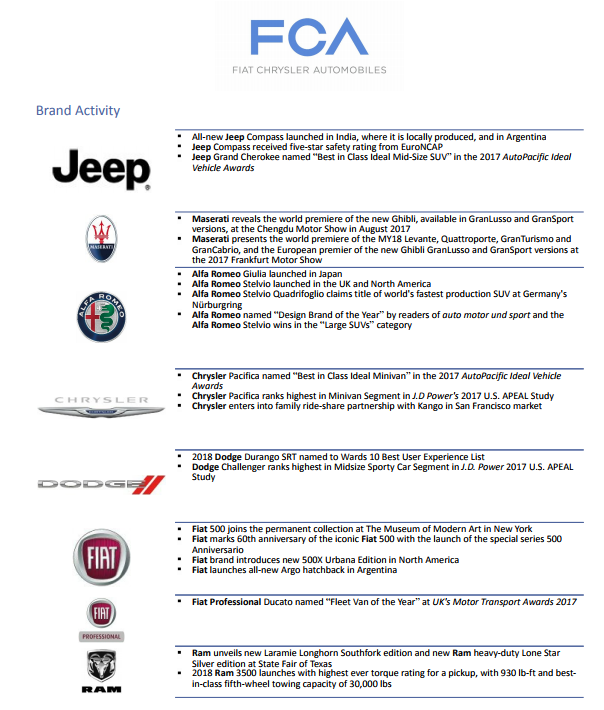 Fiat Chrysler Investor Presentation
FCAU continues to build on what is working and not hesitant to pull the plug on what is not working. Examples include the new Jeep Wrangler, state-of-the-art RAM pickup truck, turbo Jeep Cherokee, and Fiat sedan for the LATAM market. According to a recent article on CNBC, the Ram 1500 pickup truck was the a clear winner in the Detroit auto show.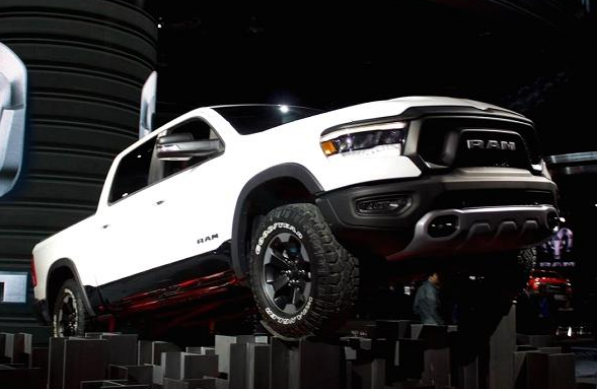 Market Overview
The once big 3 US automakers are now the big 2. Ford (F) is a highly levered company struggling to increase revenue. Looks cheap on some metrics such as its forward P/E of 7, P/S of 0.26, and P/B of 1.2. But the company also has a Debt/Equity ratio of 440. General Motors (GM) is similar, although it has managed to grow revenue yet at a low rate. It also trades at a forward P/E of 6.5, P/S of 0.4, and P/B of 1.66. Debt to Equity is 260.
FCAU on the other hand is trading at just above 5 times forward earnings and a price to book value of just 1.32 and has a Free Cash Flow yield of 5.3%. Another comparison one can make is to look at Ferrari (RACE). Ferrari, which was spun out of FCAU January 2016, trades at 28 times forward earnings, price to book of 28 and Free Cash Flow yield of 2.9%.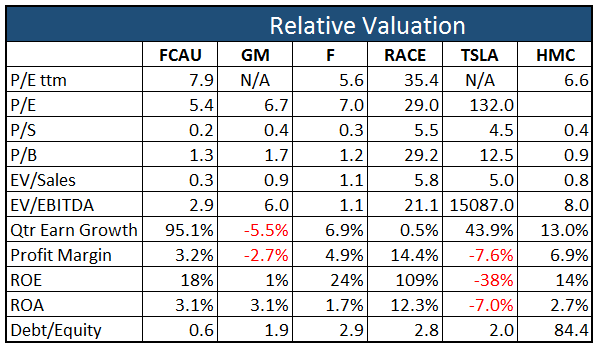 Statistics from Yahoo Finance & Morningstar
Consider FCAU, with a market cap of roughly $33 billion sold 2 million vehicles world-wide in 2016. Tesla (NASDAQ:TSLA) sold 77,000 cars in 2016, hopes to sell 100,000 in 2017 and 500,000 in 2018 and has a market cap of $52 billion. It certainly demonstrates a point John Maynard Keynes once said, "the market can stay irrational longer than you can stay solvent." I think irrational = speculators in this case. I believe this point was brought up by Anton Wahlman, a very knowledgeable contributor on Seeking Alpha covering the auto sector.
The growth area for automobiles is in the large pickup truck (currently 16% of the market) and SUVs. FCAU has focused on this area and has had a lot of success with the Jeep brand and Ram pickup trucks. In the first half of 2017, the overall market for vehicles was down 2% yet truck sales were up 4%. FCAU has a 19% market share in the pickup truck category. This is certainly an area where they can gain market share and build on their current momentum.
The 5-year plan
The May 2014 5-year plan - In May 2014, FCAU held an investor day and laid out a 5 year business plan. In January 2016, FCAU updated their plan – see January 2016 updated plan. Expectations are for Rev of 136 B, Adjusted EBIT of 8.7 to 9.8 B, Adjusted EBIT margin of 6.4% to 7.2%, adjusted net profit of 4.7 B to 5.5 B, and a net industrial cash position of 4 B to 5 B. All targets for 2014 and 2015 were exceeded. Original 2018 targets revised upwards.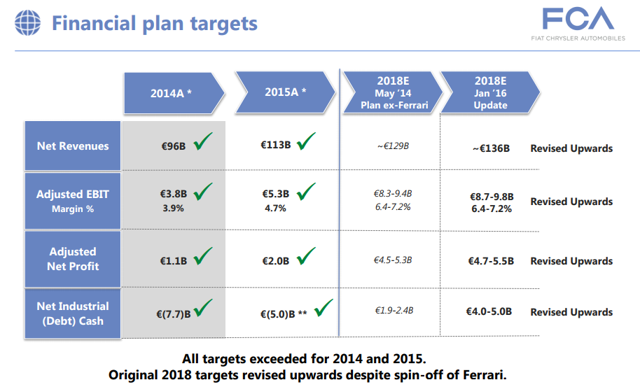 Fiat Chrysler 2016 Updated Plan
Highlights from Fiat Chrysler's recent earnings call on January 26, 2018 are below and can be found it this presentation.
Revenue of € 110.9 billion down from 111 billion euros y-o-y
Adjusted EBIT of € 7,054 million euros up 16% y-o-y from € 6,056 billion in 2016
Net Profit of € 3,770 million euros up 50% y-o-y from 2016
Debt decreased by 52% to 2,390 million euros from 4,585 million euros
Gross debt reduced by 6.1 billion euros during the year
FCAU's NAFTA sales were down yet EBIT margin rose 6.7%. According to the Wall Street Journal, U.S auto sales declined for the first time since the financial crisis yet profits are up. As a global automotive manufacturer, the are plenty of areas which are doing very well for Fiat Chrysler. For example, Latin America sales were up 8.4% and EBIT margin was up 1800% to 1.9% from 0.1% y-o-y. In addition, Asia Pacific was up 19%, EBIT margin was higher by 83% to 5.3% from 2.9% y-o-y. FCAU's European Markets were up 4.9% and EBIT margin was up 28% to 3.2% from 2.5% y-o-y. Maserati is looked at as its own division and has been performing very well. Revenue was up 22%, while EBIT margin was higher by 43% coming in at 13.8% from 9.7% a year ago.
FCAU guidance is for net revenues of 125 billion euros, up from previous guidance of 115 to 120 billion euros. Adjusted EBIT of 8.7 billion euros up from previous guidance of 7 billion Euros. Adjusted net profit of 5 billion euros, up from prior guidance of >3 billion Euros and new industrial cash of about 4 billion Euros.
Valuation
Looking at FCAU on a price multiple basis, if we use guidance of € 5 billion – divided by 1.51 billion shares outstanding, we get to € 3.31 earnings per share. Assuming the stock then trades at 7 times earnings, the price would be € 23.17. If we convert Euros to U.S. Dollars using the current conversion rates of 1.22, the $ U.S. stock price would be $28.37. Seven times earnings is less than half the current S&P500 average of around 17 so there is plenty of room for multiple expansion. One can also argue that FCAU deserves a higher multiple than Ford or General Motors based on less leverage, higher growth, and a management team that has been exceeding all of their financial goals.
Risk and Concerns
FCAU chairman and CEO Sergio Marchionne will soon retire. Like any great leader, there is always concern that the next in line will not be able to fill their shoes. Most of FCAU's profit comes from the U.S. – change in consumer preferences could have a major effect. Lastly, low fuel prices are assumed to be the new normal – a shock sending prices higher may change demand dynamics for vehicles, especially SUVs.
The Bottom Line
FCAU has fallen 13% from its high on January 22nd. While the stock has had a good run, there is still up side and investors still have a margin of safety as there could be an upside of 30% or more. Using a discounted cash flow analysis model with a 2% long-term growth rate and a 10% discount rate – the stock price is an estimated € 26 per share or $31.5 in dollars. Let's note I've used an 8% growth rate for free-cash-flow when the past four years average is 13.8% and 8.7% for CAPEX, the average of the last 3 years. To get to the current price – one would have to use the assumptions below and a discount rate of 12%. Every investor must determine their own discount rate and level of comfort with risk.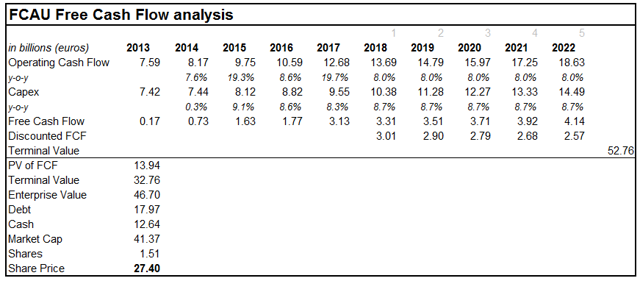 Data from Morningstar, FCAU Investor Presentation, and Author's estimates
Disclosure: I am/we are long FCAU.
I wrote this article myself, and it expresses my own opinions. I am not receiving compensation for it (other than from Seeking Alpha). I have no business relationship with any company whose stock is mentioned in this article.
Additional disclosure: This report contains statements and statistics which have been obtained from sources believed to be reliable but are not guaranteed as to accuracy or completeness. The past performance cannot guarantee its future performance. This article does not make any representations about the suitability of any securities contained for investment purposes.