The wine-producing giant is awake.
Second largest winery in the world by planted area owned, Viña Concha y Toro (VCO) has seen a revival in its stock price. The U.S.-traded ADS has climbed over 30% in the past two months, after trading sideways since mid-2015.
Being currently located in Santiago, I took this opportunity to do some homework on this iconic Chilean company and learn more about what might be behind investors' interest in this company.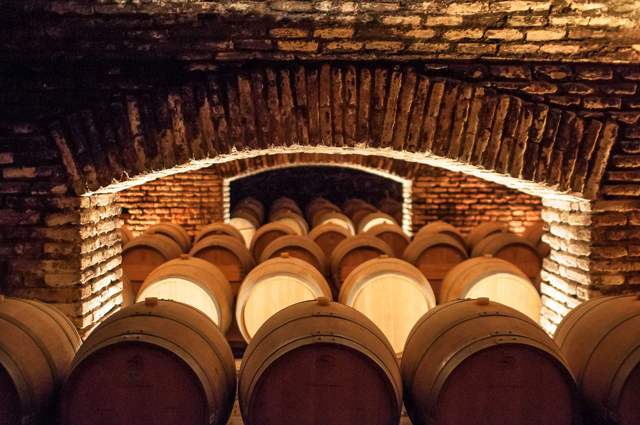 Image credit: Be Chile
Favorable market trends
To understand the current opportunities in the wine business, one might need to start from the top. Wine drinking has become an increasingly popular habit over the past couple of decades. In the United States, as the graph below indicates, the mix of wine-to-beer consumption has progressively shifted fast in favor of the former. By 2012, there were as many wine drinkers in the country as beer aficionados, compared to a 47% vs. 27% split in favor of the barley-based drink in 1992. Demographically, wine seems to appeal particularly to millennials and younger baby boomers -- two of the market segments that tend to attract consumer product makers the most.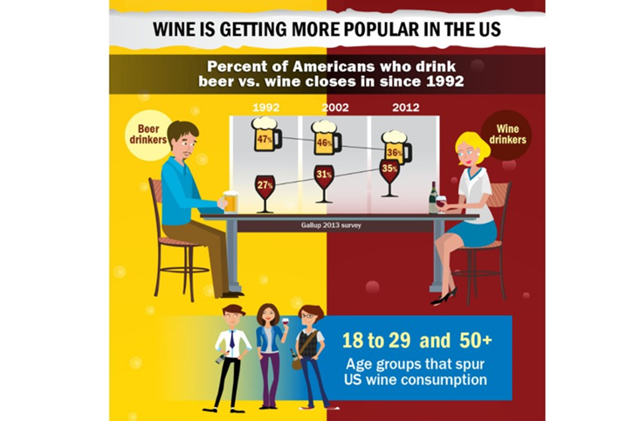 Source: U.S. News
Outside the United States (currently the largest wine market), perhaps the most exciting story comes for the Far East. China is projected to become the world's second largest consumer of the beverage by 2022, growing at a healthy double-digit annual pace.
Interestingly, the average person in the country consumes only 1.3 bottles of wine per year. It takes 35 Chinese wine lovers to match the drinking habit of one average French consumer. Although China is unlikely to become the new France of wine consumption in the foreseeable future, I find it hard to believe that growth will pause or slow down much within the next five years. The narrative has been anecdotally corroborated by conversations that I have had with small producers across the Chilean valleys recently, some of whom have already found in China their number one export market.
Looking good so far.
But it's about quality, not quantity
Intrigued by Concha y Toro's prospects, I sat down with the company's management in the business district of the Chilean capital to discuss how the company sees the market trends impacting them. What I heard was more a story of quality than quantity.
The next graphs will probably illustrate best what I mean.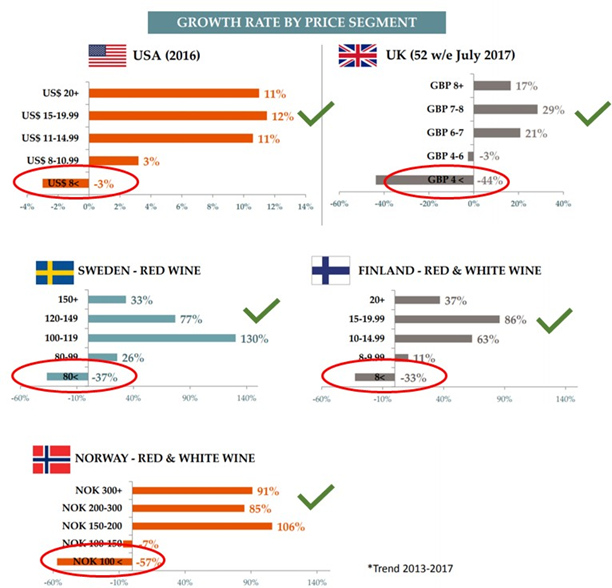 Source: montage using company's presentation
The phenomenon above is known as "premiumfication": wine consumption at the low-end of the spectrum has been shrinking in all of Concha y Toro's main markets while the high end grows at a triple-digit rate in some cases. Consumers seem to be favoring quality over quantity, even if at higher prices. Sub-$8 bottles sold in the Unites States, for example, have become a competitive and low-margin commodity. As a result, global wine exports in euro terms have risen 5.6% per year since 2010 according to OIV, while number of liters of wine sold has climbed only 1.5% over the same period of time.
Concha y Toro seems to have positioned itself to ride the trend. The company saw 20%-plus growth in the ultra-plus, super-premium and ultra-premium segments of its iconic brand Casillero del Diablo in 2016. Although with much less meaningful volume numbers to boast, the winemaker also markets organic wines (U.S.-produced Bonterra, 18% CAGR since 2011) and bottles that retail for over $100 (e.g. the 50%-op margin brand Almaviva, a 100-point James Suckling rated wine). In the past couple of quarters, the strategic move towards premium has been causing a decrease in total units sold -- which, to be fair, may also reflect the challenged 2016 and 2017 vintages as a result of inclement global weather. Volume decrease has been coupled with higher ASPs due to the revenue mix shift and Concha y Toro's successful attempts at increasing prices in markets like Chile.
I find this market dynamic favorable for a couple of reasons. First, premium is still the minority of Concha y Toro's portfolio, representing only 42.5% of the total globally (much less in Chile and Argentina, for example). With growth rates expected to be much richer on this end of the business and with plenty of runway still ahead, the company may start to see total volume sold improve as it relies less on the declining non-premium market. Second, profitability is likely to improve due to higher blended ASPs. Because the wine business is not known for high op margins, better pricing should have a significant impact to earnings as the positive effects trickle straight down the P&L.
Thoughts on risks
Investing in VCO is certainly not without risks.
First, the company is based in Latin America, and country risk should always be factored in ahead of an investment in the stock. It is worth noting, however, that Concha y Toro exports most of what it produces (only about one-fourth is consumed domestically in Chile, with about 50% of export production heading to Europe). Also, over half of the company's export sales are made in dollars or British pounds. So more than a Chilean company, Concha y Toro looks more like a global one. Production, however, is highly concentrated in South America.
Second, there is much about production that is outside the company's control. Climate is a crucial piece of the puzzle, and a mere few days of heavy rains ahead of harvest season could compromise the volume of grapes used to make the wine. As a result, expectations for volume and production costs can change on a dime, particularly around March and April. I have spoken with producers in Chile and, fortunately and for the time being, it looks like the 2017-2018 vintage should benefit from favorable weather after a couple of rough years (2016 having been impacted heavily by the El Niño phenomenon).
Lastly, improved financial results, if they come, will likely rely on Concha y Toro continuing to execute on efficiency and cost saving efforts. Results so far have been encouraging, but also very incipient.
Note from the author: If you have enjoyed this article and would like to receive real-time alerts on future ones, please follow D.M. Martins Research. To do so, scroll up to the top of this screen and click on the orange "Follow" button next to the header, making sure that the "Get email alerts" box remains checked. Thanks for reading.
Disclosure: I am/we are long VCO.
I wrote this article myself, and it expresses my own opinions. I am not receiving compensation for it (other than from Seeking Alpha). I have no business relationship with any company whose stock is mentioned in this article.